All images courtesy of Andrew Gould
Jazz is on tap today, with NYC-based sax player Andrew Gould in the house. For me, this is a cool interview, as Andrew has roots on Long Island (where I am from). Over time, Andrew Gould has established himself as one of the premier players of this fierce new era of stellar Jazz musicians, having played with the likes of James Moody, Ron Carter, Benny Golson, and more.
Andrew has an album out, it's called First Things First, and it's his debut as a solo artist. You can grab it via his Bandcamp here or anywhere else you get your music. Andrew is also a member of the Funk/Soul group Nuf Said, which you can check out here. They have a new album in the works, that we will hopefully see after this pandemic is finally over.
So, as I mentioned earlier, I've got Andrew Gould in the house with us today. We talk about his roots, his influences, being a new dad, playing with some of the greats, and much more. Dig it.
Andrew (Daly):
Andrew, thank you for taking the time to speak with us. It's been a weird year, hasn't it? What have you been doing to pass the time?
Andrew (Gould):
Maaaaaan, It's been the weirdest year ever, that's for sure! Thanks so much for asking me for the interview! It's actually crazy thinking about how much time has gone by since the pandemic hit us. I still remember the last gig I did back on March 13th, and everyone was really uptight and unsure about being in a public place because nobody knew just how bad things were, and how bad they were going to get. Anyway, since then I lost literally every single gig I had on my calendar…and I stopped taking new ones because I have a little 1-year-old baby at home that I don't want to put at risk. So, it's been a bunch of home recording projects with various different bands: The 8 Bit Big Band, Chad LB Big Band, Dan Pugach Nonet, SNAP Sax Quartet, SUM, and so many other projects. It's actually been a pretty great learning experience having to record so much. I've also been heavily involved with online teaching, and I've been teaching privately as well as teaching alongside my buddy Chad LB in his text lessons program, working with a ton of students all the time. I'm insanely grateful to still have some things going on these days, but I miss the hell out of playing music with people!
Andrew (Daly):
Tell us a bit about your backstory. How did you get into music? What was the gateway so to speak?
Andrew (Gould):
I was really lucky to grow up and go to school in East Meadow, NY which is on Long Island. That school has a crazy good music program, full of teachers that can really play and are super passionate about the art. So, growing up I always had a positive experiences with music, and I was surrounded by encouraging people the whole way. Of course the most of which were my parents, who were 100% down with me playing music in school and arranged for me to start taking private lessons. They also had a bunch of albums around the house, stuff like the Red Hot Chili Peppers, The Offspring, Pearl Jam, Nirvana, and that was some of the first music that I actually really listened to. So yeah, I had literally every chance to get into it, and I finally woke up around 11th grade and realized I wanted to do it for the rest of my life.
Andrew (Daly):
As an artist and saxophonist, who were some of your earliest and more important influences?
Andrew (Gould):
So yeah, those bands I mentioned were really some of the first bands that I was checking out. I had a Walkman, and a bunch of those albums on cassette tapes and I'd listen to them all the time. When I started taking saxophone lessons, my teacher had me check out Charlie Parker, Cannonball Adderley, Miles Davis, John Coltrane, and Sonny Rollins. Those were really the earliest influences, and they still are some of my biggest influences today.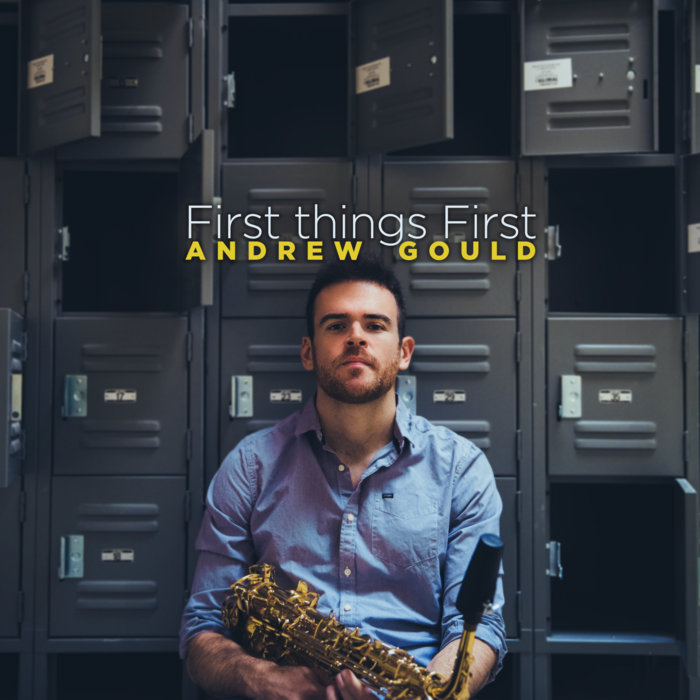 Andrew (Daly):
You've had the opportunity to perform with amazing artists such as James Moody, Ron Carter, and Benny Golson. What's it been like sharing the stage with these types of artists?
Andrew (Gould):
They were all super different and equally incredible. James Moody was probably the nicest and most encouraging person ever. He was such a warm, beautiful person with a huge heart and a great sense of humor. You could hear it in his playing, and as nervous as I was at even the thought of playing in his presence, somehow once I saw him and spoke to him it just felt like everything would be alright. He was in such control of everything he played, even when he was in his 80s (when I got to play with him a few times).
As for Benny Golson, I actually did a live recording that he was featured on, in the big band of Valery Ponamarev who's a legend himself having played with Art Blakey and the Jazz Messengers. I was actually playing tenor on that recording too, and I was literally watching Benny like a hawk just checking out every single thing he played. Talk about emoting through the horn…the level of expression in his playing was incredible, and he still had that same vibe that he had on all the classic recordings he did with Art Blakey too. He was also insanely kind and encouraging.
As for Ron Carter, I played several nights with his band at Birdland Jazz Club around a year and a half ago or so. Ron was incredible; he could walk certain bass lines and steer the dynamics of the whole band as well as what's happening harmonically AND control the time feel all from what he was playing. Such an insanely strong musician. Basically, when I'm done pinching myself playing with these guys, I just try to take in every single drop of music, enjoy it to the fullest, have fun and try and learn as much as I can from working with them.
Andrew (Daly):
You've got a new album out called First Things First. Tell us more about the album. What was your inspiration while recording it? Where can we get the album?
Andrew (Gould):
Sure, so the album basically just came about because I had been playing so much as a sideman in NYC, and I wanted to finally try it all out from the other side of things. Haha! I had been neglecting doing my own recording for a really long time, and I think I finally just felt ready to document something honestly. I tried to incorporate the types of music that I was doing and getting into at the time. So while most of the music is still pretty straight-ahead Jazz oriented, there are also a few tracks that are more Funk and Groove oriented too, and one featuring a singer Ioana Vintu as well. I play saxophone in her band Nuf Said, and since then, I've been getting WAY into Funk, R&B, Hip-Hop, and Groove music too. I also had one of my idols – trumpet player Scott Wendholt, join the band for a few tracks. He's always been one of my favorite trumpet soloists and it was an honor having him play with the band! The album features my good buddies and colleagues Steven Feifke on piano/keys, Marco Panascia on upright and electric bass, and Jake Goldbas on drums. We played a bunch of gigs at Smalls, including a gig the night before the recording session, and then we just went in and threw it all down the next day. They killed it! The album was released on the Outside In Music label and it's available in pretty much all the usual spots – Spotify, Apple Music, Bandcamp, YouTube, and all those places.
Andrew (Daly):
What's changed for you compared to your early days? Are you a better player now than ever?
Andrew (Gould):
I hope so! Haha. I guess, in a way, as I've experienced more and more…especially being lucky enough to work with some truly incredible musicians and bands, I've tried to always take something away from the experience, you know? I feel like when I was in college, I was practicing all day, every day and everything…but now that I'm actually playing music all the time (or at least pre-pandemic Andrew was), that experience is really, actually helping me improve in a more complete way. There's just never any substitute for actually doing the real thing.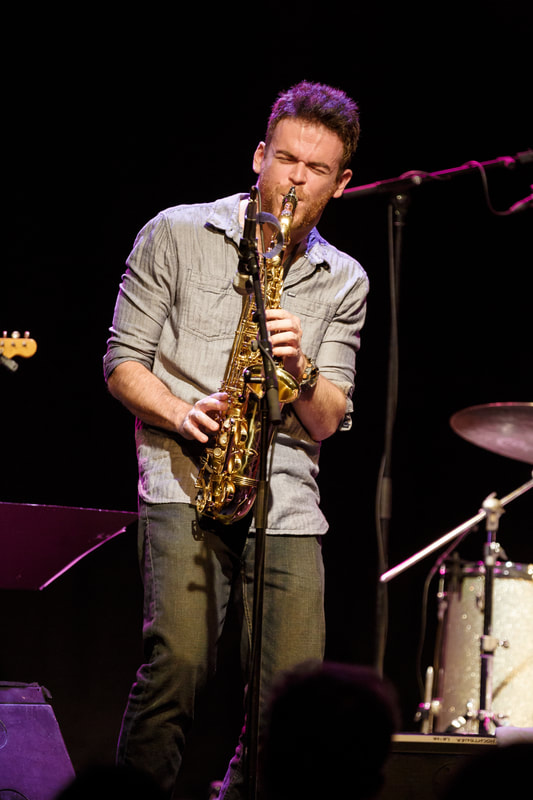 Andrew (Daly):
Earlier you mentioned how you're a member of R&B/Soul outfit, Nuf Said. I'm told you have a new album coming out with them as well. Tell us more about this group and the upcoming new release.
Andrew (Gould):
Absolutely. So, Nuf Said is an original R&B/Soul group I joined a few years back when I had no idea how to play in that setting. I got SO into all that stuff since, especially from talking with Ioana Vintu (the singer/bandleader) about that music and checking out albums that she scolded me for not already knowing. Haha. I got way into funk, Hip-Hop, R&B, and Soul since. I wrote a bunch of music for the band, both for the last album we did and this upcoming one. We actually recorded half of this new album back in 2019…but our plans to finish it the way we really want to have been put on pause until the world resumes. We'll have an album recorded half before, and a half after it all, and that'll be interesting. Haha! So far though, the music has been going incredibly well. Everyone involved is a close friend and we all really take the music and shape it so much through playing it live and in rehearsals… it just wouldn't be the same thing to record it remotely. I'm super psyched to finish this album though, and I can NOT wait to play the music live.
Andrew (Daly):
My understanding is you continue to teach and still give private lessons as well. Why is music education so important to you and to younger generations in general?
Andrew (Gould):
It's been extremely important to me because that's how I got into it all. I can totally relate to that kid who's just starting out. I still think all the time about the things my teachers said to me when I was in class, the examples they set, and how passionate they were, and this all really helped shape my outlook on music. It makes me want to do the same for as many kids and people as I can too and I think it's so, so important. It's been especially easy these days to take music for granted, and all it takes is just getting kids (or anyone for that matter) to really think a bit more deeply about how this music is made, where it came from, and what really goes into it all. I think that could have a really positive effect on our culture as a whole, widen appreciation and support for the arts, and maybe help bring people together, you know? Not to sound too cheesy, but I really do think that when everyone is in the room digging music together, that's literally the best vibe in the world.
Andrew (Daly):
Let's talk about the state of music, in general, a bit. In your opinion, what's the state of the music industry these days? What are some things that need to change?
Andrew (Gould):
This is a tough one because I feel conflicted about it all in a way. I guess I started touching on it a bit when I was talking about how people can take music for granted these days. I guess it's to be expected when you can literally type an artist's name into YouTube and listen for free, and all music streaming has this effect. It numbs people to really being able to appreciate an album in the same way as years past. You HAD to listen to a record or tape from start to finish unless you wanted to "shuffle" and literally change the album out after every song. Albums are called albums because they're complete works, and the track listing is organized purposefully so that songs come after each other in a way that compliments the music. I think this is so important, and the listening experience and overall impact of checking out an album from start to finish is something that rarely happens if it all for most people these days. Also liner notes and all the details of who's on what album, who produced the album, and where and when it was recorded. This stuff is so interesting and important to know about.
I used to love to put on an album, sit down and open the liner notes and read it all while I was listening. I can even remember how liner notes smelled. LOL. Yeah…I'm crazy, maybe. There are also huge positives though, and I'm of course all for the accessibility that streaming and the Internet provide. You can reach way more people now; there just needs to be some way to take care of the artists more in all of this. We ALL want everyone to hear our music and know who we are, and that's worth so much, but we also deserve fair compensation for it all. So, in general, this needs to change, but I do think that there is some amazing music happening out there and the fact at least some of it is being heard by people is already awesome…we just gotta hash out some other details in all of it. Streaming royalties are way too low, and the average listener isn't aware of this or how much it actually is hurting the business of it all. If you spend 10 thousand dollars to record an album, that's SUPER cheap…and the number of streams you need to even come close to recouping a fraction of that is already huge.
Andrew (Daly):
In the world we live in today, we are more or less dominated by the never ending barrage of social media. How has this affected music as an art form? Is an artist's ability to get their music out there hindered by all this, or helped?
Andrew (Gould):
Totally, I think it helps and hurts. I do have faith that a lot of the good stuff will rise to the top, but there's also plenty that gets lost in the shuffle. Algorithms and the idea of making music more for the social media/immediate wow effect have caught on. I will say though that I have been insanely inspired by hearing some short clips of amazing artists like MonoNeon, Rob Araujo, J3PO, Anomalie, the Fearless Flyers, and sooooo many more. I think a lot of people can actually discover some great music this way too. At the same time, there's also some really terrible stuff that makes its way out there now and is passed off as good, and I guess it's all subjective but yikes haha. Sorry if I'm named-dropping, but I actually want to mention these people's names because they're so amazing and they need as much credit and awareness as they can get!
Andrew (Daly):
Who are a few artists, past or present that mean a lot to you?
Andrew (Gould):
I've always been just about the biggest John Coltrane fan in the whole world, more than just his playing but the spirituality and emotion behind it all. Cannonball Adderley for every reason but specifically his sound, time, and how he sounds just so happy on everything. His album Know What I Mean? with Bill Evans is just about the most beautiful thing ever. In no particular order, and on the name mentioning tip again: Joe Henderson, Maceo Parker, James Brown, Parliament-Funkadelic, McCoy Tyner, Dick Oatts, The Vanguard Jazz Orchestra, Snarky Puppy, Ghost-Note, Cory Henry and the Funk Apostles, The Fearless Flyers, Lettuce, The Roots, Seamus Blake, Chris Potter, D'Angelo, Kenny Garrett…all this stuff has influenced me in huge ways. Probably the most meaningful music for me now is what some of my friends are doing. I can't believe how much awesome music friends of mine are making – Steven Feifke, Charlie Rosen and The 8 Bit Big Band which he leads, Ioana Vintu and the songs and lyrics she writes in Nuf Said, my good buddies Sam Dillon, Nick Biello, Paul Jones, Mark Dover, Jimmy O'Connell, Peter Kronreif, Dan Pugach, Chad LB, Lucas Pino, there are soooo many more I could literally go on all day. If anyone reading this is interested, please please check out the music that all these people are making and pouring their hearts into! I feel like every time I hear any of these people, and all the artists working their butts off in NYC, I'm always completely humbled and inspired.
Andrew (Daly):
Aside from music, what else are you most passionate about and why? How do your other passions inform and inspire your music?
Andrew (Gould):
Music definitely dominates my life and a lot of the dormant space in my brain. Haha. I do love biking, especially mountain biking and trail riding although it's hard to get a chance to do that these days. Even just riding around Queens, and over to Roosevelt Island and Randalls Island has been therapeutic. Really though, I'm psyched about being a Dad…as hard as that's been, especially in the middle of the pandemic and everything, knowing that I'm raising a little person to come into this world is a pretty huge thing and it definitely gives me a sense of optimism and hope for the future.
Andrew (Daly):
Are you into vinyl? Tapes? CDs? Or are you all digital now? Where do you like to shop for music?
Andrew (Gould):
I'm into it all! Actually, I don't have a cassette tape player, so I guess not that anymore. I have a million CDs and I love every one of them, and I have a decent little record collection too. I also stream music and listen online to check out new stuff, and I try to actually purchase the stuff that I really like when I can. Especially if I can order a vinyl or CD, it helps the artist way more if you can buy it from them and I still love actually owning a copy of an album too.
Andrew (Daly)
What's next for you once COVID-19 calms down?
Andrew (Gould):
First of all, I'm just looking forward to playing music with people again in general and seeing so many friends on the same regular basis that I used to. I miss that so much. Looking forward to finishing the Nuf Said album, and starting to play live with them again. I want to record a second album under my own name as well. I'm also in the process of writing a digital book to help students learn more about some methods to practice. I'll have some very specific exercises in there, as well as several etudes with sheet music, and recording examples too. Just putting the finishing touches on it now!
Andrew (Daly):
Last question. In a world that's been so confined by the constraints of capitalism, big business and the alienation caused due to the internet age, how do artists find their footing these days? What advice would you have for younger artists?
Andrew (Gould):
It's super tough these days, maybe more so in some ways than it's ever been as a musician. You play music because it inspires you and you can't live without it. For younger artists, try to surround yourself with positive and dedicated people, and try to learn and grow together. The most improvements I've made, professionally, personally, musically, and otherwise have all been from being surrounded by people that all want to build together and learn together. Music is about creating something with and for people. It's just all about staying positive, being humble, being open to new opportunities and ideas, and be flexible and versatile as a musician and person. Don't sell yourself short. You have to always try and remember what you love about this music and how it makes you feel, and I think if you can keep that all happening, then it's only a matter of time.
Interested in learning more about the artistry of Andrew Gould? Check out the link below:
Dig this interview? Check out the full archives of Vinyl Writer Interviews, by Andrew Daly, here: www.vinylwritermusic.com/interview