All images courtesy of Michael J. Farley PR
Here's a cool one. I had to start it that way. It's what came naturally, and that's all we can really do as "artists." Except that I'm not an "artist." Am I? Is writing "stuff" an art? I don't know where I'm going with this. Anyway, Brian Lisik is a cool guy, who makes really cool music. He's indie and I dig that. He's got a sort of Wilco meets The Replacements vibe with a splash of Stray Cats and The Blasters for good measure. I dig it. Maybe you will too. He's the kind of act you want to see live in a sweaty hall out in middle America somewhere, but that's not an option, so what's left to do? Well, what you've got to do is head over to Brian's website here, or Kool Kat Musik here and dive deep into his new record, Gudbye Stoopid Whirled. Also, something you'll learn quickly is he's the king of the cool kewl album title…see what I did there? Brian's laconic, sardonic and relatable take on things is just what the doctor ordered. He's the kind of artist who has intent with his lyrics but leaves them open to interpretation at the same time. So, my question for you all is this- is Brian's new album a "COVID" record? You've got to listen and find out for yourself. This is a good talk. Dig it!
Andrew:
Brian, thank you for taking the time to speak with us. It's been a very odd year, hasn't it? What have you been doing to pass the time?
Brian:
It has indeed. Honestly, I've stayed pretty busy for a year when lockdowns and social distancing have been the norm. We planned on releasing the new album, Gudbye Stoopid Whirled, in May, and then touring the rest of the year. Obviously, we ended up switching gears to an October release and focused on live stream shows and the like. And I also started a project producing a new album by my son, Christian, who is a surprisingly adept young singer-songwriter; I obviously taught him nothing that he knows.
Andrew:
Tell us a bit about your musical origins. How did you get into music?
Brian:
My older brother, Brock, started playing guitar and writing songs when he was about 15 and I was about 10. Like a lot of older siblings, he asserted his authority and kind of demanded that I learn to play guitar. So, I tagged along a few years later. My brother – and everyone else – has been paying for his mistake ever since.
Andrew:
Coming up as an artist, who were some of your biggest influences?
Brian:
Early on – and still, really – it was a lot of 50s and 60s Rockabilly and Soul stuff from my parent's record collections. Then eventually all things Waylon Jennings, Merle Haggard, and the like through my early teens. Eventually, I became enamored of singer-songwriters who play really loudly, and acts like The Replacements, Dinosaur Jr., D-Generation, and The Rubber City Rebels became my go-to music.
Andrew:
You've got a new album out. Let's talk about it a bit. It's called Gudbye Stoopid Whirled and it's a real rocker. What was the inspiration? Where did you record it? Where can we get it?
Brian:
First off, thanks! The "inspiration" for the record, as much as there was one, came from a lot of feelings of isolation and irrelevance, really. I'd had the same band lineup – a killer group of musicians – for the past two albums. But they each were getting busy with their own projects at the same time that I wanted to play more as a band. So I took this passel of songs to the studio that my bass player and frequent songwriting partner, Steve Norgrove, was building and we just sort of woodshedded. I probably planned on making it an album of some sort, but initially, it was just fun to see how many different noises we could make between the two of us and drummer Chad Jenson. We ended up liking the stripped-down musical direction it took and some amazing mixing from Don Dixon – who has worked with REM, Matthew Sweet, The Gin Blossoms, and a bunch of people – and voila; the new album. It is available at our website, www.brianlisik.com; at Kool Kat Musik – www.koolkatmusik.com; and is available for download on all streaming platforms.
Andrew:
More on your new album. I hear a lot of different influences here. Folk, Garage, Rockabilly, and even Power Pop. Is it your intent to break genre barriers down a bit, or does it just come naturally for you?
Brian:
I do try and keep my intentions quite limited whenever I start any project, so a lot of what a project turns out to be is quite a happenstance. When I intentionally set out to write a certain kind of song, or write within a certain genre, it always ends up being a quite horrible version of that genre. So I just say my music is "Rock-ish" or "Jazz-ish" or whatever.
Andrew:
Tell us about the title of the record and the interesting spelling? Is it a commentary of sorts?
Brian:
Obnoxious album titles have kind of become something our fans expect now, I think.  In fact, naming the album has kind of taken on a life of its own after records like Curtisinterruptedus, Happiness Is Boring, and The Mess That Money Could Buy. So this one was really a quite normal-sounding title to me. We changed the spelling so that we could put an umlaut in it and make people who haven't heard us think we sound like Motley Crue.
Andrew:
I believe your new record was produced by Don Dixon. He's great. What was it like working with him? What did he bring out in you during the process?
Brian:
Yeah, Don is a wizard for sure.  I've known him for a number of years – he lives right down the road from me, in fact. But I had never had the right project, or the guts, to approach him about working on a record together. This one – particularly songs like 'Junior High School' and 'Happy All The Time' – just seemed a good fit. And thankfully, Don said yes. It was great to work with someone I've known personally for such a long time and find out how good he really is at what he does. Kind of like finding out your cool uncle is an international spy on weekends or something. We brought Don the basic tracks, hoping he would mix a song or two, and he ended up mixing the whole batch. When I mentioned that what he'd done seemed a lot more like a production than just mixing, he replied, "Oh Brian, it's all the same thing really."
Andrew:
For this record specifically, what artists would you say influenced your songwriting and its overarching sound the most?
Brian:
Honestly, it's been so long since we started this project – probably early 2019 – that I can't remember! But I was probably going for a Nick Cave or Elvis Costello or Tom Verlaine vibe. All dark and self-absorbed. And I'd just gotten a Jazzmaster. No kidding, that is usually what drives me to start a band or record an album; I'll get some new piece of gear and want to hear what it sounds like in a song. So the Jazzmaster has the leading lady role in this one.
Andrew:
In your eyes, what are the stand-out tracks on your new record and why?
Brian:
Hands down, I think 'Junior High School' and 'Don't-Ray-Me' might be the two best songs I've ever written – yet, anyway. They are both topical and timeless, in my opinion, because the questions they ask about the state of the world today are really just asking, "Why are humans so stupid and why can't they ever learn?" Which, of course, can never be answered. In this life, at least. From a compositional standpoint, I'm pretty proud of '(Erebus Goes) Overbored' – there is a lot going on in that one and we managed to keep it from getting too messy. Finally, 'Happy All The Time' is probably my favorite song to play live. And it was written entirely by Steve, so you'll have to ask him what it's about. I have no idea.
Andrew:
Musically, what has changed for you over the years? What's different now about your songwriting process compared to years past?
Brian:
I think I've just gotten better. By that, I mean that I've allowed myself to be more open to inspiration, or whatever you want to call it when it hits. In years past, there are a lot of things that I may have said, "Well, I can't do that. That's silly and that isn't the kind of music I do." Anyway, now if I feel like blowing a kazoo through a sewer pipe to see what happens, I will.
Andrew:
As a lyricist and songwriter, does your music come from a personal place? Or are you just telling stories so to speak?
Brian:
In the best instances, both. A lot of them begin in a "personal place," but then I employ the "what if?" approach and try and take it to places that aren't necessarily personal. That helps with plausible deniability too.
Andrew:
This has been a very intense year on multiple levels, and on this record, lyrically, you touch on some pretty deep themes. Did the goings-on around us have any effect on your songwriting for this album?
Brian:
I'm glad you asked that, because contrary to what many people have surmised – from the title to a lot of the subject matter – this is not my "COVID record." Now, if that makes people listen to it, that is great, even though it really isn't about that at all. But a lot of the themes do revolve around isolation and irrelevance and growing older without having accomplished a lot of what you set out to do – coming to grips with all of that. It's kind of about people of my generation in general. But, of course, one could see how that could easily be applied to what this year has done to all of us. So, if you want it to be a COVID record, it can be.
Andrew:
Are you into vinyl? Tapes? CDs? Or are you all digital now? Where do you like to shop for music?
Brian:
Ironically, my son has re-introduced me – the guy with about a billion vinyl records lying around – to the joys of vinyl collecting again. So yes, I do have vinyl and I do own a proper record player. But I also still have a car with a CD player.  And I'm coming around to buying stuff digitally and making Spotify playlists and such. A dinosaur has got to adapt, no?
Andrew:
This may be a difficult question, but what are a few albums that mean the most to you and why?
Brian:
Wow, that changes daily sometimes. But two that continue to amaze me after many years and countless plays are the Johnny Cash at San Quentin album – one I've been listening to, and I suppose being influenced by, literally since I learned to talk; and The Fine Art of Self Destruction from Jesse Malin – an album that came along during a really difficult time for me personally and let me know that Rock 'N' Roll really can still heal – as corny as that sounds.
Andrew:
Once COVID-19 is done with us, what's next for you?
Brian:
Lots and lots of live playing, I hope! Doing the "hermit" parts of being a musician and songwriter has been nice enough. But I've got a great new group – including a longtime guitar player friend of mine, Robb Myers, and Martyn Flunoy, the drummer from the legendary Akron punk band, The Bizarros – and I am so itching to pack up the Kia touring vehicle and hit the road with these new songs. Just like the old days.
Andrew:
Last question. You've been in the game for some time now. What advice would you have for young artists just getting started?
Brian:
Advice for those just getting started? Quit. No, I'm kidding. I'd say just stay focused on your goals without being so focused that you miss the "inspiration" (there is that word again) when it comes along. Always be open to new ideas. The worst that can happen is they don't work. It's just music after all – it can be life-changing or life-affirming sometimes, but really, it's just a bunch of notes. It ain't the most important thing in the world.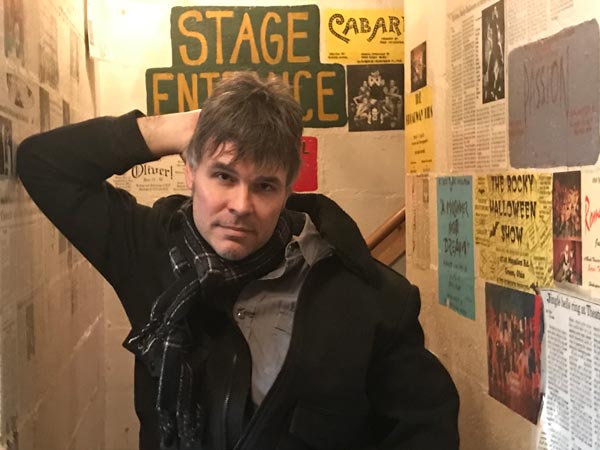 Interested in learning more about the music of Brian Lisik? Check out the link below:
Dig this interview? Check out the full archives of Vinyl Writer Interviews, by Andrew Daly, here: www.vinylwritermusic.com/interviews