All images courtesy of Colin Clive
I've been a fan of 3rd wave Ska for as long as I can remember. The marriage of old-school Jamaican Ska and Punk music combined with themes of social justice and radical change has always appealed to me. When I was younger, I simply liked the energy of the music. As I've gotten older, the meaning behind the words has taken on greater significance to me. For me, Punk has always been a state of mind. Anyone can be a Punk. You don't have to wear leather or chains. That being said, you can if you want. I suppose what I'm getting at is that Punk is whatever you want it to be. It's a personal thing. Ska/Punk is even more so, at least, for me it is. I'm also not saying I'm a "Punk," I just like the music. In saying that, does that actually make me a punk?
Anyway, I'm writing this on November 20th, 2020. Ironically, on November 20th, 2016, my best friend Joe and I went to a local venue (which has sadly closed due to COVID-19) called Revolution Music Hall. That evening, we went to see a great bill of Ska/Punk bands we grew up loving. On the bill, that night was a local band, High School Football Heroes as well as Mustard Plug and Less Than Jake. Overall, it was an incredible show.
At the time, I was just beginning to rebuild my lost vinyl collection, and so I ventured over to the merch table to check out what they had available. They were all sold out of Mustard Plug vinyl, but what they did have was High School Football Hero's album, Close Only Counts in Horseshoes and Hand Grenades and Less Thank Jake's Losing Streak. I deemed these two albums essential, but there was a problem- I was at a Punk Rock show, and this was a small venue. The entire place was about to become a mosh-pit and vinyl definitely does not like mosh-pits. I asked the merch guy if he thought the albums would still be there after the show, to which he replied, "No way." And so, I purchased the two records and resolved to protect them at all costs throughout the show.
To make a long story short, I spent the entire show pinned against the soundboard wall, just outside of the mosh-pit, hugging my two records. They made it out unscathed and they are sitting happily in my collection to this day. At the time, it was annoying, but I have no regrets. The show was amazing. Those two records are now impossible to find, and I have nothing but happy memories.
Today, I am serving up a really cool interview for you all. Colin Clive is Mustard Plug's guitar player, and he has been with them since the very beginning. He's a veteran of the scene and he's also a vinyl addict like the rest of us.
On a day when I am fondly remembering one of my favorite shows (as well as days when my back could handle a mosh-pit) as well as mourning the closure of my favorite local venues (RIP Revolution Music Hall), I am happy to share this one with all of you. Colin is a great guy. Also, Mustard Plug just reissued a ton of their classic catalog on vinyl. Head here to check it out. Help keep the little guy alive. Do your part. Enjoy!
Andrew:
Colin, thank you so much for taking the time to speak with us! Tell us about your back story. How did you start playing music? What was your musical gateway so to speak?
Colin:
I started playing guitar toward the end of my high school years. I was really enjoying going to Punk shows at the time (mid/late 80's) and the Punk scene itself at my school was amazing. It just seemed like something I wanted to get more involved in. Little did I realize how involved I would become! I didn't really start playing guitar until my freshman year at college, however. My roommate was a cool metalhead and the Alternative music scene was thriving. It was the perfect gateway to getting started. I should note that all this enthusiasm for music started because of my parents' love of music. My dad played guitar and sang along with my mom throughout my childhood and obviously passed that joy along to me. Thanks, mom and dad!
Andrew:
Mustard Plug has been one of the leaders in the Ska Punk genre for nearly thirty years. How did the band get its start?
Clive:
Dave Kirchgessner and I would see each other at various Ska and Punk shows around Michigan for a couple of years before we started the band. We had a handful of mutual friends and both drove vintage (not vintage at the time) Volkswagon Bugs. I'm not entirely sure how I actually ended up at the first practice because I don't believe I knew most of the other guys. From what I recall, Dave and I thought it would be fun to try and create a band that played Ska and Punk, and we just got everyone we knew together that was interested. I think there were at least 10 people at that first practice. At the time there weren't a lot of Ska bands around, so we thought it was a good void that needed filling.
Andrew:
Mustard Plug is an awesome and interesting name for a band! Where did the name come from?
Colin:
Well, thanks! It's something for sure! At the time, it seemed like most of the active Ska bands had somewhat fun and occasionally silly band names. We obviously drew from that. It fit the musical style at the time I think. The plus side is we've never had to fight any legal battles over the name! The name refers to the crusty piece of mustard that forms on a squeeze bottle after it's been sitting too long. Someone from that original meet-up suggested that. Seemed good enough at the time. Who would've known we had been rolling with it 30 years later!
Andrew:
Big Daddy Multitude and Evildoers Beware! are in my opinion, two of the greatest albums the genre has ever seen. What more can you tell us about the recording of those albums? What was the band's inspiration around that time?
Colin:
Big Daddy Multitude was written and recorded at a pretty wild time in music. While we obviously were drawing from our love of Punk and Ska, we also weren't afraid of throwing in whatever other inspirations came to us. As is the case with most bands' first albums, there really aren't any expectations or boundaries formed yet, so you just kinda do whatever you want. We obviously had quite a few members in the band with different musical tastes and we just let everyone throw what they wanted in the stew. Evildoers Beware on the other other hand took the things we liked from Big Daddy Multitude and expanded on them, I think. You obviously discover what you do best and what people enjoy hearing live, and I think that leads us in some way or another as well. We've always considered ourselves a live band before a studio band, and I think we write music with that in mind. So, in the end, I think Evildoers was just a bit more streamlined, and the production of it was closer to what we had in mind as a band. 
Andrew:
It goes without saying that you guys have spent a tremendous amount of time on the road over the years. What's changed in regards to touring from when you first started compared to now? Do you still love to tour?
Colin:
I think as a band I can honestly say we all love touring! While we haven't done a lot of months on end type touring, we really dig the 1-2 week runs. They're long enough to get in a groove but short enough to not wear out their welcome. There was a time back in the 90s we'd go out for a month or so, and it was super fun but also super challenging and exhausting. I think we finally discovered that shorter stints were the way to go. The biggest change is technology. Cell phones and computers changed the ballgame. Endless entertainment and revolutionized communication with family, friends, and the business side of things. No more searching for payphones all the time. What a pain that was. 
Andrew:
I've seen you guys live and I have to say- you rock! The last time I saw you were at a place called Revolution here on Long Island. You were playing with Less Than Jake. What a show! After all these years, how do you guys stay inspired and so energetic in the live setting?
Colin:
It's just something we honestly love doing. We've been fortunate that our fans enjoy having a good time and that vibe is infectious. There's nothing better than getting to make a lot of noise and jump around, and act like a kid for a bit! I think that feeling just grows as we get older as well. You start to cherish those moments just a bit more each time.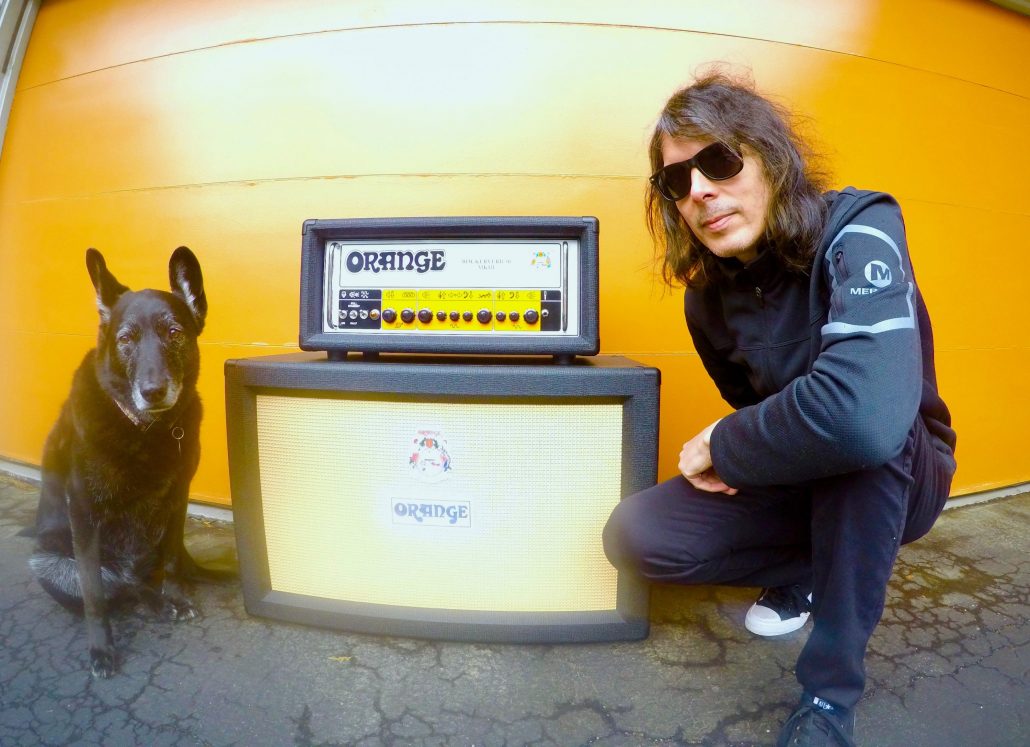 Andrew:
You guys have been one of the proverbial "carriers of the torch" for the Ska scene for a very long time. What are your thoughts on the Ska and Punk scenes these days?
Colin:
I think it's amazing! There's definitely been a recent resurgence in the presence of the Ska scene and Ska music in general. This is heavily owed to a lot of the newer, younger Ska bands on the scene for sure. I think the political climate has also caused a bit of an uprising as well. Ska music has always been an excellent tool to voice some political opinions as well as a nice mood booster when you're feeling down. In that sense, it can kind of fulfill many needs. It's the perfect music!
Andrew:
You haven't had a new release since Can't Contain It, which came out in 2014. Can we expect any new music from Mustard Plug soon?
Colin:
Yes, unless something else weird happens that's out of our control, there should be a new MP album in the future. How soon I can't really say. We did manage to write and record a track during the pandemic for the new Ska Against Racism compilation that recently came out!!! 
Andrew:
Every band has its own balance and way of doing things. I am sure you guys are no exception. Let's break it down. Who writes the music and who writes the lyrics? Or is it a group effort on the whole?
Colin:
Overall we have always tried to let everyone contribute to the whole. That being said, things gotta start somewhere, right? Our general workflow is a song idea, melody, or the whole song will likely be started by myself or in the past, our bass player. From that point, it kinda just makes its rounds through the band. Typically, if I sing a song I'll have lyrics to it at this point, otherwise, it will likely head to Dave to write his own lyrics. Then it moves to the horns and drums until each of us kinda comes up with our ideas. In a perfect world, we'd then all get together to play it, change it and tweak it. That hasn't happened recently, so we'll see where we go in the future. Haha. There have also been songs written from a vocal idea that Dave has and I end up putting music to that. Occasionally, they'll be spur-of-the-moment type songs that just come together instantly as a group. No official rules on how we do it, but that's a general overview I guess. 
Andrew:
A lot of people try to define what it means to be "Punk." I've always felt that "Punk" was more of a mentality than a genre per se. I think a Jazz or Folk artist can be as "Punk" as someone who plays "traditional" guitar music. What are your feelings about that? What are your thoughts on the idea of genres in general?
Colin:
I agree with you completely. To me, Punk is 100% a mentality. I love the fact that some of the most iconic punks in the history of punks can just look like regular folks. I think Punk is going to mean something different to everyone you ask about it. To me, it's about cool people, doing cool things the way they want to do them, and not having to fit in any pre-established rulebook. There's obviously way more to that, but that's my short answer today. This question could honestly fill a book. I don't think there's a simple answer to what Punk is. As for genres, I'm fine with it. I don't think everything needs a label, but if I'm in a record store and I want to look for Metal or Industrial or Ska, it helps to know where to go.
Andrew:
What are some albums that mean the most to you, and why?
Colin:
The Stone Roses – S/T – I could listen to this album all day, every day.  
Descendents – Milo Goes To College – This album got me into Punk Rock and it rules to this day. Perfection on many levels.  
SNFU – If You Swear, You'll Catch No Fish – Probably my favorite band of all time. Always original, stellar live shows, best frontman ever. RIP Chi Pig.  
NOMEANSNO – Wrong – This album destroys. So creative, so fun and so dark all at the same time. Unmatched musicianship and nothing sounds like them. Ever. 
The Cure – Head On The Door – I love everything about The Cure, but this album best compiles all the best elements together in a very cohesive manner.
Andrew:
After all these years, looking back, what are some of your fondest memories as a band?
Colin:
Japan, Australia, Brazil, UK, Europe. Getting to go to these places that I would've likely never been able to go has been life-changing. Getting to go to them multiple times is simply unbelievable. 
Andrew:
Do you collect vinyl? Tapes? CDs? Or are you all digital now? Where do you like to shop for music?
Colin:
All about the vinyl. I'm so glad it's making a comeback. I was really into it during my college years and then obviously CDs took over. At the time, I was ok with that, but I'm happily helping fuel the vinyl resurgence. My first internet search when we hit a town is either for record stores or vegetarian restaurants. My dream is when both are within walking distance of the venue. Vertigo Music in our hometown Grand Rapids, Michigan, is my home.
Andrew:
Last question. Are there any bands out there that you think are carrying the torch? What advice do you have for young musicians trying to get their start?
Colin:
I mean as far as carrying the torch, I'm gonna have to give it to The Specials, Madness, The Selecter, Bad Manners, English Beat, and The Toasters offhand. These bands were the originators of what would become the typical 3rd wave Punk/Ska type stuff. Basically, any modern Ska band most likely borrows heavily from these bands. Obviously, there were bands before that who created Ska, but these bands still carry the torch for most current Ska today as they're still active, and putting out fantastic music. Other bands that initially come to mind that are working hard, putting out great new music, and are doing an amazing job keeping things fresh and alive are Catbite, We Are The Union, Half Past Two, Omnigone, Bite Me Bambi and Kill Lincoln. All in all, there's a lot of amazing Ska happening these days all over the world. From legendary old school bands to 3rd wave veterans, to those bands just starting out. Ska, Ska, Ska!! I Love it! 
My advice to young musicians: Always write music for yourself. Try to be original and make noise you can call your own. That always makes the best music. Doesn't have to be fancy. Or it can be fancy. Just do what you like. Also, be sure to get a tuner and make sure you use it. 🙂
Interested in sampling Mustard Plug? Check out the link below:
Be sure to check out the full archives of VWMusic Interviews, by Andrew Daly, here: www.vwmusicrocks.com/interview