All images courtesy of Don Brewer/Grand Funk Railroad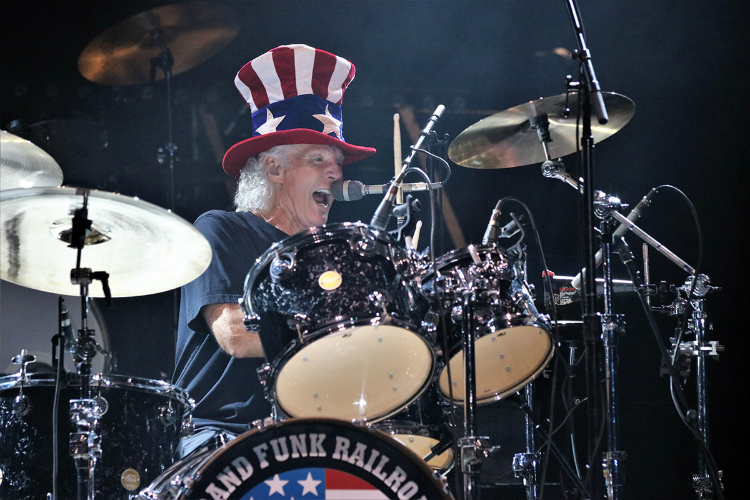 When you heard about drummers from the 70s Rock heyday, you often heard names like Bonham, Moon, Peart, and deservedly so. That said, there is a slew of less-heralded drummers, whose influence can be felt throughout the genre of Rock to this very day. Don Brewer of Grand Funk Railroad is one of those drummers.
Many of us know Grand Funk, and most of us love Grand Funk. They were one of the first true Arena Rock bands, and they, along with a few others, set the tone for what was to come in the late 70s, early 80s, and beyond. Albums like Closer To Home and We're An American Band will forever be etched into the minds of millions of Rock fans forever and more.
So, today I've got Grand Funk's drummer and founding member, Don Brewer, with us. We talk about his early origins, the beginnings of Grand Funk, the 70s heyday, what type of drums he's playing nowadays, and more. If you would like to learn more about Grand Funk Railroad, you can head over to their website here. You can also check my recent interview with fellow Grand Funk member Bruce Kulick here. Once you've done that, dig into this chat with Don Brewer. Cheers.
Andrew:
Don, thank you for taking the time to speak with us. How have you been holding up during this seemingly ever-raging dumpster fire?
Don:
Dumpster fire!? Ha! I've been at home with my wife Sunny, and we're doing well. We both have now finally been vaccinated, so we have a little more freedom than we did. Looking forward to being able to spend more time with the grandkids, and extremely hopeful to get back to work with Grand Funk Soon.
Andrew:
Tell us about your backstory. What was your musical gateway, so to speak?
Don:
My musical story started very early. I remember seeing Elvis Presley on Ed Sullivan, and I was so inspired that I started doing an impersonation of "Hound Dog" and "Blue Suede Shoes. My dad, Don, who was always at the bar, used to take me along sometimes. He would put me up on a table and put money in the jukebox, select Elvis doing "Hound Dog," and let me do my thing. I think that's where the Rock 'N' Roll bug bit me. Both my parents were musical, my mother was a dancer (ballet and tap), and my dad played drums in bands during the Depression. They were both teachers and encouraged both my sister Sandy and me to pursue musical careers. Sandy went on to be a dancer and choreographer on Broadway and in Hollywood.
Andrew:
As an artist and drummer, who are some of your earliest and most important influences?
Don:
My earliest influences were my dad, Chuck Berry, Little Richard, and Jerry Lee Lewis. My dad used to sit with me, and we would play records. He would show me how to play his drum kit, and we would figure out what drummers were playing on the records.
Andrew:
Let's jump right in and talk about Grand Funk Railroad. You're one of the founders and have been the only continuous member. How did the band form?
Don:
I started my first band The Red Devils in my basement, with two friends from elementary school. I played guitar, and the other guys played a snare drum and a trumpet. We worked up the theme song for Peter Gun and played it for the kids in the gym at lunchtime. My next band was The Jazzmasters, in my early teens. We played locally around my hometown of Swartz Creek, Michigan, eventually branching out around the entire state. We used to play school dances, and that's where we ran into a local DJ, Terry Knight. Terry was also billing himself as "the sixth Rolling Stone" and bragging that he was close with the Stones, who were very big at the time. Terry wanted to start a band, and he was impressed with The Jazzmasters. He asked us to form a new band called The Pack with him, and we jumped at it. Terry was a great promoter and a good entertainer, not great as a singer, but he pulled it off.
As The Pack gained popularity around Michigan and Ohio, we recorded two albums that both had regional success. Over the next two years, The Pack became very popular around Michigan, Ohio, and Pennsylvania. At one point, Herm Jackson (our bass player) was drafted into the Army, and we had to scramble to get a replacement. Enter Mark Farner, a guy we knew from the Flint area, having played in competing bands at local "Battle of the Bands." Mark could sing and play both bass and guitar, and he eventually moved to guitar when we lost our guitar player Curt Johnson, who quit.
As time progressed, Terry got a "big head" and decided to leave The Pack and go out on his own, and Farner became our new lead singer. The times got tough, no gigs, not much money, so Farner and I started planning our next move. Terry's career as a singer had failed, but he somehow landed a job at Capitol Records in New York looking for new talent. I sent a letter to Terry, asking if he had any connections to help new bands. Terry write me back saying that "the new big thing in music was the Rock Trio," like Hendrix, Cream, and Blue Cheer.
Farner and I brainstormed and decided to enlist another friend of ours, Mel Schacher, to play Bass. Mell was playing with Question Mark and The Mysterians at the time, but he loved the idea of starting a new trio with Farner and me. We worked up several covers, and a few songs we had been doing as The Pack and told Terry to come to Flint to hear us, he did and loved what we were doing, and we came up with a plan to record in our old stomping ground, Cleveland. Terry got Capitol excited about the new band; we named it Grand Funk Railroad after the local railroad, Grand Trunk Railroad. The rest was a fast and furious rise, as we got lucky with an appearance at the first Atlanta Pop Festival. We started branching out across the southern USA, playing live was our deal, and we quickly became "Grand Funk," the latest hot new band from Michigan.
Andrew:
Grand Funk has so many classic records, such as Closer To Home and We're An American Band. What do you remember about the recording of those seminal albums?
Don:
Both Closer To Home and We're An American Band were exciting records to record. Closer To Home was at our first peak as a Rock Trio. We were huge in New York, and we sold out Shea Stadium faster than The Beatles. Going into Cleveland to record Closer To Home was unique because we were coming off a big second album, Grand Funk. We had confidence and were also going to experiment and add an entire orchestra (The Cleveland Philharmonic) to the title track "I'm Your Captain."
We're An American Band was a make-it-or-break album for us. We had fired Terry Knight, and he was suing us. Terry had taken all our money, and we were in dire need of a hit record. We enlisted Todd Rundgren to produce, and I started doing more writing and singing. It was planned to try and come up with more commercial recordings that would appeal to the "new" FM Radio programming that was only playing 3-minute commercial hits. Obviously, it was so the radio stations could make more money. Our strategy worked, and the single "We're An American Band" was in the top 10 before we were done recording the rest of the album.
Andrew:
Grand Funk has released 13 studio albums but hasn't put out any new material since 1983? Any chance we do see some new music anytime soon?
Don:
Grand Funk has some new music, but we have yet to release anything new.
Andrew:
Grand Funk has had a few starts and stops over the course of its career. The band broke up in 1976 and again in 1983, and one last time in 1998. You got back together in 2000 and have been a very steady touring act since. What led to the breakups? What was it about the reformation in 2000 that has made it stick?
Don:
The breakup in 1976 was a result of doing 13 albums and as many tours in 6 years. I won't point fingers, but Mel and I are still together. The band has been successfully touring since 2000 because the current band likes eachohther and we're GOOD!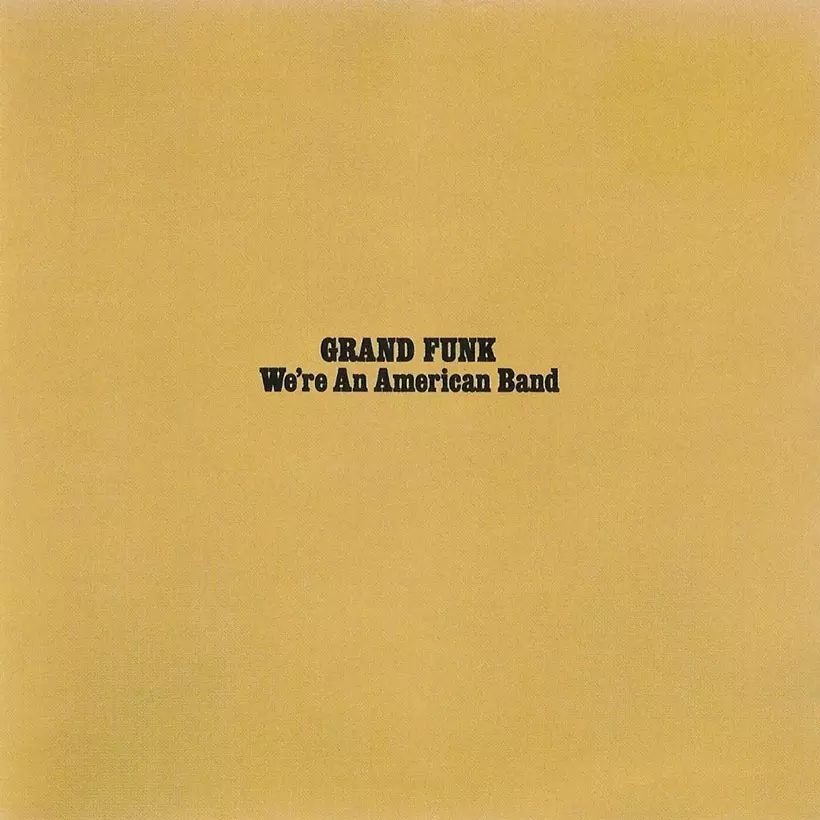 Andrew:
Let's talk more about the current line-up. You and Mel are original members. Bruce Kulick, Tim Cashion, and Max Carl joined in 2000. How did you go about selecting the new members? What's it been like playing with such a talented group? Do you feel the band is stronger than it's ever been?
Don:
The current lineup came about intentionally. We were looking for a singer who had a love of R&B and Rock. I originally met Max Carl through a mutual friend that worked at Peavey. After listening to Max's recordings, I realized he had exactly what Grand Funk needed. After several chats, I got his number, and we decided to get together with Mel and play music. We met in Traverse City, Michigan, and after a few hours, this was a match.
Bruce Kulick, I had met in the 80s when I was the touring drummer for Bob Seger's Silver Bullet Band. Bruce was playing guitar for Michael Bolton, and Bolton was the opener for the Seger tour. We became friends, and when Grand Funk needed a guitar player, Bruce was the first guy I called.
Tim Cashion on keyboards came as a recommendation from my friends in the Seger organization. Tim played a tour with Seger in the 90s. Yes, I think the band is stronger than ever.
Andrew:
I read somewhere that you played the bongos on the Frank Zappa track "Let Me Take You to the Beach." Is that true? How did that end up happening? What was it like working with Frank?
Don:
When Grand Funk reached out to Frank Zappa to produce the Good Singin', Good Playin' album, I never dreamed Frank would accept. When he did, and we started working together, I became friends with Frank and had a great relationship with both him and his family. While I was in LA working with Frank on that album, he asked me to stop by his studio one evening; he was working on a track, "Let Me Take You To The Beach," and asked me to play bongos on it. I was thrilled and honored.
Andrew:
In 2000, Modern Drummer Magazine named you one of the most influential drummers in Rock history. How gratifying was that for you?
Don:
I've never looked at myself as one of the most influential drummers in Rock. I'm not really a "technical" drummer. I just love what I do.
Andrew:
In 1983 and again in 2006/2007, you played with Bob Segar on tour. How did you get the gig? How was it working with Bob?
Don:
In 1983, Grand Funk was splitting up for the second time. I got a call from Grand Funk's former keyboard player, Craig Frost, that Bob Seger (who Craig was now playing with) was looking for a drummer, and I was interested. I went to Detroit for a Segar rehearsal, and they asked me to do the tour. Over the next 32 years, I did many tours as a drummer for The Silver Bullet Band. I consider them my second home, and working with Bob has been an inspiration.
Andrew:
Looking back, how do you feel about Grand Funk's and your own personal place in the history of Rock?
Don:
I think Grand Funk has earned its place in Rock history. We were one of the very first "Arena Rock" bands and certainly the only band to sell out Shea Stadium faster than The Beatles. As far as my place in Rock history? I'm lucky.
Andrew:
Touring is usually a huge part of a working band's proverbial machine, but as we know, COVID has disallowed it. What do you miss most about touring?
Don:
I miss seeing the guys in the band like crazy. I miss being on stage like crazy. I can't wait to see the guys and play a show.
Andrew:
On the subject of touring, indie venues were in trouble before COVID, and they definitely are now. I've seen and heard about places shutting down for good all over. With companies like Ticketmaster strangling the market and bands unable to tour and generate revenue for these places, what do you think the post-COVID landscape is going to be like out there?
Don:
I hope that the long void will bring a huge resurgence in live music. People are going to want to cut loose and have fun!
Andrew:
One disturbing fact I've learned over time is that Spotify doesn't pay artists well, if at all. What are your thoughts on that issue? How do we as fans do our part to help?
Don:
The Spotify thing is both good and bad. You can reach a whole lot more people, but nobody pays much. It was great having live shows to fall back on, and I hope that will continue in the future.
Andrew:
In a world dominated by big business social media, can artists truly get ahead? How do we keep the playing field level so that everyone has a chance to succeed?
Don:
It gets harder all the time. I don't worry about keeping the playing field level; I just do the best that I can.
Andrew:
Are you into records? Tapes? CDs? Digital? Where do you like to shop for music?
Don:
I don't really collect.
Andrew:
What types of drums, cymbals, and hardware are you using these days?
Don:
I use DW Drums, Sabian Cymbals, Pro-Mark Sticks, and Evans Heads.
Andrew:
What are a few albums that mean the most to you, and why?
Don:
My favorite album is Fire & Water by Free.
Andrew:
Last question. What advice would you have for young artists just starting?
Don:
The music business is tough. Life is tough. Go for it!
Interested in learning more about the work of Grand Funk Railroad? Check out the link below:
Dig this interview? Check out the full archives of Vinyl Writer Interviews, by Andrew Daly, here: www.vinylwritermusic.com/interview