All images courtesy of John Beasley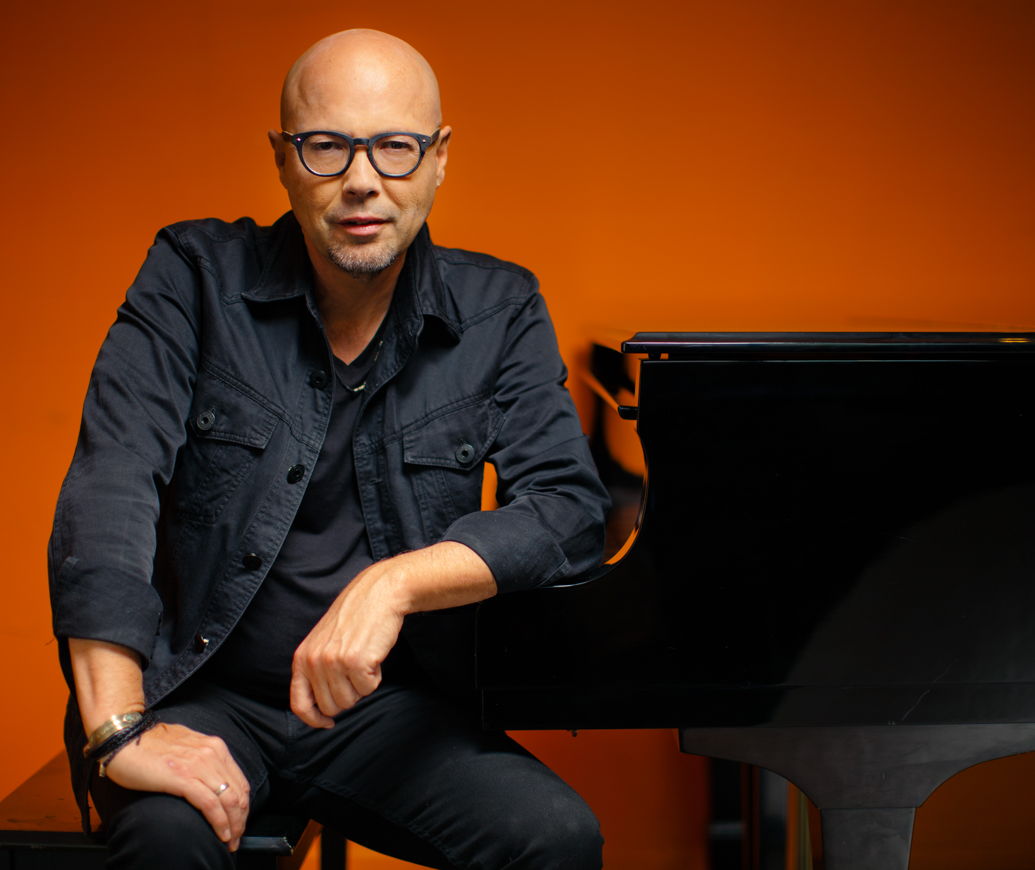 John Beasley is one of the most respected Jazz musicians in the world today, but did you know that he really wanted to be a football player? Imagine how different the world of Jazz would be had John pursued that dream.
Growing up, John spent more time in the band room than the classroom, and that line of thinking would carry over into his 20s when John ditched a scholarship to Julliard to instead play oboe in a touring Gospel band, work on cruise ships and eventually hook up with the likes of Sergio Mendes, Freddie Hubbard and Miles Davis. I think John made the right choice, no?
So, today I've got the one and only John Beasley with us for a chat. It was truly interesting to dig into his life and career. I think you all will agree as well. If you would like to learn more about the artistry of John Beasley, you can head over to his website here. Once you've done that, check out this chat with John. Cheers.
Andrew:
John, thank you for taking the time to speak with us. It's been a weird year, hasn't it? What have you been doing to keep your mind off the tumultuous events of the last year?
John:
2020 was indeed a weird year, when I surely learned how to pivot. Before the year started, on the books, I had about 4 tours in Europe, one in Japan, one in the Middle East, two in South Africa, my third record release with two other record I would be working on, and room for whatever came along.
In January, I took my big band MONK'estra into the studios to record the film score for Steven Soderberg's film "Let them all Talk" with Meryl Streep. I arranged, orchestrated the 15-time Oscar nominated Thomas Newman's score and conducted MONK'estra and a string section. This was a true career highlight not only because I was back working with Newman but because I was able to bring my band which I formed out of an experiment and not having much work one December going into the New Year of 2013.
I wrapped up a funky 70s Latin Rock album for music editors who place music in film and TV projects called Lords of Dogtown: Men of Smoke that I wrote with Steve Lindsey. That was so much fun.
Then, I packed my dressy clothes and went on a west coast tour with Jazz vocalist Dianne Reeves and Ivan Lins playing beautiful stages in Santa Barbara, San Francisco, and Vancouver.
I had to switch wardrobes for "desert" weather as I took my MONK'estra quartet to Abu Dhabi and Dubai.
COVID was spreading around the world because after we left San Francisco, the city went on lockdown. In Vancouver, there was a rumor that the concert would be cancelled, but it went on then the city shut down. Same thing happened when we were in the United Arab Emirates; they cancelled our last concert, then they went on lockdown.
From April onwards, the cancellations for the tours and every project and event started coming in.
How did I pass the time from then on?

I was lucky to have writing projects, so I worked on a commission that I had to do for Carnegie Hall National Youth Orchestra. I started writing arrangements for a Charlie Parker recording with my co-arranger Magnus Lindgren in Sweden via Zoom.

I hosted two special shows on SiriusXM Real Jazz to mark "Jazz Day" and Charlie Parker's centennial which I called "The Bird and the Beas." As musicians were home and not touring, I was able to interview Herbie Hancock, Wayne Shorter, Terrence Blanchard, Christian Sands, Sonny Rollins and a lot of others.

In the summer, I led a student band with gifted musicians from all over the world on Zoom.
Then, Mack Avenue Records released the third in my MONK'estra series of albums MONK'estra Plays John Beasley. It was depressing to not return to the Jazz Standard club in New York to have a CD release concert because that was what we did for MONK'estra Vol. 1 and MONK'estra Vol. 2. Now this major club has closed after 23 years due to the pandemic.
I did a few streaming concerts: solo piano for Blue Note Tokyo, to mark Jazz Day; a concert with Pharoah Sanders led by Azar Lawrence to mark Pharoah's 80th birthday; and at the World Stage in Los Angeles, a concert series under the theme "Jazz musicians unite against racism" because of the shameless police murders of George Floyd, Ahmaud Arbery, and Breonna Taylor. Now we have a concert to get Democrats out to vote in the run-off in Georgia.
I actually traveled to Germany before their 2nd lockdown to do an in-person recording in Stuttgart with the SWR Big Band and a 12-person violin section for my Bird album. A week after I left Germany, the country announced an extended lockdown.
So, there was a lot of pivoting. A mishmash of this and that. Time for gardening, cooking, reading, calling friends and checking up on each other. And a lot of major issues to fight for like democracy, anti-racism, restore belief in science and public health. I am living on my pension until we can have our livelihoods back again.
As we wind down this weird year, in the US, we are in yet another deadly surge but we see the horizon with the vaccine. Looking forward to the next roaring 20s when the public will want more music than ever.
Andrew:
Tell us a bit about your backstory. What are your musical origins so to speak?
John:
Both my parents were musicians and educators. My grandfather was a trombonist too, so I was influenced by going to their concerts and hearing the music around the house.
Jazz – my dad introduced me to all kinds of Jazz since I was very young.
I played in Gospel and R&B bands and toured with Brazilian and Afro-Cuban bands. I worked with the top Indian musician A.R. Rahman so I had to learn amazing Indian music. I just produced an all-Portuguese album of Fado music so that was a wonderful learning experience too.
On cruise ships in my early 20s, I played Top-40.
Classical – I played oboe when I was in high school. For the past 2 years, I have been  taking Classical piano lessons.
Andrew:
As an artist, and pianist, who have been some of your most important influences? How did you develop your signature style?
John:
Hank Jones said, "I am the sum total of everything that I have experienced musically."
Here are some of my important influences.
Herbie Hancock – his imagination.
Wayne Shorter – his harmonic beauty.
John Coltrane – his passion.
Thad Jones, Gil Evans, Quincy Jones, Johnny Mandel – their creative arranging.
Tony Williams – inventiveness.
Thelonious Monk and Miles Davis – boldness + freedom
Stevie Wonder and Joni Mitchell – songwriting ability
My signature style came from the sum total of the above experiences of 40 years of diverse work projects, including commercials, TV, film, recording, R&B, Gospel, Fusion, Jazz, Electronica tours, recordings, and performing – a bubbling cauldron of many influences.
Andrew:
Early on in your career you toured with Sergio Mendes. How did you end up working with him? What was that experience like? How did it shape you as a musician going forward?
John:
Sergio turned me on to the great Brazilian artists, especially Ivan Lins, Gilberto Gil, and Djavan. We toured the world. I was obsessed with Ivan Lins' music. I loved his songwriting, his harmonic concepts. I learned the rhythms from the band members Oscar Castro-Nevis and Sebastião Neto, who was Antonio Carlos Jobim's original bass player. They became my teachers, my mentors.
Andrew:
For several years you were also a member of Freddie Hubbard's band. How did you get that gig? Tell us about your time as a member of Freddie's band.
John:
Freddie was the college education that I rejected. Night after night in clubs over eight years, Freddie was playing at blistering tempos. I had to comp for a genius like him. It was an invaluable experience. I still reflect on all these years. To have all that power, energy, and be able to execute his ideas with all that feeling was astounding to me a young 20-something at the time.
Andrew:
In 1992, you broke out on your own, and released your debut album, Cauldron. Looking back, what are your thoughts on the album?
Before writing Cauldron, I was working with Walter Becker (Steely Dan) who was producing the Rickie Lee Jones album Flying Cowboys. It was during those sessions when Miles Davis called me to join his band. Walter told me to get packing because I didn't want to be disloyal to him. On tour, I started writing songs that were influenced by what I was playing with Miles. We were performing the music of Amandla and Tutu, so my songs were influenced by this music. Then, Walter called to offer me a record deal with Wyndam Hill Records which he wanted to produce, so Cauldron, when I listen to the music today, reflects my time with Miles.
Andrew:
Tell us a little bit about your work producing and composing music for both film and television. How did you break into that space?
John:
I was around 23 when I got hired by Paramount Pictures to record a synthesizer version of the Star Trek theme. The head of the department liked me so he kept asking me to do sound-alikes. Then I got hired to write for Family Ties; I spent 10 years working for Paramount doing sessions and writing for TV shows. That's when I met Harvey Mason Sr, Plas Johnson, Mike Lang, Chuck Delmonico, and eventually Thomas Newman, George S. Clinton, Carmine Coppola, Alan Silvestri and other composers.
Andrew:
Let's talk about current events. You've also been nominated for 4 GRAMMY awards this year for best Jazz Vocal Album, Best Large Jazz Ensemble Album, Best Arrangement, Instrumental Or A Cappella and Best Arrangement, Instrument And Vocals. How gratifying is that for you?
John:
The GRAMMY's are about your peers recognizing and vote for your work, so it feels very gratifying. But competitions are not healthy for the soul. So many people get left out for the great music they made. The final votes are so subjective because everyone has such diverse taste. This is my ninth nomination but haven't won so far. It will come as a surprise because the competition is always tough.
Andrew:
Aside from any potential possibilities musically, what are else are you passionate about? How do those passions inform your music, if at all?
John:
I cook and improvise like I play music. My dinner can be Asian marinated tuna, with German spatzle dumpling pasta, and steamed Romanesco vegetable. I cook what I feel and imagine when I see the ingredients…and hope for a symphony of flavor.
Andrew:
Shifting gears now. In your opinion, COVID-19 aside, what's the state of the industry? With the never-ending barrage of social media, and constant squeeze from big business, is it harder or easier for artists to succeed these days?
John:
Harder as there are a lot more artists. With technology, anyone can make a record from their bedroom or studio and get it out to the public.
Streaming services have decreased the value of music. It's now "free" on Spotify by turning on the app, so why would anyone want to start paying? It will take a huge behavioral shift. I do think if people start becoming more nostalgic and wanted to be tangible, then we have hope. With vinyl, it's the act of touching a cover, seeing the art, reading the liner notes, seeing the names of each performer, producer, engineer, then pulling out the vinyl, placing it on the turntable, lifting the needle and letting it touch the spinning record, then hearing the magic of music play from your speakers and hearing how different it sounds rather from a device. When we feel we need this 'experience,' then we will value music more.
sound.

It's a SHAME that platforms like YouTube and Spotify are paying musicians so little to experience art. How can anyone survive on .003 cents a stream? Musicians can't afford to buy a laptop to make the next song, or pay their rent and buy food. Imagine, getting paid less than a cent to make art.
Andrew:
Are you into vinyl? Tapes? CDs? Or are you all digital now? Where do you like to shop for music?
John:
I love vinyl because it fills the whole house with music even though it's going through the same speakers when you stream from devices. Vinyl just sounds better especially when cooking.
The only CD player I have is in my car. With COVID, I am only driving to the grocery store, so I'm not listening to a lot of discs now.
When I have to do research for projects, I stream online for because of its accessibility.
Andrew:
What are some of your proudest and fondest memories as a musician?
Proudest and fondest memories:
Playing with Freddie and Miles because they are beyond "dream" moments especially because I was in my 20s.
Being a part of Tom Newman crew especially making the music for the James Bond films: Spectre and Skyfall. We were in the famed Abbey Road Studios for months. I was living in London and walking through Regent's Park to work every morning. We hunkered down in the cottage that they assigned us. The movies were wall-to-wall music, so we worked long hours, took a pub break at 5pm every day with the crew. Watched Tom deal with directors, producers, musicians, orchestras and witnessed how he nailed the score. It was like going to school for me.
Being appointed the Music Director for the gala concerts for the Herbie Hancock Jazz Institute (formerly the Thelonious Monk Institute). Each year, we gathered 30 of the world's major Jazz and some popular artists to perform on an international stage to mark International Jazz Day. We went to beautiful world heritage venues like the Hagia Sophia in Istanbul, Osaka castle in Japan, concert halls in Havana and St Petersburg, then we went to the White House when President Obama and First Lady Michelle Obama greeted us. It's really been a dream year after year. We were to go to Africa this year but COVID has postponed this.
With my band MONK'estra, playing at SFJAZZ in such a gorgeous concert hall felt that we have arrived, though the basement plush red walled club of the Jazz Standard provided the cozy intimacy Jazz clubs should have.
Andrew:
Last question. What advice would you have for young artists just starting out?
John:
For young musicians – take every gig because there's a takeaway to each one -good or weird experience. And, as Alex Acuna said to me decades ago, when it's not your gig just say yes to demands. You don't get anything out of saying no.
 If you struggle to play your instrument, then it's not the instrument for you.
Interested in learning more about the work of John Beasley? Check out the link below:
Dig this interview? Check out the full archives of Vinyl Writer Interviews, by Andrew Daly, here: www.vinylwritermusic.com/interview