All images courtesy of Kim Simmonds
Kim Simmonds is both a pioneer and a survivor. In life and music, you have to be a little bit of both if you want to get by.
Kim has done a whole lot than get by, though. In 1965, Kim founded the now legendary Blues Rock band Savoy Brown, and in doing so, he more or less kicked off an entire second wave of British-led Blues and Blues Rock. The Blues was dead, they said, well not to Kim.
Since then, Kim has gone on to release dozens of fantastic albums in a similar vein, and if you're a fan, you're in for a treat, as Savoy Brown has another new record out called Ain't Done Yet, which you can grab here.
So, today I've got the legendary Bluesman himself, Kim Simmonds. We chat about better days ahead, his origins within and love for the Blues, his memories of Lonesome Dave Peverett, and much more. Dig in.
Andrew:
Kim, thank you for taking the time to speak with us. How are you holding up given the tumultuous events of the last year or so?
Kim:
These are bad times for us all to go through. I'm being patient, and I'm doing good. I practice most days, and playing guitar is a great way to escape reality. And, of course, it's work for me too. I'm writing for a new album for next year (2022) have great support from my wife Debbie, my family, and band members Pat and Garnet. That's been a blessing. I get my first vaccine shot in a few days, so that's some kind of forward movement. In my part of the world, we're in the dead of winter, which adds to the general angst. Also, during this last year, I had a heart attack! Luckily, I survived. So, I was certainly happy to have 2020 behind me in more ways than one. This year can only get better.
Andrew:
Tell us about your backstory. What was your musical gateway?
Kim:
I had an elder brother Harry that brought me up on Rock and Blues in the 1950s. It started with the record "Cry" by Johnny Ray that I'd listen to with him. Then Bill Haley and Elvis quickly came along, and he'd take me to see the Rock' N' Roll movies. Later, in London, we'd go to the package shows together and see acts like Bo Diddley. Fats Domino and usually another half dozen acts on the bill. At that time, I saw The Rolling Stones on their first tour on one of those package shows. From there, I took it on myself to buy records when I was about fourteen….mostly Rhythm and Blues, which was the catch-all word for many different black music forms back then. From there, I started going around the London clubs and venues to see the bands that were playing. I also got to see American blues artists touring the UK like Jimmy Reed and Howlin' Wolf. Then I started Savoy Brown as a UK version of the Muddy Waters Blues Band.

Andrew:
As an artist, who are some of your earliest and most important influences?

Kim:
Muddy Waters Blues Band is my most significant influence. On guitar…Otis Rush and Freddie King. Living in London in the early 60s, I got to see every British guitar player of note, and watching them play live was an education. Mick Green with Johnny Kidd and the Pirates, for instance, and then Eric Clapton with The Yardbirds…you name them; I saw and learned from them!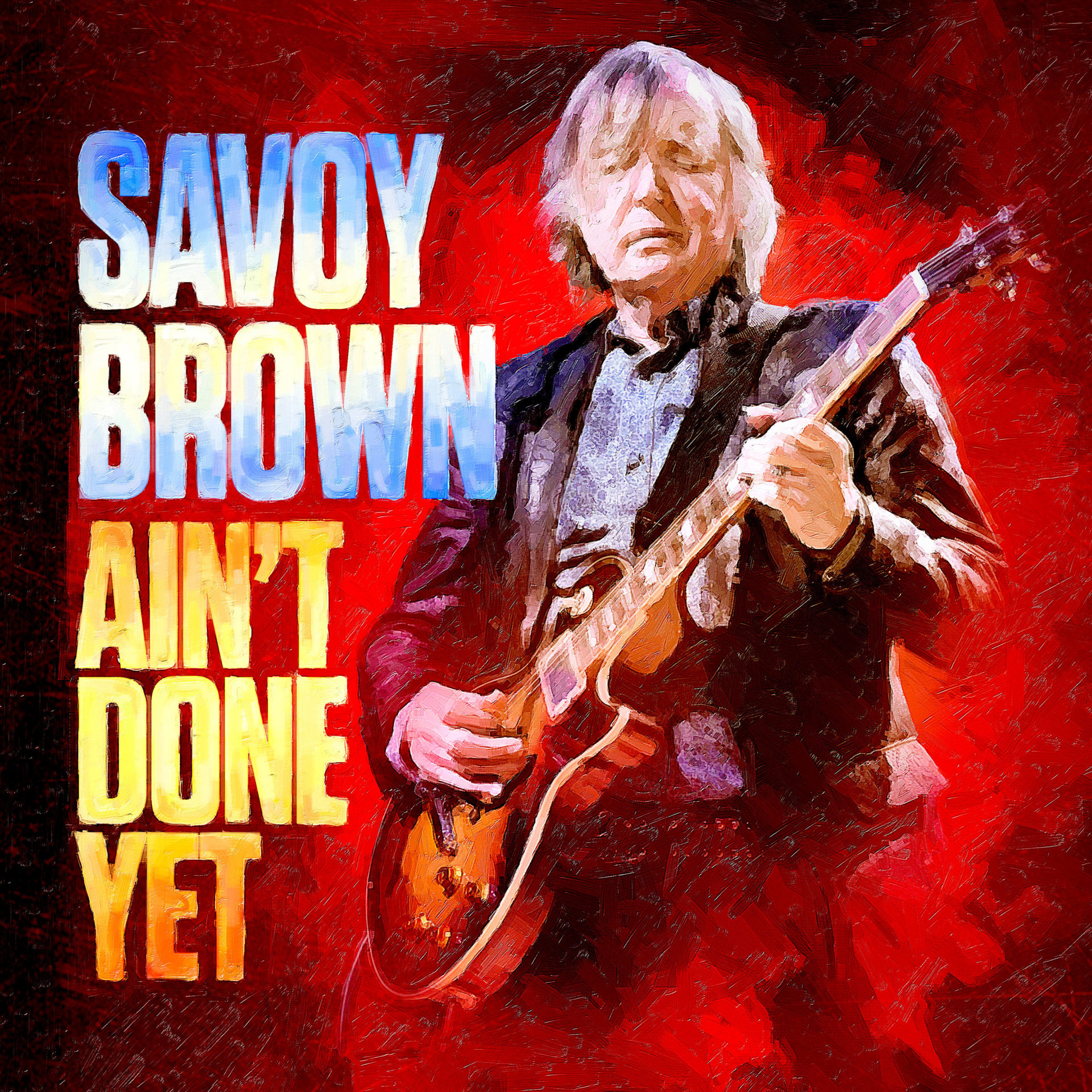 Andrew:
Let's talk about your new album Ain't Done Yet. Tell us about the recording and inspiration? This is your 1st solo record since 2019. What's changed for you since then? What can listeners expect?

Kim:
The new album is a Savoy Brown release. It's entitled Ain't Done Yet and is a continuation of others I've recorded the past few years. It's Blues Rock with emphasis on good song material… .it's not simply guitar chops, although I hope those are there. I work hard at making my style fit within the modern music world, but I don't want to lose the thread that has been there since 1965. If you're going to call it that, the trick is to progress but not so much that you will lose one's following. A good guitar tone and strong material are what I always admired in Blues artists of the 50s and 60s, and I still use their model as my guide.

Andrew:
Also, in 2020, Savoy Brown released Taking The Blues Back Home. Tell us more about this record as well. 

Kim:
They were live tapes from the past that have been re-released by a UK company that I had business with. I would say it's really a good album for collectors.

Andrew:
As a songwriter, how do your lyrics come together? Are they intensely personal, or are you merely telling stories?

Kim:
You try to tell a story, and within that story, you dig inside yourself and your personal experiences to add something of your own life and how you view things. A song can be autobiographical, but usually, it's a mixture of fact and fiction.
Andrew:
How about the production side of things? Do you self-produce or hire outside sources?

Kim:
I produce myself. My strong point is in writing and arranging. I let the engineer get all the sounds in the studio, and I just become the artist. I don't really like the studio, and much prefer playing live. That's why I've never gone into producing other artists. It's stressful enough doing my own albums. I write dozens of songs to come up with a few that I'm happy with. I want to get it over with as soon as possible in the studio! When I started in the old Decca studios, I enjoyed it more…the tea lady would come around with her trolley twice a day!

Andrew:
Let's go back now, and talk about the beginnings of Savoy Brown. With Savoy Brown, you've built a pretty lasting legacy and are referred to as one of the architects of British Blues. How did Savoy Brown get started?

Kim:
I started the band with local friends in 1965, rehearsing in an upstairs room at the Nags Head pub in Battersea, South London. The room had a small stage, so I was rehearsing the band in "real-time," if that's the correct phrase. Once I thought we were ready, the doors were opened in 1966, fliers put around London, and attendances went from six people the first night to a packed venue every week. It became the epicenter of Blues, in South London, in 1966. As the year progressed (1966), the band started to reach out from London and play venues further afield. By that time, my brother managed the band and booking gigs, too, so that worked well.

Andrew:
More on the early days of Savoy Brown. The early records such as Getting to the Point, Blue Matter, A Step Further, Raw Sienna, and Looking In were such classic records. You had yourself, Dave Peverette, Roger Earl, and Tone Stevens. Tell us more about those early days. What was it about that lineup that led to so many unique records? Any chance of the remaining members of that lineup and yourself regrouping at some point?

Kim:
The lineup had a lot of knowledge about the music we were playing, especially Dave Peverett, who was an avid Blues and Rock aficionado, like I was myself. Roger, Tony, and vocalist Chris Youlden also the same and very talented. It was simply that…talent in abundance within the band made those albums so interesting, groundbreaking, and sound. I still jam with Roger and Tony if our paths cross. In particular, Roger, who is the leader of Foghat. I spend time with because we are in the same agency, Paradise Artists, and we do lots of Foghat/Savoy Brown shows together during the course of a year. I also guested on the last Foghat album, and that was a once-in-a-lifetime experience for me. Chris Youlden and I have lost contact with, but I followed his solo releases and have enjoyed them. So, a reunion of sorts goes on with Roger and me quite a bit!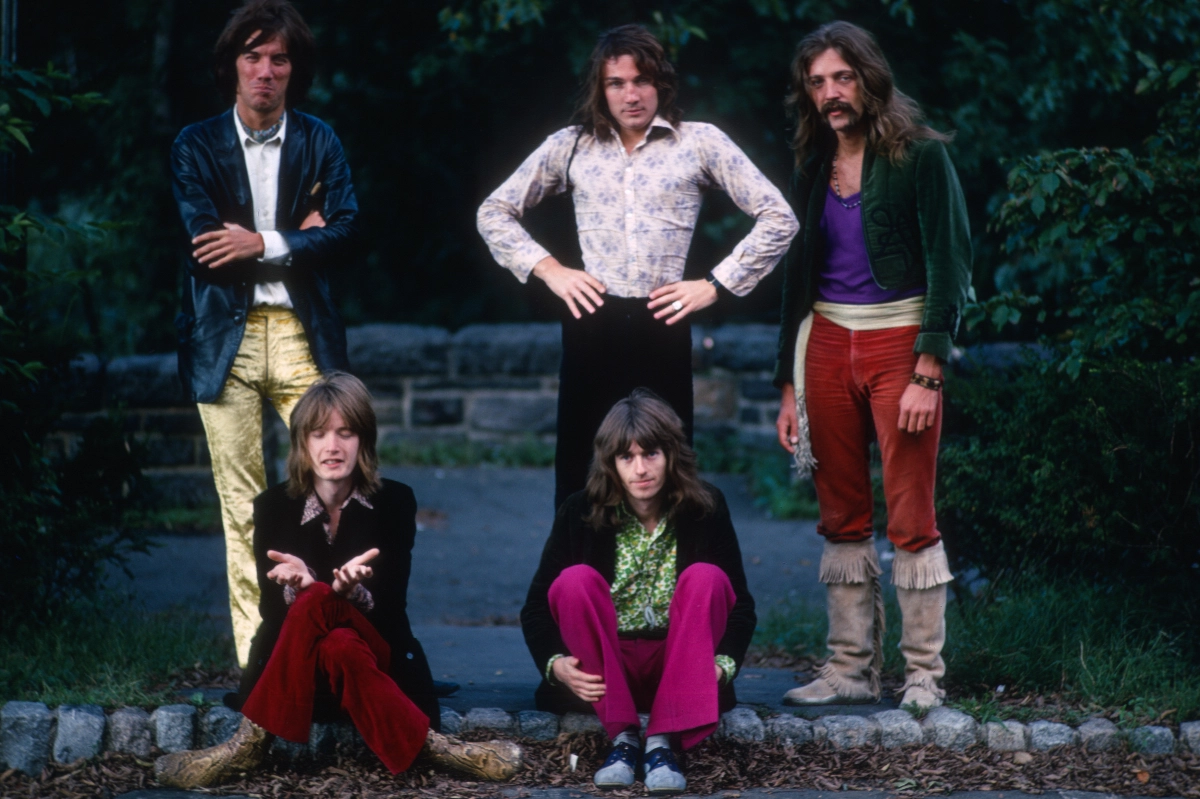 Andrew:
I wanted to mention Dave Peverett, who we sadly lost in 2000. What was it like working with him? How important was he to Blues Rock and Rock music in general? What's his legacy?

Kim:
I think about Dave all the time, and I have his picture on my studio wall. We shared a room on the road back in the old days. He was always super supportive of me even when he had left to have great success with Foghat. He'd always show up to see my show when I played in Florida, where he finally lived. He showed me great respect, and I often wondered if I deserved it. In turn, I was so happy for him when he gained such great success after leaving Savoy Brown. Dave was an easy-going person and just loved music. I loved working with him. He was a friend, and we had great times together collecting records and books on the early tours….and guitars too. We once both bought Les Paul guitars at a pawn shop for under $75.00 each!

Dave's legacy is enormous….just look at the Savoy Brown albums and the Foghat hits like "Slow Ride." They will forever be part of the American music listening experience. He deserves to be held in the highest regard, and I hope he and Foghat get into the Rock 'N' Roll Hall of Fame.

Andrew:
Touring is usually a massive part of a working musician's proverbial machine, but as we know, COVID has disallowed it. What do you miss most about touring?

Kim:
I miss being on stage playing my guitar and knowing that I'm talking to people through the instrument in a more profound way than I could verbally. I miss the musical growth that you experience by being on the road playing in front of audiences. I miss seeing fans that I've become friends with, the crowd in general, and I miss just being on stage carrying on the British Blues legacy. Oh, and I miss the fun!

Andrew:
One disturbing fact I've learned over time is that Spotify doesn't pay artists well, if at all. Meanwhile, Bandcamp seemingly goes out of its way to take care of its artist. What are your thoughts on that issue? How do we as fans do our part to help?

Kim:
It's the way of the future. Spotify is an excellent resource for music. Anything that's ever been recorded is at your fingertips. One has to look at the big picture; in lieu of money coming from the digital outlets, your music is there, people are listening to it, and you hope that inspires them to go to a live show. That's where most musicians make their money
anyway….playing shows. As long as that doesn't disappear, we'll all be okay. Fans can help by giving their time, energy, and money to see a live show.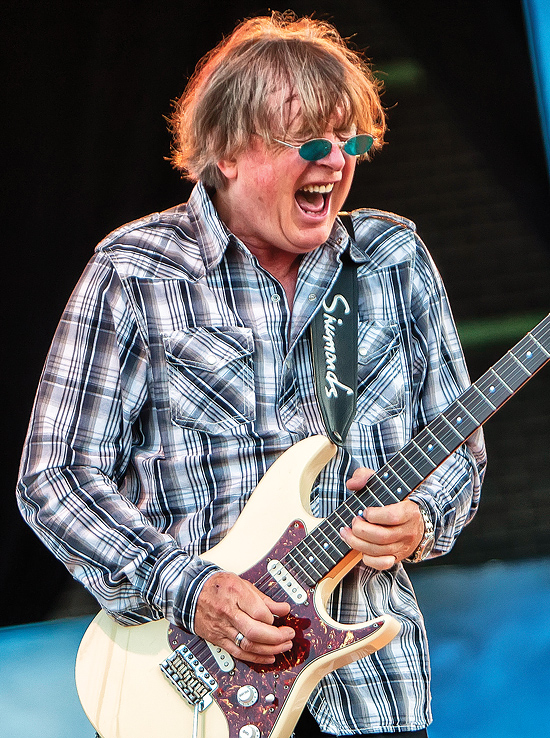 Andrew:
In a world dominated by big business and social media, can artists truly get ahead? How do we keep the playing field level so that everyone has a chance to succeed? How much have things changed in that regard since you were first starting?

Kim:
In regards to how things have changed since 1965 – not a lot is different in the sense that young guys (now a lot more girls) still get together in a garage, play Les Paul's or Telecasters through Marshall or Vox amps, and if they have the songs they become a success. That's the key…the songs. When I started a Blues band in 1965, I went against the grain…." Blues is dead," I was told (post-Rolling Stones and the first R&B UK boom)….but I did it anyway. And low and behold, there was an even bigger boom in 1967….the British Blues boom. So, you can't follow the crowd if you want to be a success….or at least a big success. Interestingly, I have the feeling that with the advent of young women getting into Blues Rock these days, the genre might go back to the 1920s/30s, when women were the prominent Blues artists. Everything seems to change yet…does it?

Andrew:
Are you into records? Tapes? CDs? Digital? Where do you like to shop for music? What are a few albums that mean the most to you and why?

Kim:
I have collected vinyl records since 1963….rare Blues and jazz mostly. Nowadays, I listen to new music via the usual digital outlets. I never liked CDs though they brought along extra money via royalties…I think CDs devalued music. My 60s Blue Note Jazz collection means a lot because of the exemplary musicianship and the joy that music has brought to me. I love my Blues albums. Otis Rush, Muddy Waters, and Freddy King especially. And my R&B albums….Bill Doggett and such.

Andrew:
Who are some of your favorite artists? Ones that mean the most to you.

Kim:
Howlin' Wolf, Lonnie Mack, Grant Green, Billy Butler, Earl Palmer, Eric Clapton, Peter Green, Matt Murphy, and Willie Dixon. That was off the top of my head…the list is endless…

Andrew:
Last question. You've been at it for over 50 years. You've toured the world and have been a part of some genuinely seminal records. With all that being said, as a veteran of "the scene," what advice would you have for young artists looking to dive in headfirst?

Kim:
Stick to one style. Specialize in one style. You'll get ahead further and quicker if you focus on just one musical style. You'll naturally be a part of your time and place in the world, but hold on to your individuality and don't be afraid to go against the grain.
Interested in learning more about the work of Savoy Brown? Check out the link below:
Dig this interview? Check out the full archives of Vinyl Writer Interviews, by Andrew Daly, here: www.vinylwritermusic.com/interview