All images courtesy of Adrenaline PR
Phil Campbell needs no introduction. As the lead guitarist of Motörhead from 1984 until the band's end in 2015, Phil Campbell has been one of the most influential guitar players in all of Hard Rock and Heavy Metal. His influence on the genre and its players over the last 40 years is both undeniable and indelible.
With Motörhead, Phil was a part of 16 transcendent Heavy Metal albums. Albums that shaped the hearts and minds of a generation to come. Since the end of Motörhead, Phil has started his own group, Phil Campbell and the Bastard Sons, where he is carrying on the tradition of playing good old-fashioned Hard Rock and Heavy Metal.
You can learn more about Phil's new band via their website here. They've got a new record out called We're the Bastards. While you're giving it a spin, check out my latest "sit down" with Phil Campbell below. That's it for me, for now. Rock on.
Andrew:
Phil, thank you for taking the time to speak with us. It's been some year, hasn't it? What have you been doing to pass the time?
Phil:
Yes, it's been a very strange year but fingers crossed with the news of the vaccine, things can be a bit more normal next year. I haven't really been doing too much besides recording our new album of course. So that's one positive that has come out of 2020.
Andrew:
Tell us a bit about your backstory. What are your musical origins so to speak?
Phil:
Well, I actually started out as a drummer in a cabaret band before getting to grips with the guitar and joining Persian Risk. Had a great time with them before auditioning for Motörhead in 1984, and was in them until 2015 of course when Lemmy sadly passed. Of course, Motörhead couldn't continue without Lemmy. Since then I've formed a band with 3 of my sons and singer Neil Starr called Phil Campbell and the Bastard Sons, and we've just recently released our second full-length album called We're the Bastards.
Andrew:
As an artist, and guitarist, who have been some of your most important influences? How did you develop your signature style?
Phil:
All the regular people really. Jimi Hendrix, Jimmy Page, Michael Schenker, Jeff Beck, etc. I don't really know how I developed my style, I guess just a mixture of all those guitarists, but I've always just thought of myself as a blues guitar player really.
Andrew:
You joined Motörhead and were with the band all the way until the end. Losing Lemmy was tough for all lovers of the band, but must have been especially tough for his bandmates. Looking back, what do you remember about Lemmy and your time in the band? What was it like working with him? In your opinion, what's Lemmy's legacy when it comes to Rock and Heavy Metal?
Phil:
I just miss all the great times hanging out on the bus with Lem. I met him when I was a kid after a Hawkwind gig and I got his autograph. If somebody told me back then you would be in a band with this guy for 32 years I would have said you were mad! He always thought of us as a band and a collective which I've always really respected. And I don't think much needs to be said about his legacy as it speaks for itself.
Andrew:
I know Lemmy was sick toward the end of Motörheads touring career, and that you guys basically toured until he physically couldn't anymore. To me, that's the classic spirit of Lemmy in a nutshell. What were those final shows like knowing that they would likely be the band's last? Was it a very different feeling?
Phil:
We weren't planning on that tour being the last, we were due to play UK shows the following month. During that winter tour, he was actually in top form compared to some of the dates in the summer. Obviously at that age, coming towards his 70th birthday we knew he was as fit as Lem would have been in years gone by, but nobody knew what was going to happen next. Lem has always said his home was out on the road, so I think it's great we got through that last tour as it was a great one.
Andrew:
Looking back, albums like Orgasmatron and Rock 'n' Roll are such classic records from that era. I love those albums. After all these years, what are your thoughts on those records?
Phil:
Yeah, I love the songs on those albums. It's well reported that we weren't happy with the final mixes on the Orgasmatron album, but the songs were still really good Rock songs. It's been good going back to some of those songs from those albums with PCATBS as we've played songs such as 'Deaf Forever,' 'Nothing Up My Sleeve,' 'Eat The Rich' and 'Rock N Roll' which have gone down really well with the crowds as we hadn't played any of those songs with Motorhead for years!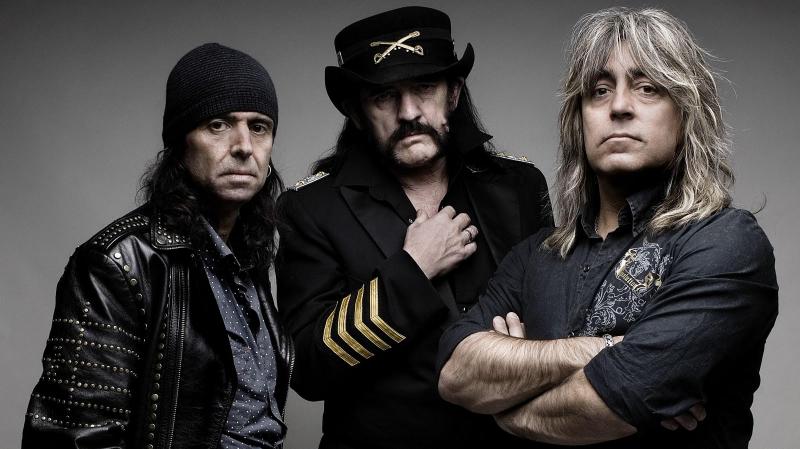 Andrew:
Motörhead put out 16 studio albums during your time with the band, a lot of which are very underrated. I've always loved March or Die and Motorizer. In your opinion, what are some of the band's most underrated records? Ones that you're most proud of?
Phil:
I'm proud to say I don't think we ever released any crap albums. Some albums are obviously better than others, but I think there are really good songs on all of our albums. I've always said Bastards is my favorite album of ours. Just everything seemed to click together on that album. It was also the first of 4 albums we did with producer Howard Benson, and I think all of those albums were underrated.
Andrew:
Let's talk about current events. Since the end of Motörhead, you've formed a new group called Phil Campbell and the Bastard Sons. How did the group come together?
Phil:
The group came about at Todd's 30th birthday party years ago. We had a band play and during their break, we all went on stage and jammed a few cover songs with different singers, and Neil was one of the singers. The boys have been friends with him for four years due to their bands playing together a lot over the years. So, we just started as a cover party band after that called Phil Campbell's All Starr Band and we had some great gigs. But when we decided to start writing original material we thought we needed a new name, and Neil came up with Phil Campbell and the Bastard Sons, initially as a joke but the boys liked it and 5 years later we are still here!
Andrew:
Since 2016, The Bastard Sons have released an EP and two studio albums. The newest of which came out this year and is called We're the Bastards. Tell us about your new record. What was the inspiration? Where can we get it and what formats will it be available on?
Phil:
Well, we wrote the album at the start of the year in January and February and booked studio time for April at our studio as my son and guitarist Todd was producing it. But when lockdown happened in March it meant we had to record it socially distanced, so we only had 3 people at the studio maximum at any given time which was a bit different. You'd have to ask singer Neil about the lyrical content, but I think there's a couple of songs that might be influenced by current times. We released the album via Nuclear Blast on digipack CD and Jewel case, cassette tape, and 4 different colored vinyls. Black, silver sparkle, gold, and orange splatter. We've sold out of the cassette, gold, and orange sparkle vinyl and there's only a limited amount of silver sparkle left I believe.
Andrew:
Aside from any potential possibilities musically, what else are you passionate about? How do those passions inform your music, if at all?
Phil:
Well, obviously my main passion is music, but I'm also quite fond of art. When we have days off on tour with PCATBS we usually try and find a museum to visit to kill some time. Not exactly the most Rock N' Roll thing to do on a day off! But I think the contrast between playing a loud Rock and a relaxing time browsing art at a museum brings a nice balance.
Andrew:
Shifting gears now. In your opinion, COVID-19 aside, what's the state of the industry? With the never-ending barrage of social media, and constant squeeze from big business, is it harder or easier for artists to succeed these days?
Phil:
I think the main thing that needs addressing is companies such as Spotify paying a royalty rate that's basically next to nothing. Especially during a time such as this pandemic where nobody can tour, or make any money from touring. I think it would be good for Spotify to give some money back to the artists to help people during these times. I think the royalty rate is $0.003 per stream which is just ridiculous considering the guy is worth billions!
Andrew:
What are a few albums that mean the most to you and why?
Phil:
There are quite a few, but I always try to stick to the same few I've said in previous interviews. Hendrix, In The West, is always one of the ones I say as that's one of the records that made me want to pick up the guitar. Dark Side Of The Moon is another one I always say, I just don't understand how they managed to record all of that before Pro Tools!
Andrew:
Are you into vinyl? Tapes? CDs? Or are you all digital now? Where do you like to shop for music?
Phil:
I've still got a lot of original vinyl from my younger days. Unfortunately, years and years ago a burglar stole a lot of it, but I still have a fair bit in storage. I do enjoy browsing record stores, there are some great ones in Cardiff like Kelly's Records and Spillers Records which is actually reportedly the oldest record shop in the world, Google it! But I mainly buy CDs for the car now, and I do use Spotify from time to time.
Andrew:
It's been a weird year, but we've still seen a lot of great music released in 2020. What are some of your "must-have" albums of the year 2020?
Phil:
I can't think from the top of my head at the moment, so I'm just gonna have to say our new record!
Andrew:
What type of guitars and gear are you using these days?
Phil:
I'm still using my Marshall stacks when touring as they've never let me down, and Marshall has been really good to me over the years. Regarding guitars, for the last few tours, I've been using my Tokai Les Paul, my Lag Explorer, a couple of Framus guitars, and a PRS. I do like to change them up from time to time just to keep things interesting.
Andrew:
Last question. You've had a great career, with hopefully a long way to go yet. That said, looking back, what are some of your proudest and fondest memories as a musician? What advice would you have for young musicians trying to get their start today?
Phil:
I'm just very proud of all the output Motörhead has put out over the years and continue doing so with my boys in PCATBS, and just the fact I've been lucky enough to make a living out of music for all of these years. My only advice to young musicians would just be you. Don't try and play for anyone else, just play for yourself.
Be sure to check out the full archives of VWMusic Interviews, by Andrew Daly, here: www.vwmusicrocks.com/interview