It's not often one gets the chance to speak with one of the better and more consistent drummers of one of the best eras of music there ever was (the late 60s and early 70s). More so, these days, it's probably less often that one gets to speak with an OG veteran of the original 1969 Woodstock Festival, and yet, here we are. Today, I've got Ric Lee "with us."
Ric's list of accomplishments in music is long, but for all intents and purposes, you probably know him as the fantastic drummer of the legendary band Ten Years After. These days, Ric is still drumming for a renewed version of Ten Years After. He's also got a new book out, From Headstocks to Woodstock: A Drummer's Tale. If you dig Rock 'N' Roll autobiographies, then this will be right up your alley.
You can get Ric's book anywhere you get your books, and also at this link here. I've said my piece. Until next time- cheers.
Andrew:
Ric, thank you for taking the time to speak with us. It's been a weird year, hasn't it? What have you been doing to pass the time?
Ric:
My pleasure to talk to you. It has been a strange period and sadly looks like it could continue for a good while yet. Believe it or not, I've been very busy. When we're not on the road, which in "normal" times, is many months of the year, I teach drums at two colleges and private pupils local to where I live. Since lockdown here last March, I've continued teaching on Zoom. Added to that, I'm studying for my Grade 3 Jazz Piano Exam (I passed Grade 2 last year – with merit!), so I practice piano every day. I also practice guitar daily. I'm not great at it, but both instruments are good for exercising my fingers and keeping the brain active. Following that, I do a minimum of half an hour drum practice, usually followed by an hour (alternate days) of High-Intensity Interval Training to keep fit. The remainder of my days is taken up with TYA admin and running my small music publishing company.
Andrew:
Tell us your backstory. How did you get into music? What was the gateway, so to speak?
Ric:
My eldest brother, Peter was very keen on drumming, always tapping on something or other. He had a "wind-up" gramophone on which he played 78rpm records. I joined him with the tapping. Using old pairs of Mum's knitting needles, we played along to tunes such as "South Rampart Street Parade," "12th Street Rag" and many other New Orleans Jazz tunes that Peter loved. Later we graduated to accompanying more Pop of the time, Guy Mitchell's "She Wears Red Feathers,'" Rosemary Clooney's "Green Door'" and Kay Starr's "Small Brown Frame." Finally, we tapped along on the dinner table at family Sunday lunch to a radio show called The Billy Cotton Band Show. This drove my father crazy – he hated Billy Cotton and always threatened to turn it off if we didn't stop tapping along.
We acquiesced in order not to miss listening to the program!
When I graduated to secondary school (I think you call it Middle and then Grade School) at 11 years of age, my music teacher had been the girlfriend of my other brother John and knew that I was keen on playing drums so she encouraged me to join the school orchestra. I was on my way!     
Andrew:
As an artist and drummer, who were some of your earliest and more important influences?
Ric:
My first influences were Gene Krupa and Buddy Rich. I saw an album called Burning Beat, featuring the two of them, in the window of Syd Booth's, our local record (vinyl) store, and immediately saved up enough to buy it. Later on, Dave Quickmire, drummer with a local group, The Jaybirds (with Alvin Lee & Leo Lyons) gave me lessons and later became my mentor. Dave introduced me to Joe Morello, Art Blakey, and many other Jazz players of the period. Until then my heroes had been Ringo Starr, Bobby Elliot of The Hollies, and many others from the burgeoning Pop scene.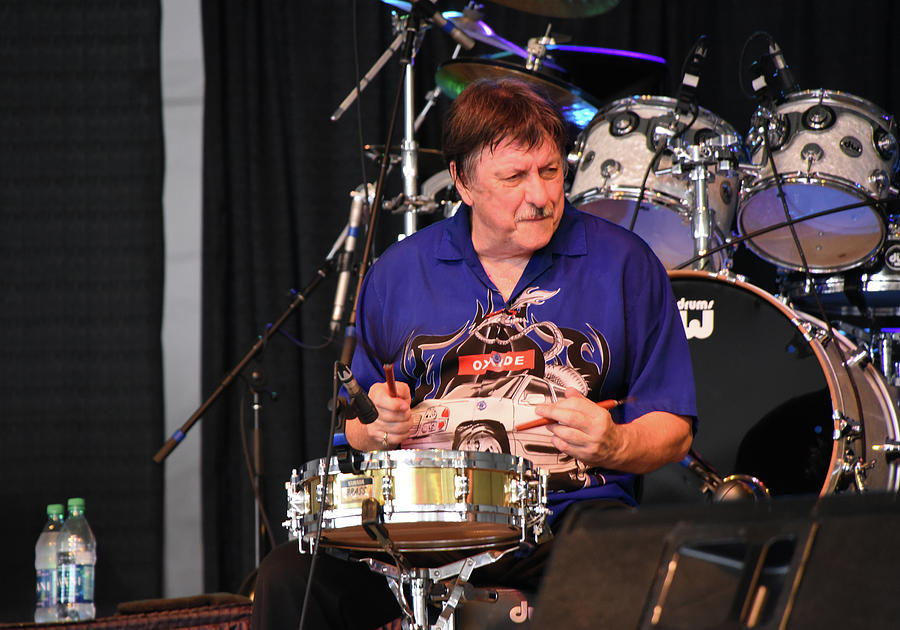 Andrew:
You joined Ten Years After in the mid-60s, right? And after some stops and starts, rejoined and have been with the band again since 1988. Tell us the story of how you got the gig.
Ric:
I joined The Jaybirds in 1965. Ten Years After didn't appear until 1967. The Jaybirds were a very well-known and highly respected group of musicians in the local area around Nottingham and Mansfield, where I was born. Dave Quickmire was desperately unhappy with the band and wanted to leave to get married and "settle down." Unbeknown to me, Dave had been grooming me to take his place. Auditions took place in a Nottingham dancehall called The Dancing Slipper where The Jaybirds had a residency once a month. Dave persuaded me to go. I watched and listened to several local drummers run through their paces with Alvin and Leo. Then it came to my turn. I was as nervous as a cat on the proverbial "hot tin roof" and to steady my nerves had drunk a few pints of beer to calm myself down. Maybe not the best idea! I got as comfortable as possible behind Dave's kit and we played through a couple of The Jaybirds' better-known "covers" (very few, if any, bands in our area played original tunes at that time). Alvin turned to me after the second song and said, "Do you know 'Sweet Little Sixteen?" The penny dropped! Dave had taught me the bass (kick) drum pattern to the song a few weeks earlier. Off we went and it worked a treat. When we finished, Alvin and Leo were beaming and again Alvin spoke, "You're the first drummer we've heard who can play the rhythm to that song, we'd like you to join us if you want".  
They gave me a couple of days to think it over and the rest is, almost, history.
Andrew:
Ten Years After was one of the original groups to appear at the Woodstock Festival in 1969 and the Isle of Wight Festival in 1970. Looking back, what were those experiences like? What can you tell us about being a part of those watershed moments in music history?
Ric:
Woodstock was exactly what it said on the tin. A festival of "Love, Peace, and Music" and was a fantastic experience. From not being able to get closer than six miles from the festival site by car as all the roads by then were jammed (people having abandoned their cars and walked in) and flying in by helicopter it was an amazing occurrence. The immensity of it all, when seen from the air, was incredible. We'd played a few big-ish gigs before then, but nothing to compare with this. We had a great day there and went down a storm with the crowd.
In contrast, The Isle of Wight was not in the same vein as Woodstock. At Woodstock, the promoters turned it into a free festival when the visitors began demanding it and breaking down the fences.
At the Isle of Wight, the promoters refused to do that and set dogs and guards with truncheons on members of the crowd who were protesting that the festival should be free. Luckily, we were out of there before it turned really nasty and I recall having a good time. However, my memory is probably colored by the fact that I spent the hours before we went on consuming a fair quantity of Cognac with Keith Moon of The Who and several beers in the press tent with Richard Williams (journalist) and Stan Webb of Chicken Shack. 
Andrew:
Let's talk about the late Alvin Lee for a moment. He was such an incredible artist and guitarist. What was it like being in a band with him for all those years? What stands out the most? In your opinion, what is Alvin Lee's legacy defined by most?
Ric:
You're right, Alvin was an incredible performer and guitarist and I had great respect for Alvin as a guitarist and musician. At times, I think probably like all musicians, he could be difficult. In the early days, we did about nine months a year touring all corners of the USA and then about two months a year in the UK and Europe. In those days, record companies expected a minimum of 2 albums a year so the pressure was always on for Alvin to write tracks for the albums as well as coping with touring pressures too.
I think what stands out most of all is Alvin's ability to execute virtually all styles of music in an expert fashion. Rock, Blues, Country picking, Jazz whatever.  He was much, much, more than the stupid moniker the press attached to him as "Captain Speedfingers." Yes, he could play very quickly if the music demanded it, but he could equally play with great sensitivity in a slow Blues or ballad.
Andrew:
In 1976, you formed March Music/Fast Western Productions, which saw you become involved in music publishing, management, and record production. What prompted you to make that move?
Ric:
In '76, Ten Years After was in a state of flux and I'd met a very talented young, black singer-songwriter from Cardiff – Tony Etoria. I signed Tony to management through March Music and recording through Fast Western Productions. FW Productions then made a "singles" deal with Dick Leahy, boss of a go ahead record label called GTO Records (They had hits with The Walker Bros, Billy Ocean and many others). Tony and I then went to Nashville to record three tracks for a single release produced by Papa Don Schroeder (producer of James & Bobby Purify's I'm Your Puppet). "I Can Prove It" reached No 21 in the UK Charts in 1977. Sadly, we didn't have any more hits with GTO and I signed Tony to a subsidiary label of EMI. We recorded in New York with Patrick Adams (producer of Musique's In The Bush) but none of those tracks made the charts. I had signed Tony to my publishing company and secured a cover of "I Can Prove It" by Phil Fearon in 1986 which reached No 5 in the UK charts. Since that time, the song has been used on numerous compilation albums.
Andrew:
In 1994, you formed The Breakers, and in 2011 you formed Ric Lee Blues Project/Ric Lee's Natural Born Swingers. Are those projects still active? Your 2012 release, Put a Record On was excellent.
Ric:
The Breakers was sadly short-lived as we weren't able, in spite of spending quite a lot of money on promotion, to get any real action on the album.
Thank you for saying Put A Record On is excellent. Bob Hall and I are very or proud of it but again, in spite of having a fairly good promotion budget, we couldn't break through.
Andrew:
After the death of Alvin Lee, Ten Years After has continued on, and the band released A Sting in the Tale in 2017. What do you recall about the recording of that record? Can we hope for any new music soon?
Ric:
After Leo Lyons & Joe Gooch left TYA, Chick Churchill and I decided to carry on as we enjoy touring and we felt it would be good to keep playing a lot of the songs that Alvin wrote as a tribute to the heritage he left to us. Colin Hodgkinson was always going to be my first call to fill the bass slot as I knew Colin from sharing various bills with the Spencer Davis Group in Europe and respected him highly as a musician. We then luckily found Marcus Bonfanti as singer/guitarist and after only a couple of rehearsals, Marcus fitted in the band beautifully.
A Sting In The Tale had input from every member of the band in terms of writing and the brief, to a certain extent, was to try to make a radio-friendly album. The album, because of everyone's input was a joy to make and it's been an incredibly successful seller in the UK and Europe. Subsequently, we recorded a live album Naturally Live in Europe and that's done terrific sales too.
We recently signed a new US record deal with Deko Entertainment and they're releasing A Sting In The Tale in March 2021 with four additional tracks from Naturally Live (including our 1970 US Top Twenty single 'I'd Love To Change The World'). The album is being marketed as the DeLuxe Edition.
Depending on the COVID-19 situation in UK this year, we're planning to record a new album of original material which will hark back in some ways to the early Bluesy TYA albums Ten Years After and Undead. Also this year, the Ten Years After Woodstock album featuring the 6 titles we performed at the festival in 1969 will be released on the Chrysalis label and they're also investigating the probability of a 50th-anniversary release of A Space In Time in the autumn (fall). It looks as though 2021 is going to be a busy year for us, viruses and vaccines permitting!
Andrew:
In 2019, you released your autobiography, From Headstocks To Woodstock. Tell us about your book, why you chose to write it and where we can find a copy.
Ric:
I originally planned to write my whole life story but then, although there have been many other highlights for me since Woodstock, I decided after spending about 5 years on the book that in order to finish it, I'd stop at Woodstock on a high. I have actually started another volume (post-Woodstock) but I'm finding it difficult to get the time to write at present. Basically, the book charts my life from birth in Mansfield in October 1945 through to playing at the Woodstock Festival in 1969. Headstock is a bit of a play on words — the winding wheel on the towers at the coal mines in the area where I was born are known as Headstocks as is the head of a guitar where the tuning pegs are. You can get a copy from http://www.Ten-years-after.co.uk our official website. There's a flyer on the front page which you can complete and you can ask for a personal dedication in the book. Alternatively, the book is available through Amazon.
Andrew:
What are a few albums that mean the most to you and why?
Ric:
I personally like Live At Fillmore East best of all as I think it encapsulates the band playing live at its very best. The spontaneity, the interplay between the musicians, and the atmosphere make it the best for me. You can almost feel the heat and smell the dope in the air on those nights. Eddie Kramer, Jimi Hendrix's producer, and Woodstock recordist did an amazing job using only eight microphones! He was sitting under the stage and occasionally got showered with dust from the boards above him. I think he may have had the mixing desk covered with polythene for such eventualities!
I also like Stonedhenge as it was very experimental for its time.
Andrew:
Aside from music, what else are you most passionate about and why? How do your other passions inform and inspire your music?
Ric:
I guess I'm fairly passionate when I'm writing. I have the beginnings of a novel and in the past, I've written a couple of screenplays (not produced). The use of words does spill over to my lyric writing. I'm not a spontaneous song writer, I have to have a project that's running and then I can get involved in creating lyrics. I always have a few jotted down in my phone ready for the next project.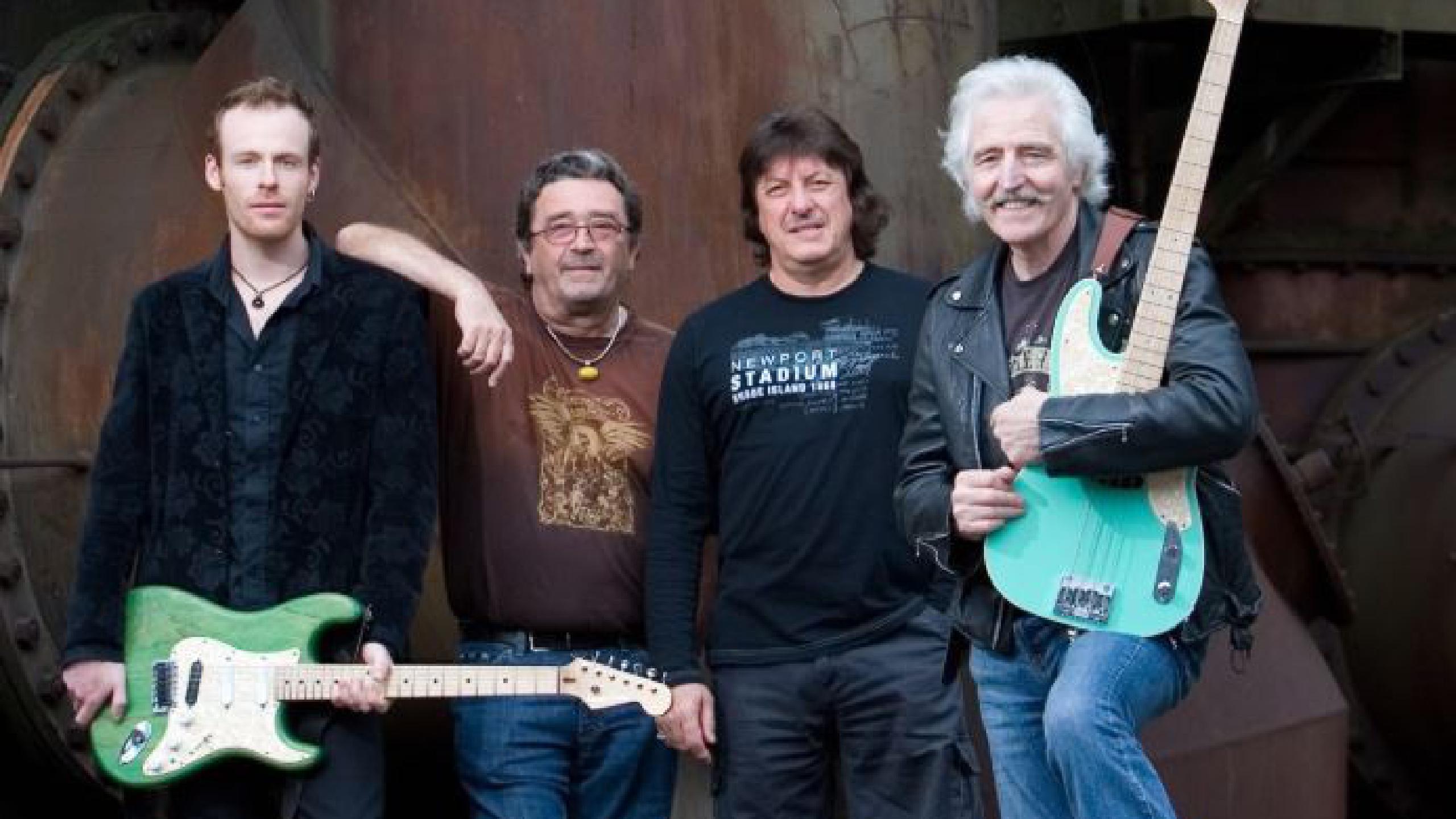 Andrew:
What type of drums and gear are you using these days?
Ric:
I'm a Mapex, Paiste, Shaw Stix, and Janus Kick Pedals endorser and love all their products. I have a small Gretsch Maple kit (Jazz sizes – 20" Kick, 12" x 9" hanging Tom, and 14" x  14" Floor Tom) to play at home as TYA's gear lives in Germany ready for European touring.
Andrew:
Are you into vinyl? Tapes? CDs? Or are you all digital now? Where do you like to shop for music?
Ric:
I have a fairly large vinyl collection, many CDs, and a few cassettes left from the past. If I buy these days, I'll usually buy from Amazon for convenience. For most of the last year or so, I've more or less been locked down.
Andrew:
Last question. In a world that's been so confined by the constraints of big business and the alienation caused due to the internet age, how do artists find their footing these days? What advice would you have for younger artists?
Ric:
I think it's very hard for young artists to break through these days unless they can build a good, strong social media following. The Arctic Monkeys is a great example here in the UK of building a massive following on social media before any record company took any notice of them. TYA are using social media more and more lately. However, on the road in Europe, our fans are still purchasing CDs and we sell a lot of vinyl which kicked off about 2 or 3 years ago. If young bands can get on the road then that's where they'll sell their product in the main.
Interested in learning more about the music of Ric Lee & Ten Years After? Check out the link below:
Dig this interview? Check out the full archives of Vinyl Writer Interviews, by Andrew Daly, here: www.vinylwritermusic.com/interviews