All images courtesy of IV PR
In doing these interviews, I learn things. Other times, I remember things once forgotten. Listen, I consume a lot of music. Sometimes, I get into an artist or a band and I truly love them, and then for whatever reason, I move on to the next one and forget. I don't forget forever, there's just only so much music one can retain at any given point, I suppose. Arrogance is one of those bands for me. Some years back, I got really into them. I've always had a fondness for the more obscure 60s and 70s Rock bands and Arrogance really hit the spot. The late 70s and early 80s era of Arrogance are especially good. Their musicianship was top-notch. As the guitarist of Arrogance during that period, Rod Abernethy was a huge part of their sound. Rod is truly one of the underrated guitarists of his generation, partially due to the sort of underrated natured of Arrogance, and also because he made a shift away from Rock music, and moved toward composition for soundtracks and video games, as well as instrumental music of all kinds. But know this, if Rod Abernethy had wanted to, he could have been one of THE guitarists of his generation. That said, in my opinion, he most certainly is. His style and influence is about as far reaching as it gets when it comes to the guitar as an instrument. And so, now I've remembered Arrogance, which is a great thing. More importantly at this time however, it's my pleasure to have Rod Abernethy "in the house" today for an interview. He is a truly talented musician and artist, as well as an insightful guy. With that being said, I would like to direct you to Rod's website here, where starting in February, you can find a copy of his new album Normal Isn't Normal Anymore. Rod makes fantastic music. Simply put, you want to hear this. Alright, that's it for me now. Let's do this!
Andrew:
Rod, thank you for joining us. How are you? It's been a bit of a weird year. What have you been doing to pass the time?
Rod:
Spending more time with my family. Enjoying the backyard, Zooming with friends, and catching up on British TV shows. Playing a lot of guitar, writing songs and getting ready to release the new album.
Andrew:
How did you get into music? What are your musical origins so to speak?

Rod:
I hijacked my big brother's old Kay acoustic guitar when I was in sixth grade. The next year, my Dad took me to a local music store and bought me my first electric guitar. I've been eating guitar for breakfast ever since. Musical origins – man, there are so many! Hendrix, Clapton, Dylan, James Brown, The Ventures, Chet Atkins, The Beatles. Later on, I discovered Leo Kottke, John Fahey, and Michael Hedges. In college, I listened to tons of Classical and Jazz, and later in the 90's I discovered film composers like Jerry Goldsmith, John Williams, Lalo Schifrin, and Alan Sylvestri.
Andrew:
As a guitarist, who are some of your biggest influences? Did you find it challenging to develop your own unique sound and persona, or did it come naturally to you?

Rod:
That's a long list. But to name a few that were important to me, I'd say Jimi Hendrix, George Harrison, Leo Kottke, Chet Atkins, John Fahey, John Scofield and Michael Hedges. I've always felt like I had something to offer musically with my guitar, even though my playing is reminiscent and derivative of all those guitarists that I've listened to growing up.
Andrew:
Your music has been used in various scores and soundtracks, but let's go back. In 1975, you released your first album, Solo. Can you tell us about the inspiration and recording of your first album?

Rod:
My first album, Solo, was produced by Don Dixon (REM, The Smithereens, Gin Blossoms) and it was a great way to establish myself as a singer/songwriter/performer in the Carolinas. Back in '75, no one had home studios to record in, you had to go to an established recording studio. Having the chance to record your original songs and have them pressed up in vinyl was like having a Willy Wonka Golden Ticket in your hands. 
Andrew:
You were also a member of the Rock band, Arrogance. The two records you made with them (Suddenly and Lively) are really underrated albums! How did you end up joining them?

Rod:
Don Dixon who produced my first album, Solo, was in Arrogance and asked me to come audition for them. I was a big fan of theirs before I joined them. They were a powerhouse of great musicians, with great songs, great voices and great albums. It was a dream come true when I joined them back in '76.
Andrew:
In the early '80s, you left Arrogance to pursue a career as a composer for soundtracks, TV, and later, video games. What led to that decision and the change in career path?

Rod:
After I got out of college in the '70s, the lure of playing in Rock bands with major label deals was really strong. Arrogance was a very successful group and I loved being a part of them. I also played in another band, Glass Moon, who had a few charting albums on Elektra and MCA. In the mid 80's, I was offered the opportunity to manage a prominent 24-track studio in Raleigh, NC that gave me the chance to have my own studio to compose soundtracks. It was a major decision for me to leave the Rock scene, but it opened up new doors for me to pursue a composing career in film, TV, and video games.
Andrew:
As a composer, you've got more than 80 video game soundtracks to your credit alone. Video game music and soundtracks are highly underrated in my opinion. That being said, they've got a cult following for sure. How did you end up working in the realm specifically?

Rod:
I was a gamer before becoming a game composer which helped tremendously when I started composing for games. Around 1998, a North Carolina game developer, Southpeak Interactive, asked me to score one of their video games Dark Side Of The Moon and it opened up a whole new world for composing. That game gave me a foot in the door to find other game developers needing music. Having experience with composing for orchestra was a huge help because game developers were looking for game scores that sounded like orchestral movie scores. After winning the Game Soundtrack of the Year in 2003 for the game The Hobbit for Vivendi Universal, I've been busy composing for games ever since; it's been a blast!
Andrew:
Piggy backing onto my last question, what are some of your favorite soundtracks that you've worked on and why?

Rod:
It's hard to choose favorites. I have many that I loved working on Rage for iD Software and it is one of my favorite scores. It's a strange mix of different styles…Action-Orchestral, Techno, Americana, and Heavy Metal. The Hobbit for Vivendi Universal is a special score for me because it's all Celtic and acoustic guitars with orchestra. We recorded it live with the Northwest Sinfonia in Seattle. Tera, an online multiplayer game, was an action-fantasy soundtrack that I composed for. We recorded live with members of the Seattle Symphony at London Bridge Studios in Seattle.
Andrew:
You're also a visual artist, right? Did that ever influence your move into video game soundtracks? How has your work as a visual artist informed you musically over the course of your career?

Rod:
I've always loved design and art, leaning on 20th Century modern art and design. Painting and creating sculptures has been a passion of mine all my life. Even though video games are an extremely art based medium, my visual art hasn't come into play until recent years with the help of social media giving me the ability to post my photography and steampunk art. My found object robots are my favorite. I never thought I'd be able to connect my art and music together but it's finally happening with my latest Kickstarter campaign for my new album Normal Isn't Normal Anymore.  I'm even using images of my photos and robots for the new album cover.
Andrew:
In 2009, you won the BAFTA Award for Best Original Score, for the score to Dead Space. How gratifying was that for you? 

Rod:
Being a co-producer for the score and use of audio in Dead Space was a dream come true and a turning point in my video game career. I'm so grateful to everyone involved in that project. I've always said that it takes a great game audio director to create a great game soundtrack – and we had a great AD with Don Veca, he's a juggernaut. Without his vision for the music and audio/sound design for Dead Space, we wouldn't have won those BAFTAS.
Andrew:
My understanding is you've got a new album coming out in February 2021 and it's called Normal Isn't Normal Anymore. I also understand that this was written pre-pandemic! That's very ironic, isn't it? You were maybe sensing something the rest of us weren't! What was the inspiration for your new album, and where can we get it?

Rod:
I wrote the album's title song 'Normal Isn't Normal Anymore' last year out of frustration for so many things and problems facing everyday people just trying to survive. Then the pandemic hit and the song has taken on a whole new meaning. There are lighter songs on the album too, and a couple of my guitar instrumentals. You'll be able to get it on Amazon and my website in February.
Andrew:
I also understand your new album is produced by Neilson Hubbard. He's been involved with so many amazing projects. What was it like having the opportunity to work with him on your new album?

Rod:
Neilson grabbed my attention when he was nominated for a Grammy for producing Mary Gauthier's album Rifles and Rosary Beads. I also love his work with Ben Glover, Amy Speace and Ordinary Elephant. He's amazing at letting "great" accidents happen when the red light goes on and also a great musician. I loved him steering the bus on making this album so I can relax and focus on being a singer. Neilson knows how to get the best performances from his artists.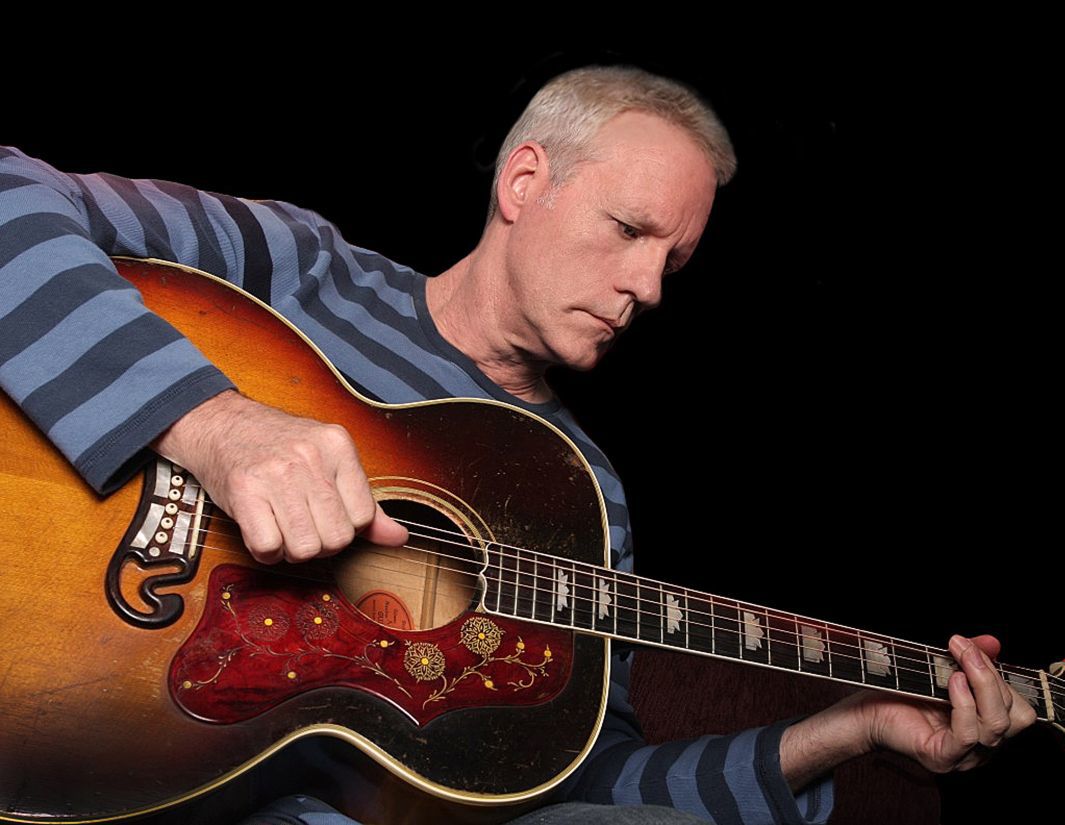 Andrew:
You're also a professor at UNC's School of the Arts. That's fantastic and must be truly satisfying to you as an artist. What is it about teaching that you most enjoy?
 
Rod:
With UNC School of the Arts, North Carolina has a gem of a school that helps teach many talented young artists, filmmakers, composers, and performers. I'm honored to be a part of it. My students come to the film scoring school already having a 4-year degree in music, so they were already brilliant composers before I meet them. My challenge there is to help them understand how to compose for video games and give them a better understanding of how the video game music industry ticks above and under the surface.  What I enjoy the most is getting to know them and hear the music that they create for me. They're all rock stars in my book.
Andrew:
Let's touch a bit on playing live. Do you enjoy it? Or do you prefer the studio more? If so, what is it about playing live that you love the most? Any interesting stories to tell regarding live shows on tour?

Rod:
Yes, I really enjoy playing live. There's nothing else like it. I took a long break from touring because I was composing in the studio day in/day out for a couple of decades. Around 2014, I realized how much playing live was a part of me. That's when I started playing again doing solo acoustic guitar sets around the area. I was like a bird let out of the cage. Before I knew it, I was playing around the country in venues like Folk Stage in Chicago and Club Passim in Cambridge, MA. I can't express how much joy there is in playing for folks again. The pandemic has put the brakes on most live shows; we just need a lot of patience and perseverance these days until the live scene returns. 
Andrew:
At some point, you did rejoin Arrogance and you've been with them ever since. We haven't seen any new music from the band in a long time. Any chance we will see a new album anytime soon, or a tour once COVID-19 calms down?

Rod:
We've done reunions over the years and it's fantastic every time we get back together.  Everything falls right back into place for us. I doubt we're ever going to record and tour again, we all have such different lives now. But I love the reunions when we get back together and play.
Andrew:
Are you into vinyl? Tapes? CDs? Or are you all digital now? Where do you like to shop for music?

Rod:
I love vinyl, new and old. I have probably 3,000 discs or so, and I'm an active collector. Mostly vintage vinyl, many different genres like Rock, Folk, Country, Classical, Techno, Exotica…man, it never ends, does it?
Andrew:
Once COVID-19 calms down (if it ever does), what's next for you as an artist and in general?

Rod:
I have no plans of slowing down with my music and my art. I'm working with a national PR firm now to promote the new album for its release in February. Hopefully, playing live will return by next summer on a level that we consider safe for everyone. And I'm writing new songs and guitar instrumentals all the time – that's a never-ending thing for me.
Andrew:
Last question. You've been at it a long time and hopefully still have many more years to go. What are some of your fondest and proudest memories as a musician?

Rod:
That's a great question. It's been an incredible ride so far and I'm so thankful to have made a living playing music and met so many generous and caring folks along the way. I have no plans of slowing down, I'll guess I'll be rolling the dice as long as I can. 
There are so many memories. Maybe one of my proudest moments as a musician came from overhearing my then 65-year old father talking to a stranger at my brother's wedding many years ago…I was across the table and Dad thought I was out of listening range.  
The conversation went like this:
Stranger: "Oh you have another son, what does he do for a living?"
Dad: "He's a musician."
Stranger: "Oh yeah, well how good a musician is he?"
Dad: "He's as good as Paul McCartney, that's how good he is."
Nothing can replace the feeling that you've touched someone with your music and your songs. Including your father. 
Thanks for asking such great questions, this has been a special visit with you guys!
Interested in sampling the music of Rod Abernethy? Check out the link below:
Dig this interview? Check out the full archives of Vinyl Writer Interviews, by Andrew Daly, here: www.vinylwritermusic.com/interviews