All images courtesy of Sonia Anubis
The new age of fierce, rocking female guitarists is stronger than ever. I've had the pleasure of interviewing several already, and it's my pleasure to have Sonia Anubis with us today. As I've said before, the Rock game has long been dominated by men. More so, the lead guitarist of any given band is often glorified but is also almost always portrayed as a strapping young male player. These days, there are so many incredible, shredding lead guitarists out there who are females and in this way, Rock has never had more balance than it does now. That said, we still have a long way to go, but with hard-rocking players like Snoia Anubis in the game, I truly believe we will get there, and then some. Sonia is currently the lead guitarist for her band Cobra Spell, and you can check out their Bandcamp here. Sonia is also a member of Crypta and you can check out their website here. In the meantime, check out this interview and enjoy getting to know Sonia a bit better. Cheers.
Andrew:
Sonia, thank you for taking the time to speak with us. It's been a weird year, hasn't it? What have you been doing to pass the time?

Sonia:
It has been so, indeed! Even though I have spent this time playing a LOT of guitar, writing music, and giving guitar lessons through Skype!

Andrew:
Tell us about backstory. How did you get into music? What was the gateway so to speak?

Sonia:
Music always has been in my system since I was a little girl. Back when I was at school in Spain, music was a very important subject. We would get a lot of rhythmic lessons, we had to learn flute and acoustic guitar, and I also was in a church choir at that time. Later on, I also additionally started learning the transverse flute for Classical music. At age 14, due to my big obsession with the band KISS and certainly bass-player Gene Simmons, I decided to start playing the bass guitar, and a year later also the electric guitar after being inspired by Marty Friedman in Megadeth.

Andrew:
As an artist and guitarist, who were some of your earliest and more important influences? How did you develop your singular style?

Sonia:
My most important and timeless influences in music are Gene Simmons in KISS, Blackie Lawless in W.A.S.P., Marty Friedman, Tony Macalpine, and Yngwie Malmsteen.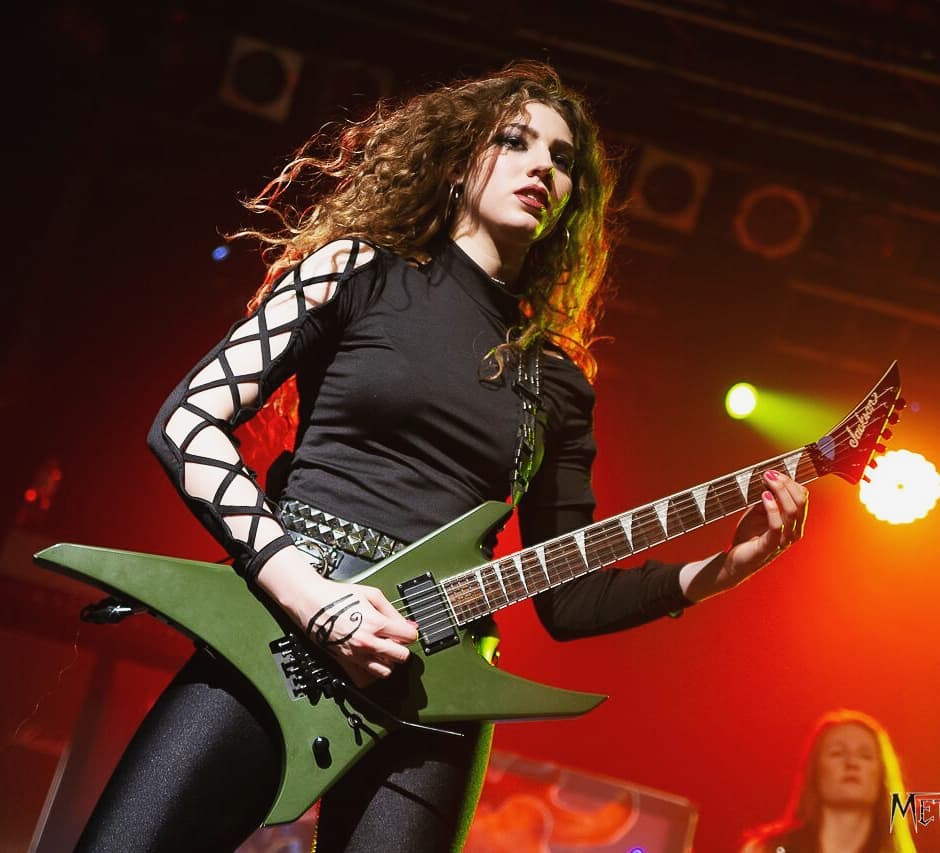 Andrew:
Here is something I don't get to talk about often- you're a KISS fan, right? I am a diehard fan and a proud member of the KISS Army. Anyway, what got you into KISS? What's your favorite album by them? Makeup or Non-Makeup? All that aside, how big of a role have they played on you as an artist?

Sonia:
I am! KISS is the reason why I wanted to become a musician too and for it becoming my biggest passion. The energy of the music, the realness, and rawness of their performances, and the hero-like looks. They are just TOO awesome for this world. My favorite album of KISS is probably their debut self-titled album because it has the ultimate classics in my opinion. My favorite song keeps changing but I always considered "100,000 Years" to have a very special place in my heart, because seeing the early live performances (on YouTube) of KISS on that song, the bass intro with the blood back in 1975/'76, it was way too cool. That's what wanted me become a bass-player too; I wanted to feel like a demon like Gene did back in the 70s too. I love both eras- The make-up and Non-Makeup era A LOT, but if I really
have to choose, the KISS from 1973 'til 1983 was my favorite KISS. They definitely have played an immense role on me as an artist, certainly Gene Simmons and Ace Frehley in the early days.

Andrew:
You're self-taught, right? That is pretty incredible! When did you know you wanted to pick up the guitar, and how did you go about teaching yourself?

Sonia:
For the electric guitar, yes! I think somehow I had a lot of ease in recognizing notes by ear and that's what made learning by myself a lot easier. I learned every single of my favorite songs and in this way every time I got a bit better, I guess!

Andrew:
Some of the greatest guitar players of all time couldn't even read music (Ace Frehley being one of them). Considering you're self-taught, how important is it really to be "schooled" as a musician? Does it really matter, or at the end of the day, does it come from within you so to
speak?

Sonia:
I think it depends on the person. Some have a better ear than others, some learn faster and some learn slower. I was not able to read notes. I literally trusted my ear for everything. I remember very well children at school had musical scores with notes in front of them and we had to follow that while were playing the flute; I wouldn't understand anything on that paper, and neither did I want to do the effort to do so, since playing by ear/melody-memory was a lot easier to me. If I hear something, I could directly kind of "store it" in my brain, and in this way trial and error playing until it sounds the same as in my head. By doing this so much throughout the years it has become very easy for me to absorb music in me.
Andrew:
When you were 19, you joined your first band, Burning Witches. Tell us more about the group. Ultimately, why did you choose to leave the band?

Sonia:
It was not the first band I've joined, I've been in numerous bands before as bass player actually! I left the band because I felt I needed to part ways to grow more as the musician I want to become, and it didn't felt good in that band.

Andrew:
In 2019, you founded your band, Cobra Spell. Tell us how your band came together. When can we hope for some new music?

Sonia:
Sebastian Silva and I wanted to start the band that we didn't see existed anymore in this days, paying homage to the bands that we look up to in the 80s such as RATT, Dokken, Mötley Crüe, X Japan and more.

Andrew:
How have you evolved as an artist with your most recent efforts? What's changed for you?

Sonia:
Definitely, in the past year I have been writing more music than ever before and actually releasing it and that is something that means a lot to me. There is a lot more music coming with both bands Cobra Spell and Crypta where I have written songs that it is very meaningful to me. Can't wait to share it with the world.
Andrew:
Let's talk about songwriting a bit. I know oftentimes, artists' lyrical content can come from a deeply personal place, and other times, they are merely telling stories so to speak. Which is it for you?

Sonia:
Both of them! It really depends on the song.

Andrew:
As I am sure you are aware, women are vastly underrepresented within the music industry. How do we close the gap? What are your thoughts on this issue?

Sonia:
It's a sad fact. The best we can do is to ignore the negativity from people that unfortunately (still) believe gender plays a role in talent in whichever field. Just keep doing what we love regardless of what anyone says. The only solution to this problem is educating people properly, but unfortunately, this is not always possible.

Andrew:
In your opinion, what is the state of the music industry these days? What needs to change for both the betterment of the artists and fans alike?

Sonia:
I think people should be more open-minded when it comes to a varied music tastes and brag less. In Metal certainly, a lot of people have a very closed-minded mentality.
Andrew:
What are a few albums that mean the most to you and why?

Sonia:
KISS – Self-titled, Dokken – Unchain the Night, W.A.S.P. – First album, Carpenter Brut – Trilogy, Behemoth – Demigod, Morbid Angel – Covenant AND Domination, Yngwie Malmsteen – Trilogy, Megadeth – Rust in Peace, KISS – Hotter than Hell. I chose these albums because I listen to them on daily basis, and they always make me feel very happy!

Andrew:
Who are some of your favorite artists and why?

Sonia:
KISS, W.A.S.P., Morbid Angel, Dokken, Carpenter Brut, RATT, Grimes, Obscura, Behemoth. I chose these artists because I listen to them on a daily basis and they always make me feel very happy!

Andrew:
Aside from music, what else are you most passionate about and why? How do your other passions inform and inspire your music?

Sonia:
Aside from music, I have a passion for make-up, gymnastics, web development, and drawing.

Andrew:
Are you into vinyl? Tapes? CDs? Or are you all digital now? Where do you like to shop for music?

Sonia:
I love vinyl for collection purposes, but for listening, I have to say I use the streaming platform Deezer because it allows me to listen to ALL the music I want wherever I am in the world.

Andrew:
Last question. In a world that's been so confined by the constraints of big business and the alienation caused due to the internet age, how do artists find their footing these days What advice would you have for younger artists?

Sonia:
Since it has become a lot harder to make a living by being a musician, I would recommend to promote the hell out of your music on the Internet so it reaches more people. Be very careful with signing contracts, always check how much you can do by yourself and then consider
contracts or hiring someone for certain functions such as distribution, promotion, etc. Last but not least, enjoy the ride. Don't forget why you became a musician and never lose the drive and passion; live the moment!
Interested in diving deeper into the work of Sonia Anubis and Cobra Spell? Check out the link below:
Dig this interview? Check out the full archives of Vinyl Writer Interviews, by Andrew Daly, here: www.vinylwritermusic.com/interview