All images courtesy of Steve Brown
Today is a fun one. I love guitar, and even though I can't play myself, I love getting the chance to speak with guitarists of all shapes and sizes. Steve Brown, the founder of the Hard Rock band, Trixter, was born and raised in New Jersey.
It's always a treat to interview someone with tri-state roots like myself. Anyway, Steve has spent the last 40 years rocking with the likes of Dennis DeYoung, Def Leppard, and of course — Trixter. In my opinion, Trixter is one of the more underrated Rock bands of the Hair Metal era. If you aren't familiar with them, definitely take the time to dig into their catalog.
It's a treat to have Steve Brown "in the house" today. He's one of the hardest working, dedicated, and talented guitarists of his era- of any era, really. If you would like to learn more about Steve Brown, head over to his website here. After that, check out this interview with Steve. That's all for me, for now. Dig in.
Andrew:
Steve, thank you for taking the time to speak with us here. How are you? What have you been doing to pass the time during the ever-raging dumpster fire?
Steve:
I've been taking care of my family, homeschooling my daughter, and really enjoying not being on the hamster wheel of the music biz. This forced break has given me time to really spend time with the ones I love. 
Andrew:
Tell us a bit about your backstory? How did you get into music?
Steve:
I got into music back in 1978. Kiss Rock & Roll Over and Van Halen were the two records that changed my life forever. I started playing guitar and I've lived the Rock 'N' Roll dream for over 40 years.
Andrew:
As an artist and guitarist, who are some of your greatest influences? How did you go about developing your signature style?  
Steve;
Eddie Van Halen is my biggest influence as a guitar player and songwriter. Along with EVH..players like Randy Rhoads, Ritchie Blackmore, Warren DeMartini, Phil Collen, Ace Frehley, Richie Sambora, Mick Mars, Steve Lukather, Jake E Lee, and George Lynch were an influential part of me development of my own style. I think like most players…you borrow a bit from everyone you dig and hopefully, you develop your own sound. I think I have a "Steve Brown Sound!!!"
Andrew:
When it comes to guitar, you're mostly self-taught, right? Did the guitar come naturally to you? What led you to pick it up?
Steve:
I learned from a few great teachers along the way. I took what they showed me and somehow was able to make all of their great lessons part of my style. I still practice every day and continue to grow as a player. The guitar is a way of life for me.
Andrew:
You're one of the founding members of the Rock band, Trixter. Tell us the story of how the band formed?  
Steve:
I started Trixter when I was 12 years old. I had been playing and jamming with friends since 1982. After seeing Van Halen live at Madison Square Garden in October 1982, I knew that I wanted to have a band like that. VH brought a fun time party vibe to Rock 'N' Roll and it spoke to me loud and clear. I met Pete who was a good-looking kid who loved Judas Priest and Boston. I taught him how to sing and the rest is history.
Andrew:
Let's talk about Trixter's debut album, Trixter. What do you remember about the recording of that album? Looking back, what are your thoughts on that record?
Steve:
It was a dream come true recording the first album. We signed a major label deal with Mechanic/MCA Records and moved to California to record our album with producers Bill and Jim Wray. The process was a HUGE learning experience for all of us. I really fell in love with the studio process. We got to work in some legendary studios like Sound City, Village Recorders, and Battery Studios. That record changed my life and I'm forever grateful to all the people who were involved that made it such a success. Most importantly, all of the fans around the world who still support me to this day.
Andrew:
As Metal and Glam faded out in the 90s, Trixter broke up. What went into the decision to end the band at the time? 
Steve:
We really had no choice…once Gunge took over the music scene there was no way for us to compete and make money. Reinvention was necessary. PJ and I started a great band called Throwan Rocks and came close to a few label deals but sadly we were marked as "The guys from Trixter" which led to no contracts. We had stellar projects like Soaked, 40ft. Ringo, Sugarbelly (cover band), and Stereo Fallout enabled us to make a solid living as full-time musicians.
Andrew:
Thankfully, in 2007, Trixter reformed and has been together ever since. What led to the reformation?  
Steve:
I felt it was time. I saw the success and fun some of our friends were having doing festivals and package tours. I called the guys and everyone was on board. It was easy. We played a lot of rockin' memorable shows from 2008 to 2017. 
Andrew:
In 2012, the band recorded New Audio Machine, and in 2015, Human Era. How did the experiences recording those new albums compare to recording your initial albums during the earlier eras of the band? How has the band progressed since the early days? Can we hope for a new album soon?  
Steve:
After the band got going again in 2008, things were really going well and I felt it would be a wonderful idea to make a kick-ass reunion record. I had a few songs like "Tattoos & Misery," "Dirty Love" and "Save Your Soul" already written, so the guys knew we had some fantastic songs to start with. Writing, producing, engineering, and mixing those two new Trixter records were some of the proudest moments in my musical journey. We made music that was as good if not better than the stuff we did 25 years ago. 
Andrew:
You've also worked with the likes of Def Leppard and Dennis DeYoung. What's it been like working with so many incredible artists over the years as a sideman/hired gun? 
Steve:
My path in life has been like a 40-year Rock 'N' Roll fantasy…a dream come true. Working with iconic legends like Def Leppard and Dennis DeYoung is just another cherry on top of an already blessed career in the music biz. I am truly one of the luckiest guys in the world. But make no mistake, I've worked my ass off and my talent speaks volumes. God put me on this earth to rock the world!!!
Andrew:
What types of guitars and gear are you using these days? 
Steve:
EVH Guitars and amps, FU-Tone bridges, CHARVEL/JACKSON Guitars, D'ANGELICO Acoustics, MORLEY Wha's, HEADRUSH Pedalboards, A DIFFERENT PC Custom Pro Tools Computers, IN TUNE Guitar Picks.
Andrew:
Aside from music, what other passions do you have? How do those passions inform your art?
Steve:
I love the beach and outdoor activities like Surfing, Paddleboarding, Hiking, and Biking. Staying in top physical shape is so important to me. Being outdoors clears my mind for the ultimate creativity needed to perform at my highest level.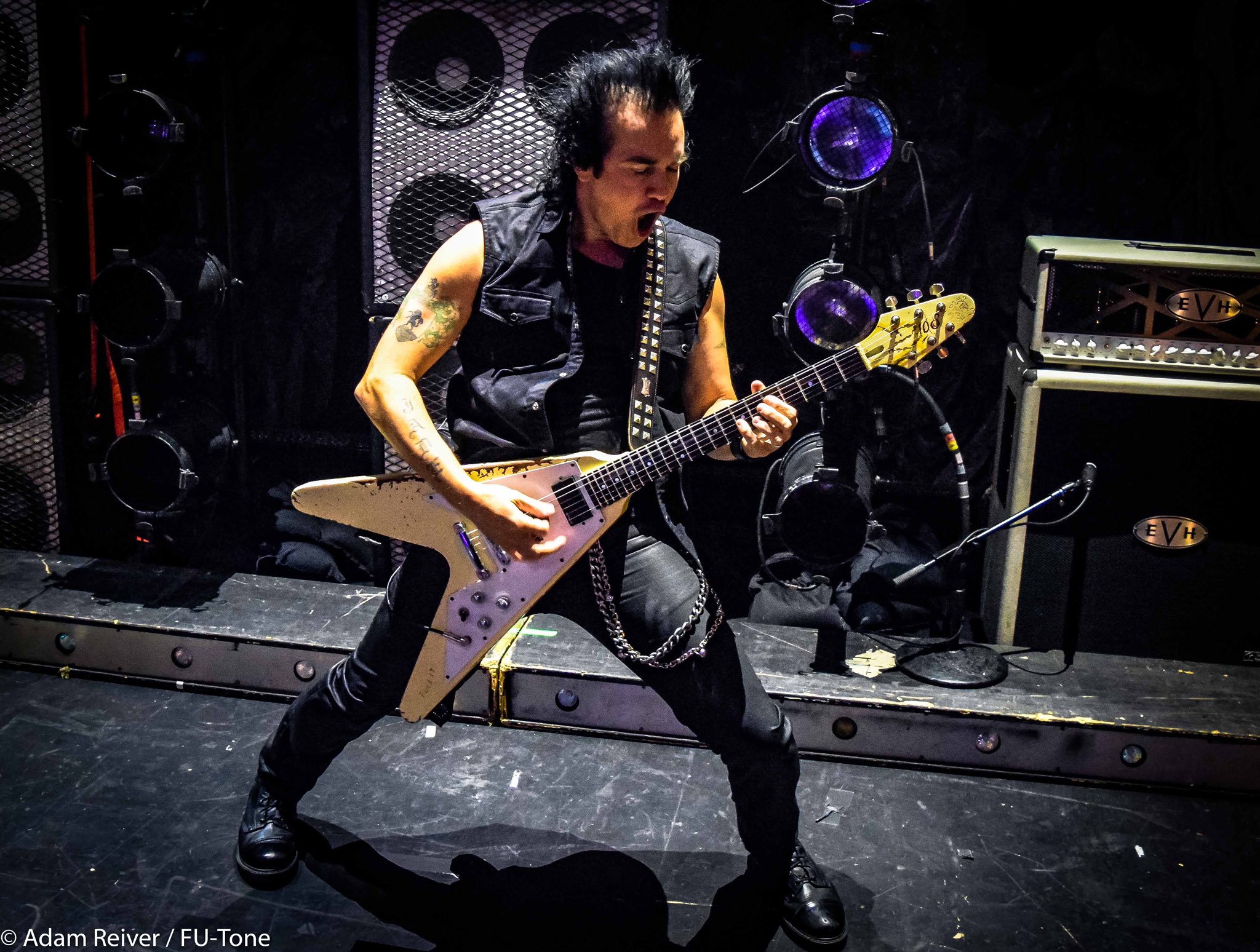 Andrew:
Are you into vinyl? Tapes? CDs? If so, how big is your collection? Where do you like to shop for music?   
Steve:
I love vinyl and still have most of my records from when I was a kid. My neighbor gave me a KISS Dynasty 8-track tape over the summer. I'm really into magazines as well. I have a huge collection of Eddie Van Halen magazines dating back to 1979.
Andrew:
This may be a hard question, but what are a few albums that mean the most to you and why?
Steve:
KISS Rock and Roll Over and Van Halen. Both of these albums mean so much to me because they inspired me to follow my path as a musician. 
Andrew:
Looking back, tell us about some of your favorite moments. Ones that are the most meaningful to you and why. 
Steve:
1- Signing my first major label record deal in May of 1989.
2- Flying to California to record the debut TRIXTER album.
3- Playing the Meadowlands Arena and getting our Gold Records after the show.
4- Meeting Eddie Van Halen and becoming friends with him.
5- Helping out Def Leppard by playing stadiums, arenas, and amphitheaters with them.   
6- Performing on Broadway in Rock of Ages.
Andrew:
There are a lot of artists out there who are fantastic but get stuck in the underground, while others go on to great success. What is it about our culture that causes this to happen? Do think the general public is truly listening? 
Steve:
I don't think it has anything to do with culture. I think first and foremost success in any field requires massive amounts of practice, talent, personality, business sense, and luck. My "One in a Millon" song title kind of sums it up, for every million musicians out there only 1 will go on to have any real accomplishments in the music biz. Sad but true!!!
Andrew:
Last question. In the world we live in today, we are more or less dominated by capitalism and the never-ending barrage of social media. How has this affected music as an art form? Is an artist's ability to get their music out there hindered by all this, or helped? How do you feel what you do helps that cause?
Steve:
Now more than ever a musician has the ability to get their music released everywhere in the world. There's no need for a record company. You can make pro-sounding records on a laptop. Social Media is the most important tool for any new musician. I don't really have enough knowledge on this to give any real advice though. I always tell people, "If you love making music then keep doing it and enjoy it. Do not do it to make money or to become a star." I started playing guitar because I fell in love with KISS and Van Halen; I sold my soul to Rock 'N' Roll and ran with the devil…40 years later, I still love playing and making music. It has given me a life that most people dream of. I'm blessed beyond belief!!!
Interested in diving deeper into the work of Steve Brown? Check out the link below:
Dig this interview? Check out the full archives of Vinyl Writer Interviews, by Andrew Daly, here: www.vinylwritermusic.com/interview