All images courtesy of Terry Cole/Colemine Records
If you're the type of record collector (hoarder?) who values quality and integrity, then you've come to the right place.
Terry Cole is the founder and owner of both Colemine Records (the label) and Plaid Room Records (the record shop), and if you haven't had the pleasure of laying one of Colemine's sweet slabs across your turntable, then you are missing out.
Based out of Loveland, OH, both Colemine and Plaid Room Records have an emphasis on quality and keeping the life's blood of the vinyl community flowing, that is to say- they keep it indie. So, if you're looking for something new to listen to, head over to the Colemine Records' website here, and buy with supreme confidence. If you're ever in Loveland, OH, and want to hit up a fantastic shop, head over to Plaid Room. In the meantime, you can learn more about them here.
I had to the chance to chat with the one and only Terry Cole, and it's my pleasure to present that to you today. We cover Terry's origins in the business, the beginnings of both Colemine and Plaid Room, why you should always support your local indie's, and more. Cheers.
Andrew:
Terry, thank you so much for taking the time to speak with us. Tell us about your backstory. How did you get into records?
Terry:
Our dad is a record collector so we've all been around records all our lives. I don't ever recall a time growing up when there weren't hundreds of 200-count 45 boxes in our basement. So, it's always been second nature for me.
Andrew:
You've been running Colemine Records in all its forms since 2007. Tell us about that journey.
Terry:
Well, Colemine started as a way to legitimize a project I was working on with my buddy in college and slowly grew into an actual label, and then eventually into my full-time job with employees. It's been a pretty wild ride and honestly feels like a dream come true.
Andrew:
Since 2015, you, along with your brother, Bob, are also the owners of Plaid Room Records, a brick-and-mortar store in downtown Loveland, OH. How did it get its name? How did the shop come to be?
Terry:
The shop's name doesn't have much of a story. We were throwing around names and it was the one we disliked the least. But the concept for the shop came from a faculty meeting while I was still a teacher. I taught high school zoology and botany for around nine years. Before my last year teaching, during the summer of 2014, I traveled across the country to record stores just to hustle Colemine 45s and LPs to shops. The goal was to build relationships with stores and to get to travel across the country while visiting record stores. The trip was an amazing success, and I returned home to Ohio with renewed energy and inspiration for the label. Then in October of that school year, during a particularly frustrating staff meeting with our superintendent, I started dreaming of ways to transition to operating the label full-time. And for me, a shop was the answer. It would provide more consistent income while we could learn the ins and outs of operating an indie label properly.
Andrew:
Before you were in the business of selling records, you were in a band called Soundscape. Are you still playing music today? Any releases we should look out for? Can you tell us about that, and how your experiences affected you today?
Terry:
Soundscape was a Hip-Hop/Funk/Soul-Fusion band I played in during college and to be honest, it truly did lay the foundation for the label. Playing in the band was where I became interested in music production, in particular Hip-Hop production, sampling, the sources, of those samples, and eventually coming to love the Daptone and Truth & Soul labels from NYC. They were absolutely important in the formation of Colemine.
Andrew:
The Colemine label has a heavy focus on Soul, which I love. What led to you wanting to focus mostly on that genre?
Terry:
I grew up in a house where our dad loved to play Doo-Wop and 50s R&B. So, I think the progression for me to become interested in harmony-driven R&B and Soul from the 60s makes sense. Plus, that music was so foundational when it comes to Hip-Hop production, that my interests sort of met in the middle there. And it's not just R&B, it's all things related to Soul music: Blues, Gospel, Jazz, etc.
Andrew:
My understanding is Plaid Room Records is also home to both an analog studio, and a live music venue. Do you have a lot of local talent coming to record and play at your shop?
Terry:
At this point, the studio is pretty much only used for Colemine purposes, but someday maybe things will mellow out and will make the studio for hire. And obviously, with COVID, live performances aren't really a thing. But even when they were, our "stage" has gone from more of a casual in-store thing when we first opened to now being ticketed events, which is super fun. But for the most part, our in-stores center around featuring artists on our label. We've had GA-20, Delvon Lamarr Organ Trio, and The Dip all play in-store before COVID.
Andrew:
I have a bunch of Colemine releases, and what I noticed immediately is not only the quality of the music but the extremely high quality of both your pressings and packaging. It's really incredible, and absolutely a cut above. How do you guys do it, and why is that something that is important to you?
Terry:
Well, the store has definitely educated us on good pressings and bad pressings, and on high-quality packaging and cheap packaging. And from our perspective, LPs are already a relatively expensive product to make and buy as a consumer, so why not spend a little more and make them really worth it? So, nearly all our records are housed in 28pt Stoughton tip-on jackets and always come in rice paper-lined inner sleeves. And almost everything we release is pressed at Gotta Groove Records in Cleveland, OH. To me, they are the best. We've worked with a lot of pressing plants over the years on various projects and no one comes close to the consistency and quality control. To me, as a consumer, if I'm willing to spend $18-25 on something, it should be quality. I'd also rather pay $22 for something well done than $17 for something shitty.
Andrew:
Is there anything within the industry that you would like to see change for the better? What improvements would you like to see that you feel would be beneficial to us all within the vinyl community?
Terry;
I think my answer to this ties into the previous question. For one, I'd like to see folks that are buying records become a little more discerning. A lot of folks we chat with in the store perceive any record as roughly the same quality. So, a record is a record is a record. And that's just not the case. And then there's the other end of it, folks that have fallen victim to effective marketing strategies. Things like 180g pressings and whatnot. Weight doesn't equate to quality, but it's an easy sell. Just like Dynaflex in the 70s: "The thinnest and most superior record you have ever owned." So, for one, I'd love to see consumers realizing that quality varies widely from label to label, pressing plant to pressing plant, etc. And perhaps that would incentivize labels, especially the majors, to place more emphasis on pressing higher quality products instead of having them pressed wherever they can get them quick and cheap.
And secondly, and more importantly, I'd like to encourage folks to always buy new vinyl from an independent record store. Not Amazon, not Target, not Barnes & Noble. Buy records from an independent record store. Always. Purchases like that support the independent music ecosystem more holistically than even buying something directly from a label or artist's website.
Andrew:
I know this is a broad question, but who are some of your favorite artists? What's your favorite genre and why?
Terry:
Not sure I have a favorite genre, as I feel like it changes on a daily basis. But off hand, some of my favorite artists that come to mind: Curtis Mayfield, Jimmy Smith, A Tribe Called Quest, Bob Dylan, and The Allman Brothers' first few records, just to name a few.
Andrew:
This may be a silly question, but do you collect records? Tapes? CDs? Or are you all digital now? What do records mean to you? More so, what does music mean to you in general?
Terry:
I don't collect CDs or tapes, and my record collection has certainly shrunk since opening the store. Basically, I used my collection to populate the store's inventory when we started. But my primary way to listen to music is still records and digitally. I usually start my day by drinking coffee and listening to a record while I cook breakfast before my family gets up. It's a great way to start the day. My collection isn't anything too large, just a few hundred records that I cycle through. If I don't find myself listening to a certain record, I just bring it back to the store to add to the inventory.
What does music mean to me in general? Wow, that's a pretty loaded question. For me, music is one of the few constants of my life. Regardless of job, living situation, age, or anything else for that matter. Music is always and has always been a part of my life. To me, music has a tendency to freeze moments for me. For example, I remember I drove to Florida when I was 18; it was the first time I had listened to Music Of My Mind by Stevie Wonder. I listened to it the entire drive down, probably 30 times or so all the way through. It just blew my mind. It's probably cliché to say that my musical experiences are the soundtrack of my life, but that's sort of how I view them. I love music.
Andrew:
What are some albums you don't have, but hope to find one day? Are there any albums you've given up that you wish you hadn't? Are you like some of us who purge records only to rebuy them again?
Terry:
Nah, once I sell something I usually don't look for it again. And I have the fortunate perspective of seeing tons of cool records come in the shop all the time, so I sort of get to satisfy my digging/finding urges via the store, which is probably good for my wallet. I would love to get some clean copies of the first few David Axelrod LPs, but they don't come in very often.
Andrew:
What is one album that means the most to you and why?
Terry:
That's pretty tough. I think maybe Sharon Jones' Dap-Dippin' LP because it's sort of the LP that sent me down the path I'm currently on. I heard it when Rob at Rama-Lama Records in Toledo, OH played it for me and it was like he opened Pandora's box. I had no idea records could still be made like that. I already had a deep interest in music production and label operations, but hearing that record was the final kick for me to make a move.
Andrew:
Once COVID-19 calms down, what does the future hold for both Colemine and Plaid Room Records? What's next?
Terry:
We've grown a lot during the pandemic and we've put in a ton of new systems on both sides of our company. We're trying to set ourselves up to continue to grow, but without the pain, we felt during the first five years of growth. We've hired a much larger staff, so the future for us hopefully means a little more time with our family! But we have a ton of talented artists we're working with on the label side and we can't wait to continue to develop them and release wonderful records. From the shop side, we're excited to be able to host in-store events again. Those are always the best and most memorable days!
Andrew:
What drives you? What inspires you most?
Terry:
I really just love making records. I love all aspects of it. This is all so fun for me. And it's constantly changing. I love producing records. I love writing music. I love playing music. I love designing artwork. I love seeing the finished products. I love seeing record stores get behind our releases. I love seeing new folks find out about our artists. I love seeing other artists and record labels doing great work. I'd say that the last thing is the most inspiring. I don't really get too jealous or envious of other companies or anything. It's inspiring to me. It gives me something to look forward to and work toward. And that's what we're doing. Growing our label in the best way we know how to best serve our artists.
Andrew:
Is there anything else you want all of here at Vinyl Writer Music as well as the general record-consuming public to know?
Terry:
If there's one thing I could emphasize to everyone, it would be that purchasing records from independent record stores is the best way to support the independent music ecosystem. It's better than buying off of our website, the band's website, etc. It's the best way. Period.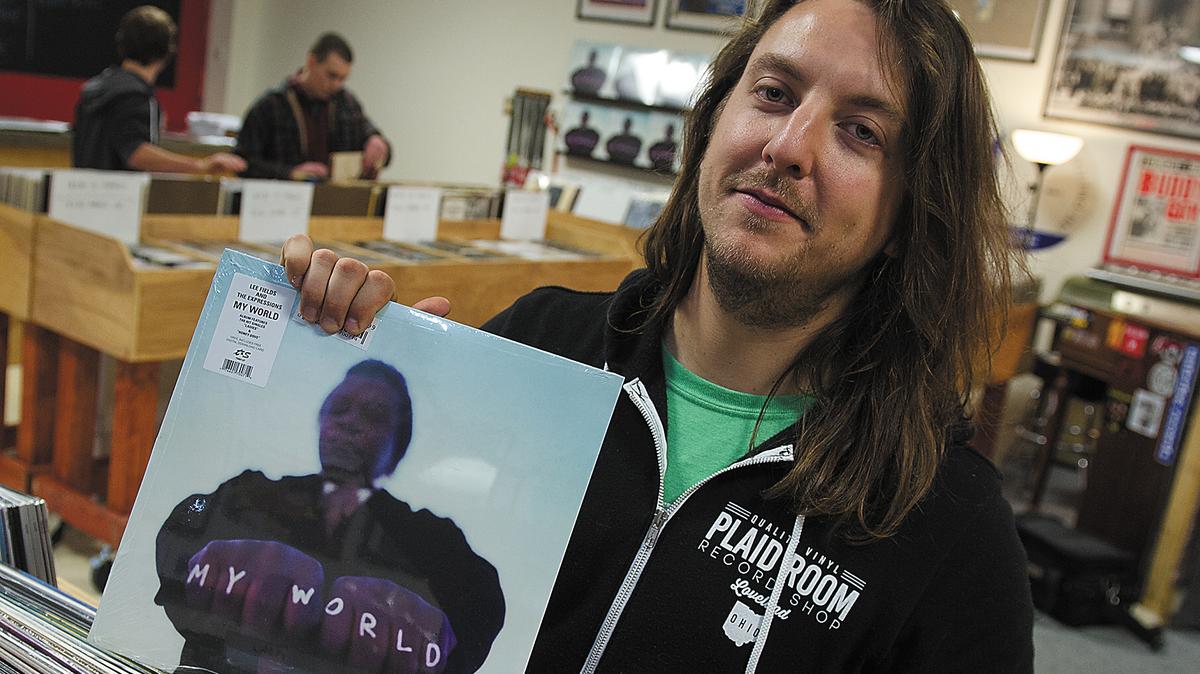 Dig this interview? Check out the full archives of Vinyl Writer Interviews, by Andrew Daly, here: www.vinylwritermusic.com/interview