All images courtesy of Getty Images/KISSonline

By Andrew Daly
andrew@vinylwriter.com
I've been a huge fan of KISS since I was around 8 years old. I became a fan during the Reunion period. I remember when Psycho Circus came out. I saw them on the Farewell Tour, and I nearly cried myself to sleep when I heard Ace and Peter had left the band (again). Over the years, I've consistently stuck with the band and they have generally always been a constant in my life. Say what you want about their stage show and makeup, but one simple truth cannot be denied- KISS has a massive stable of classic songs which have defined multiple generations. Their influence is only matched by their longevity and for that, we ought to show them respect.
For whatever reason, some people like to complain about the band's current lineup. Personally, I've always been a fan of Eric Singer dating back to his days in the band during the 90s, and over the years, I've really warmed up to Tommy Thayer as well. Yes, Gene and Paul are sort of asking him to imitate Ace Frehley's classic and influential style, but that doesn't change the fact that Tommy is an excellent guitarist in his own right, and that he has been a good (Rock) soldier. The man has been in the band for 19 years now, and I think it's time people give him a break or at least show the guy some respect. He's become a huge part of KISSTORY. Speaking of KISSTORY…being that I was alive for and attended the first Farewell Tour, I was skeptical when I heard reports of the End of the Road Tour truly being the band's last jaunt around the world. However, after a while, I thought about it, and this lineup has been steady and harmonious for nearly 20 years. They genuinely seem like friends, have toured year in and year out, and have crafted two excellent, late-career albums (Sonic Boom and Monster). After much thought, followed by additional denial and then acceptance, I realized that this probably will be the final KISS mega tour. This isn't about infighting. No, they're just getting older. I do believe the band will continue to play one-off shows, and I wouldn't be surprised if we see another studio effort of some kind before things are all said and done.
As we all know, when COVID-19 hit, everything basically stopped, and that included The End of the Road Tour. Part of me was kind of happy because that meant that KISS would continue to exist as a fully operational live band for just a little longer. However, as the year has worn on, I've grown to miss live music and all that comes along with it. As far as KISS is concerned, I began to wonder if their final tour would be cut short or end altogether. The thought of a world without KISS is so foreign to me and honestly, completely unsettling. In short, I am not ready for it to be over, and thankfully — it isn't. Like many you of, I assumed New Year's Eve in 2020 would be boring and spent at home. I am sort of a homebody anyway, so it wasn't the end of the world, really. I figured I would stream a movie or show, or maybe spin some records, as I've done for years, but then about a month ago, I saw that KISS had some kind of "big announcement," and that we all should stay tuned; I was left wondering what it was. I secretly hoped it was a reunion with Ace and Peter or even Bruce Kulick for a few shows. That didn't happen (not yet anyway). As you all know by now, the announcement was a New Year's Eve mega show to take place at The Palm, in Dubai, which was being called "KISS 2020 Goodbye." The tagline spoke of the largest stage show they had ever done, with massive amounts of pyro and explosions, one which would set world records, as well as a setlist loaded with classic KISS tunes. I'll cut to the chase — it didn't take long for me to get my wallet out and purchase a virtual ticket. New Year's Eve would be spent at home, but it wouldn't be boring. My old friends in KISS would be with me now, and together we would send 2020 packing. Good riddance with good friends.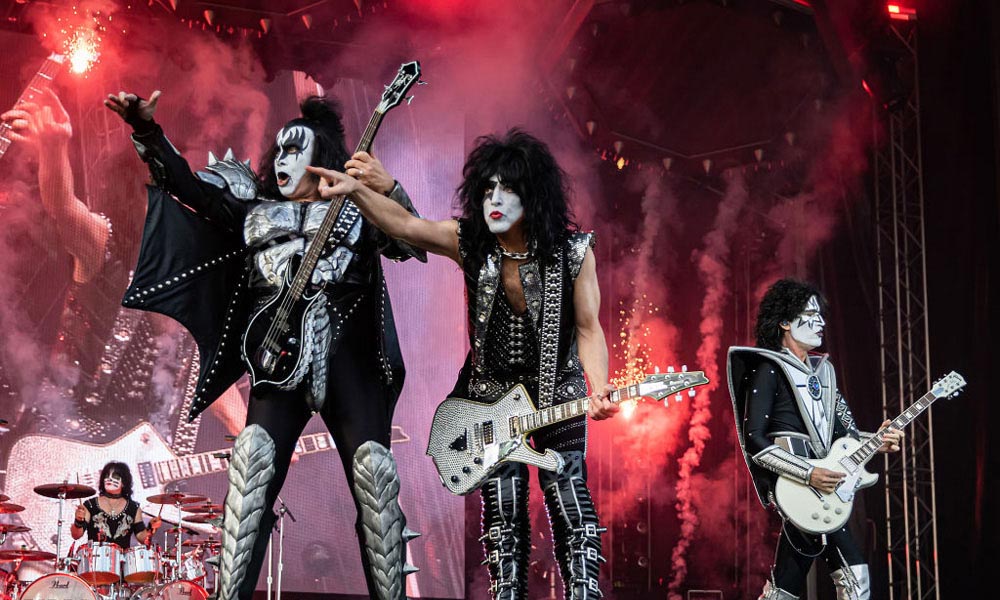 So, let's talk about the show. I know there are tons of snobs, elitists, and generally toxic people who like to dump on everything fun because they're miserable. I also know those people will have a list of criticisms a mile long. Detractors will say that KISS, "sold out," "Paul's voice sounds tired," and "Tommy and Eric shouldn't wear Ace and Peters makeup." You know, all the same, tired garbage people always say about KISS because they're bored, jealous, and myopic. For my money, I felt the show was awesome. It's everything that makes KISS special and unique. Say what you will, but KISS perpetually set the bar for what a Rock concert can and should be. Stage show aside, the setlist was classic, tight, and entertaining. Sure, I would have liked a little more variation and some deep cuts on this special occasion, but KISS prefers to stick to their tried-and-true favorites, and are very deliberate about the insertion of select fan favorites and said deep cuts. At the end of the day, I am never going to complain about hearing classic tracks such as "Deuce," "Parasite," "Strutter," "Tears Are Falling," and "War Machine."
As I mentioned before, the band itself was tight as ever. This particular incarnation of the band (Gene, Paul, Tommy, and Eric) are extremely consistent, professional, and gel together very well. Basically, they always deliver, and they always sound exceptional. On to the subject of Paul's voice. Look, the man is nearly 70 years of age, and he's got a tremendous amount of miles on his vocal cords. If you expect him to sound like he did in the 70s, 80s, or even the 90s, you're simply being unreasonable. All things considered, he sounds great, has made adjustments to compensate for some lost range, and generally, his chords warm up as the show wears on. No complaints whatsoever there. If you have issues with Paul, then you need to check your attitude at the door and manage your expectations. If you can't do that, I shudder to think what life will be like for you as you age, and you find yourself unable to do things in the same manner you once did. I suppose that will be a reality check that some will simply need to face and live for themselves.
Moving on, a few more things I noticed — Eric is one hell of a drummer. He makes it look easy and he plays with a lot of style and swing. He's a true showman and his Pearl drum kit is a beauty. I also enjoyed his rendition of "Beth" performed while sat at a piano. It's a fresh take on the track. Sure, it's Peter's shining moment, but Eric made it his own and preserved the legacy. I dig it. As I mentioned before, Tommy is being asked to play the role of "Ace" to a certain degree, but man, he is a good guitarist. Very professional and he's got a great stage presence and tone. He's got some really gorgeous guitars, which complement the general aesthetic wonderfully. As far as the reports of censorship go, it was kind of weird to hear "virgin soul" changed to "sacred soul" during "God of Thunder"' and I also missed "bitch" in "100,000 Years," and yes, Gene did not perform his demon blood-spitting routine, but I get it — the obscenity laws in Dubai are apparently very strict and KISS was merely doing what they had to do by the letter of the law. That said, "Love Gun" and "Lick it Up" are explicitly about sex acts, so I am not sure how they got away with that, but from what I have read, Dubai is a playground for the rich and famous, and the city itself is very conservative about raising eyebrows and angering the money so to speak, so much so, that it's actually illegal to curse to the point that you will be fined and could even be jailed. Ouch. The subliminal subject matter doesn't seem to mean as much as any lyrics that could be seen as "profane" do. Go figure.
Anyway, all told, I think the show rocked and it was an awesome way to spend New Year's Eve, as well as kick 2020 to the curb. I see what KISS was trying to do — usher in 2021 in the most positive way possible for their fans. I am told that the stage show, pyro, immense safety protocols, and production cost them well over 10 million dollars and that the net profit is truly "minimal" for them compared to the amount of work and effort put in. I take that with a grain of salt, but the show and act seem truly genuine, and if they are — I appreciate it. I also applaud Paul Stanley for vocalizing the need for safety, social distancing, as well as the importance of us all getting the COVID-19 vaccine. Paul is a high-profile rocker, who has a high profile and highly visible platform. I commend him for doing the right thing, always. I also dug the showmanship involved by doing so just before the band launched into a searing rendition of "Dr. Love." All in all, KISS played 22 classic tracks, on a 250-foot stage, surrounded by a massive production of apparently Guinness World Record-setting pyro and fireworks (the record for most flame projections launched simultaneously in a music concert, with 73). They are waiting on certification for setting the record for the highest-grossing Pay-Per-View live stream for a Rock concert. Yes, these things are kind of campy, but also fun and a lighthearted way to take our minds off the pandemic. Did you expect anything less from KISS?
At the end of the day, 2020 was a disaster. It was a year of unforeseen unrest across the economic, social, and political landscapes. From the public health perspective, it was even worse. We've experienced tremendous loss and death. We've watched friends and families become divided due to the pandemic, and also due to differing opinions over politics. I like to think that the members of KISS saw that its fans needed this. 2020 needed to not only end, but it also needed to be blown out of the water, in style. Who better to light a literal fire under the ass of this God-forsaken year, and send it packing than KISS? Say what you will about Gene, Paul, Tommy, and Eric, but these guys know how to put on a show. They know how to rock. They know how to make us forget, and to make us feel normal again, if only for a little while. KISS is a band built on perseverance, guts, and fearless determination, and it's those same characteristics that will guide us out of this COVID-19 crisis and beyond. When we reach the other side, I know KISS will be waiting for us, clad in kabuki face paint, guitars slung over their shoulders, standing tall via the assistance of 6-inch leather platform heels, shrouded in pyrotechnics, bursting with fire and light. I personally will be happy to greet them, but I am also thankful that they were with us for the ride through hell and out to the other side. Watching KISS perform "Rock and Roll All Night," while gobs of pyro burst and shook the earth around them, as the clock turned over to 2021, was comforting and fitting for me. The year from the depths of hell is over. Still, the sky is burning over Dubai, but this time it's by design. Gene, Paul, Tommy, and Eric helped us KISS 2020 Goodbye. I thank them for that. Goodbye and good riddance, 2020. See you all on the other side.
– Andrew Daly (@vwmusicrocks) is the Editor-in-Chief for www.vwmusicrocks.com and may be reached at andrew@vinylwriter.com