All images courtesy of Chris Ballew
The 90s was an amazing time for music. More personally (for me at least), it was the time of my upbringing. MTV and TRL with Carson Daly were still "things," and I have a sort of never-ending playlist of music that rattles around my head. These are the songs of my childhood. These are the songs of the 90s.
Many of you may remember a really cool Alternative Rock band called The Presidents of the United States of America. If the name doesn't jog your memory, then perhaps their hit songs "Lump" and "Peaches" will. The band's debut album is the stuff of 90s Alt legend and the rest of their catalog isn't far off either. The Presidents are no longer together, and these days Chris Ballew, who I've got "in the house today" focuses more on his visual art and his recordings under Caspar Babypants, where he records music for children and families. If you would like to learn more about Chris's current works, you can head over to his website here. In the meantime, check out this interview with Chris. Until next time. Cheers.
Andrew:
Chris, thank you for taking the time to talk with us. It's been a weird year. What have you been doing to pass the time?
Chris:
I have been taking a huge break from music actually. I still listen to the music of course and play piano and guitar every day, but I've stopped being goal-oriented with songwriting for the time being. Instead, I'm doing visual art which I'm VERY excited about! You can check it out at chrisballew.org. Basically, it's black and white drawings that are sort of like totems for my interior dialogue with my ego and my pure energy self. Some of them are about that and some of them are just plain silly.
Andrew:
How did you get into music? What was your gateway so to speak?
Chris:
When I was extremely young, around two or three years old, I got my hands on a copy of Sgt. Peppers Lonely Hearts Club Band by the Beatles. That album made movies go off in my head, and turned my imagination on in an extremely thrilling way. I knew right then and there I wanted to swim in those waters for the rest my life.
Andrew:
You were the lead singer of The Presidents of the United States of America. Tell us how the band got its start?
Chris:
The Presidents was just another band in a long series of funny bands that I was doing just to pass the time with my friends. So, when we started, we did it just to keep life interesting and have something to do on a Tuesday night. We really kept that feeling intact right up until we got signed by a major label. We really were not trying to be huge. We were just trying not to be bored!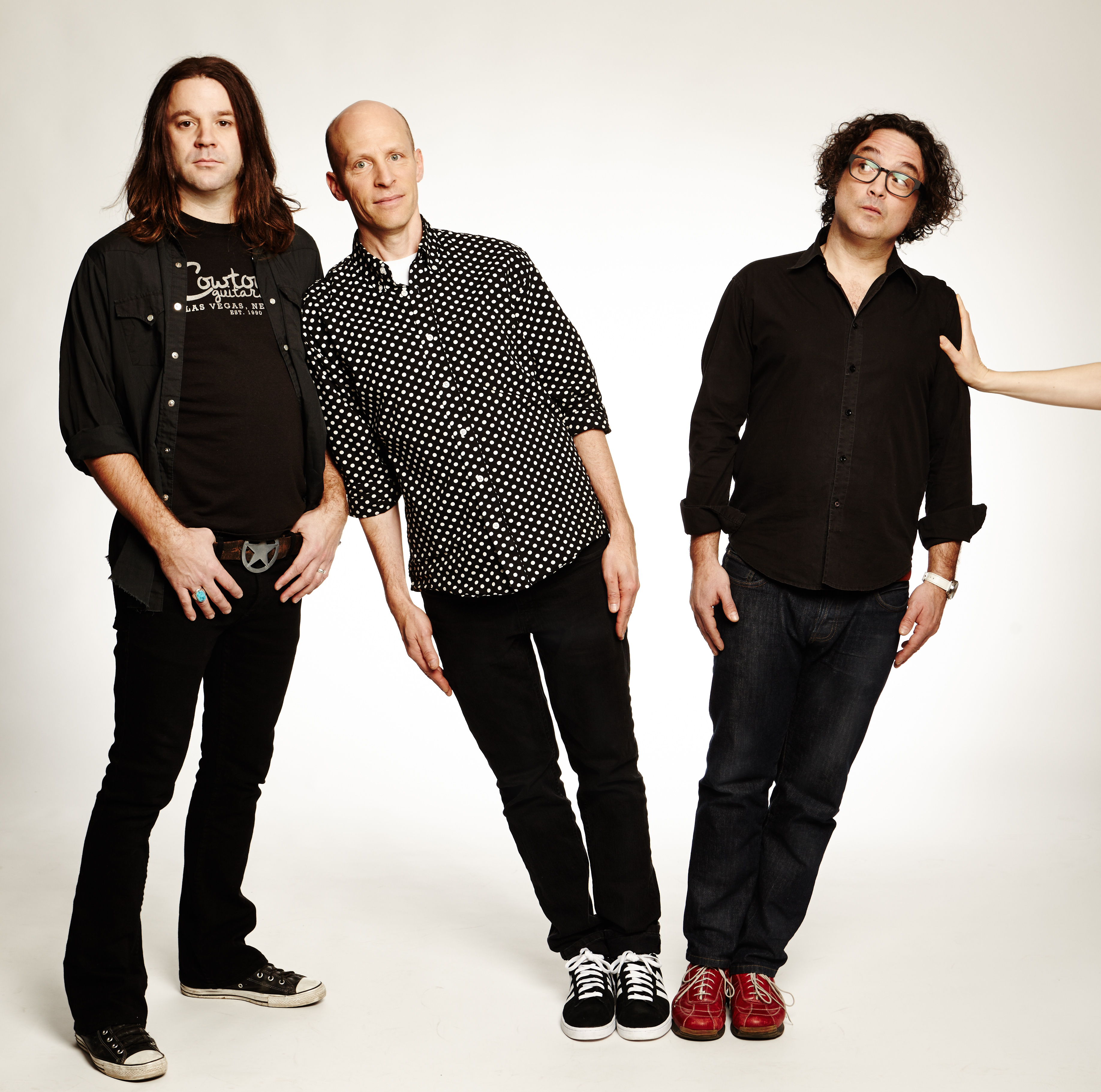 Andrew:
The Presidents of the United States of America is an interesting name for a band. What's the origin?
Chris:
We were struggling to find a name for the band. Nothing was working. So, when we would get together for practice we had to show up with five good band names each every time we met. We would take turns rattling off our five band names with no judgment from the others simply waiting until all of our eyes lit up. One of my five one days was The Presidents of the United States of America and we all lit up like Christmas trees! The name was so unrelated to what we were singing about, and what our aspirations were as people and so basically ridiculous. It made us laugh and made others laugh so we stuck with that name.
Andrew:
The band released six albums in total, with your self-titled album probably being your most well-known. 'Lump' and 'Peaches' are true 90's anthems. What was the inspiration for those songs? The album has such a special place in so many fans' hearts. Looking back, how do you feel about that album?
Chris:
That album is kind of a collection of brand new songs and old songs that had drifted from band to band. My attitude about making albums is to always be writing and always be recording, and then when it's time to make an album, I scrape the cream off the top of the barrel of songs and release the best that I have got. That was the method we use to make the debut album. We had a lot more songs besides the ones that were on the record and we just decided on the best ones out of that bigger batch. It was definitely a snapshot of my life at the time in that there was friction in that music between innocence and adult themes. I went through some dark times before moving back to Seattle from Boston in 1993, so the darkness of the East Coast and the lightness of the West Coast were mixed together for me in those songs. I love that record so much.
Andrew:
In 2000, the band broke up, but a few years later, got back together, and then broke up again, before finally having a long run through 2015. What was the reason for the stops and starts?
Chris:
I really did not want to be in a band at all. Later, I discovered that recording and writing by myself is what I really wanted to do. Working alone plays to my strengths and my own satisfaction, and peace of mind loves working solo. But the band had a momentum to it that kept drawing me back in. I really did enjoy the time we were together, but we did need those breaks in order to refuel, and the finality of breaking up might've been unnecessary, but at the time that was my only way of dealing with stopping the machinery so that a break could happen, and I could be with my family. I guess you could say it's like a troubled relationship where the man and the woman might get together and break up multiple times before finally going their separate ways. It doesn't mean it was a negative experience; it just means it's not meant to be forever.
Andrew:
In 2015, the band was dissolved. What went into that decision? Do you think we will ever see The Presidents of the United States of America return again?
Chris:
I was doing Caspar Babypants at the same time as The Presidents for many years and I was burned out. I knew I wanted to pursue the Caspar Babypants thing, and I gave the lads in the band three years' notice that the end was coming. As far as doing more shows goes…you never know! I have definitely learned to never say never. I can tell you that I will never step on stage and play music at a volume that requires me to wear ear protection or in-ear monitors ever again! The damage to my ears is going to leave me a deaf old man already and no amount of Rock 'n' Roll fun is worth more deafness in my future! I could see something like an acoustic campfire back porch sing-along format where we hand out songbooks, and the whole crowd sings along like we are all camping in the woods, but we are actually in a club.
Andrew:
Through the years, you've also been a part of some very cool side projects, The Giraffes and The Tycoons. What more can you tell us about them?
Chris:
All of my side projects were inspired by an impulse I had during The Presidents' time to keep on searching for my ultimate songwriting voice. The Presidents was close, but not it, and I knew it. I had to keep on playing around outside the band to keep that process moving forward. That's why I created so many weird albums under other names.
Andrew:
My understanding is you also perform as a children's artist under the pseudonym Caspar Babypants. Tell us more about that. What was the inspiration?
Chris:
The inspiration to do Caspar Babypants was the result of following that impulse to find my true voice. When I did finally find it, it was a silly, purely innocent sound. I immediately realized that it was music for children, and families that I was trying to make all along. Upon realizing this, I felt an incredible wave of relief and freedom. I was free from the culture of cool. I was free from ever having a hit song again. I was free to use all my influences, and be ridiculous, but also to be making songs that help connect children and parents over a shared aesthetic experience. I found purpose in making music that brought children and parents together in the same room rather than sending them to different parts of the house. I feel more like I'm in service to people now and less like I'm promoting myself.
Andrew:
What are a few albums that mean the most to you and why?
Chris:
Sgt. Peppers Lonely Hearts Club Band by the Beatles, because it showed me how songs can make movies go off in a listener's head. Paul McCartney's first solo album, because it showed me what lo-fi intimacy can sound like. Ravi Shankur, Chants of India, because I listened to it on headphones as I walked around in the wintertime after my first wife and I got separated, and it comforted me. Brian Eno, Apollo and Atmospheres, because it turned me onto Ambient music and the power of being quiet. XTC, Skylarking, because it is a bottomless pit of rifts and hooks that I can sing even if I'm not listening to the album. Tom Waits, Closing Time, because it is achingly beautiful, and his voice hasn't hit that gravelly spot yet. The Soft Boys, Underwater Moonlight, because the surreal lyrics reminded me of Sgt. Pepper's, but in an even more abstract poetic way.
Andrew:
You've got a unique way of playing your guitar. I've heard your instrument be referred to  as a "two-string basitar." Tell us more about your technique.
Chris:
I learned about two and three-string instruments from Mark Sandman, who was the lead singer and two-string slide bass guitar player in a band from Boston, Massachusetts called Morphine. He had a two-string guitar in his studio that I picked up one day and just felt like I had come home! I like to wear my influences on my sleeve and the two-string and three-string guitars that I play allow me to do that while sounding original. Not to say that all I am doing is ripping off my heroes, but it helps me feel like my take on music that I admire becomes my own. I played three-string guitar now, but in The Presidents, I played a two-string. Also, it fits my minimalist sensibilities. Less strings to buy and tune!
Andrew:
Are you into vinyl? Tapes? CDs? Or are you all digital now? Where do you like to shop for music?
Chris:
I am pretty much fully digital with the exception of some vinyl from my young years that I held onto. The minimalist part of me that I just mentioned loves the digital world. I have a hard time with bulky possessions. I did vinyl when I was a kid and loved it. Then I graduated to cassette tapes for a long, long time, and now it's all digital. I don't really care about the medium. I care about the message. I think there's too much emphasis put on the format sometimes. I feel like people can get lost in the weeds of fetishistic obsessions with audio formats.
Andrew:
It's been a weird year, but we've still seen a lot of great music released in 2020. What are some of your "must-haves" of the year?
Chris:
I am very out of touch when it comes to new music. I listen to music from the 1800s mostly! Old Folk music, Classical music, and African and Indian music. I'm not a big fan of current stuff, but I would like to change that in the coming year! I find the world so weird and sort of threatening that I tend to retreat into Ambient music and Classical music a lot. Music that allows my mind to wander and take a break from all the sensory input is often what I put on. I am listening to Ambient music RIGHT NOW actually. I make Ambient music too, and it is also available along with my drawings and my "sampladelic" music at chrisballew.org.
Andrew:
Once COVID-19 calms down, what's next for you as an artist?
Chris:
I have released one Caspar Babypants album during the pandemic, and I had a new one come out on November 13th called HAPPY HEART! After the pandemic is over, I will release my 19th (and probably final) Caspar Babypants album and get back to playing live shows. I can't wait to see all those cute little faces staring back at me! I miss those kids. They have such amazing energy and beautiful radiant smiles.
Andrew:
Last question. Is there anything else you would like us all to know?
Chris:
Maybe try some digital methadone for your vinyl habit! Just kidding. Not really. I think we covered it! Thanks for asking!
Dig this interview? Check out the full archives of Vinyl Writer Interviews, by Andrew Daly, here: www.vinylwritermusic.com/interviews