All images courtesy of Nili Brosh
Recently, I've had the pleasure of interviewing some women who seriously rock, and today will be no different. As I've grown older and spent more time within both the vinyl and music communities, it's become apparent to me that women aren't always given the room to stretch out and get comfortable in the same way that men are. That is something we all can work on, but I also want to make it clear that not all men within these communities are toxic or sexist, and as usual, it's really a few jerks who ruin things for everyone. That said, as my interview series has worn on, it's become increasingly important to me that strong, talented, and badass women such as Nili Brosh be featured alongside their male counterparts. Life is about balance.
For those of you that aren't familiar with her work, Nili Brosh is one of the premier guitarists out there today. At 32 years of age, she is part of the next generation of hard-rocking guitarists who will carry the torch for decades to come. So, if you aren't familiar with her- remember her name, because I am here to tell you that Nili Brosh is here to stay. Nili has style, and swagger and can flat-out shred with the best of them. Her unmistakable style is not only unique but downright singular. She stands tall and her musical voice cannot help but make itself known. What more can I say? Nili Brosh rocks. If you would like to learn more about Nili Brosh and her music, you can head over to her website here, and dive in. That's all for me, for now. Enjoy.
Andrew:
Nili, thank you for taking the time to speak with us. It's been a weird year. How have you been passing the time?
Nili:
Thanks for having me! It's definitely been weird, to say the least! I'm fortunate though – I've had plenty of time this year to write, practice, and just generally work on my art – time that no one would've given me under normal circumstances! So I've been trying to make the most of that.
Andrew:
Tell us a bit about your musical origins. How did you begin playing guitar?
Nili:
I have three older brothers that always had Classic Rock and Metal playing in the house when I was growing up. I always knew I loved music, and my older brother Ethan Brosh has been playing guitar since I can remember. I wanted to be like him and always hoped to follow in his footsteps.
Andrew:
You were born in Israel, right? What was the music scene like there?
Nili:
I was! To be honest, I don't know much about the scene there – we moved to the States when I was 12, and I never really had any concept of it as a kid. What I can say is that music fans over there are very appreciative whenever an act comes through. Israel isn't always on every artist's tour route, so I know it's extremely appreciated when it is.
Andrew:
As a guitarist, who are some of your biggest influences? How did you go about developing your signature sound?
Nili:
Nuno Bettencourt, Greg Howe, Andy Timmons, Guthrie Govan, Steve Lukather…the list goes on. I'm not sure it was conscious, I just had a list of priorities as to what I wanted to work on – the ability to emote on the guitar, to convey melodies well, and to have a good feel on the instrument. Hopefully, that's how I ended up here!
Andrew:
In addition to your solo output, you've done a lot of side and session work. Tell us about some of your session and side work that you are most proud of. How did working as a session musician help you hone your craft and build confidence as a solo artist?
Nili:
This year, even with the pandemic, I've been super fortunate to start working with Danny Elfman. Of course, we had plans that had to be put on hold, but we still managed to get some recording in. I played on his new single 'Happy' that came out in October with a music video. I think for me, the solo and side work has kind of fed off of each other through the years. I always felt like I needed both to balance the perspectives; it's fun to work on my stuff, but other people's points of view are huge for me, so taking my opinions out of the equation and trying to fulfill someone else's vision has always expanded my horizons.
Andrew:
Speaking of your solo work, you've released three excellent albums to date. The most recent being Spectrum in 2019. What are the biggest differences for you as a side/session musician as opposed to playing on your own records?
Nili:
Thanks! Similar to what I mentioned, it's the difference between "I'm calling the shots" versus "I'm part of a team," to me. Of course, I always want the input from the players on my albums and for them to do what they do, but at the end of the day, I have to make the executive decisions and that can feel somewhat lonely to me.
Andrew:
As I mentioned before, you put out Spectrum in 2019. Can we expect any new music from you soon?
Nili:
Yes! I released a new single/music video in August called 'Estranged,' and I'm currently working on my next album. That being said, I'm hoping to release more of these new songs as singles before they turn into a record, simply for the purpose of getting new music out there quickly and more often.
Andrew:
In 2017, you joined the cast of Cirque du Soleil's. As a guitarist, you've got a lot of style, but that is taking it to a whole new level! How did you become involved with the show? How did it affect you stylistically? Has it informed your music at all?
Hahaha, thank you! Cirque actually has public casting calls, and you can keep up with which shows are hiring. It definitely affected me in having to step up my showmanship! The task of playing technically challenging music while truly giving a show was always incredibly difficult for me, and that gig put me in a position where I was forced to get better at it. With a 10-show-a-week schedule, the amount of repetition ends up getting in there whether you'd like it to or not. So I was lucky to be thrown into that immersive sink-or-swim environment.
Andrew:
You've trained as a classical guitarist and it goes without saying that you're extremely proficient with your instrument. How do you keep yourself moving forward as an instrumentalist and songwriter?
Nili:
Thank you! I took lessons on classical guitar when I was a little kid, but I wouldn't say I've been trained as a classical guitarist – if anything, I'm a hack nylon string player! But to answer your question, my rut-buster has always been challenging me to become more versatile. I love different kinds of music, and I tend to get bored easily, so the idea of learning different styles – regardless of how new they seem to me – always keeps things fresh, challenging, and certainly rewarding from the writing aspect.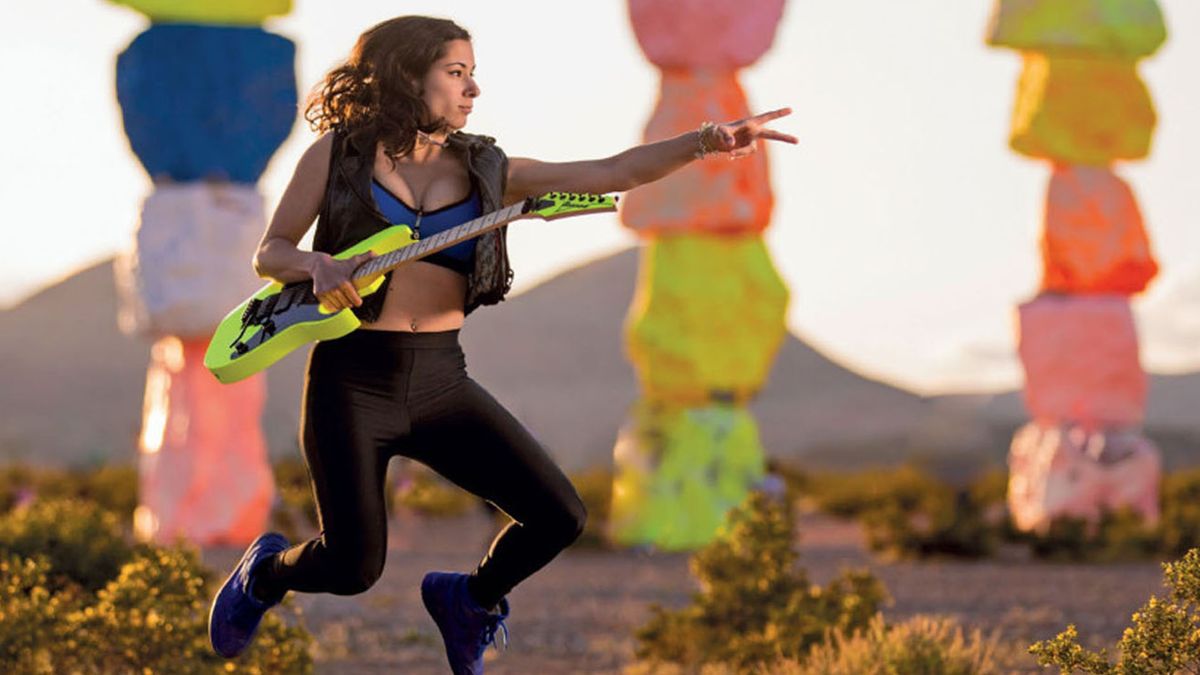 Andrew:
Shifting gears a bit here now. As I am sure you are aware, women are vastly underrepresented within the music industry. As a strong female musician, what can we do collectively to challenge the bias and prejudice that women experience within the industry? How do we get better?
Nili:
I think about that sometimes, and I don't mean this in a cynical way at all – but I think time might really be the answer. I think we're definitely moving forward, and even though we hoped it'd be more commonplace and accepted by now, maybe it'll just take the pushing of another generation or two. I think there are many amazing female artists right now that'll end up being the inspiration for that in the future.
Andrew:
Oftentimes, musicians have the obvious influences, but there are always more subtle nuances that shape styles as well. What are some of the less obvious influences to you as a guitarist and songwriter?
Nili:
Middle eastern music, film scores, the 80s, and 90s pop.
Andrew:
Are you into vinyl? Tapes? CDs? Or are you all digital now? Where do you like to shop for music?
Nili:
I'm mostly digital, but I'm still an old-school fan at heart who loves the artwork and liner notes…so I do tend to keep CDs or vinyl albums that have a special place in my heart. I mostly shop for music online, but I always manage to grab something from a local small-town record store on tour.
Andrew:
2020 was a weird year, but we still saw a lot of great music released. What are some of your "music have" albums of 2020?
Thundercat's new album, It Is What It Is.
Andrew:
Speaking of must-have albums, what are a few albums that are special to you, and why?
Nili:
Extreme's second album, Pornograffitti is pretty much the reason I play the electric guitar. Hearing Nuno Bettencourt's idea of what "Funky Metal" should be for the first time back when I was a kid changed my life forever.
Andrew:
Last question. What advice would you have for young guitarists just getting started?
Nili:
To keep it about the love of music. I feel like if that's the priority, you can't be steered wrong.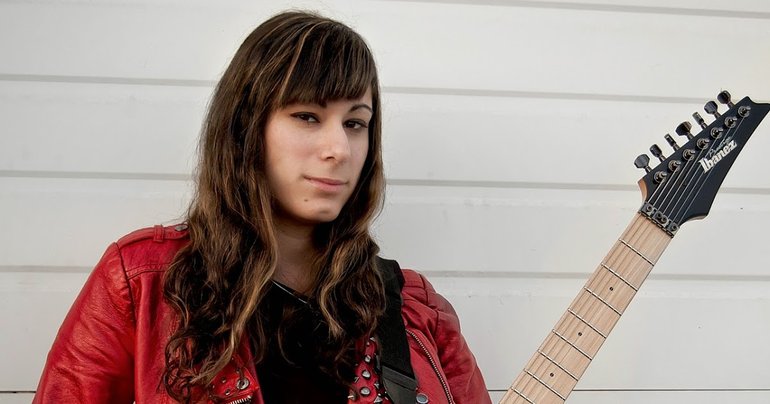 Want to hear Nili Brosh shred? Check out the link below:
Dig this interview? Check out the full archives of Vinyl Writer Interviews, by Andrew Daly, here: www.vinylwritermusic.com/interviews