All images courtesy of David Buttle
As you immerse yourself into the world of records, buying records, and physically playing records, you get to know which labels you can trust. Now, trust in a record label, and what makes a record label "good" goes far beyond just the music on any given record. That said, what I am about to tell you all is completely subjective, and opinion-based. I am not an authority on what is "good," what is quality or what you should collect and buy. So, what makes a label "good?" Well, in my opinion, it starts with quality of the pressing. If the pressing is garbage, then you may as well not even own the record. Again, this is subjective, as we all have our threshold for what sounds like "garbage." Generally though, we can agree that we want relatively quiet pressings, that aren't warped. Fair enough? Next up, for me at least, is packaging. Now, I enjoy good packaging, colored vinyl and extras, but truth be told- I don't need these things and don't feel at a loss without them. Give me a sturdy tip-on jacket, and a clean slab and I'm good. So, what does all of that mean to you? Nothing. Why? Because you have to decide for yourself what your needs are as a collector and listener. You can't base them off my ideals.
So, what does all this have to do with this interview? Everything. For my money, Mr. Bongo is and has been putting out some of the best reissues focused on World Music that you can buy. Basically, if you see them, and you like that type of music- insta-buy them. Pretty simple, right? David Buttle has been in the game as a DJ, shop owner and label runner and general lover of all things music for well over 30 years. That is to say, the people/person behind Mr. Bongo know what they're doing. You can trust that what they put out is "good." Buy with supreme confidence. Or don't. What do I know anyway? So, I've got the founder of Mr. Bongo, David Buttle "with us" today, and that in and of itself is a pretty cool thing. Before we get to it, I will direct you to Mr. Bongo's website here, where you can feast your eyes on what they've got going on. Cool? Alright, that's enough for now. Cheers.
Andrew:
David, thank you so much for taking the time to speak with us. Tell us about your back story. How did you get into records?
David:
I think the first records I saw were my mother and father's Beatles, Rolling Stones, Dizzy Gillespie records, then I bought albums by ELO, Madness, The Specials and Steel Pulse. After that, I went to college and to pay for my fees, I started DJing mainly Rare Groove and Hip-Hop like Sir Joe Quarterman, Bobby Byrd, and Eric B.
Andrew:
You've been running Mr. Bongo in all its forms since 1989. Tell us about that journey.
David:
Well, I traveled around Latin America in the late 80s, so this gave me the inspiration for opening Mr. Bongo to sell Salsa, Latin Jazz, Brazilian, Hip-Hop, Cumbia and more.
Andrew:
Mr. Bongo began its life as a physical shop, right? My understanding is you were the first shop to sell releases by Def Jam, Rawkus, and more outside of the USA. How did that come about?
David:
Yeah, we had 3 different locations in Soho, started 1989, and a shop in Tokyo. We were the first to jump on the new independent Hip-Hop scene of the early 90s, with labels like Fondle Em, Rawkus and the like.
Andrew:
Over time, the shop became well known for its fantastic selection of hard to find records, and classic Latin music. That seems to have bled over to the label as well. What drew you to that music?
David:
I loved Salsa and Latin Jazz, dancing to this was perfection. But my main love was Brazilian music with all its diversity from country music like Baiao, to Bossa nova, to Funk Carioca. I have lived and worked in Bahia, and I love speaking the language and the beautiful people of Brazil.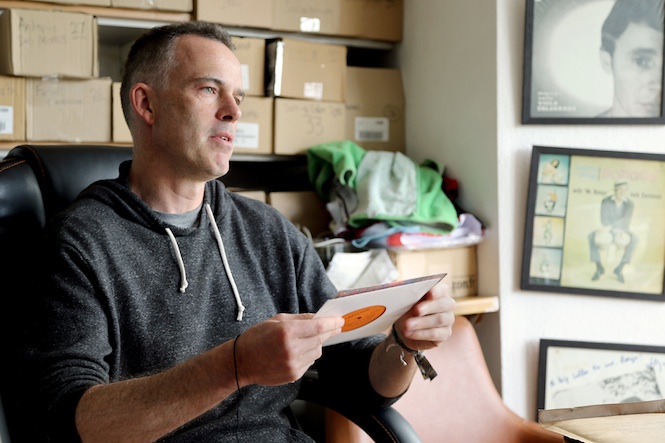 Andrew:
The shop moved around over the years, and finally closed its doors in 2003. What led to that decision?
David:
Well Napster came in and killed music…prices for rent were rising, costs kept going up and customers kept dwindling down. The days of a customer buying 50 records at a time were gone.
Andrew:
Since closing the shop, the record label has lived on and focuses on mostly Brazilian, Latin, Reggae, African and Jazz. What influenced your choice to make that your focus?
David:
I love these styles of music, and I wanted to give the music collectors the classic recordings, paired with the best possible packaging and sound quality.
Andrew:
I have a bunch of Mr. Bongo releases, and what I noticed immediately is not only the quality of the music but the extremely high quality of both your pressings and packaging. It's really incredible, and absolutely a cut above. How do you guys do it, and why is that something that is important to you?
David:
Yes, we are always trying to improve. We master with Abbey Road & Finyl Tweak, and now only press with Optimal pressing plant in Germany, who are truly world leaders in manufacturing, delivering the finest sleeves, and actual vinyl, with a guarantee of quality. We have also been experimenting with Japanese tip-on sleeves with our partner Masao in Japan.
Andrew:
Is there anything within the industry that you would like to see change for the better? What improvements would you like to see that you feel would beneficial to us all within the vinyl community?
David:
Spotify need to pay labels, musicians and writers more money. Old contracts that would now be deemed unfair to the artists should be made illegal, and new, fairer contracts put in their place. Also, recycled vinyl. Optimal make this from the off cuts, but truly, we need to get away from PVC, and use a sustainable product. The process has not really changed for 70 years, and there are alternatives coming to the market, but they will take time and lots of investment, so unless the major players invest, they will never happen.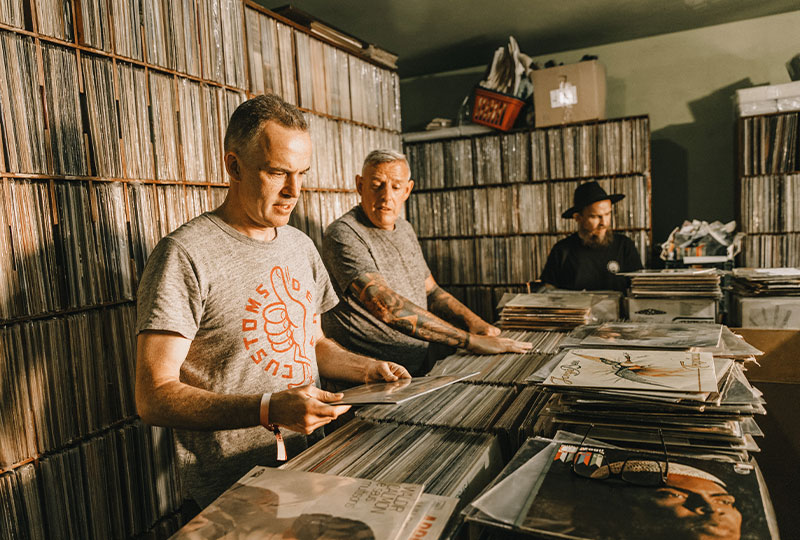 Andrew:
I know this is a broad question, but who are some of your favorite artists? What's your favorite genre and why?
David:
Reggae. I love it's simplicity and has the most feel of any music. There is so much within the sound that you cannot recreate unless you have the reggae feel. It's so heavy. And Brazilian music for the flow and feel it encapsulates, as well as the culture and feel of the country.
Andrew:
This may be an obvious question, but do you collect records? Tapes? CDs? Or are you all digital now? What do records mean to you? More so, what does music mean to you in general?
David:
I collect some classics but not like I used to. I do like Spotify, as it's just so easy. I dig when I get a chance but I am not as hungry as I was. As far as what records me to me…John Coltrane…his records mean a lot to me…his spirituality…in general. I love the tactile feel and sound. Music is life, the rhythm, the time, the feeling, party time.
Andrew:
What are some albums you don't have, but hope to find one day?
David:
Tribo Massahi. Rob…all his albums.
Andrew:
Are there any albums you've given up that you wish you hadn't?
David:
Yes, of course. Banbarra, Shack Up, Bowie and Doors albums.
Andrew:
What are some of your other passions besides music?
David:
Traveling, surfing, digging.
Andrew:
What drives you? What inspires you most?
David:
Wanting to be the best drives me most. The people and artists I work with me inspire me.
Andrew:
Is there anything else you want all of here, as well as the general record-consuming public to know?
David:
Please keep supporting musicians, record labels, record stores. Without you all, we would not survive. For this, we thank you so much.
Dig this interview? Check out the full archives of Vinyl Writer Interviews, by Andrew Daly, here: www.vinylwritermusic.com/interviews