All images courtesy of Dylan Peggin
Dylan AKA The Record Spinner is one of the new kids on the block within the YouTube Vinyl Community, but don't be fooled or take his channel for granted. In a short time, Dylan has managed to grow his channel and make a real impact on the VC. His unique style and delivery give viewers a very real insight into the person behind the camera.
During Dylan's initial run as a YouTuber, he has put out dozens of excellent videos which prove that he is here to stay. With loads of records, endless musical knowledge, and the swagger to deliver the goods, you can expect Dylan's channel to continue to grow for as long as he wants to keep at it.
Dylan releases a new video each Friday, but in-between, you can head over to his channel here and dig into the backlog, and don't sleep on his cool video interviews either. Don't forget to hit subscribe before you leave. On a personal level, it's been a pleasure getting to know Dylan. Since the interview, we've been emailing back and forth talking interviews, vinyl, and most importantly –KISS. Also, Dylan has a passion for KISS soundboards and bootleg just as I do. It's been cool nerding out on that. With all that being said, let's do this.
Andrew:
Dylan, thank you for taking the time to speak with us. This last year has been rough, right? How are you holding up during this seemingly ever-raging dumpster fire?
Dylan:
Well, thank YOU for considering me to be interviewed for your site! I have been holding up quite alright amidst the chaos. While this past year was perplexing and rough for many people who were affected by the pandemic, 2020 proved to be quite promising for me. While being out of work for several months, I was able to put forth all of my energies to YouTube and the results were promising. It was a period of intense content making, earning sponsorships, and engaging more within the vinyl community.
Andrew:
Tell us about your backstory. What was your musical gateway so to speak?
Dylan:
I have no one to thank but my parents for my musical gateway. There was always music playing in the house when I was growing up and it was very much what my parents were into hence why it is because of them that I have my "foundation" of music tastes. The general genre they shared a love for is what can be considered Classic Rock (David Bowie, Led Zeppelin, Rolling Stones). While they shared the same love for that genre, I feel that I got the best of two different worlds with them. My mother is very much into the Progressive Rock bands that emerged in the 60s-70s (Rush, Genesis, Yes). While my dad was into that genre and those bands, he introduced me to more of the Hard Rock/Metal bands from that same time frame (Black Sabbath, Deep Purple). As I got older, I was able to get into bands that I discovered on my own and go all over the place in regard to different genres.
Andrew:
You've been running The Record Spinner YouTube channel for some time now, right? Tell us the origin story of the channel.
Dylan:
I have been collecting vinyl since 2014 and with time, I got more passionate about the hobby and my collection grew immensely. Around 2015, I started to watch YouTube channels such as Frank at Channel 33 RPM, Matt at Too Many Records, and Eric at Vinyl Rewind. Seeing what those guys were doing on YouTube gave me the inspiration to pursue my own ambitions. It would be a number of years before I got a channel of my own underway. I do have to give some props to my girlfriend Sam (or The CD Player as I refer to her in the channel) for giving me the push to get it going. I am not one for New Year's resolutions but I decided to launch The Record Spinner on January 1, 2018. I figured it would be a fresh year and a fresh way to start the channel. When I started this channel, I was still pursuing my own musical endeavors to varying results. With time, I started to put more priority on YouTube and I felt that I was accomplishing more with that in such a short time span than with my music. I still pursue music on the side but if I am going to put forth my energies into anything first, it would be The Record Spinner. Right now, it has grown beyond what I could possibly fathom.
Andrew:
What was it about music that initially drew you in? What do you love about it most?
Dylan:
Music provides many things to me: a soundtrack to life, therapy, and escape. There are certain artists and albums that I listen to that can transport me to an earlier time in life. During my middle school years (2009-11), I was listening to bands like Kaiser Chiefs and The White Stripes; when I listen to them now, I am immediately transported back in time. Some music can be therapeutic, especially when the lyrics can be interpreted to be relatable to what is going on in your life. Music can also place you out of the moment and lock you into a certain plain. When I sit and listen to records, the outside world doesn't matter to me. I am immediately locked in with the music and honing in on it. It is the best kind of release I could ever imagine.
Andrew:
What sets your channel apart from the rest?
Dylan:
Aside from being just a vinyl collector, I am an outright music nerd. When it comes to bands/artists I admire and ones I get into, I become fully invested in their career and I like to learn everything that I can. For the longest time, I had amassed all this knowledge with no outlet to put it to use. When I started The Record Spinner, I realized that it was a perfect opportunity for me to inform people of what I know. When I talk about albums and artists, I can provide a bit of backstory behind what I am discussing just to give viewers some context and a more in-depth look. I never claim to be a "know it all" because I am sure there are others that know more than I do and I always remain humble in that aspect.
Andrew:
Quality control is a hot button issue within the vinyl community. What are your thoughts on the state of QC?
Dylan:
When there is a demand for more vinyl products on the market, quality control is going to slip and that is one of the downfalls of this vinyl revival that has been going on in recent years. For regular releases, there are so many horror stories of badly warped records, listenable defects, scuffs, and such. The market that seems to have a grasp on QC is the audiophile labels like Analogue Productions and Mobile Fidelity Sound Lab who are destined to deliver a superior product. Those labels use some of the best and consistent pressing plants to press up their product (A.P. exclusively uses QRP and MoFi uses RTI). When you're spending $40 or more on a single record, you would want to make sure that there aren't any defects because shelling out top dollars for defective products is a stressful ordeal. One of the skills I've adapted (thanks to Paul at BarakaPDub) is deciphering the dead wax of a record and I can tell by the etchings where a record is pressed. Some record plants are better than others so if I can see that a record was pressed at a certain plant, I know what to expect, whether it's good or bad.
Andrew:
Record Store Day is another polarizing topic. Some love it. Some hate it. What are your honest thoughts on RSD?
Dylan:
I always look forward to RSD every year but I also dread it. From a consumer standpoint, it is awesome to get your hands on some exclusive releases that are only made and available in limited quantities. The more gratifying aspect is the action of you coming out to support the mom-and-pop stores that exclusively offer these releases. It is because of YOU that their doors are still open. Plus, the interaction with other vinyl collectors is great because you can meet other people who share the same passion of vinyl collecting as you. The obvious downsides are the people who are willing to make a fast buck by flipping these releases on eBay or Discogs. It takes the fun out of RSD and defeats the sole purpose. There is also the stress if your local record store never gets in a certain release or only got such small quantities that it sells out before you get a chance to see if it is there. For myself, I am the type that does not like to take a gamble. I'd much rather save the stress for another time and know that I can leave a record store with whatever I am seeking.
Andrew:
Let's talk about the state of the music industry a bit. What are a few things you would like to see change for the betterment of both the fans and artists alike?
Dylan:
It's interesting you mention the music industry because I am actually currently studying to receive a BA in Music Business from Berklee Online. While us vinyl collectors/physical media enthusiasts gladly pay for our music in a tangible form, the vast majority of the public is streaming. Physical media sales are not what they used to be in the past. While this is a significant shift, innovation in new technology never hurts. With that said, I think the royalty rates on interactive platforms should be modified so artists can receive a larger cut that way streams can encompass as "sales" in this day and age. In recent years, there has been such a demand for touring because it's where artists can make a good chunk of revenue to compete with the majority of fans who aren't buying the records. For fans, the possibilities are endless now for them to be more of a part of an artist. Crowdfunding is being utilized more with album releases and project launches which means that fans are technically investing in what they believe in. Back then, there was this dividing line between the artist and their fans. Nowadays, artists embrace them and the fans become a part of their organization. I think it is the best way to give back to them.
Andrew:
Are you only into records? Tapes? CDs? Digital? Where do you like to shop for music?
Dylan:
Before I got into vinyl collecting, I was an immense CD collector. I would seek out all kinds of different variants of CD releases (Japanese versions, limited editions with bonus tracks, etc.) When I got into vinyl, the number of CDs I purchased declined but I still buy them if I can get them for a good deal. If you put a box set in front of me, I will cave in. I am a HUGE box set collector, especially the mega King Crimson box sets that have come out that encompass every soundboard recording from tours and such. I was into cassettes when I was a kid. I always had my little Fisher Price tape player that looked like a smiley face and I would play my KISS cassettes on there. I was at Urban Outfitters a few years ago and I was surprised to see this cassette revival that is going on at the moment. I can see it being a huge thing for the underground/indie demographic but I don't think I'll be investing in a tape deck any time soon. It's cool to see though! In terms of places I like shopping for music, I always go to my two closest record stores in my neck of the woods in southern New Jersey: The Rock Shop in Mays Landing and Sky Valley Records in Somerdale. The Rock Shop has a great blend of new, used, and collectible records. Sky Valley has, by far, the best new selection I've seen and Chuck, the owner, is an all-around good guy.
Andrew:
What are a few albums that mean the most to you, and why?
Dylan:
Love Gun by KISS – The very first KISS album I ever listened to. I got it on cassette at a local flea market and I played it to death. Sure, it isn't the most conventional albums for a 3-year-old to listen to with such poetry as "Christine Sixteen" and "Plaster Caster" but the music brought me to life. When Walmart recently released an exclusive pressing on splatter-colored vinyl and for $15, I broke my rule for buying colored variants of albums I already owned on black vinyl. With that record, I had to make an exception. So many childhood memories lie in that album for me.
Pet Sounds by The Beach Boys – The transitional period between high school & college was one where it seemed like everything was changing. At the time, I stumbled across the film Love and Mercy about Brian Wilson and The Beach Boys and it set me off to find out about this album that I had only heard about in passing. I read an interview that Brian did and he said something among the lines of, "When you listen to Pet Sounds, you have to listen with headphones on in the dark." On Valentine's Day 2016, I did just that. This album was integral in broadening my musical horizons and discovering that there was much more music out in the world than what I had been accustomed to for the years leading up to that.
In The Court of the Crimson King by King Crimson – This album is the birth of Progressive Rock. There was no other band like King Crimson when they emerged with this debut album in 1969. Stylistically, it is the ultimate mashing of genres and styles: Proto-Metal, Pastoral Folk, Jazz, and Classical. The lyrics to "Epitaph" are, to this day, some of the most haunting lyrics I've ever read: "The wall on which the prophets wrote is cracking at the seams, upon the instruments of death, the sunlight brightly gleams." I have listened to this album so many times and it never overstays its welcome. 50 years on, it is still as timeless as it was then.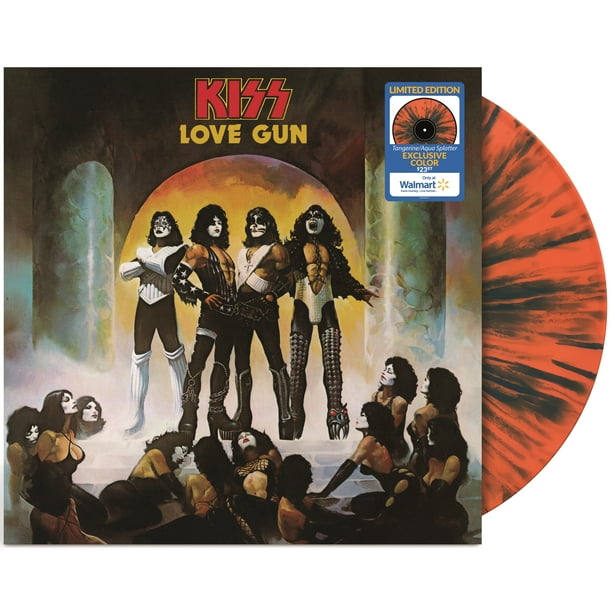 Andrew:
Who are some of your favorite artists? Ones that mean the most to you.
Dylan:
KISS – They are my all-time favorite band. When I was a kid, VH1 was on frequently in my house. They were a sponsor for the 2000 KISS "Farewell Tour" and they ran daily segments about the tour. After seeing them on TV so often, something about the makeup, theatrics, and music gravitated me to them. They were different from everything else that I had seen and they made an impact on me, especially being almost three years old. It was at that moment that I became a KISS Army soldier and I've never looked back since. They are a part of my childhood that will never die.
Pink Floyd – This is a band that I encountered in my high school years. After downloading a "best of" compilation of theirs, I fell down a Floyd rabbit hole and started to get all of their works and learn the ins and outs of their history. I grew to fall in love with their pre-Dark Side era ('67-'72). There are just so many fascinating bits in that period that people tend to overlook due to the over-looming stature of albums like Dark Side of the Moon and The Wall. Even though KISS is my all-time favorite band, Pink Floyd is very much an impulse band for me. Whatever they put out, whether it be CD, vinyl, box set, etc., I will get my hands on it.
Andrew:
Last question. You've maintained a strong DIY approach throughout your career, which is awesome. That said, what advice would you have for anyone else just starting out? How do we stay afloat in a world that seems to be so abhorrent to creatives?
Dylan:
The one thing I would recommend to anyone starting out is simply this: do whatever it is you want to do and make the content you would like to see. I think sticking to those morals will keep the hobby of YouTube fresh to you. Chasing trends and what other people are doing is a simple case of "selling out." I am all about standing out from the bunch and doing things differently. The only thing I do that most other channels do is the yearly vinyl tag that occurs within the New Year. Other than that, I run my own course and it's a very liberating approach because I am able to flex my abilities into all kinds of ideas I have for content. Luckily three years on, I am still coming up with things that keep The Record Spinner as fresh as it was when I started. Before I sign off, I have to say that aside from being content with the content I make and the accolades I have accumulated, it is the fans of the channel that keep me going. Interacting with people in the comments section, emails and other social media platforms gives me the assurance that whatever I am setting out to do must be right, because they are getting gratification out of it. I don't think I would've ever gotten to where I am now if it wasn't for them and because of that, I am forever indebted to them.
Want to learn more about Dylan and The Record Spinner channel? Check out the link below:
Dig this interview? Check out the full archives of Vinyl Writer Interviews, by Andrew Daly, here: www.vinylwritermusic.com/interviews