All images courtesy of Gretchen Peters Management
The canon of singer-songwriters is vast and diverse. As is the case with any genre and niche, there are always underrated artists. The ones who may not always get the mainstream recognition, but drive things forward just the same. Gretchen Peters is one of those artists. To say that Gretchen Peters is "underrated" may seem like a stretch considering she's written countless standout tracks, which have been recorded and taken to the top of chars by the likes of Martina McBride, Etta James, Patti Loveless, Faith Hill, and more. Still, fans of her solo work, which consists of nine exceptional solo albums, will tell you that she still isn't getting the full recognition she deserves.
All of that being said, Gretchen Peters was finally and rightfully inducted into the Nashville Songwriters Hall of Fame on October 5th, 2014. Her name and accomplishments now rightly fully sit beside names such as Gene Autry, Johnny Cash, Dolly Parton, Tammy Wynette, and John Prine. This tremendous accomplishment only further shows the immense depth of her talent as a songwriter and artist.
Today, I am proud to present a "sit down" with one of the most gifted songwriters of the last 40+ years. It's a true pleasure to speak with and learn more about an artist who has taken part in shaping popular music over the course of this generation. If you would like to learn more about Gretchen Peters' music, you can head over to her website here. Gretchen also has a new album out. It's called The Night You Write That Song: The Songs of Mickey Newbury. It's excellent, and you can grab a copy on vinyl, CD, or digitally here. So, that will do for now. Enjoy this one. I know I did.
Andrew:
Gretchen, thank you for taking the time to speak with us. It's been a weird year, hasn't it? What have you been doing to pass the time?
Gretchen:
Much the same as everyone else – a lot of domestic things. Cooking, working on the house, trying to get to everything on that to-do list that got so long while we were on the road. We got a Labrador puppy in December of 2019, so puppy training has occupied a lot of my time. He's now a very good boy.
Andrew:
Tell us about your backstory. What was your musical gateway so to speak?
Gretchen:
Initially, it was Folk music. I went to a summer camp when I was 7 and learned to play the guitar. I had an older sister who was constantly feeding me music, mostly Bob Dylan but also a lot of the other New York folkies that were around (I grew up just outside NYC), and I learned to play their songs. As a kid, I loved Peter Paul & Mary, and I think that's where my love for harmony singing started. I wanted to play guitar so I could accompany myself but I didn't really have the desire to be a great guitar player – just competent enough to play whatever I wanted to sing.
When my mom and I moved to Colorado, just as I was turning 13, Country Rock was in full swing, especially in Boulder, where we lived. I had never heard of Country music growing up in New York but I instantly recognized it as a cousin to Folk music and I fell in love with it for the same reasons – simplicity, emotion, storytelling, and the economy of words. It spoke to me in the same way – I have always been drawn to sad songs and of course, Country music is full of them.
Andrew:
I've read that you wrote your first song at the age of 5. Is that true? Do you still remember the song?
Gretchen:
Well, it was the first time I can remember "making up a song." I'm not sure I knew I was writing. I was in the back seat of the car with my sister and we were on a long boring drive, and we made up a song about a weeping willow. I don't remember anything about it beyond the subject matter, but clearly, even then, it was all about sad songs for me.
I was always writing things from the time I could read – I wrote a lot of poems as a kid; I think it was my lifelong love for the short form. I wrote a play when I was 8 which my third-grade class performed in front of the whole school. That was a thrill, and it probably ruined me for any other potential occupation. My father was a writer, so it wasn't an unreachable dream for me – I had proof right there at home that it could be done.
Andrew:
Before you began your solo career, you were a songwriter for the likes of Etta James, Patty Loveless, George Strait, Shania Twain, and Neil Diamond. What was it like having the opportunity to write with/work with so many seminal artists?
Gretchen:
I didn't really work with most of them – I wrote songs and my publisher would pitch them to these artists. Many times I didn't even meet them until after they had recorded my song, and in the case of Etta James, I never had any contact with her, much to my regret. I think she was one of the greatest singers to walk the earth. I did have a sort of symbiotic relationship with certain artists – Martina McBride being the one that comes to mind. She was drawn to my songs and recorded quite a few of them – she 'got' them, and it shows in her performance. I can't imagine anyone else singing 'Independence Day.' But for the most part, I didn't work with anyone in those days, except my publisher. I didn't co-write, and I didn't like to pitch my own songs as some songwriters do. The last thing I can imagine wanting to do is sit in a room with a producer and an artist and play the songs! That's like asking for a kick in the teeth. I wrote what I wanted to write, and let the chips fall where they may. It worked out.
Andrew:
In 1996, you began your solo career. You had been in the game for a long time at that point. What went into the decision to finally set out on your own?
Gretchen:
I was always a solo artist. There was never a decision, it was what I wanted to do since I was 8 years old. I moved to Nashville to make records, to tour, to continue the performing career that I had started in Colorado when I was playing the bars and the ski resorts and the honky-tonks. My songwriting success in Nashville came as a complete surprise to me. I had only pursued a publishing deal because I knew no record label would let me record my own songs unless I could prove myself as a writer. It just took some time to do that and to find the label that would let me have creative control. That's why there were eight years between my move to Nashville and the "start" of my solo career.
Andrew:
Your first album, The Secret of Life is a great album. What was the inspiration for your debut record? What do you recall about the recording of it?
Gretchen:
The old adage is "you have your whole life to make your first record, and you have one year to make your second" is true. I had a list of songs saved up for that first record and the luxury of time. I remember the weeks of recording as mostly blissful. The two most immediate, uncomplicated joys of music for me are recording and performing, which makes sense because recording really is performing. It took me years to understand this, but capturing a great performance is ultimately what matters on a record, and the rest of it – technical perfection, sound, etc., comes in a distant second.
I will say that I was still quite unsure of myself in the studio during the making of that record, and I can hear it when I listen to it. Maybe no one else can, but I do. I don't sound confident in the way that I do on my more recent albums. I guess that's to be expected. I've learned a lot about making records by making lots of them.
Andrew:
So many of your songs have been covered and ended up toward the top of the Billboard charts. As an artist yourself, it is gratifying or more bittersweet?
Gretchen:
It's always gratifying. I have never had even the slightest pang when another artist has taken one of my songs to success. The songs go where they're supposed to go – they find their home, like children do, and I feel proud when they succeed. And I'm just as proud, if not more, of some of the songs that haven't achieved a traditional measure of success but are beloved by fans nonetheless. I'm thinking of 'On A Bus To St. Cloud,' 'Five Minutes,' 'The Matador,' especially. There are many ways that a song can succeed, but to me, real success is when people want to hear it ten, twenty, thirty years after you wrote it, regardless of where it landed on the charts.
Andrew:
In 2014, you were inducted into the Nashville Songwriters Hall of Fame. That must have been an incredible honor, and one well deserved at that. How meaningful was that for you?
Gretchen:
It was even more meaningful than I understood at the time. It's hard for me to explain how it affected me, as an artist. There was some kind of shift that happened in me — before the induction, I often felt as though the two careers I had – the "Nashville songwriter" and the independent singer-songwriter – were separate, un-reconcilable entities. That I was one person in one room and a completely different person in another. And in either room, I felt like I had to explain myself.
Somehow, and to this day I'm not sure how being recognized by the NSHoF for the body of my work just erased all of that. I felt a less complicated pride in what I had done as a songwriter — just satisfaction with the work. It integrated those parts of me, in a way. It didn't hurt that just as the NSHoF induction happened, I had my biggest success as a recording artist, first with Hello Cruel World and then Blackbirds, which I was in the middle of making when they told me about the induction. But I started playing 'Independence Day' in my live shows again, which was quite telling, I think.
Andrew:
I know often-times songwriters are merely telling stories with their lyrics, and other times, their words are intensely personal. Which is it for you? What is your process as a songwriter like? How has it changed over the years?
Gretchen:
I think that when you are telling stories, you are always telling your story. In songwriting, it's more important, to tell the truth than the facts. And your truth is informed by your story. So when I'm writing a story about a character (and most of my songs are character-driven), I spend a lot of time talking with that character, finding out who she is. And the parts of her that I empathize with – in fact, the whole reason I'm compelled to write about her – is because of who I am and what I've experienced. I just don't think there's any other way to write authentically. Our common humanity is what we have to offer, as writers – to hold up a mirror so that listeners can see themselves. So I guess the short answer is, both.
Andrew:
In May of this year, you released your 13th studio effort, The Night You Wrote That Song. The title certainly seems fitting! Tell us about the record. What was the inspiration behind your new album? What formats is it on and where can we get it?
The Night You Wrote That Song was a long-time dream of mine. It's a collection of songs by one of my biggest heroes, Mickey Newbury. Mickey had a phenomenal career as a songwriter but also a parallel career as an artist (sound familiar?). I have loved his records since I was in my late teens when I discovered him. He should be as well-known as Townes Van Zandt, whom he brought to Nashville, but he left Nashville while still in the middle of his recording career, and Nashville is quite unforgiving that way. If you leave, you sort of disappear.
It took me a long time to feel that I had the right to make a record of cover songs, let alone songs by Mickey Newbury — but at some point, I felt like I'd earned it, that my own fans would get it, and most importantly, that I could bring something of myself to the songs while still honoring his incredible vision as an artist.
It's available on CD and vinyl (of course) as well as the usual digital outlets. Vinyl and CDs are available at gretchenpeters.com and for all things digital, https://smarturl.it/songsofmickeynewbury
Andrew:
As an artist as well as a songwriter, who are some of your greatest influences?
Aside from Mickey, Leonard Cohen is at the top of my list. Also Joni Mitchell, Jackson Browne. Rickie Lee Jones had a profound effect on me. Bonnie Raitt is someone who inspired me as a very young woman – I must have seen her perform more than any other artist, all through my teens and 20s. When she presented me with the International Album of the Year award at the UK Americana Awards, 16 year old me was beside myself.
Andrew:
Are you into vinyl? Tapes? CDs? Or are you all digital now? Where do you like to shop for music?
Gretchen:
Sadly I'm all digital – and I have some regrets about that. We divested ourselves of all of our CDs and most of our vinyl (although I kept the most precious albums, thank God) early on because we live in a very small house and never have enough room. Now I wish we still had that vinyl collection. The CDs I have no regrets about.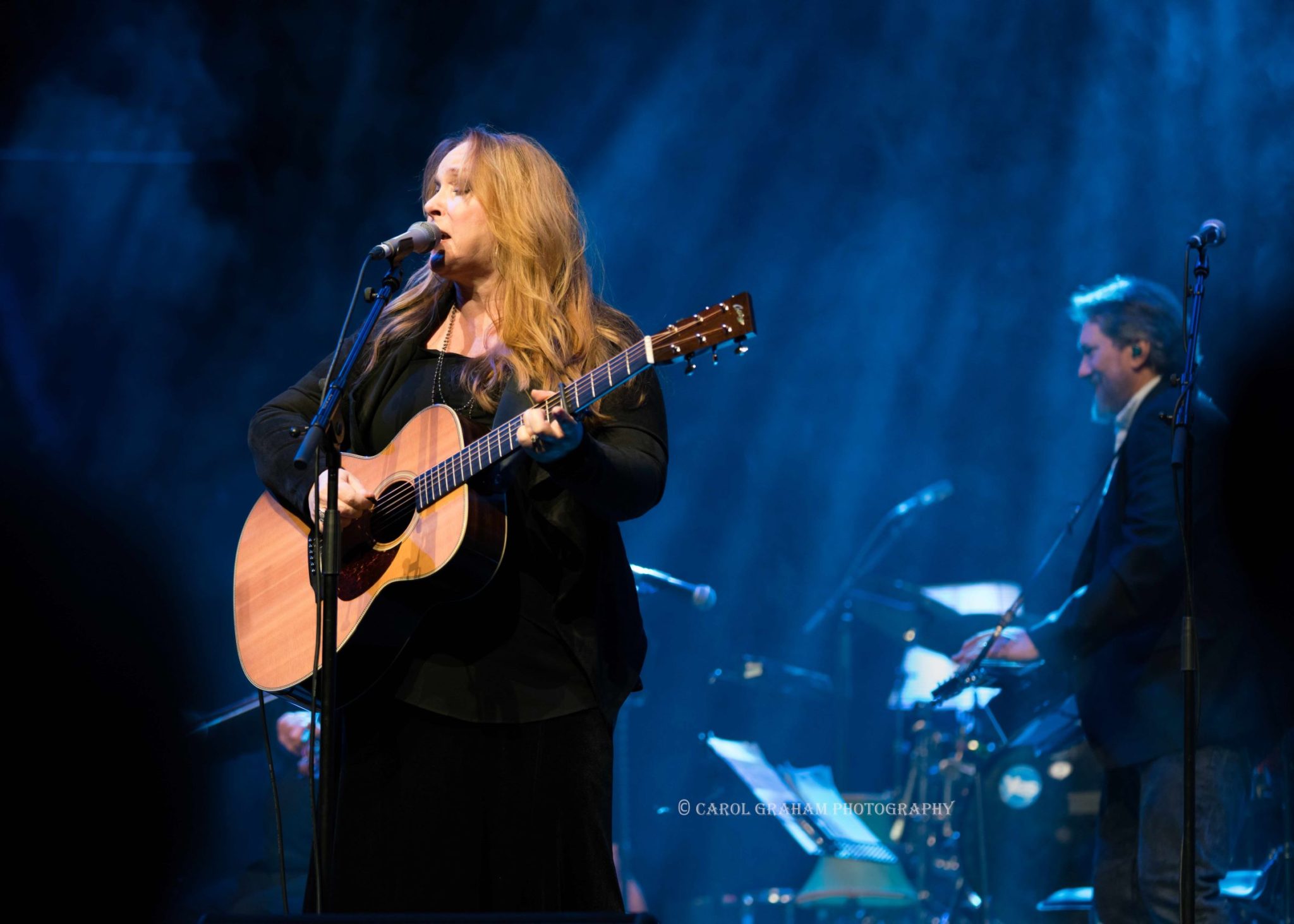 Andrew:
What are a few albums that mean the most to you and why?
Gretchen:
Bob Dylan, Blood on the Tracks, because it is the soundtrack to a particularly emotional time in my life, and also because it's a near-perfect record.
Jennifer Warnes, Famous Blue Raincoat, which is another near-perfect record and something of a model to me when I was making The Night You Wrote That Song. She managed to make this collection of Leonard Cohen songs completely her own, yet the essence of him is in every note.
Joni Mitchell, Blue, because it's the Rosetta Stone of the singer-songwriter genre. I don't know how many hundreds of hours I spent listening to it as a teenager, but it's "in my blood like holy wine."
Andrew:
Once COVID-19 calms down, what's next for you? Will we see a tour?
Gretchen:
I have a tour of the UK and Netherlands on the books for May/June 2021 – fingers crossed that it will be safe for us to tour again by then. We never got a chance to tour the last album, so I'm really itching to play those songs live. We will get back to touring but I worry about a lot of the venues that we play. They've had a really hard time of it and some of them will not be there when we all get back to whatever the new normal is. It's heartbreaking.
Andrew:
Last question. You've had a long career, with hopefully a ways to go yet. Looking back, what are some of your fondest and most interesting memories as a musician and as a songwriter?
Gretchen:
Hanging out, and often collaborating with legends like Harlan Howard, Dan Penn, John Prine, Mac Davis, Rodney Crowell. The ones who have weathered all the storms, been up and down the road a thousand times, and still come back to sit down with a blank piece of paper and write another song. They inspire me deeply.
Also all of the tours. I love my tour mates – my band and tour manager are family to me, and we have logged so many miles and laughed so hard and lived to tell. The road is a kind of bubble, it's true, but I miss it, and mostly, I miss them.
Crazy and crazy-fun songwriting trips with Bryan Adams. Bryan is always somewhere touring and when we would work together I would often fly to wherever he was. That has led to us writing in Vancouver, Paris, London, New York, Cologne, Mustique, Jamaica, and a lot of other places I've forgotten. We have holed up in hotels for hours and worn out room service in the quest for a song.
Finally, the incredible blessing to be able to tour with my best friend, musical partner of 30 years, and husband Barry Walsh. I always say that music was our first language because we didn't marry until 10 years ago but built the foundation of our relationship on music, and friendship. And that has proved to be a strong foundation. We knew if we could survive 24/7 togetherness on the road that marriage would be a piece of cake.
Want to learn more about the music of Gretchen Peters? Check out the link below:
Dig this interview? Check out the full archives of Vinyl Writer Interviews, by Andrew Daly, here: www.vinylwritermusic.com/interviews