All images courtesy of Moodies Records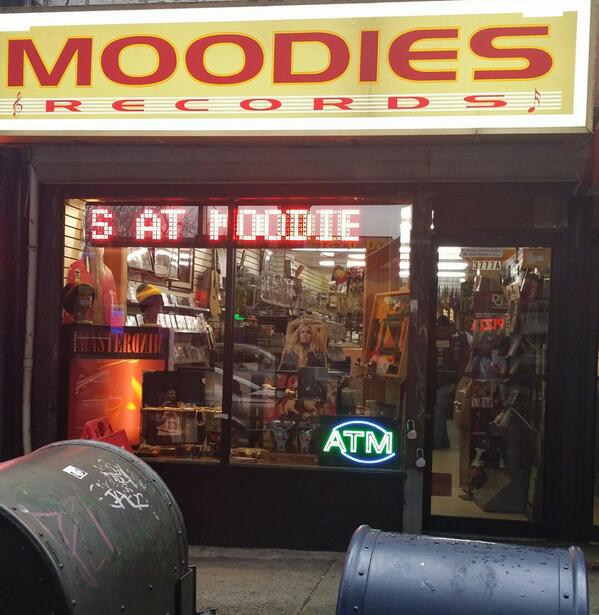 A handful of years ago, when I legitimately re-started playing and collecting records again, I started on a quest. The quest? Visit as many record stores as I could in the tri-state area (Long Island, NY, Westchester, NY, New York City, Southern Connecticut, and Northern New Jersey) with my best friend Andrew. We visited many amazing and unique shops. However, there is one shop I want to talk about now. The shop is Moodies Records, located in the White Plains area of the Bronx.
Supposedly Moodies Records was a crate diggers paradise that specialized in hard-to-find and out-of-print Ska, Rock Steady, Reggae, and Dancehall. The place has also been known to be stocked with high-quality Jazz, R&B, and Soul. We also learned Moodies Records was a staple of the community and had existed for over three decades. Andrew and I liked what we were hearing and so, a trip over the bridge to Moodies needed to happen.
The day had come at last, and we had finally arrived at the shop. I was excited and shaking with anticipation over what we would find. Upon entering, it was clear that Moodies had preserved the atmosphere of a bygone era. To be clear, preserved in the best way possible. It was a small shop filled wall to ceiling with records, tapes, and CDs. In fact, it was hard to get around without knocking into something. Men sat at a table in the corner listening to Jazz, chatting, and playing cards. The air had that delicious old musty smell we all know, but have trouble describing. At the center of the shop sat a kind-looking older man with a big smile on his face. He seemed to know everyone that came in and greeted them warmly. The man was the "Moodie" in Moodies Records. He simply introduced himself as Moodie (although later we would receive his business card which named him officially as Earl Moodie).
After taking in the atmosphere and chatting briefly with Moodie, we got started digging. There were stacks on the floor, on shelving units bracketed to the wall, in boxes, on bookshelves, etc. It was a little overwhelming choosing a starting point. Andrew and I agreed we should start in opposite areas of the store, that way we would not get in the way of each other. An album caught my eye and I had picked my starting point. Digging in Moodies was hard work. It was a hot humid summer day, and I was stuck in an over-stuffed, un-air-conditioned store. I was hunching in positions my body was not meant to be in. By the end, my muscles ached, I was starving, and I was drenched in sweat. And you know what? I was enjoying myself beyond any hopes I had before arriving. Across the store, my friend Andrew had the same determined look, and I knew he felt the same way. I could also see Moodie watching us out of the corner of my eye looking amused with a large smile plastered on his face.
At the end of the dig, I had a VERY large stack of vinyl. It took several trips up to the counter with Moodie and Andrew's help to get it there. While Moodie priced the records, I took a deserved rest. After hearing the total price for all my records (which was about twice my rent at the time), I realized I would have to prune some records from my mammoth stack (I still regret putting back the Jamaican first press of the OG Skatalites album). As I sorted through them, Moodie weighed in, insisting that certain ones in my stack were essential. Together we picked out the final stack and Moodie bid us goodbye. I walked out with amazing new treasures such as The Heptones, Bob Marley, Laurel Aitken, The Clarendonians, Burning Spear, Yellowman, and many more. What was amazing was they were mostly first presses. Even more incredible, many were Jamaican first presses.
Regrettably, I have not been back to Moodies since that day a few years ago. I kept telling myself I would go again, but never got there. Periodically, I will see the iconic Moodies sticker on an album in another store. It never fails to bring a smile to my face. One of the many things I have learned to not take for granted in 2020 is actually being present in a record shop. One of my New Year's resolutions is to go back to Moodies for another dig. A New Year's resolution we should all have is to try and support independent record stores like Moodies during this trying time. If you are ever in the area, go meet Moodie and dive in.
Dig this article? Check out the full archives of Mix-Tapes & Memories, by Joe O'Brien, here: https://vwmusicrocks.com/mix-tapes-memories-archives/