All images courtesy of Heat Gmucs/Wax Mage Records
One of the cool things about vinyl records is that they aren't only a vehicle for your consumption of your favorite music; they're also pieces of physical art, and sometimes they're truly one-of-a-kind. Colored vinyl, splatter variants, and the like can be extremely beautiful. Still, many tend to be concerned with sound quality and pressing integrity, and that's where Wax Mage Records come in.
If pressing vinyl, more specifically, if pressing exclusive, one-of-a-kind colored vinyl is an art form, then Heath Gmuc's Wax Mage Records is at the top of the heap. Heath has paid his dues as a press operator with Gotta Groove Records and still works there to this day, now as the pressing operations manager. Wax Mage is his passion project, and it shows, as, over the last several years, Heath has pressed some of the most beautiful creations ever laid to wax. Heath's story is one of hard work, determination, and true artistry. It's one we can all learn from and aspire to. If there is one thing you should take away from this interview it's to never stop learning and working to be better.
All of that being said, I will direct you to Wax Mage Records' website here, where you can view some of Heath's beautiful one-of-a-kind creations. You can also head over to the official Wax Mage Records Instagram here for more colored vinyl fun. This is a cool interview. Enjoy getting to know Heath. I know I did.
Andrew:
Heath, thank you so much for taking the time to speak with us. Tell us about your back story. How did you get your start? What got you into music?
Heath:
Hi Andrew, thanks so much for thinking of Wax Mage Records (WMR)!  
What got me into music in the very beginning was coming from a musical family, everyone played something, sang, or was into the arts. My father was a huge influence. He played piano, guitar, banjo, sang, and was a competitive ballroom dancer. He also had an amazing record collection that I wish I could listen to today. My mother played piano and I have very fond memories of her playing 'Moonlight Sonata,' still a favorite piece of mine. My sister still sings, and my brother is a very talented guitar player and singer as well. I suppose it's in our Gypsy blood.

Andrew:
What moment most influenced your decision to work within the vinyl industry? What does vinyl mean to you? 
Heath:
I spent a lot of years touring. I play guitar, bass, and sing (I'm still mediocre at best haha) and I was playing bass in a band out of Cleveland called HotChaCha and we were on a label called Exit Stencil Records and they put out our first 7" 'Rifle I Knew You When You Were Just A Pistol.' It was my first time on vinyl, it was 2008 and I hadn't touched a record in probably a decade let alone one that I was on and I instantly fell in love all over again. 
Another release on ESR in 2010 Fantastic Static was pressed here in Cleveland at Gotta Groove Records (GGR).
I've always been blue-collar and I've always worked factory and warehouse jobs. When I heard there was a record-pressing plant in Cleveland, I knew I was quitting my bands and going to work there. I was tired of the tour grind but still wanted to be involved in the music scene.
Andrew:
Before you started Wax Mage Records, you worked exclusively as a press operator at Gotta Groove Records. Tell us about that.
Health:
I've been at GGR for 10 years now! I'm the pressing operations supervisor. WMR started in 2015 with help from Sarah Snyder, who's since left both GGR and WMR in 2017. We put out a couple of compilations together but after she left it was difficult for just me to manage the spiking WMR workload I do for other labels via GGR. I've only released a 7" from Devil Doll and I'm still sitting on a Fresh Produce record. 
What I do here at GGR is when bands/labels place an order for WMR customs a few will get in touch with me. If they have a specific color pallet they want me to work with, an idea they want me to try (I'm down to clown), or a certain design they saw on my insta that they want me to use, we chat about stuff.
I've got a few wild ideas from some folks, like Razor Blades, Silk Flowers, and Funeral Veils.
Andrew:
Tell us how Wax Mage Records came about. What was the moment you knew that you wanted to press vinyl?
Heath:
I got hired in the packaging dept at GGR in August 2010. When I took a tour of GGR months before that (resume in hand) is when I knew. There were no positions open in pressing and I just wanted to get my foot in the door. A few months later, with persistence, I got my shot at the presses.
Wax Mage came about when I learned how to make the standard splatter record and half-n-half color record. I started experimenting with vinyl when a job was finished and my mind started reeling with ideas, so I ran with them every chance I got. I still do.

Andrew:
I sadly don't own any of your gorgeous, custom pressings, but I know you take a lot of pride in putting out quality work. As you know, quality control has at times been an issue within the industry. What are your thoughts on that? What's the process like at Wax Mage Records? 
Heath:
GGR has a very tight quality control dept. We have 8 presses here with one operator and one QA person that handle two presses at a time, so a four-person crew each dept and each shift. I like to say we have three steps as a whole company on quality. The operators are visually inspecting every 10th record that comes off the press checking for label alignment, blemishes, dishing, stitching, warping, cracked or rough edges, at the same time, potential mechanical issues with the machines. Our QA department picks up stacks from the press and takes them to one of four control rooms where they listen to about every 25th record while flipping through each record looking for visible issues. They're listening for scratches, surface noise, pops, and checking the alignment of the records against the test presses. Then the records go to the packaging department where they are checked again for blemishes, scratches, and poor edges right before they are sleeved. I don't think any other plants currently are doing things the way we do. I'm confident in the crew and the high-quality product we put out here at GGR.

Andrew:
I personally am a big fan of splatter-colored vinyl. There are some who say colored vinyl, as well as splatter vinyl, have lesser sound quality. What would you say to debunk that?
Heath:
My take on modern PVC:
With different pigments, each requires different heating and cooling parameters. When I'm putting multiple colors in one record, there is always a possibility for audible shifts in the noise floor. I try to find the middle ground. Making something beautiful and making it sonically beautiful at the same time is a lot like chasing a chicken; sometimes you get dinner, sometimes you go hungry.
I do my absolute best to make things sound good. The WMR designs available on the GGR website I've been working on, honing, and time studying for over 7 years now. All of that experience and learning translate to new ideas and designs I'm currently working on. I feel like the sound quality with those designs is pretty top-notch but, as you know, it's difficult to get perfection with an imperfect medium, but I'm going to keep trying anyway.
Andrew:
In my opinion, pressing vinyl is both a trade and an art form. Would you agree? Can you expand on that sentiment? 
Heath:
When I hire a press operator most come in saying "I love vinyl! I have a collection at home." A lot of us are musicians too. The first thing I ask is, "Do you work on bikes, cars, or motorcycles? Any mechanic experience?" and then, "This is just another factory with machines, we just happen to be manufacturing records." The machines and the procedures need to be mastered before creating and experimenting with color vinyl in an impactful way can really happen. I know that might sound a little jerky, but I'm saying that I made so many mistakes, trashed a lot of stampers, and basically taught myself how machines run out of the manual because when GGR started, none of us had ever run a press before, and getting any assistance from other plants wasn't real easy at the time. Since then, we've created procedures to train the new hires and created troubleshooting guides for quick reference. I feel like a person has to study their tools, machines, and materials before they can really throw wax. No one goes right from journeyman to master craftsman. I feel like I need another 10 years to maybe, if I push hard enough, master this trade and this craft, and I still want to learn more. I'll always remain teachable.
Andrew:
You've used all kinds of incredible materials in your vinyl pressings. Everything from coffee, ashes, glitter, and even shredded money has made it in. What's your inspiration for these handmade works of art? 
Heath:
Most of those ideas came right from the client. I love the collaboration part of my job. I want folks to come to me with something that sounds impossible or ridiculous and then figure out a way to make it possible. Three favorite parts of my job in no particular order:
1) Seeing the press close and watching the hot wax ooze out from between the plates.
2) Picking a 1-second old record off the stack and dropping the needle on it for the first spin.
3) Hearing how happy a client is when I can help make their vinyl ideas become a reality.
Andrew:
In 2018, one of your designs won "Best Record Art" at the Making Vinyl conference in Detroit. That must have been incredibly gratifying. Tell us about that.
Heath:
That year I had two releases make it to the top-5. The Wax Mage compilation 2 Double Trouble and Deche Luxure en Vain. I was so happy to have both of my submissions make it to the finals. I had some stiff competition and I wasn't expecting to win at all. When I got the call a couple of weeks before the conference that I'd won…well man…it felt really good. I've never won at anything in life, so to me, it was a good omen that I might finally be on the right path. It just set me in a more confident forward motion in my career.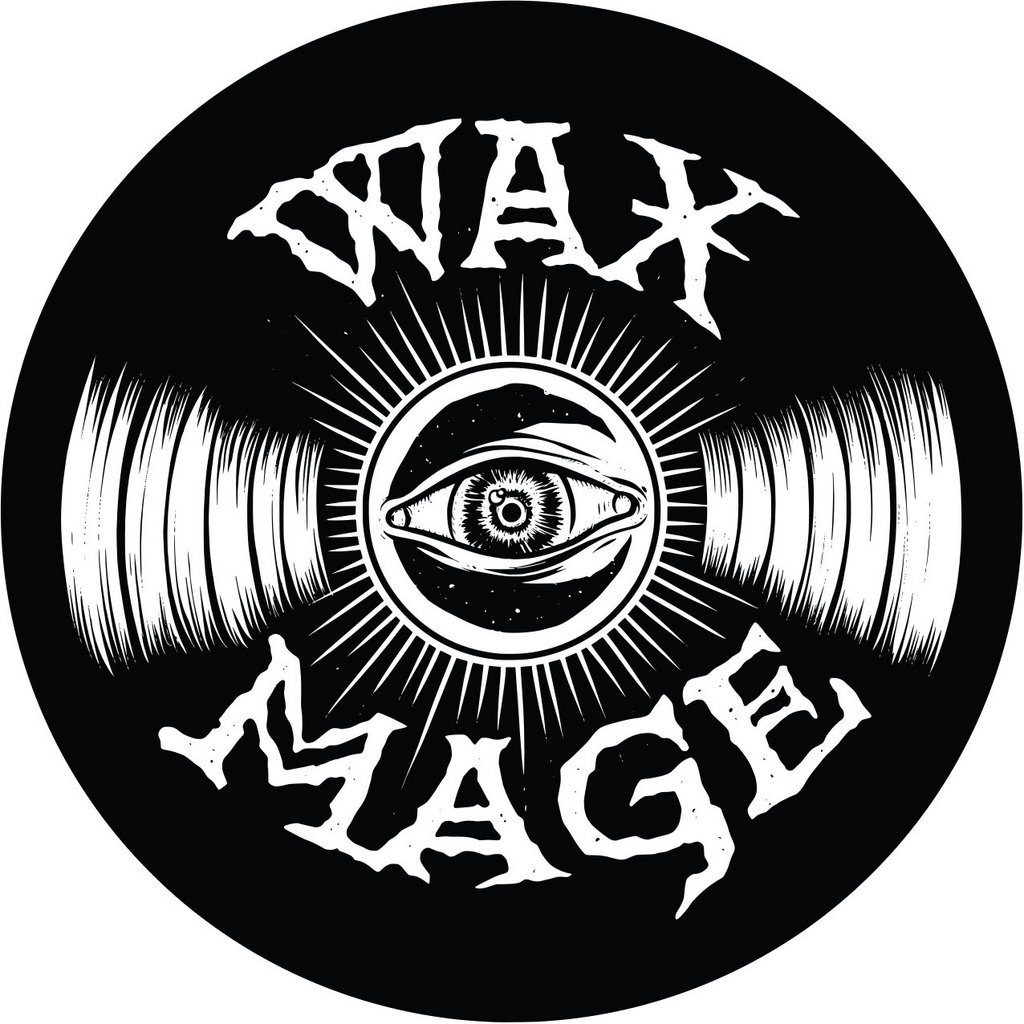 Andrew:
My understanding is in addition to making vinyl, you're also a musician and recently launched your own record label. Can you tell us about that as well?
Heath:
The label is Wax Mage Records, launched in July of 2015. I've done a few releases and some co-releases. I'm so overwhelmed here at GGR with working on other folks' stuff that I haven't made the time to release much on my label the last two years. It's just me that officially works at WMR, but I feel like I work it all day talking to other artists and labels about their records, and coaching and teaching the GGR press operators. Going forward,  I want to make it more of a point on my social media to promote more for other musicians,  labels, other press operators and vinyl artists, and collectors. I try to do as much as I can, for now. Maybe someday I'll find someone with the same enthusiasm as I have for vinyl, but more brains for business, promotions, and marketing. I'm all brawn and a creative people person, and I'm not afraid to admit that I'm not super on-task with the tedious parts of running a business. 
Andrew:
Shifting gears here, and I know this is a broad question, but who are some of your favorite artists? What's your favorite genre? 
Heath:
Man, I'm all over the place. I go on binges. I'm currently on a Country, Folk, Americana binge, which leads me to the older stuff like Willie and Waylon, Dolly, and Tanya all the way over to some of the new top-40 Country such as Luke Combs and Parker McCollum. I've been spinning Fort Defiance record The Haunts of Youth and Will Johnson, Hatteras Night, A Good Luck Charm.
My all-time favorite genre in Motown. When I was in Detroit for the Making Vinyl conference in 2018, I went to the Motown Museum and was overcome with all the feels in that place. I'm getting misty now just thinking about it.
My angsty years were spent on Slayer, Metallica, King Diamond, Black Sabbath, Anthrax, Iron Maiden, and so on. There isn't one genre of music I haven't found beauty in. I love it all. I've always thought of genres of music like feelings. Why would I exclude a feeling or express any of them, what could I be missing in life by not giving a song an opportunity to reach me?
Andrew:
This may seem like a silly question, but do you collect records? CDs? Tapes? Or are you all digital now? Regardless, what are some of your favorite songs, and albums, or ones that will always be special to you for any reason? 
Heath:
I'm not a collector, but I do have records that I love to listen to and I own quite a few records but I don't chase stuff down. I love watching other people collect though like watching sports. Haha. I also have a lot of tapes because I have a tape player in my pink '94 Ford Probe.
My favorite tapes in my car right now are Tom Petty, Damn the Torpedoes, The Pretenders Greatest Hits, Blue Oyster Cult, Greatest Hits, and all of Kenny Rogers, Greatest Hits.
Andrew:
What are some albums you don't have, but hope to find one day? Where do you like to shop for music? What's your favorite shop? 
Heath:
I'd love to get hold of Wire, Pink Flag, and my father's record collection. I'm not much of a shopper, I do love our local record shops though. Blue Arrow Records is one of them that I like a lot along with Britney's Record Shop,  My Minds Eye, and Hausfrau Record Shop.
Andrew:
Once COVID-19 is done with us, what types of new releases can we expect from Wax Mage Records going forward? If you can't give explicit details then maybe just a hint!? 
Heath:
I'm still sitting on the Fresh Produce, Phases' release, waiting for the artists to go ahead, you can check it out here https://freshbynaturerecords.bandcamp.com/album/fbn-009-phases.
I was going to take a little hiatus from doing any WMR releases so I can concentrate on the big uptick in WMR requests made by other bands and labels that order through GGR, but do have a release coming from a band called Reginleif that I'm really excited about. I plan on pulling out all the stops for this one. It'll be a 12" EP with a blank/etched 'B' side. You can get more info on the band here https://www.facebook.com/reginleifansuz/.
Also another 7" from Uno Lady is slated around the same time for release in April/May 2021. You can get more info on Uno Lady here http://unolady.com/.
Andrew:
Is there anything within the industry that you would like to see change for the better? What improvements would you like to see that you feel would be beneficial to us all within the vinyl community in general?
Heath;
More quality assurance in general. It bums me out when my friends get records made or buy records that have some kind of preventable flaw over the majority of the run. Here at GGR, we have quality control unlike any other plant in the industry. While that might drive our pricing up a hair in comparison to other plants, you know for a fact that your job isn't going to leave our shop with 450 of your 500 record run with a scratch on A1.
Andrew:
Last question. You seemed to have embraced the old-school, DIY ethos, which is refreshing. Are there any words of wisdom you have for anyone who's just getting started in the business?
Heath:
Don't be a dick. Own your mistakes and learn from them. It's ok to fail, it's inevitable. Pass your knowledge to anyone who asks for it. Always ask questions; if someone shames you for trying to learn, ask someone else. High-quality customer service is key.  And for the love of all things cute and cuddly, love each other no matter what.
Dig this interview? Check out the full archives of Vinyl Writer Interviews, by Andrew Daly, here: www.vinylwritermusic.com/interviews