All images courtesy of Moxie Publicity
Great White is a Blues based Metal/Rock band, which has been in the game for well over 40 years now. In that time, they have released 13 excellent, hard-rocking studio albums, which are absolutely essential to any collection regardless of which format you collect. Albums like Once Biten, …Twice Shy, Hooked, and Psycho City are some of the finest the genre has to offer. Today, I've got none other than one of the founding members, Mark Kendall, with us. He's a great guy and I was happy to get to know him better. If you'd like to learn more about Great White, head over to the band's official website here. Once you've done that, give this interview a read. Enjoy.
Andrew:
Mark, thank you for taking the time to speak with us. This last year has been rough, right? How are you holding up during this seemingly ever-raging dumpster fire?
Mark:
We're actually holding up pretty well, it's given us a chance to write music. We've spent more time with our families than at any point in our careers. However, we certainly wish it was under different circumstances. We are excited about getting out playing shows and seeing the fans soon.
Andrew:
Tell us about your backstory. What was your musical gateway so to speak?
Mark:
We played as much as possible in our early years, even if that meant playing free. Our plan was to try and run into someone that could help us get to the next level of recording and touring. We felt by playing a lot, we were putting ourselves in a better position to get lucky. It took a lot of footwork and dedication to promote ourselves, excluding internet capability as it wasn't here yet.
 Andrew:
As a band, who are some of your earliest and most important influences? 
Mark:
For me, as a boy, I listened to The Beatles, Rolling Stones, Hendrix, Cream, and The Doors. I discovered many other artists growing into my teenage years, such as Santana and many other guitarists that inspired me personally.
Andrew:
For those that don't know, tell us the story of Great White. How did the band come together? What is the origin of the name?
Mark:
I formed a band with Jack Russell after leaving a band that played original and cover music. Our new band was called Dante Fox and we played original music with the exception of one or two cover songs. We changed the bass player and drummer along the way. We were signed to an independent distribution deal after meeting A&R man Alan Niven. We made a 5 song EP with German producer Michael Wagener. When meeting Alan Niven at his office he said he didn't like our band name. The night he saw us at the Whiskey in Hollywood he was outside waiting for his car and I drove by and screamed something to the crowd. The kid next to him pointed to the car and said there goes Great White. Niven said to himself right there, that's gonna be their name. 
Andrew:
Let's jump right in and talk about your debut record Great White, which is a real classic within the genre. What do you remember about the recoding of that record? Looking back, what are your thoughts? Does it hold up for you?
Mark:
It was a much different band in the sense we were a trio with a lead singer and we were kinda trying to be like Judas Priest or something, instead of playing from who influenced us to play. We didn't end up sounding like Priest though. Later, when Alan learned more about my Blues influences, he wanted me to stay true to myself and be free to play what comes naturally. 
When we added Michael Lardie, which added keyboards and rhythm guitar, we became honest with ourselves and our music. The fans were accepting and the results were good.
Andrew:
As Alternative Rock and Pop music peaked, and Metal waned, Great White. unfortunately. disbanded in 2001. What went into that decision at the time?
Mark:
We never had a break since 1982. Jack wanted to do a solo album and so did I. It was a great time for us all to get away and take a much need break from the band.
Andrew:
In 2006, Great White regrouped. Why did you choose to get back together around that time?
Mark:
Because this is what we do. We are dedicated and play music for a living. It felt like a good time to get together after a proper break.
Andrew:
Great White's last record was Full Circle which came out in 2017. I really like this record. What are your feelings regarding the album now? What's changed for the band in regards to recording as opposed to your early days?
Mark:
It was a great record and nothing really changed with the way we do things. We write on our own for a while, then get together and show each other our ideas and see what we'd like to work on. Once we finish the songs in pre-production rehearsals, we go into the studio and roll tape. It's simple and it works.
Andrew:
I mentioned before that the band hasn't released any new studio music since 2017. With all this downtime, is there a chance that we see a new album from the band soon? 
Mark:
We should have something out this year, we are writing like crazy and have some good things happening.
Andrew:
Shifting gears a bit now. The Metal and Hard Rock scene here in North America is pretty stagnant. It's almost become indie in a way, with only the major bands getting a lot of traction- it's a struggle, it seems. That said, in Europe, the Metal scene is thriving and seemingly always has been. Why do you feel the ferocity for Metal and Hard Rock is so much stronger throughout Europe than it is in the rest of the world?
Mark:
Metal and Rock 'N' Roll have been dead so many times it's getting difficult to put a number on it. All we know is our fans are loyal and in front of the stage every show we play. Whatever politics are involved in what's dead and what isn't is out of our control. We will just continue to do what we love to do and let everything else take care of itself.
Andrew:
Since the days of Satanic Panic in the 1980s, Metal and Hard Rock music in all its forms has seemingly been on trial. What are your thoughts on the persecution of Metal/Hard Rock as a genre? Do you feel it will ever be widely accepted the way that Pop or more mainstream Rock music is?
Mark:
I think people should just take care of their own business and treat people well and the world will become a better place. Take care of your own art and leave other people's art alone and things will be fine.
Andrew:
Touring is usually a huge part of a working musician's proverbial machine, but as we know, COVID has disallowed it. What do you miss most about touring?
Mark:
Playing for the fans!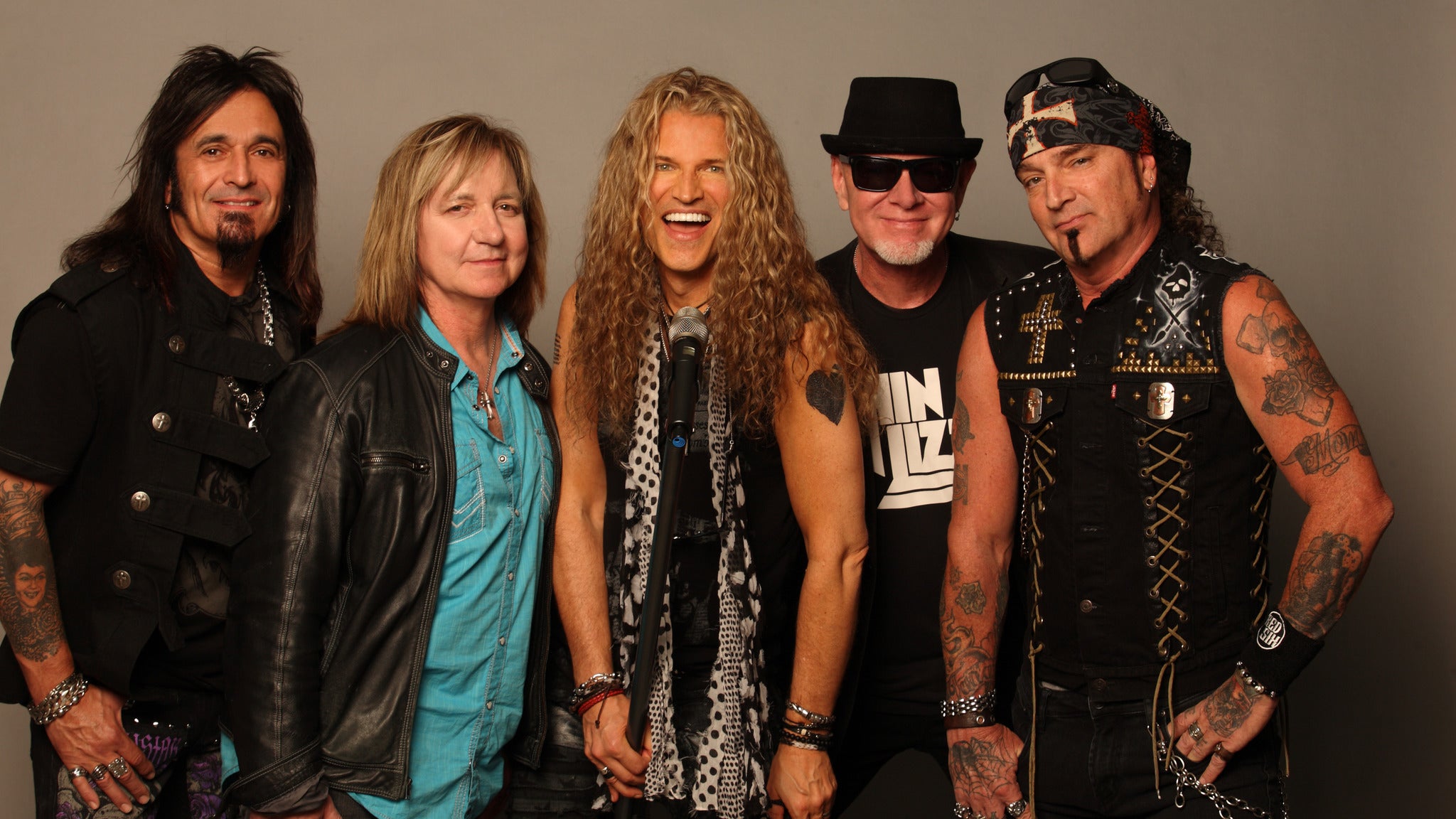 Andrew:
One disturbing fact I've learned over time is that Spotify doesn't pay artists well, if at all. Meanwhile, Bandcamp seemingly goes out of its way to take care of its artist.  What are your thoughts on that issue? How do we as fans do our part to help?
Mark:
Our fans have been incredibly loyal. We are hopeful for the support of our fans and we'll keep bringing the best music possible to you. WE PROMISE.
Andrew:
In a world dominated by social media, can artists really, truly get ahead? How do we keep the playing field level so that everyone has a chance to succeed?
Mark:
We will always continue to make music the way we always have, no matter what the political spectrum looks like.
Andrew:
Are you into records? Tapes? CDs? Digital? Where do you like to shop for music? What are a few albums that mean the most to you and why?
Mark:
Love Records! I like old record shops that still exist if you look hard enough.
Andrew:
Who are some of your favorite artists? Ones that mean the most to you.
Mark:
I still like Santana, Johnny Winter, and all the Rock bands that made me want to play and get better. Their music has easily withstood the test of time!
Andrew:
Last question. What advice would you have for artists just starting out? How do they stay afloat in a world that seems to be so abhorrent to creatives?
Mark:
Believe in yourself, work hard, make the music the most important thing, and dream, it just might come true!
Interested in learning more about the artistry of Great White? Check out the link below:
– Andrew Daly (@vwmusicrocks) is the Editor-in-Chief for www.vwmusicrocks.com and may be reached at andrew@vinylwriter.com