All images courtesy of Nikki Stringfield/The Iron Maidens
The new age of fierce, rocking female guitarists is stronger than ever. I've had the pleasure of interviewing several already, and it's my pleasure to have Nikki Stringfield with us today.
As I've said before, the Rock game has long been dominated by men. The lead guitarist of any given band is often glorified but is also almost always portrayed as a strapping young male player. These days, there are so many incredible, shredding lead guitarists out there who are females, and in this way, Rock has never had more balance than it does now. That said, we still have a long way to go, but with hard-rocking players like Nikki Stringfield in the game, I truly believe we will get there and then some.
Nikki is currently the lead guitarist for The Iron Maidens, and she has also launched her solo career recently. You can check out her new EP Harmonies For The Haunted here, and you can learn more about The Iron Maidens here. In the meantime, check out this interview and enjoy getting to know Nikki a bit better. Cheers.
Andrew:
Nikki, thank you for taking the time to speak with us. This last year has been rough, right? How are you holding up during this seemingly ever-raging dumpster fire?
Nikki:
Thanks for having me! 2020 was definitely an interesting year, to say the least. I've tried to look at the positives over the negatives. Usually, we're touring pretty heavily, which I love. I enjoy staying busy and traveling, meeting new people, and seeing new places! But instead, I'm actually getting to enjoy some time at home with my animals, who are very happy about that, and getting to work on new music as well. So I can't complain about that! I'm getting to work and collaborate on a lot of projects with friends and talented musicians that I probably wouldn't have been able to before…like I said, staying busy keeps me sane. Haha. Hopefully, we get to be back to some sense of normalcy in 2021.
Andrew:
Tell us about your backstory. What was your musical gateway so to speak?
Nikki:
Both of my parents listened to Rock music, so I grew up on AC/DC, Guns 'N' Roses, Metallica, etc. My dad played in a band so he helped inspire me to play the guitar and I started when I was 14. I got a Nirvana greatest hits tab book (I was completely obsessed with them as a teenager) and taught myself every song. I loved live music, and my mom would take me to concerts to see my favorite bands. I'd always think to myself, "I can do that. I can get up on that stage and rock just as hard as them," when I'd see my favorite bands performing. So thankfully, my parents really influenced my music and passion for it.
Andrew:
As an artist and guitarist, who are some of your biggest influences? How did you go about developing your signature style?
Nikki:
My influences vary quite a lot through the Rock genre, and I'd say some of my biggest influences are Nirvana, Avenged Sevenfold, Evanescence, Iron Maiden, Pantera, and Megadeth. I love dueling guitars, shredding solos, and heavy drop-tuned music, but at the same time, I also love a catchy chorus with a hook. Vocals and lyrics have always been important to me, along with the message of the song. I guess I try to include all of that into my own music in a way.
Andrew:
Before you joined Before the Mourning and The Iron Maidens, you were an intern with Warner Brothers, right? Tell us about those experiences. What led you to move away from that area of music, and directly into "the field" so to speak?
Nikki:
I was! I was finishing my senior year of college at the University of Texas and I was majoring in Radio/TV/Film with a minor in business. It was the closest I could get to the music and it was still artistic, and I hoped it would open a door to getting into live music (I never had anyone to jam with while I lived in Texas). I got accepted into an internship program and moved to Los Angeles in 2012 to finish out my senior year with the Warner Brothers internship in their digital distribution department. Some of my favorite bands were on that label so I was stoked! I had a great time working there, I was the one who uploaded new music to the database for online distribution. I was there for about 4-5 months until I finished the internship and graduated college. Within that time, I joined Before the Mourning and The Iron Maidens and played my first shows with them, and I started working for Schecter Guitars. It was definitely a very busy, hectic time. Haha. My goal was to always end up playing music…I hoped that this internship would help with that transition, and it did just that!
Andrew:
I mentioned Before the Mourning earlier. You joined the band in 2012 but ended up leaving in 2014. What led to that decision?
Nikki:
I had the greatest time with that band…they took me in and threw me into the fire in terms of learning quickly what it was like to be a musician in Los Angeles. The guys were like brothers to me and I loved the music. We recorded a three-song EP and toured opening for In This Moment on their Hellpop Tour, which was a huge learning experience for me. Touring in a van for a month in the winter through the midwest and east coast…what an eye-opener being from the middle of nowhere Texas! That was probably one of the most fun times of my life. Unfortunately, after that tour, we started working on a full length and I just felt that I wasn't really getting any input into the band. There were a lot of writers and my voice wasn't being heard, plus I was getting busier touring with the Maidens. I felt like I couldn't dedicate myself enough to the new music so I felt it was best to let them move forward without me.
Andrew:
How about The Iron Maidens? You've been with the group since 2012. How's it going? Are you and the band working on anything interesting? I supposed I can't not ask – what are some of your favorite Maiden tracks to play? What's your favorite Maiden album and why?
Nikki:
We were touring and doing great before this pandemic hit! It's so weird not seeing them every week for a show…they're all like family! We were supposed to tour Australia and Europe again last year but hopefully, we can make that happen in the future. We recorded an album with our current line up and it's currently being mixed, so hopefully, we can get that out this year! Of course, it's all Maiden tunes and I think the song selection is killer!
You know, my favorites change all the time! I guess it depends on what we are and aren't playing at the time. Some of my favorites to play live are "Powerslave," "The Clairvoyant," "Deja Vu," "Phantom of the Opera," "Aces High," and "Alexander the Great"… there are just too many! If I had to pick a favorite album I'd have to say Powerslave…I love every single song on that album and they're all fun to play. I'd love to do an entire set devoted to that album!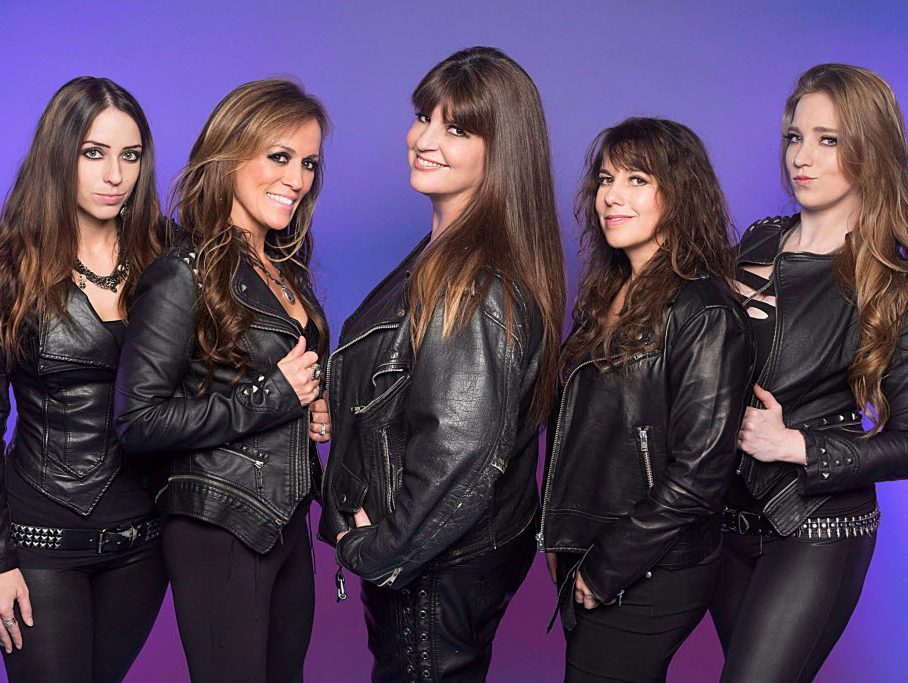 Andrew:
In 2019, you began your solo career with the release of Harmonies for the Haunted. Tell us more about the recording and the inspiration for the record. With all this downtime, do you have any new solo work cooking?
Nikki:
I had been wanting to do a solo album for a long time. I knew I wanted to sing, but I still need a push to actually give it a shot. I started writing out the lyrics and demoing the songs on my own, and once I got those down I went to Jesse Billson to produce the EP along with the drums. The songs had all been written over a year so the inspiration varied greatly from song to song, and each has a different vibe/style in a way. I wasn't sure which direction I wanted to go except that it had to rock. Patrick Kennison, who I had been playing in Heaven Below, produced my vocals and really helped me grow as a vocalist. We've been working on some new songs and are currently working on a full-length album now since we have some downtime!
Andrew:
Let's talk about the state of the music industry a bit. What are a few things you would like to see change for the betterment of both the fans and artists alike?
Nikki:
That's a tough one…I guess to start I'd love to see artists fairly compensated for their work on streaming sites. I had no idea how little artists get paid until I actually released my own music and saw a breakdown of the sales/streams. It's pretty shocking. I hope fans can have fair access to tickets once this pandemic is over. The positive thing is that bands can now interact with their fans now easier than ever, without a middle man.
Andrew:
Opinion question. In a world dominated by capitalism and social media, can indie artists really, truly get ahead? How do we keep the playing field level so that everyone has a chance to succeed?
Nikki:
That's a great question, and I don't really know the answer to that. I'm constantly trying to read and keep up with what's new on social media and other music industry news. I've grown as an artist using social media…so far it's only helped me get to where I am. The Internet brings endless possibilities, but with that comes over-saturation of every kind of artist you could ever imagine. And of course, you have the mediators/social media sites who now control everything you see. It is a challenge to reach new people, but at the same time, it's a blessing to have that opportunity. If your music speaks to people and you have the determination and passion to share it, people will respond to that.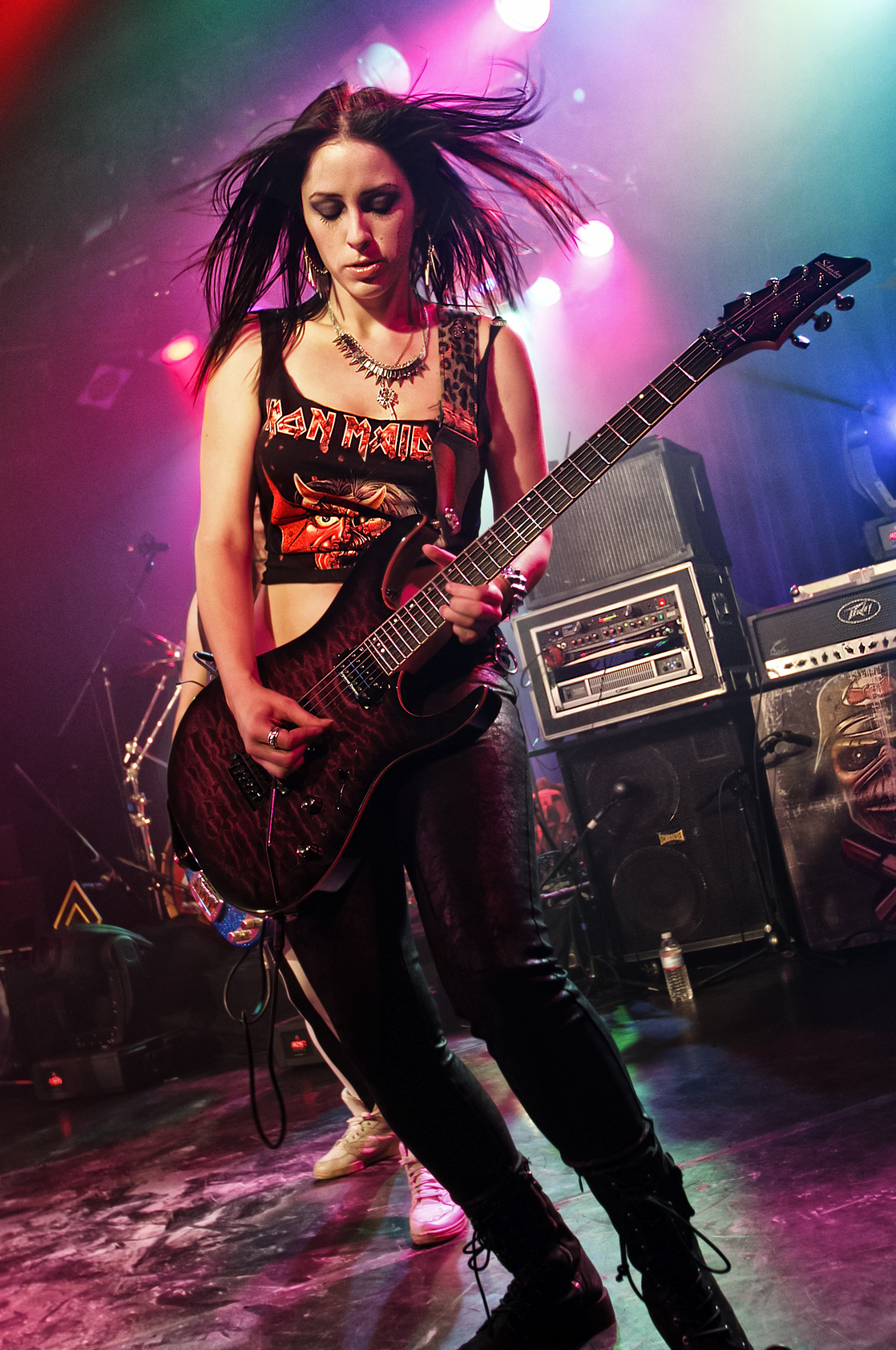 Andrew:
These days, it feels that the likes of Ticketmaster and the like have a stranglehold on things. How do indie venues survive and thrive?
Nikki:
It breaks my heart to see so many venues closing, especially ones that we play regularly. This pandemic has been a nightmare for musicians and venues alike. I'm honestly not sure how things will be when and if things go back to normal…hopefully, fans will continue to support their local venues. I know I'm starving for live music and I'll be out there supporting as well!
Andrew:
I've learned that royalties via Spotify and Apple Music are a huge issue that indie artists face. What are your thoughts on that? How do we close the gap and make things fairer?
Nikki:
It's mind-blowing when you actually see how much a song is streamed, or downloaded. I'm old school and still buy physical CDs, and if I can't get them I'll download them on iTunes. I still haven't made myself pay for a streaming service because I know how unfair it is to musicians, but unfortunately, I don't know what we can do about that. Until the CEOs decide they'd like to make things fair, this is the way it'll be. If you want to support the artists, buy their merch. Usually, that is the best thing you can do if you can't go to their show. And of course, sharing their music.
Andrew:
What other passions do you have? How do those interests inform your music, if at all?
Nikki:
Drawing was my first passion. I somewhat traded that for guitar. I've been getting more into that lately and it does go hand in hand with my music. I really love traveling which goes with music of course. I love movies so I enjoy those when I'm looking to relax. Other than that, I work out and hang out with my animals. I've recently started enjoying cooking as well since I have free time at home.
Andrew:
Are you into records? Tapes? CDs? Digital? Where do you like to shop for music? How big is your collection these days?
Nikki:
I used to have a huge CD collection! My mom and I used to go to Hastings, which was an awesome music/entertainment store, and browse the CDs all the time. Unfortunately, someone stole those when I was in college so I only have a small amount now. I enjoy records but I only have a few…I actually made a vinyl of my EP and listening to it was a very cool experience! You could definitely hear the difference. I've never had tapes though. Right now I'll either buy an album/CD online or at a local store.
Andrew:
What are a few albums that mean the most to you, and why?
Nikki:
– Avenged Sevenfold's City of Evil – I had already started playing guitar but this album showed me that shred guitar was still current and alive. It totally changed my way of playing and made me obsessed with the dueling guitars and solos.
– Nirvana Nevermind – This album came out around the time I was born but it had such a huge impact on me as an artist. Kurt's raw emotion really hit me and I always wanted to be as catchy as he was. He showed me simplicity can be genius.
– Evanescence – Fallen – Vocally and musically, this album changed my life. I was a young teenager when this came out, and I wanted to be just like Amy Lee. That's when I died my hair black and got my eyebrow pierced. [Laughs]. I've always been into horror movies and anything goth or creepy, so this influenced my vocals, style, and just about everything.
Andrew:
Who are some of your favorite artists? Ones that mean the most to you.
Nikki:
I'd say the three listed above (Nirvana, Avenged Sevenfold, and Evanescence) are some of my favorites in terms of the biggest impact. Also, Iron Maiden, of course.
Andrew:
Last question. You've maintained a strong DIY approach thus far in your career, which is never a bad thing. That being said, what advice would you have for artists just getting started?
Nikki:
I've enjoyed releasing my own album because I've had control of everything. I've talked to labels, but in the end, I felt it was best to keep going on my own now. For those just getting started, I'd say to really learn to utilize social media and everything that is at your fingertips. Having a strong online presence helps incredibly. Also, quality is key to me. I try to put out content regularly but it also has to be entertaining and good. Also, don't get discouraged by likes and numbers. It's hard not to chase them but it takes a while to build things up. Consistency, determination, and passion will get you through.
Interested in diving deeper into the work of Nikki Stringfield? Check out the link below:
Dig this interview? Check out the full archives of Vinyl Writer Interviews, by Andrew Daly, here: www.vinylwritermusic.com/interview