All images courtesy of Ray Carlisle/Teenage Bottlerocket
Punk is alive and well people. If you're looking within the mainstream, you're looking in the wrong place.
Teenage Bottlerocket has been keeping the spirit of old-school Punk music alive and well for 20 years. What I personally love about Teenage Bottlerocket is they are the living embodiment of the Punk Rock spirit. Call them the proverbial keepers of the flame. Too much? With an emphasis on keeping it simple, self-producing their own records, and sticking to indie venues via van, you can't help but feel like they really are one us, if you're into Punk music that is.
I first came across Teenage Bottlerocket over a decade ago. Ironically, I was into them before I fully dug into one of their greatest influences, The Ramones. As time wore on, I stuck with the band, and have had the pleasure of seeing them live at the Best Buy Theater a couple of years back. They were on tour with legendary Punk outfits, Descendants. It was truly an awesome show. The blending of OG Punk with the "newer" generation was an awesome thing to see.
I still remember heading into NYC with my friend Joe. I think we were meeting my friend Brian who was coming in from New Jersey. It was a really hot summer evening and somehow, someway, we couldn't find the theater. We walked past it at least three times. The place ended up being buried behind other buildings, down a walkway. It used to be called the Play Station Theater, I think. Back then it had signage. Now it doesn't. It was bizarre. End result was my buzz wore off, and the hangover set in before the show even started. I sweated my ass off and felt like death the whole time. Guess I'm getting old after all. Descendants killed it that night, but it was Teenage Bottlerocket who stole the show. Their raw energy was palpable, and it's one I'll never forget for multiple reasons.
Today I have a really cool interview with Ray Carlisle, who sings and plays guitar in the band. He's a really down-to-earth guy and a true Punk Rock spirit through and through. Teenage Bottlerocket released their newest record last year, called Stay Rad! You can grab it here, along with all their other cool merch. I hope you enjoy this one. Great talk. Dig in!
Andrew:
Ray, thank you for taking the time to talk with us! It's been a weird year, hasn't it? What has the band been doing to pass the time?
Ray:
Kody and I have been writing a bunch of songs. Miguel has a new baby, and he's running around Dallas with the critter in one of those backpacks. Miguel has been writing songs for the new TBR as well. We've all been drinking a little too much and crying to our loved ones about missing Rock shows. You know, normal shit.
Andrew:
Teenage Bottlerocket has been around since 2000, right? How did the band get its start?
Ray:
We just wanted to play in a simple band that wasn't interested in showing off how good we were at our instruments. We were committed to letting the songs sing for themselves, not hiding behind big words or guitar riffs. We are obsessed with The Ramones.
Andrew:
I've always thought Teenage Bottlerocket is a cool name for a band. Where did the name come from?
Ray:
Our first guitar player, Zack, came up with the name. He told us that his dad called his car 'The Teenage Bottlerocket' while he was in High School, but I'm pretty sure he just stole it out of a hot rod magazine. Those were fun days and simpler times. 
Andrew:
Your debut album, Another Way, is, in my opinion, one of the better pure Punk records of the last twenty or so years. Can you tell us more about the recording of it? What do you remember?
Ray:
That's cool, a lot of people would consider it our shittiest record (myself included), but it definitely has its moments. Again, we were just concerned with the songs. We refused to put more than one kick drum hit in between snare drum hits because we thought it was a little too flashy. We would save up 300 dollars and go to a studio in Denver for a couple of days and sort of recorded the whole record that way. We went to the studio 4 or 5 times for two days at a time, laying down vocals and fixing the mix. At a certain point, we just sorta threw our hands in the air and said, "that's good enough." 
Andrew:
In 2017, the band released Stealing the Covers, which for those that don't know, is a really cool album of covers by more obscure bands. What went into the decision to record a covers album of obscurities?
Ray:
We had been sitting on the idea for a while. We came up with the concept by just singing along to our friend's bands in the van. Some of the songs are from recordings we would obtain on the road from bands we don't know at all. We would talk about what songs we were going to record and what bands we needed to include. This started sometime back in 2006. Brandon passed away in November of 2015, and we thought Stealing The Covers would be a great way to get back at it with a new drummer and not have all the pressure of writing an album. It served as a cushion between tragedy and moving on.
Andrew:
You were with Fat Wreck Chords until 2014 and then were with Rise Records for a time. In 2017, you made to move back to Fat Wreck. Fat Wreck is a great label for Punk. What influenced your decision to make the change?
Ray:
We wanted to try something new. Rise came at us hard! They really loved our band and were taking us out to dinner and pretty much trying to steal us away from FAT. We played along and got some free meals out of it. Then FAT brought pretty much every band on FAT to Japan except us, and we were pissed! Brandon called me up and said, "Let's bail!" We did, the record on Rise turned out awesome, and we got our music out to a lot of new people that have no idea what Fat Wreck Chords is. Then Brandon passed away, and everyone at FAT came to the funeral. Not one person from Rise was there. That's not to say that Matthew and Craig at Rise didn't care; they both called me and were very upset, Craig cried. It was just an eye-opener to where we belonged; Fat Wreck Chords is our label, they're our friends, and we are sticking with FAT from here on out.
Andrew:
In 2019, you released your most recent album, Stay Rad! This was your first full album (not counting EPs) of entirely original material in four years. Why such a long time in between? What can you tell us about the recording of the album?
Ray:
Well, as I said, our drummer (my twin brother) died in 2015, and it was fucking tragic. We weren't even sure if we were going to carry on without Brandon. We recorded Stealing The Covers in 2016 (it came out in 2017) to get back at it. We recorded a 7″ at the same time with two original songs on it. Then we recorded Stay Rad! in 2018 (it came out in 2019). So, a founding member of the band that toured with us and produced every record for 15 years died. We recorded a new record less than two years later and another one two years after that, not bad if you ask me. Recording the record was a lot of fun; we missed Brandon a lot in the studio, but it made us all step up with producing. We will always have Brandon in our minds, especially when we are producing a record. He was really good at getting the best out of a song.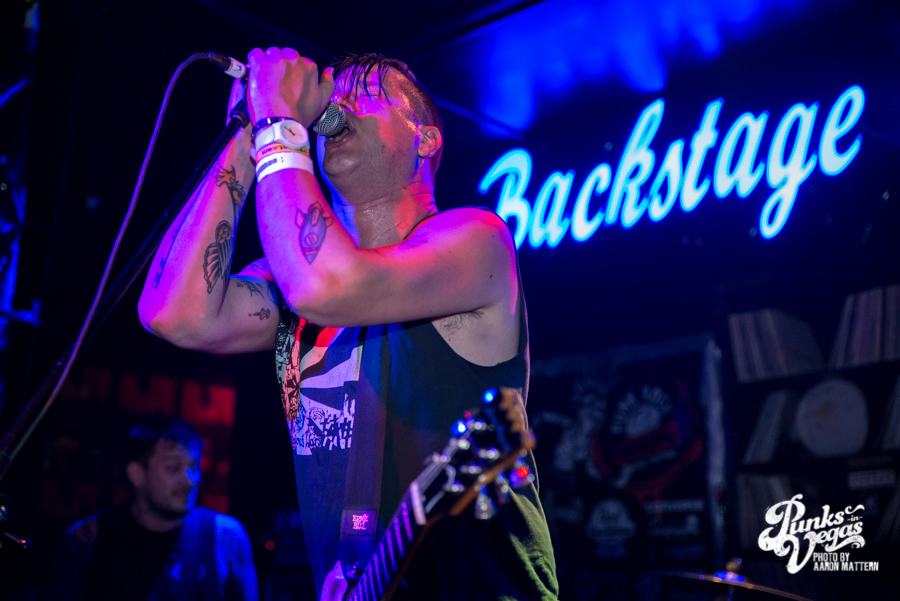 Andrew:
What I personally love about Teenage Bottlerocket is the classic Punk sound. Who are the band's biggest influences?
Ray:
Green Day was a huge influence. We had never heard anything like Green Day until Dookie came out, and it really opened up some doors for us musically. Now we are influenced by bands that suck, it's like, dude, fuck that band, let's kill 'em. 
Andrew:
A couple of years ago, I saw you guys live with the Descendants, at the Best Buy Theater, in NYC. What an incredible show. You guys really seem to be in your element live. What was it like playing with the Descendants?
Ray:
It was cool, very grateful to Descendents for taking us out. My kid's name is Milo, and we are huge fans of Descendents. I mean, they're the best band. Kody and I got super wasted one night of the tour and knocked on the door of the Descendents tour bus. Bill answered the door and said something along the lines of, "If you have to knock on the door to get on the bus you don't belong on the bus." He was right, we were way too wasted, and we probably should have left them alone. We ended up drinking with Andrew (their sound guy) and Karl till the sun came up. What a night! Hopefully, we get to tour with them again someday.
Andrew:
Shifting gears a bit here. I've always felt that "punk" is more of a mentality than a music genre. Would you agree? Can you expand on that at all?
Ray:
There are two types of music out there, good music and bad music. You have to figure it out on your own. I think that everyone is a unique individual, and no one should be afraid of living. Be yourself, try not to get caught up in what other people think; that's Punk. 
Andrew:
Is there anything within the music industry that you would like to see change for the better, for both the fans and artists alike?
Ray:
Fuck the music industry. Independent music exists outside of all that bullshit. I mean, why the fuck is it the same bands on the radio constantly? Is America bored with the Red Hot Chili peppers yet? I mean, it's the same music that was on the airwaves when I was in high school. That was 20 years ago. I'd like to see more of my friend's bands played on the radio, but whatever, fuck it.
Andrew:
Do you collect records? Tapes? CDs? Or are you all digital now? Where do you like to shop for music?
Ray:
I collect records. They take up a ton of space. I usually shop for records at shows when I see a band play.
Andrew:
What are some of your favorite albums? What ones still mean the most to you after all these years?
In on the Kill Taker, Chocolate and Cheese, Static Age, I Do Not Want What I Haven't Got, Three Chord Monte, Oh Calcutta, Randy the Band. I don't know….rad shit.
Andrew:
It's been a weird year for sure, but we've still seen a lot of incredible music released. What are some of your "must-have" albums of 2020?
Ray:
I love all the new Dirty Nil stuff. 
Andrew:
Once COVID-19 calms down (if it ever does), what's next for Teenage Bottlerocket?
Ray:
We began recording a new album in November, and we hope to release it and tour if there are any punk venues left to play.
Andrew:
Last question. Do you think the Punk scene has changed for the better or worse? What advice would you have for young bands just starting out?
Ray:
The Punk scene is always getting better. Start a band with your friends. You might be stuck in a van with them for a long ass time, may as well make sure you like them.
Interested in sampling Teenage Bottlerocket? Check out the link below:
Dig this interview? Check out the full catalog of Vinyl Writer Interviews, by Andrew Daly, here: www.vinylwritermusic.com/interviews