All images courtesy of Shawn Ward
FM Attack, real name Shawn Ward, is an Electronic/Synth artist who has been in the game for several years now. In that time, he's released a few studio albums, some of which are absolutely essential to any collection regardless of which format you collect. Albums like Dreamatic, Stellar, New World, and Déjà vu are some of the finest the genre has to offer. Recently, FM Attack put out his latest studio effort which is called My Life, and I believe in time, it will be looked back upon as yet another classic within the genre. Today, I've got none other than Shawn Ward with us. He's a cool dude and I was happy to get to know him better. If you'd like to learn more about FM Attack, or his latest record, head over to Shawn's Bandcamp here. Once you've done that, give this interview a read. Enjoy.
Andrew:
Shawn, thank you for taking the time to speak with ys. It's been a weird year. What have you been doing to pass the time?
Shawn:
Thanks for having me! It's definitely been a strange 2020. Luckily, I've been keeping busy with the label (Starfield Music). We released a great album from my friend Vandal Moon called Black Kiss in May and also FM Attack remixes for him, Betamaxx and She Past Away. I'm grateful that I've been able to keep creative during these tough times. The music has definitely kept me going, but I miss touring and performing so much.
Andrew:
You've been at it for over ten years now, but how did you get your start? What was your musical gateway, so to speak?   
Shawn:
My parents put me in piano lessons when I was 6, and I also went to music college when I was 18. My dad played in Rock bands my whole life growing up, so that was a big influence.
Andrew:
I am a huge fan of the retro, 80s vibe that is permeating through Electronic music right now. That time period is sort of romanticized in my mind for some reason. I don't think I'm alone either. Anyway, you're sort of the leader in that movement. How did you get into it?  
Shawn
I used to love playing around with my mom and my Aunt's new wave and 80s records when I was a kid. My Aunt had a friend who made really cool mix-tapes of stuff like Cabaret Voltaire, New Order and Gino Soccio – lots of rare Electronic/Disco stuff too. So, I was tapped into that underground Synth culture from a young age.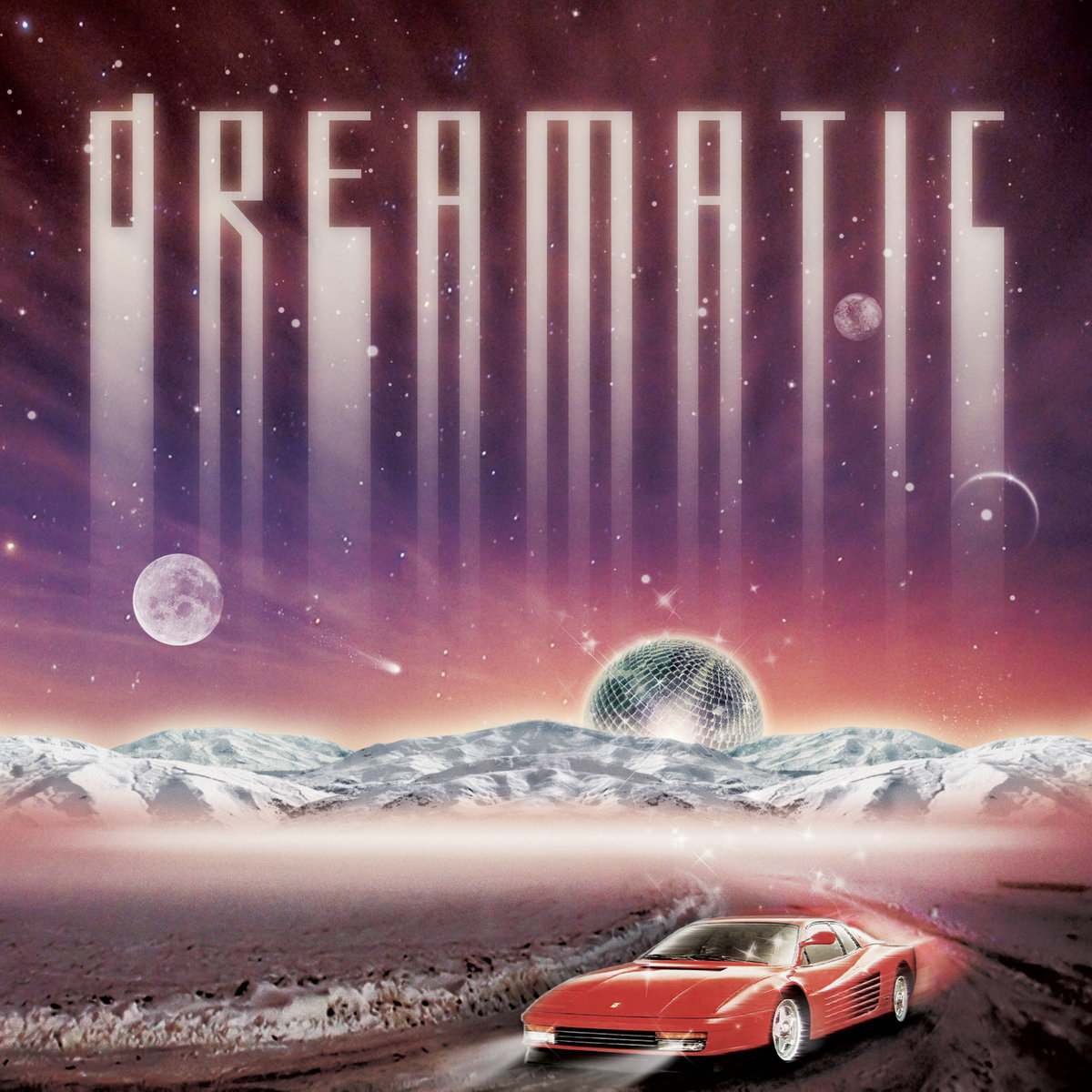 Andrew:
I first became aware of your music through your album, Dreamatic. Looking back, that album was so ahead of the curve. Some years later, this huge wave of music that sounded like yours came along. What was your inspiration in regards to that album? What do you remember about recording it?
Shawn:
It was a new thing for me to attempt to write an entire album. I was mostly having fun with my vintage synths to see what they could do, and also I wanted to do an album that would stand the test of time with some danceable songs also.
Andrew:
Let's talk about Stellar. That is an absolute monster of an album. I love it, and can't say enough good things about it. Can you tell us more about the inspiration behind it?
Shawn:
This album is pretty special because my daughter was just born shortly before I started working on it, so she definitely gave me a lot of inspiration and I wrote a few of the songs on the album for her. I had always wanted to experiment with my more Post-Punk roots and put a bit of deep colder New Wave element on it. I kept having fun with synths, and it's quite an Electronic type album mixed with guitars and different-styled vocals too.
Andrew:
Déjà vu garnered you a lot of attention inside the Synthwave scene, but it also got people talking outside of the scene. How gratifying was it to get that kind of attention and praise?
Shawn:
It's funny, when I released Déjà vu, I wasn't really into the synthwave scene and I was a bit in my own world, but it was great to reach different circles and to see the album connect with lots of people.
Andrew:
Let's go back a little bit. Who are some of your greatest influences as an artist? Is there a single artist that you feel has had the largest impact on your work to this day?
Shawn:
I like a lot of early 80s era music but also was really influenced by House and Electronica from the late 90s/early 2000s. I would say some big influences are Prince, Heaven 17, Pet Shop Boys, Air, Boards of Canada, Lifelike and Yellow Magic Orchestra,
Andrew:
The best way I can think to describe your work is raw emotion meets true nostalgia. Your albums are like journeys, with a very real beginning and end. Would you agree?
Shawn:
Yes. I definitely make them be an emotional journey, and also to stand the test of time and to be discovered in the future.
Andrew:
Last year, you put out a great album called New World. When you got started, you were basically one of the pioneers of this genre. Now, the musical landscape is totally different, but still, there are a lot of imitators. Do you ever find yourself struggling to fit into a genre that you almost singlehandedly created? Or do you take it as a challenge to push yourself into new musical planes?
Shawn:
I really enjoy just going with the flow and getting inspired without forcing things and trying new sounds. Sometimes a fusion of different styles. The Synthwave market/scene is oversaturated now. I think it probably peaked back in 2012-2013 and now there are just too many artists trying to do the same sound. Now, some are pushing it forward to more EDM and Pop styles, and away from the 80s sound, it was inspired from.
Andrew:
You've released several awesome albums over a long period of time. How do you stay focused and inspired? How has your creative process changed over the years?
Shawn:
I gather a lot of inspiration from my record collection, hanging out with friends as well as traveling and touring. I also love to write down lyrics and concepts whenever I am inspired or get an idea.
Andrew:
Shifting gears now. Is there anything within the industry that you personally would like to see change for the better?
Shawn:
I think that the streaming revenue for artists should be a lot better, as well as letting artists reach their own fanbase on social media platforms without having to pay.
Andrew:
What are some of your favorite memories over the last ten-plus years in the game?
Shawn:
I would say the Outland Synthwave Music Festival, in Toronto; last year was an amazing one. The vibe was so great and it was so cool to connect and perform with fellow artists and meet new people.
Andrew:
Are you into records? Tapes? CDs? Or are you all digital now? If so, where do you like to shop for music? 
Shawn:
I'm definitely into vinyl and I do collect tapes also. I lose myself for hours discovering B-sides and songs I've overlooked in my own collection. Vinyl is definitely a huge part of my soul and way of life as well as a big source of inspiration.
Andrew:
2020 was a weird year, but we still saw some fantastic music released. What are some of your must-have albums of last year?
Shawn:
Vandal Moon – Black Kiss
Korine – The Night We Raise
Andrew:
Last question. Once COVID-19 calms down (if it ever does), what lasting effects do you think this all will have on the industry?
Shawn:
I think there will be a big rebirth with music and live show culture once things are safe again. People are going to appreciate things a lot more and there will be a lot of excitement to connect with each other again through music at events. Music culture is a huge part of our human spirit.
Dig this interview? Check out the full archives of Vinyl Writer Interviews, by Andrew Daly, here: www.vinylwritermusic.com/interview