All images courtesy of Getty Images

By Andrew Daly
andrew@vinylwriter.com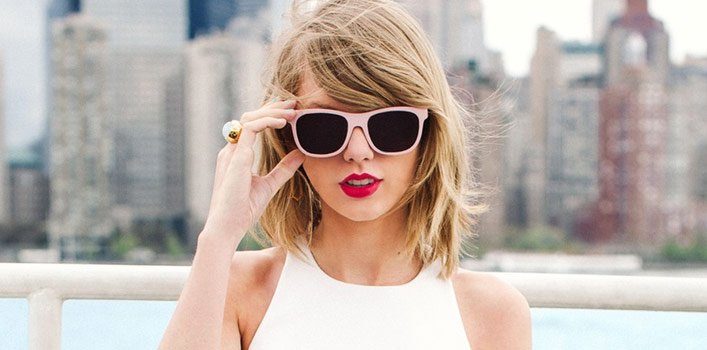 I've followed Taylor Swift's career for some time now. I've always enjoyed her music, and Taylor Swift's music has been ever-present in my life. Generally speaking, women are "allowed" to love Taylor Swift, and men can only like her "ironically." I personally have never liked her "ironically." I've always liked her music genuinely and found her to be a very talented Pop artist. I liked her as a person, and I enjoyed the things she stood for. I have a lot of respect for the fact that she's built her brand on her own, writes all her own music, and told her former label Big Machine Records to take their corporate bullshit and shove it. Taylor Swift is a self-made artist, who stands on her own two feet, now owns her entire catalog, and controls her entire creative process without a label, or corporate intervention. To me, that is highly impressive. Especially for someone only 31 years of age.
Around a week or two ago, Taylor Swift released an album titled folklore. This album was a complete surprise, dropped at midnight. Within 24 hours, the album had gone viral and was garnering rave reviews from critics and fans alike. None of this should surprise you, as Taylor Swift is one of the biggest Pop stars this generation has seen. There was something different about this one though. I began to notice via social media that people who normally wouldn't be into Taylor Swift's music, were suddenly proclaiming themselves "new fans." They weren't saying so "ironically," either. They genuinely liked the album. They were truly listening. Having not heard the album myself at that point, my interest was definitely piqued. It wasn't until a day or so later that I finally got to listen to the album in the car that I began to understand what the fuss was about. Taylor Swift has made the transition from teenage Pop-Country Star, to millennial Pop Star, all the way to a mature Indie singer-songwriter. It seems that Taylor Swift has crossed the threshold into her 30s, and has left all of our preconceived notions in her wake.
Taylor Swift first wandered onto my radar as more than just a radio artist way back in 2012. She had just released her album Red, which in hindsight reads like a sort of greatest hit album for her. Yes, the album is loaded with what some may call radio fodder, but it's got some legitimate Pop gems too. For example, "All Too Well" is one of the most forlorn, and star-crossed love songs you will ever hear, and it features a tremendous vocal performance to boot. In 2014, Taylor Swift released what is probably her most well-known album, 1989. Once again, Taylor Swift had managed to produce a seismic Pop album, that is the perfect top to bottom. "Style" is a track that isn't just a great Pop song. It's a great song in general, and it triumphantly stands chest to chest with any song Madonna or Michael Jackson ever released. In 2017, Taylor Swift released Reputation, and at the time I found myself disappointed, and extremely turned off by the album. I am all for an artist's right to experiment, but when you look at the album within the context of Swift's career, it just felt wrong, off-putting, angry, and overly aggressive. I figured she had reached her peak, and it would be downhill from there like so many Pop artists before her.
I had sort of forgotten about Taylor Swift, but suddenly, in 2019 I heard she had released a new album called Lover. Given how strange her last album had left me feeling, I had low expectations. However, upon my first listen to the album, I was pleasantly surprised. It seemed in the two years since Reputation had been released, Taylor Swift had grown significantly. She seemed to have left the anger behind. I had heard that she had managed to get out from under the thumb of Big Machine Records, and an apparently slimy, and controlling manager, and was finally taking control of her career as an artist. Regardless of the reason, Lover conveyed emotional maturity, growth, and depth. The album was not a quick Pop blip on the radar but played more like a sprawling retro-styled Dream Pop delight. Apparently many agreed with me, because the album set the Guinness World Record for biggest-selling studio album by a solo artist, selling over 3.2 million pure copies worldwide in 2019. Furthermore, the album appeared on several year-end best lists, with both Rolling Stone and Variety Magazine naming it the best album of the year. Taylor Swift called the album "A love letter to love itself." The album celebrated the full spectrum of love, using lighter and brighter tones, which was a noticeable, appreciated, and apparently intended departure from the dark and aggressive Reputation.
As 2019 drew to a close, and 2020 began, Taylor Swift had her largest tour yet planned. She was set to embark on what was to be "Lover Fest," until the COVID-19 pandemic swept the nation, and forced Swift to cancel or postpone all shows until 2021. It was around this time that Swift, like the rest of us, went into isolation in upstate New York, in order to prevent the spread of the COVID-19 virus. During this time, unbeknownst to any of us, she began writing and recording folklore. Maybe it was the desperate, lonely isolation, or maybe it's a now 31-year-old singer-songwriter finally experiencing life without the corporate foot of Big Machine Records pressing down onto her chest. Regardless, what Swift impressively created in that short time is an album that is radically intimate, cohesive, unconventional (by her standards), and may very well be the best album of her career to date.
With folklore, Swift has finally shed the full-on Pop aesthetic and has gifted us an album laced with vivid storytelling, and intricately detailed third-person narratives. Taylor Swift can never fully escape the Pop side of things, but this time she's framed them entirely differently. folklore is nothing short of a departure, with Swift trading in commercial Pop, for Indie Folk, Electro-Folk, and Chamber Pop. The record is driven by pianos, and acoustic guitars, instead of prearranged synths and beats. The album is filled with ghostly imagery and visuals, and for the first time, it feels as if Swift is sharing something truly intimate with us, rather than just telling bouncy rinse, and repeat stories of love, anger, and girl power. Asked about the album, Swift commented, "I've poured all my whims, dreams, fears, and musings into this album." If that is truly the case – it shows. Taylor Swift has finally opened herself up to us all and shown us the artist that she truly can be. While she had shown flashes in the past, it feels like now she is eschewing Pop radio, and truly meeting her potential head-on, and embracing it. The result is an album rich in narrative songwriting, and one cannot help but feel like this is the official beginning of an entirely new chapter in her career.
I've spoken before about how we as a music-consuming society are too quick to deem artists "generational." With that being said, you may become annoyed with me, and think me hypocritical when I say that after the release of folklore, I believe Taylor Swift is now a generational artist. Let me preface this by saying that I do not believe folklore is a "generational" album. I do not believe Taylor Swift to be the best or most talented artist on the planet. However, I do believe that over the course of a now fourteen-year career, Taylor Swift has consistently pushed boundaries with her music. She has generally spit in the face of the venomous record industry and managed to still sell records, tour the world, and make quality Pop music on her own terms. She moves into her 30s in full control of her own destiny, with a cache of iconic music that ferociously stands up to any artist who came before her. She has managed to outlast every single one of her contemporaries, with the exception of Lady Gaga, who stands victoriously at the top of the heap along with her.
Love her or hate her, Taylor Swift is here to stay. There is no writing her off as mindless Pop anymore. There is no ignoring her anymore. There is no more assuming that she will go the way of most Popstars, and burn out. She isn't going to wreck herself, or her career with drugs and alcohol. She isn't going to be controlled by a record label, and she isn't going to be told what to record. With each passing year, Taylor Swift gets stronger. Her albums keep getting better. She's becoming bolder. With nothing left to prove, she's taking more chances, and her songs and music are gaining a depth of character that no one ever expected. No one except Taylor Swift. One gets the sense that Taylor Swift is no one's fool, and this was her plan all along. We no longer need to pretend, or "ironically" like her music. Now fully unleashed and un-tethered from Big Machine Records, I have a feeling we haven't even scratched the surface of what Taylor Swift is truly capable of. Taylor Swift the pure radio Pop superstar may be in the past. Now, with intent, she has become something new or perhaps chosen to finally reveal her true self. If Lover, and folklore are any indication, at thirty-one years of age, Taylor Swift the singer-songwriter is just getting started.
– Andrew Daly (@vwmusicrocks) is the Editor-in-Chief for www.vwmusicrocks.com and may be reached at andrew@vinylwriter.com