All images courtesy of Getty Images

By Andrew Daly
andrew@vinylwriter.com
At its core, the world we live in is rather strange. Even so, I am sure that you all have days where you feel weirder than others. You know how it goes. You become hyper-focused on random, minute details about yourself that no one will ever notice. You start to think that you're not only weird but too weird. That line of thinking inevitably leads to you reviewing every mistake you've ever made, making the assumption that there is something wrong with you, and the next thing you know you're sitting in a psychiatrist's office in sweat pants, reviewing your childhood trauma. Am I close? Perhaps it's not all that extreme for everyone, but the point is we all have self-doubt. Another fact of life is that we are all actually kind of weird in our own way.
While driving the other day I was people-watching while stopped at a red light. At first, I mundanely thought how "normal" everyone looked, and then I started to wonder if they all really were normal? What even is normal? Everyone has strange quirks. We all have embarrassing stories. Each and every one of us has made mistakes. The point is – we are all weird in our own ways. It got me thinking – how can I relate this to music? The first artist that came to mind was none other than Frank Zappa.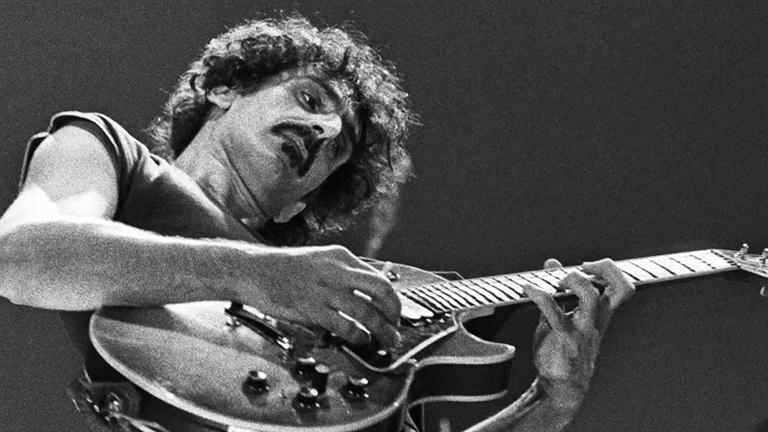 Frank Vincent Zappa was born on December 21, 1940, in Baltimore, Maryland. Zappa's Father worked at Edgewood Arsenal chemical warfare facility, which was a proving ground run by the U.S. Army. Due to the close proximity to his father's chemical-laden workplace, gas masks were actually stored in the Zappa home in order to protect them from mustard gas and other chemicals. This extremely unorthodox living arrangement has a profound effect on the young Frank Zappa, and references to germs, germ warfare, ailments, and the defense industry would litter his work for the rest of his life as a result.
In addition to this, Frank Zappa was often sick as a child, suffering from asthma, earaches, and sinus issues. A doctor went as far as to insert pellets of radium into each of Zappa's nostrils. At the time little was known about the potential dangers of even a small amount of therapeutic radiation. It has since been claimed that nasal radium has causal connections to cancer, though it must be noted that no studies have provided significant enough data to confirm this. Nasal imagery and references also appear throughout Zappa's lyrics, as well as his collage-style album covers. For what it's worth, Zappa died from cancer in 1993.
Frank Zappa's musical journey began when he joined the Mission Bay High School band as a drummer. Around the same time, he also was gifted his first record player, which allowed him to fully develop his growing interest in music, as well as build his record collection. As a young teen, Zappa was enthralled by the R&B and Doo-Wop music of Johnny "Guitar" Watson, and The Chantels. At the same time, he was also deeply interested in the Modern Classical music of Igor Stravinsky, and the dissonant sound experiments of Edgard Varese. Early R&B singles were some of his first purchases, which was the start of a large collection that he kept for the rest of his life. Frank Zappa was interested in each and every sound for its own sake, and for what it specifically could bring to each song. He was particularly interested in the sounds of drums and other percussive instruments, and by the age of twelve Zappa had obtained a snare drum, and began to teach himself the basics of orchestral production.
In 1956, Frank Zappa and his family moved to Lancaster, which was a small aerospace and farming town in Antelope Valley, which is located in the Mojave Desert, California. At Antelope Valley High School, Zappa met Don Glen Vliet, a man who would become his adopted brother in weird, and who you may know as Captain Beefheart. Zappa and Vliet became close friends, sharing an interest in R&B records and influencing each other musically throughout their careers. It was around this time that Zappa's interest in guitar grew. His early influences were Johnny "Guitar" Watson, Howlin' Wolf, Clarence "Gatemouth" Brown, and Egyptian composer Halim El-Dabh. Certainly not typical influences per se, but as we all know, Frank Zappa was anything but typical. Zappa considered soloing as the equivalent of forming "air sculptures," and developed an eclectic, innovative, and highly personal style.
By the end of high school, Zappa's interest in composing and arranging had flourished to the point that he was writing, arranging, and conducting full avant-garde performance pieces for the school orchestra. As a student, he was often bored and took to distracting the rest of the class with juvenile antics and jokes. A theme that also would litter his off-kilter lyrics during his long career. In 1959, he attended Chaffey College, but left after one semester and maintained a heavy disdain for formal education for the rest of his life. During his time in school, he watched students become frustrated, stifled, run-down and broke. From that moment on he decided to never allow a piece of paper in the form of a diploma to govern his life again. Frank Zappa understood from a very young age that the ability to take a test or achieve high marks in school does not equate to life success, and is not necessarily a true indicator of one's IQ. There is far more to intelligence than letter grades. Zappa also loathed the high tuition fees which amounted to what he felt was extortion. So much so, that when his own children asked him for tuition to attend college, Zappa outright refused, and never relented. In 1959, Frank Zappa left home and moved into a small apartment in Echo Park, Los Angeles. During this time, he briefly worked in advertising as a copywriter. While this would not last long, his time in the commercial world gave him valuable insight into its workings, some of which deeply disturbed him. From that point on he vowed to never do anything in the name of money or commercialism again.
Over the next few years, Zappa would develop his craft, and move his band, The Mothers of Invention to New York. Finally, in 1966 Frank Zappa released his debut album entitled Freak Out! which was only the second Rock double album ever released. The album was a truly eclectic lesson in weirdness. Mixing R&B, Doo-Wop with experimental sound collages that captured the "freak" subculture of Los Angeles and New York at the time. Frank Zappa was a fierce perfectionist, and he was entirely dissatisfied with Freak Out!. Still, the album did go on to immediately establish Zappa as a radical new voice in Rock music. Critics at the time felt Zappa had provided the antidote to the "relentless consumer culture in America." The album itself sounded raw, but the actual arrangements were highly sophisticated, to the point that while recording the album, some of the additional session musicians were shocked to find Zappa literally conducting them in the studio, rather than giving them sheet music.
Zappa's lyrics praised non-conformity, disparaged authorities, and encouraged listeners to allow their freak flag to fly. Zappa maintained complete control over the recordings and performed all the overdubs himself. During the recording of Freak Out! Zappa moved to a house in Laurel Canyon and met Adelaide Gail Sloatman. According to Zappa, they, "fell in love within a couple of minutes." They married in 1967 and remained together until Zappa's death. Over the course of the rest of his career, he remained steadfastly faithful to his wife and developed an intense disdain for groupies to the point that he would not allow them near his groups on tour, and would consistently throw members out of his band for engaging with them.
So, as you can see, Frank Zappa was nothing short of interesting and unique from the very start. Zappa was weird. Just like the rest of us. What perhaps set Zappa apart from the rest of us is he recognized his brand of weird very early, and he manipulated it for his own gain and forced it to bend to his will. Frank Zappa was a genius. Frank Zappa was absurd. He hated drugs and refused to allow them in his band. At the same time, he was a heavy tobacco smoker until the very end of his life and was strongly critical of anti-tobacco campaigns. While he disapproved of drug use, he criticized the war on drugs and compared it to alcohol prohibition. To explain his seemingly conflicting views, Zappa once said, "I believe that people have a right to decide their own destinies; people own themselves. I also believe that, in a democracy, government exists because (and only so long as) individual citizens give it a temporary license to exist – in exchange for a promise that it will behave itself. In a democracy, you own the government – it doesn't own you." These are words that we need to remember in the turmoil-laced social, and political climate we find ourselves in today.
Throughout his life, Frank Zappa had a controversial critical standing. Some hailed him as a genius, while others felt he was too weird for his own good. So, what did Frank Zappa teach us? Over his lifetime he was rejected by the Rock and Roll Hall of Fame twice (he was eventually inducted after his death). This goes to show you that critics are simply wolves herding us as sheep. Zappa relished critical hatred and consistently sought it out. He wasn't looking for just any friends or just any fans. Frank Zappa was looking for the right friends and right fans. People that understood and accepted him wholeheartedly. Everyone else? Well frankly, they could go fuck themselves. Over the course of a twenty-seven-year recording career, Frank Zappa released an astounding 62 albums, which ranged from Doo-Wop to Avant-Garde noise, and even full-blown Classical and Orchestral music, and battled injuries and sickness while touring incessantly. He was intensely loyal to his wife, family, and friends, and steadily encouraged artistic and self-expression to the absolute max. If there is anyone thing that Frank Zappa taught us, it's that we all should always be ourselves. For better or worse, we are who we are. Surround yourself with people who accept the crust of who you are. While we can always strive to be better, we should never hide the weirdest parts of ourselves. Whatever drives us, it should come from our own heart, and only ever manifest itself in its truest form.
Frank Zappa redefined what it means to be weird, and then without a care in the world, he injected it directly into the mainstream. Through him, we learned that at times we are all strange. We are all hypocrites. That while we all make mistakes, we do not need to live to be embarrassed by them. No, instead we can embrace the idea of being the butt of our own jokes. We can mold our inner-weirdness into something interesting and new. People will look back on Zappa the virtuoso multi-instrumentalist. Many will remember him for his now timeless and interesting music. However, perhaps what he should be most remembered for is the ideology he left behind. His drive to create something all its own. Not for himself, but for all of us to have and enjoy forever. Frank Zappa understood that the world (including himself) is weird. That life is what you make it, and that we are not handed cookie-cutter pieces, meant to be assembled as a perfect, made-to-fit puzzle. No, life is a collage of color and light, and noise from all corners of the earth. Perhaps we are meant to collect them as we go, assemble them as we choose, and look back as we see fit.
– Andrew Daly (@vwmusicrocks) is the Editor-in-Chief for www.vwmusicrocks.com and may be reached at andrew@vinylwriter.com