All images courtesy of RebelMatic
RebelMatic is a "Hardcore" band out of NYC. I say "Hardcore" with a grain of salt, as RebelMatic is anything but one genre. Most fans of the genre are well aware of New York City's rich history of both Punk and Hardcore music, and RebelMatic is carrying on that long-standing tradition by putting out some of the heaviest, hardest-hitting, and grooviest music that I've heard in years. The band's fresh take on things, which reads like a proverbial Venn diagram, seamlessly blends together all of the group's varying influences and experiences which led them to the point we find that at today. RebelMatic's debut album, Ghost In The Shadows, rages and burns through 10 tracks in 24 minutes, but this is not a rushed affair. Creature and his cohorts have crafted true renegade poetry in the most economical way possible. This is a band that doesn't waste time. They've got a message and they intend to speak it loud and proud, and at breakneck speed. Sound interesting enough for you? If so, head over to the band's Bandcamp here and give it a ride. Once you've done that, dig into this new interview with the band's front person, Creature. Cheers.
Andrew:
Creature, thank you so much for taking the time to speak with us. It's been a crazy year, hasn't it? What have you been doing to pass the time?
Creature:
This has been a very crazy year. I spent a couple of months of the year just recalibrating. Trying to figure it out. Trying to process it all because it was a lot to process, you know? Not seeing my children, not playing music…it was a lot. Once I got into a routine and collecting unemployment and all this other stuff, I figured out a routine that worked for me. I've been writing new stuff. I dropped a solo EP called The Day The Night Stood Still (link here) produced by my homie Black Crane. I wrote that during that period.
Andrew:
You're the vocalist for the NYC band RebelMatic, right? Tell us how the band got started.
Creature:
As the vocalist of RebelMatic, it started as I was coming off tour from Hip-Hop and I felt like I hit a ceiling. I wanted to get back to playing in bands; I was in a band in high school. So, I got together with an old friend from high school and he kinda wanted to do the same thing, and we started it up. It morphed into what it is now…RebelMatic, and we're still at it.
Andrew:
People like to put artists in boxes and define them, but RebelMatic is a band that sort of refuses to be defined. I see no definitive line you walk, or box to put you in. Would you agree?
Creature:
Yup. People definitely do try and put us in a box. I think it's who we are in proximity with as far as Hardcore does, but we're not like a straight-up Hardcore band; there is a lot of Funk, Jazz, Hip-Hop, and Metal, too. We like to describe it as James Brown in a mosh-pit, pre-gentrified New York, as in the sound of the city.
Andrew:
When I listen to RebelMatic, I at times feel some Bad Brains and Death vibes. Your lyrics also kind of remind me of Public Enemy vibe-wise. Am I on the right track? There is a lot of depth and power to the music of RebelMatic. Would you agree?
Creature:
Yeah, we are influenced by Bad Brains for sure. We played with Death last year at the Howard Theater; they're really cool. Lyrically, Public Enemy is definitely an influence. The name of our band is inspired by a Public Enemy song, "Rebel Without a Pause" from Nation of Millions. So yeah, we definitely have some Public Enemy Influence, but a lot of the consciousness or "socially aware" Hip-Hop influenced us. Everyone from Brand Nubian to KRS-ONE to Poor Righteous Teachers. All of that sort of influences the writing, but in general, I am sort of wired that way lyrically.
Andrew:
Your debut album Ghost in The Shadows also happens to be the flagship record for the label, Red Right Records. Tell us more about your debut album and what it's been like working with Red Right.
Creature:
Well, it was wonderful working with Mark O'Connell who produced the album. He did a great job. As far as being the flagship artists on the label, well…we're in the history books. So, it's pretty good.
Andrew:
Your new album Ghost in The Shadows is out now, and I am the proud owner of a copy on vinyl. Where can our readers go to grab their own copy?
Creature:
I'm glad you own a copy of Ghost In The Shadows. You all can pick it up at Red Right Recording's website here.
Andrew:
Let's talk about some of the themes of your new album. What was your headspace like while writing it? What was the inspiration?
Creature:
The title of the record is from my daughter. She came up with it. She's six years old, but she came up with it when she was four. In terms of headspace, while writing it, I just always kind of view the world and what I'm going through personally and just sorta write it down. It wasn't necessarily a current state; it's more just what's going on in the world and I write it down. I kind of just write like that. Unfortunately….I don't know if it's unfortunate…but it reflects the times. So, this was always just cathartic, helping me get through the day and life. Writing some stuff that's powerful and that moves us, you know?
Andrew:
I suspect this new release is definitely going to excite a lot of people. We know you can't tour, so when can we expect a follow-up album?
Creature:
We would love to tour. As far as a follow-up…not sure…not sure at all.
Andrew:
A lot of people try to define what it means to be "Punk." I've always felt that "Punk" was more of a mentality than a genre per se. What are your feelings about that? What are your thoughts on the idea of genres in general?
Creature:
Yeah…punk is an ethos. I think people tend to think of it as people dressing a certain way, but it's definitely a mentality and a spirit. At the same time, there is a sound to what punk is, but they're definitely some Hip-Hop and Folk artists who are more punk than actual supposed "punk" artists.
Andrew:
Are you into vinyl? Tapes? CDs? Or are you all digital now? If so, what are some albums that mean the most to you? How big is your collection?
Creature:
I used to collect a lot of vinyl. As far as tapes and CDs, I still have a bunch. I have a lot of CDs, tapes not as many. The vinyl I have is mostly things that I'm involved with, but the reason I have less now is that I've moved around a lot, so I kind of lost some vinyl. When I become more settled and have more space, I'm gonna start collecting vinyl again. CDs…I probably have around 300. I probably used to have around 500 tapes and a couple of hundred records. It's crazy.
Andrew:
2020 was a weird year, but they're still was a lot of great music released. What are some of your "must have" albums of the year?
Creature:
As far as new releases, the only records that come to mind are the new Run The Jewels, and Black Thought. Some things came out in 2019…not sure if it was 2019 or 2020. Sick of It All's last album was really cool. I don't know what else came out in 2020…it's all a blur. Oh…Ghost In The Shadows. Ha!
Andrew:
I heard you guys played a pop-up concert outside the city recently. How did it go? Do you plan to do more?
Creature:
Yeah, we did a pop-up show. We're actually about to a 3rd…it's our 3rd pop-up. I mean, it was awesome. Playing live, with people who wanna be there. It was fun. You know…we were practicing social distancing, we were wearing masks, the people were wearing masks. It was excellent…it's a beautiful thing to be able to connect with the people.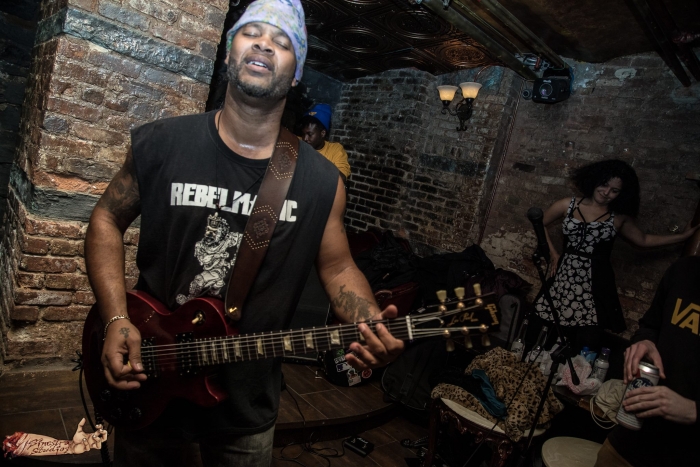 Andrew:
NYC was one of the original centers of the first wave of Punk in the 1970s. That being said, the NYC Punk scene has changed a lot over the years, and I am not sure it's getting the attention that it once was. What's your opinion on the scene these days?
Creature:
Punk in the 70s…I don't know. I think people are still holding onto nostalgia for what was. I think that there is a part, that if you're from that pedigree, it's always there, but NYC has changed a lot since then. The city's changed, and if the city's changed, that means the scene's gonna change because of the kids. Some people are keeping the tradition and others are just kinda holding out for something new. I don't know…it's a different spirit and I think gentrification always changes people who are angrier and rebelling against the status quo. I don't know if that answers it well enough, but it's how I feel.
Andrew:
Last question. With RebelMatic, I feel you guys are ahead of the curve. You take chances and it's really resulting in some truly influential and special music. Has today's musical landscape changed for better or worse? What advice do you have for young musicians trying to get their start?
Creature:
Well, thank you for that. I think we are taking chances and we are putting out some special music. The landscape is pretty good, but I don't know…I tend to be a little more optimistic. There is some trash out there, but there's always been trash out there. There are some really good bands that I think are making some cool stuff. For young musicians, I would say lead with your heart, study the music, keep a good attitude and be honest with yourself. Play what you feel and don't just listen to one genre of music, or else things become very cannibalized. Peace and Love.
Interested in diving deeper into the work of RebelMatic? Check out the link below:
Dig this interview? Check out the full archives of Vinyl Writer Interviews, by Andrew Daly, here: www.vinylwritermusic.com/interview