All images courtesy of Ginger Pooley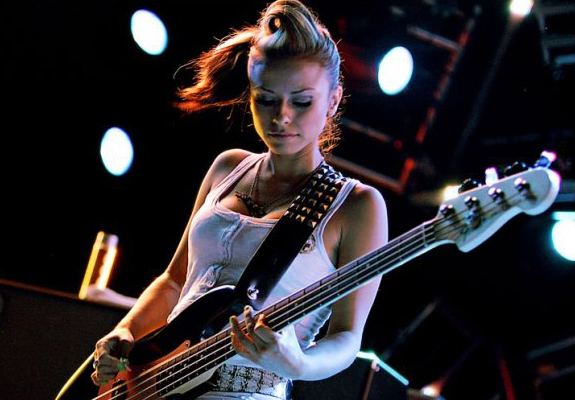 Continuing the trend I've got going on lately of featuring badass women who rock, this time around we've got Ginger Pooley "with us" today. Ginger is a veteran Alt and Punk Rocker, who can play bass and groove with the absolute best of them. Don't believe me? Just ask Billy Corgan and Jimmy Chamberlin….yes, that's right, Ginger was a member of the Smashing Pumpkins from 2007 to 2010 (the underrated Zeitgeist era) and probably would still be to this day had she not chosen to step away to begin her family.
Ginger has also been a member of the all-girl Punk outfit, Halo Friendlies, as well as Lo-Ball. Currently, she's working on a new project with her husband called Burning Pools, which is as awesome as anything she's ever done. It's got a great vibe to it, and I highly recommend it. To date, Burning Pools has three singles out, which you can check out via their Bandcamp here.
I've posted their new music video for "Woman" at the bottom of this interview, so don't forget to dig into that before you go. Lastly, Burning Pools are working on their debut EP, so stay tuned for that as well. In the meantime, check out this really cool interview with Ginger, and enjoy your Friday evening. Cheers.
Andrew:
Ginger, thank you for taking the time to speak with us. It's been a weird year, hasn't it? What have you been doing to pass the time?
Ginger:
Hi! Thanks for having me. Yes, it has definitely been a strange year. I've actually been surfing a lot. I live by the beach and I'm taking this time to slow down a bit and enjoy what I have around me.
Andrew:
Tell us a bit about your backstory. What are your musical origins so to speak?
Ginger:
I've always loved music but it wasn't until I was 14 that I discovered the bass. I had a friend who played in a band and I thought it was so cool. I started taking lessons at a local music store and that was the beginning for me.
Andrew:
What inspired you to pick up the bass? Who are some of your favorite players? Ones that had the most influence on you?
Ginger:
As a beginner on bass, you begin discovering the bass greats, such as Geddy Lee. I love Rush. Most bass players do, I think! But I am also a big Beatles fan, and I will always say that Paul McCartney is my favorite bass player.
Andrew:
As a bassist, you've got a great feel for the rhythm and groove of the song. How did you develop your signature style?
Ginger:
I just played in a lot of bands over the years and picked up lessons along the way about how to play with a drummer. It's so important to be in good sync with the drummer and their kick drum. It's a good solid foundation for a band.
Andrew:
You played bass with Lo-Ball during the 2001 Warped Tour. I've never had the opportunity to go to Warped Tour, but it always looked amazing. What was that experience like? How did you end up in Lo-Ball?
Ginger:
Yeah, I really enjoyed playing Warped Tours. It's like a big traveling summer camp. Most bands go and watch their friends' shows every day. Everyone gets better and better over the summer at their instruments and gets tight as a band. It's also just a fun hang. I met Lo Ball on the Warped Tour when I was playing with my band The Halo Friendlies. Fun fact, Pauley Perrette from NCIS was the singer of Lo Ball when I first met them.
Andrew:
The way I first became familiar with your work was with The Smashing Pumpkins. I love the Zeitgeist era of the band, and truth be told, it's my favorite album by the band. How did you get the gig? What was it like being in the band?
Ginger:
I was introduced to Billy through a friend when they were looking for a bass player. We became fast friends though I did a rigorous audition for the position by rehearsing for a long period with Jimmy Chamberlain. I loved being in the band! It was my favorite band and a dream come true.
Andrew:
I was sad to hear you left The Smashing Pumpkins in 2010. The band was really tight with you on bass and you complimented Jimmy Chamberlin well in terms of the rhythm section. What led to your departure? Were there ever conversations about you returning?
Ginger:
Well, I met my husband and we decided to start a family right away. It was a matter of the heart and just seemed like the right time. I still talk to Billy, and I would love to play with them again someday in some capacity.
Andrew:
You've also played bass with Gwen Stefani. What was the experience like?
Ginger:
Gwen is like from another universe. She is almost too beautiful to look at! Haha. She's so smart and talented. Her ideas were so great. Her positivity and energy are out of control. She's just the best. Being from the OC, this was also a dream come true to play with her.
Andrew:
Another really cool project you were a part of was Halo Friendlies, which was an all-female Punk group. Tell us more about that band. How did you end up working with them?
Ginger:
I was friends with the band because I would see them at shows and stuff, and we got to know each other. When they needed a new member they called me up. I was in that band for 7 years! It was a long time and we did a lot. Traveled all over the world from car to van to bus to plane. It was a very DIY band. We worked our butts off but it was such a great learning experience and we had lots of fun.
Andrew:
Let's talk about current events. I know in the past you've released solo work under the moniker Ginger Sling. Are you currently working on any new music? If so, when can we hope for it to be released and where will it be available?
Ginger:
YES! My husband Kris, myself, and our friend Max Bernstein has a band called Burning Pools. We've released 3 singles so far and are working on our first EP. We made an epic video for our song called 'Woman' that I'm really proud of. Spoiler, it stars my daughter! Go check it out!
Andrew:
Aside from any potential possibilities musically, what are else are you passionate about? How do those passions inform your music, if at all?
Ginger:
I'm really into surfing right now. I love being in nature. I feel like it's the truest thing we can do. It's where I feel the most myself. I also picked up painting during quarantine. I like gardening, too.
Andrew:
Shifting gears now. In your opinion, COVID-19 aside, what's the state of the industry? With the never-ending barrage of social media, and constant squeeze from big business, is it harder or easier for artists to succeed these days?
Ginger:
I don't know. It's always going to be a challenge for different people in different ways. In some ways, it seems easier to release your music and reach people with social media, etc. It is also easier nowadays to record your own music from home. But still, it can be hard depending on your situation.
Andrew:
What are a few albums that mean the most to you, and why?
Ginger:
Graceland by Paul Simon, mostly because it has 3 of my favorite songs right now: 'Graceland,' 'Diamonds on the Soles of her Shoes' and 'You Can Call Me Al.'  I just love the way he writes and tells a story through song. Donnie Hathaway's Everything is Everything because we listen to it a lot as a family. Pumpkin's Siamese Dream was super important to me as a youth and still is. I'm a Beatles fanatic so Rubber Soul, Revolver, Sergeant Pepper's,  Abby Road. Most everything they put out. There are just so many to name!
Andrew:
Do you collect vinyl? Tapes? CDs? Or are you all digital now? Where do you like to shop for music?
Ginger:
I do collect vinyl! We have lots of vinyl in our home. We don't go hunting for it but when we come across a vinyl store, we definitely leave with at least a few records. My daughter loves listening to vinyl too, and for a while would wake up and put on a record. She really loves Huey Lewis! I don't have any tapes anymore sadly, and unfortunately, it is super easy just to search for music on your phone and play it if you need it immediately. But I definitely prefer vinyl.
Andrew:
Last question. You've had a great career, with hopefully a long way to go yet. That said, looking back, what are some of your proudest and fondest memories as a musician? What advice would you have for young musicians trying to get their start today?
Ginger:
One of my proudest moments was headlining Reading Festival with the Smashing Pumpkins in 2007. It felt like a dream come true. Another was playing with them in the pouring rain outdoors in El Paso thinking we might get electrocuted at any moment! I also have the memories of working super hard touring for years, loading and unloading my own gear all over the world to play for almost nobody in my earlier years. It's a lot of work but at the time, I had such a love for the music and belief in my small band that it was worth it. For young musicians, I would just say do your best and work hard. Eventually, you'll gather so much life experience it will help guide you on your path. Trust your gut, too!
Want to learn more about the music of Ginger Pooley and her new group, Burning Pools? Check out the link below:
Be sure to check out the full archives of VWMusic Interviews, by Andrew Daly, here: www.vwmusicrocks.com/interview