All images courtesy of Jimmy Chamberlin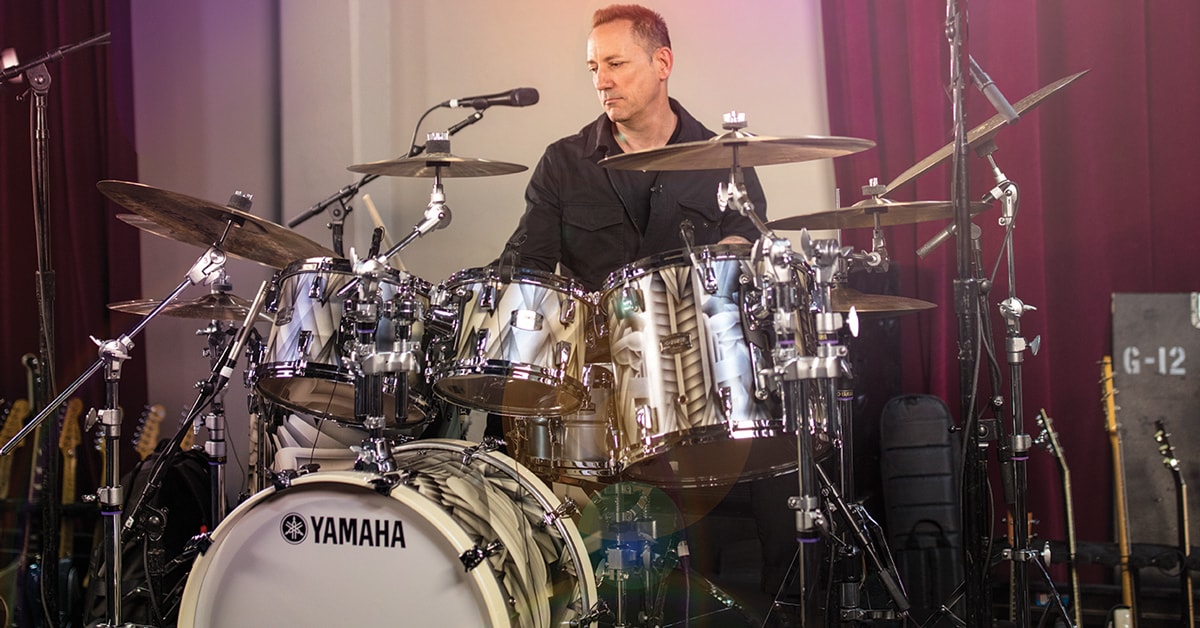 Stay centered. Stay grounded. Stay Humble.
It seems simple enough, but like most things in life, it's easier said than practiced. Some of the most important things one may do in their adult life are to stay centered, stay grounded, and stay humble. After all, nobody likes a showoff, right? Right.
From a writer's perspective, staying humble is important. Actually, scratch that. The entire mantra is important. For me at least. It's easy to get swept up in interviewing and writing about amazing performers in this industry. It's even easier if said piece gets picked up, and passed around.
Enter staying humble.
On the other end of the spectrum, sometimes people don't notice, and it can be easy to get swept up in that energy too. That's where staying centered comes in. All in all, you've got to keep pushing forward, and doing what you do. Not for anyone else. No, you've got to do it for yourself. Because you know it's right. Because you believe. Even if it means shutting your own brain off. You've got to tune out the noise.
That's staying focused.
At the end of the day, if you're not creating art for yourself then who are you really doing it for? When it comes to writing about music, and interviewing artists, I've learned to never be a critic. You've got to stay a fan. That's my take, anyway.
Today, from the perspective of a fan, I am really excited. I am excited because I've got Jimmy Chamberlin "in the house." Jimmy has long been one of my favorite drummers in all of music. His presence behind a drum kit is unmatched save for a few. As a drummer myself, when I think of the drums, I think of Elvin Jones, Neil Peart, Buddy Rich, Anton Fig, and of course, Jimmy Chamberlin.
Speaking from purely the perspective of a fan, Jimmy is probably my favorite. He's Rock. He's Jazz. What's not to like? Yeah, you could say his style speaks to me on a deep level. Jimmy isn't just playing the drums. He grooves with the song and allows the listener to feel the emotional depth of the song within their gut. Not too many musicians can accomplish that, let alone on a consistent and prolonged basis.
Speaking from the perspective of a journalist, I came to find that Jimmy isn't just a great drummer, but also a great guy and is truly accommodating at that.
All that said, Jimmy, has a new album out this year with his band, The Jimmy Chamberlin Complex. It's called Honor. You can grab it on vinyl here. Also, as you all probably know, Jimmy is the long-time drummer for The Smashing Pumpkins, and they've got a new record out as well. It's called CYR, and you can grab it on vinyl as well as other formats here. So, I've said my piece. This is a good one. Dig it!
Andrew:
Jimmy, thank you so much for taking the time to speak with us. It's been a weird year. What have you been doing to pass the time?
Jimmy:
Listening to a lot of vinyl! Recording music, writing music, reading, riding my motorcycle, gardening, birdwatching, hanging with my wife/kids, hanging with my cats and dogs.
Andrew:
Tell us about your back story. How did you start playing music? What was your musical gateway so to speak?
Jimmy:
I started playing when I was eight. My brother was a drummer so I would say that he was my entry point.
Andrew:
I know you're a big fan of Jazz. I personally am a big fan of Elvin Jones. His timing and phrasing were really next level. He was pure power. When I listen to your drumming, I get the same kind of feeling. So much power in the foreground of the music. How has Jazz-influenced your style specifically? Would you call yourself a jazz drummer?
Jimmy:
First off, thank you. That's an incredible compliment. To answer your question, I've played predominantly Rock music for most of my life so in that regard, no, I would not consider myself a traditional Jazz player. I think that the improvisational way that I approach is "Jazz-based," and certainly Jazz influenced. To your point about Elvin, he of course is always top-3 and maybe 1 from time to time along with Tony Williams, Roy Haynes, Art Blakey, and scores of other greats. I grew up with a lot of varied musical tastes in my house. My Dad played clarinet and so I heard a lot of Big Band. My brother is a drummer as well so he turned me on to thousands of great drummers, everyone from Ian Paice to Narada, Cobham, Lenny White, Porcaro, etc. My sister was also a muso with a heavy tilt towards Steely Dan, Rikki Lee Jones, Traffic, Mose Allison, Thad Jones and Mel Lewis, and Hendrix, very eclectic, so those were my influences early on.
Andrew:
Your style has always seemed very free-flowing. Your fills are lighting quick, yet tasteful. It, in some ways, reminds me of Ian Paice or Mitch Mitchell. As a drummer, you seem to have a lot of nuance in your playing. Some drummers never learn to play to what the song requires, but you're pretty great at it. How did you develop that ability?
Jimmy:
Thank you again. I would say that just listening to a lot to a lot of music and being attracted to the emotional choices of those great drummers. Mitch in particular because he embodied early on what I wanted to become. I used to practice to all of those great Hendrix records and just geek out at how free Mitch was playing. But never in an irresponsible way, and never in
a way that compromised the narrative of the song. His parts were always additive, and part of the narrative whereas some drummers would play great stuff but would somehow sound obtuse or out of place in regard to the emotional destination of the song.
Andrew:
I've always been a big fan of those old "Drum Battle" albums. I'm not sure if you've ever gotten into them or not, but if you could have your own "Drum Battle," who would you choose as your opponent?
Jimmy:
That's a tough one. Maybe Airto? I love him and his playing. The first Return to Forever record, the one with "Sometime Ago/La Fiesta" on it was transformative for me. I saw him fairly recently at Ronnie Scotts, and he is still amazing. I'm not sure about the "battling" part but it would be cool just to play together.
Andrew:
I play drums myself. I've always felt that the drums are sort of an extension of personal expression. As a drummer, we don't generally get to sing or take to the front of the stage like a guitarist, but we are speaking a language just the same. Would you agree?
Jimmy:
Absolutely, and it goes back to what I was saying about narrative. Drums are oftentimes the foundation of any musical conversation we are having. When they are congruent with the narrative, i.e. telling the same story, they become a powerful part, perhaps the most powerful part of the story. Secondarily, being aware of, and participating in the narrative allows us to make good musical choices and embellish the story with foreshadowing and dynamics that make it come to life in a way that few other instruments can.
Andrew:
Piggybacking onto my last question. If drumming is its own language in and of itself, then your drumming certainly has a lot to say. As a player, does that expression manifest differently depending on what you're playing, or does your overall message have a consistent throughline that you work off of?
Jimmy:
No, it changes depending on what I am doing. I would say that my approach stays relatively the same, but my choices will change depending on the musical destination.
Andrew:
You've got a new EP out with your band, The Jimmy Chamberlin Complex. It's called Honor, and it's great! As a solo artist, how do your arrangements come together?
Jimmy:
That record came together from a jam session that Billy Mohler, Sean Woolstenhulme, and I had in LA in early 2018. Mohler had a new studio that he wanted to shake out, and I happened to be in town recording with The Pumpkins. We all showed up with some riffs, and the ones we liked we wrote additional parts for, and recorded basic tracks. We never intended to make a record, but we did leave space for other soloists to play. We sent the basics out to our friends that played on the record and it slowly evolved into what you hear today. The basics for the record were recorded in about three hours and were generally just one take. I prefer to make records that way, especially improvisational ones.
Andrew:
Digging deeper into your new EP. The EP itself is titled Honor. The tracks themselves are called "Integrity," "Humility," "Service," "Grace," and "Commitment." I sense a theme here. Can you dive deeper into the background, and inspiration for this EP?
Jimmy:
Titles are always tough for me. The titles are representative of the ideals that I feel are sacred, and things that appear to be in short supply these days.
Andrew:
How different is it playing with the Jimmy Chamberlin Complex compared to The Smashing Pumpkins? It is a very different dynamic, or is there a lot of overlap in terms of your own playing?
Jimmy:
It's the same really. Other than the specificity of parts, I approach both bands the same. My choices are obviously different at times in response to the music of the moment, but the philosophy is the same.
Andrew:
On the subject of The Smashing Pumpkins, let's go back a little bit for a moment. Gish, Siamese Dream, and Mellon Collie and the Infinite Sadness are both genre and era-defining albums. What was it like to be a part of the band during that era?
Jimmy:
Objectivity is always in short supply during that type of growth. I remember not realizing just how big the band had gotten until Lollapolooza. It hit me during that tour that the band had achieved an incredible level of success.
Andrew:
In 2004, you returned to a reformed Smashing Pumpkins, and you guys made an album called Zeitgeist. I am not sure how you guys feel about that album, but I've always absolutely loved it. Also, I have to ask, is there any chance we see that album reissued?
Jimmy:
I think that Zeitgeist is an incredible album. I'm very happy with the performances, and the songs. I felt like the production was a bit incongruent with the music, and that confused some people, including us. There are tentative plans to remix and re-issue at some point.
Andrew:
I've seen The Pumpkins three times. Once in 2010, without you. Again in 2015, with you, and also in 2018, with the reunited band. I have to say, there is a difference when you are behind the drum kit. It feels right. There is a certain magic. What is it about the chemistry that you guys share? What makes it special?
Jimmy:
I think it's simply a matter of ownership. Pumpkins' music is incredibly nuanced, and each participant puts an indelible stamp on the recording. To me, having an identity, and a strong voice is important. It's what attracts me to other artists as well.
Andrew:
What are some of your favorite albums of any genre? Ones that mean the very most to you?
Jimmy;
Any Fela Kuti. Coltrane's Blue Train, and Giant Steps. Lee Morgan. Jeff Beck's Blow by Blow, Wired, and Rough and Ready. Bill Evans. Thelonious Monk. Mose Allison. The Jazz Crusaders' early stuff. Benny Goodman's Sextet. The Pat Matheny Trio (With Bill Stewart). Dave Holland's big band stuff. Captain Beyond. Brian Eno's Another Green World, and Brand X. Roxy Music. Jimi Hendrix, and Art Blakey.
Andrew:
You mentioned that Another Green World by Brian Eno is an important album for you. I also love that album. Are you interested in Ambient music in general? I could see how Ambient could be a not so obvious influence for a drummer, in terms of learning how to create space, and depth during more understated, and quieter songs. Would you agree?
Jimmy:
I think that any music can inspire and inform us. I don't need to hear drums to be moved by music and oftentimes, when working with the Pumpkins, the first question I ask myself is, "Does this need drums?" I love Eno, but wouldn't consider myself a super fan. I got into Another Green World as a fan of Phil Collins, and Percy Jones. Brand X was and is, hugely influential for me. I had the honor of playing with Percy on a Frank Catalano record, and it was incredible.
Andrew:
Aside from your career as a drummer, you're also an educator, and you put on your own drum clinics. How much satisfaction does that give you to be able to give back in that way? Music education's importance in our world today cannot be understated, but still, I think many people take it for granted. What are your thoughts on music education?
Jimmy:
How much space do you have for this? ☺ I feel that self–expression, in any form, is critical to human development. Our earliest instincts are rooted in communication, and as we grow into young people, we continue to evolve that process. When we deny people, and not just young people, all people, the opportunity to express themselves through art, we disallow them from realizing their holistic human potential. Additionally, music for me allowed me to participate in a kind of "Spiritual Upward Mobility." When I played my drums as a young person, I could dream about "what if," and challenge myself to reach heights that I would have never reached without my instrument. Removing music education from schools robs children of those dreams, and those dreams are the roots of their subsequent goals and accomplishments.
Andrew:
You've also brought your talents to the business side of things, and served as the CEO of LiveOne Inc., and are the founder of Blue J Strategies. Can you tell us more about those ventures? What began your interest in business, and entrepreneurship?
Jimmy:
When I left the Pumpkins in '09, I found myself wanting to try something new, and different. I had a lot of friends in the tech space, and many of those people were encouraging me to dive in. They felt like my experience in the music business would give me a unique vantage point in regard to UX/UI. Over time, I started to look at companies, take meetings, and offer insights to entrepreneurs. I went to hear a pitch from the LiveOne co-founders at the request of a VC here in Chicago, and it was incredible tech that squarely fit into my skill set. One thing led to another, and three months later the BOD asked me to come on board, and lead the company. After I exited from that company, my interest in tech remained, so I started Blue J Strategies — a consulting company that offers guidance and provides connectivity to companies in that space. I love the space and find the creative part very similar to music. Successful platforms have rhythm, a narrative, are in harmony with their users, and have some sort of coda that keeps people returning.
Andrew:
What are some of your favorite songs to play live, and why?
Jimmy:
It changes from night to night, but I really enjoy all of it. It's the breadth of the music that keeps me engaged. I feel fortunate to be in a band with Billy Corgan, a friend, and a songwriter of incredible depth that consistently offers me opportunities to navigate an incredibly wide selection of music, and challenges me to evolve my own language as a participant.
Andrew:
Do you collect vinyl? Tapes? CDs? Or are you all digital now? Where do you like to shop for music?
Jimmy:
Yes, mostly vinyl. There is a good vinyl shop, Vintage Vinyl, in Evanston that I used to hit all the time as it is close to my kid's school. I also shop on Discogs or eBay.
Andrew:
I know for a long time you were using Yamaha drums, and at some point, you switched to DW, but I also heard you may have switched again. Why the switch, and what kind of gear are you using these days?
Jimmy:
I'm still playing Yamaha. It's such a part of The Pumpkin's sound that the music really doesn't sound right on another brand.
Andrew:
Once COVID-19 calms down, what's next for you? Any big plans going forward?
Jimmy:
Recording a follow-up to Mellon Collie in March — very exciting. We just demoed thirty-three songs, and I'm absolutely loving the music. Other than that, I'm not sure.
Andrew:
Last question. It's been a weird year, but we've still seen a lot of great music released. What are some of your "must-have" albums of 2020/2021?
Jimmy:
Honestly, I've been working on so much of my new stuff that I haven't been checking out that much new stuff. I've been listening to the new Ron Miles with Brian Blade on it. I love everything Brian does. He's the complete package for me. I've also been revisiting a lot of Bill Stewart's stuff. He's another guy that I just love. His pocket is so perfect, and the way that he is able to stretch music around itself is really remarkable. Other than that, I've just had a steady diet of Tony Williams, Tony Allen, Art Blakey, Elvis Jones, etc.
Be sure to check out the full archives of VWMusic Interviews, by Andrew Daly, here: www.vwmusicrocks.com/interview