All images courtesy of Vector Management
When you think of the guitar, which artists do you think of? I suppose it's all a matter of opinion, really. That said, Jerry Douglas is one of the top players out there today, and has been for 40 some odd years. In terms of guitar, his weapon of choice is the dobro, which is a resonator guitar. His unmistakable sound and style have landed him in collaborations with the likes of Ray Charles, Alison Krauss, Eric Clapton, Dolly Parton, Mumford & Sons, and many others. Jerry's career has spanned over four decades, and with many more years to go, I look forward to what he comes up with next.
Today, I've got Jerry Douglas with us for a chat. We talk about his origins, his influence on dobro, being nominated for multiple Grammy,s and much more. If you would like to learn more about Jerry Douglas, head over to his website here. Dig in.
Andrew:
Jerry, thank you so much for taking the time to talk to speak with us. Tell us about your back story. How did you start playing music? What was your musical gateway so to speak?
Jerry:
For as long as I can remember, I've been carrying around some kind of string instrument. Starting with the plastic guitars, then getting a Silvertone guitar for Christmas when I was five. After that, I saw Flatt & Scruggs live in Youngstown, Ohio and my father raised the strings on my Silvertone, and I began playing it with a slide. I got my first real dobro when I was about 10 years old. My father had a Bluegrass band and all the fellows in his band were really nice to me and didn't kick the little snotty-nosed kid out of the way. They answered every question I had and they were good musicians, so I had a streamlined musical education before I was 13. When I was 16 years old, I started playing with the band called The Country Gentleman from Washington DC. They were pretty much the top of the heap in Bluegrass music at that point and it pushed my education further. From there, I moved on to Lexington, Kentucky, and played with the great JD Crowe and The New South. Tony Rice and Ricky Skaggs were in that band at the same time, so my education was once more kicked into high gear. Meeting David Grisman and watching them rehearse made me hungry to play more advanced music.
Andrew:
You've got a very unique style, which seems to have its roots in Country and Bluegrass. Why were those genres so important to you? How have they informed your style and music over the years?
Jerry:
Very early on, I was listening to Country music on the radio and on the record player, but our main focus in the house as I was growing up was on Bluegrass music. I have always kept some part of them in my foundation and they will always show up no matter what I'm playing.
Andrew:
You have quite the body of work. In addition to your fourteen solo albums, you've played on more than 1,600 albums in total. How do you find the time?
Jerry:
What is time? [Laughs].
Andrew:
On the solo side of things, you've been steadily releasing albums since 1979. How do you continue to find inspiration?
Andrew:
I keep my ears open at all times for new sounds or phrases or new ways to communicate with my Dobro. I try to keep pace with new gear that will give me more ways of reaching broader audiences while keeping my creating abilities with the instrument that I choose to play. Also, I'm constantly meeting new musicians who inspired me to write to include them. That is how my Jerry Douglas band has continued to create and cover new ground over the last 25 years.
Andrew:
You're very well known as both a player of resonator guitar and lap steel guitar. It seems that style is sort of under-represented across today's music scene. What led you to choose those over other styles?
Jerry:
Other people such as Django Reinhardt, David Lindley, Derek Trucks, and a lot of horn players have given me the inspiration to play the way I do. I've never been a slave to the "current sound." I've always tried to further the sound I hear in my head and try to get that onto a recording. Others hear the sound and further it even more. That's what makes me happy.
Andrew:
My understanding is you've also worked extensively as a producer, and even produced some albums with Sugar Hill Records. Can you tell us more about your work as a producer? What led you to want to produce as well as create?
Jerry:
I didn't like the way Bluegrass records sounded on the radio. When I would hear a Bluegrass song right after some other genre, the Bluegrass sound was inferior. So, I set out to produce records in good studios, with great engineers to create a more robust and broader sound spectrum for the music. Using better microphones and different mic placement was educational and I kept learning on each outing. That was my first entry into the production world and I have tried to build on that, and craft a sound for each artist or band that I am working with to make them stand out and be different than all the others. Most times, this works but there are exceptions. Producing is like playing the band.
Andrew:
Some may know this, but for those that don't- you've been nominated for thirty-one Grammy Awards, and have won fourteen. You've also received the CMA's "Musician of the Year" award three times. How gratifying has it been to receive that type of recognition?
Jerry:
Well, awards were the furthest thing from my mind when I started playing music for a living. It was later on that I found out that there were these little trophies they gave you, on magnificent stages, if they like your record enough that it was put into a large barrel, and someone pulled out a ticket that had your number on it! 
No, that's not exactly how it works, but awards are certainly not the reason to make music that comes from inside of you. It's very gratifying when it touches somebody else and they understand what you meant. I have to say, I do enjoy those spectacles where they hand out those golden obelisks.
Andrew:
You first worked with Alison Krauss on the albums Too Late To Cry and I've Got That Old Feeling. My understanding is you produced I've Got That Old Feeling as well. What more can you tell us about it?
Jerry:
The first record, which was Too Late To Cry, was recorded not long after I had met Alison at Bela Fleck's house. Ken Irwin/Rounder Records founder, was in town looking for someone of the three of us, I suppose, to produce Alison or at least just hear her. We met at Bela's house and all listened to her play fiddle tunes, and sing some New Grass that she had heard the amazing John Cowan sing the complete shit out of. When she started singing, we were all floored. I think we looked at each other and said to her, " You're a singer. You're a good fiddle player, but you're a great singer."
Engineer Bil VornDick and I went in as co-producers for I've Got That Old Feeling. And we got the best people we could find, Stuart Duncan, Allison Brown, Mark Schatz, and Alison brought in Suzanne Cox to sing with her and it was heavenly. After the tracks were cut, I kind of disappeared to other projects I had going, and Bil VornDick did all of the vocals with her. That must've been an amazing thing to hear first. She was a star on her way at that point already. And she learned to produce her own records, and she's very very good at it!
Andrew:
Since 1998, you've been an official member of Alison Krauss and Union Station. She is such a gifted and wonderful artist. What has it been like working with her all these years? The group is on sort of a hiatus though, right? Any chance we see you all regroup soon?
Jerry:
Beautiful! I loved every bit of it. But I was ready for a break when we went on hiatus. Everyone was, and we just sort of splitting off into our own areas of expertise. Everyone has had a prosperous time such as AKUS; I know we all hope to play together someday. Whenever that is, that's when it will be.
Andrew:
You've worked with so many incredible artists over the years. The list is long: Garth Brooks, Ray Charles, Eric Clapton, Dolly Parton, Paul Simon, and even contemporary artists such as Mumford & Sons. What has it been like being able to work with so many special artists over the years? 
Jerry:
It's been a blessing! Who would ever think, as a musician, that you would get to play and meet and get to know these people on a normal platform. They're just people, but very musically steeped individuals. And they're always funny. I started listening to Dolly Parton's podcast the other day, and it's one of the most entertaining radio experiences I've ever had. She is the real thing as are all those other people you mentioned there.
Andrew:
Your first album was released on Rounder Records. They've had a lot of fantastic artists grace their roster over the years. I know you left Rounder after 1982 for MCA, Sugar Hill, and Koch, but in 2017, your most recent record, What If, sees you back with Rounder. How did you manage to come full circle?
Jerry:
I think I've just followed my muse, and the record company that was, I thought at the time, most enthusiastic about it, and wanted to help me get it heard by the most people, was who I went with at the time. At first, Rounder was a no-brainer for me because I was an early friend of the Rounder Founders, Tony Rice was on it and I had a history with them with JD Crowe and a couple of our other records that I played on very early on. In the meantime, Sugar Hill sprouted up from my friend Barry Poss. We had a long wonderful run of records that also gave me inroads to producing. My only real separation from those two companies was with Koch, which was the distributor for Sugar Hill for quite a while so I knew Robert Koch. And it was maybe the most financially savvy of the lot.
Then a big shake-up happened and Rounder and Sugar Hill combined under the Concord umbrella. A perfect place for me. I just felt that's where I should be: with my two old record companies. Keep it all in one big place. The MCA years were cool too because Tony Brown was the head of NCA records in Nashville and wanted to have a label that would compete with Windham Hill records. So he approached Mark O'Conner, Bela Fleck, Edgar Meyer, Larry Carlton, Acoustic Alchemy, Albert Lee, Robert Greenwich, Mike Utley, and me. 
I saw a mock-up of a cover they were going to use of a little boy on a clothesline, that was taken in Italy, in 1910. I said, "I have a little boy who looks like that, so I want that cover."
Andrew:
What type of guitars and equipment are you using these days? How does what you use today compare to what you used in the past? How have both your style and playing evolved over the years?
Jerry:
Well, over the past 40 years, I've tried to find a way to play the dobro and have it be as loud as a Telecaster. Finally, I can do that.
I've been playing guitars built by luthier, Paul Beard, from Maryland for the last 15 years. We keep coming up with improvements for the guitar and he's a joy to work with. I also have some projects with Fishman electronics. Larry Fishman and I came up with some sounds for the dobro to go through a computer program that would make them create the sound wave of a microphone. And we came up with sounds from RCA 77 Ribbon microphones and 15 other programs that would give you a different microphone for each program. It frees you from standing in front of a microphone all the time. At the same time, you're presenting a great sound of your guitar playing through one of those A range of microphones. I've been using Daddario Strings now for quite a while and I haven't heard anything better.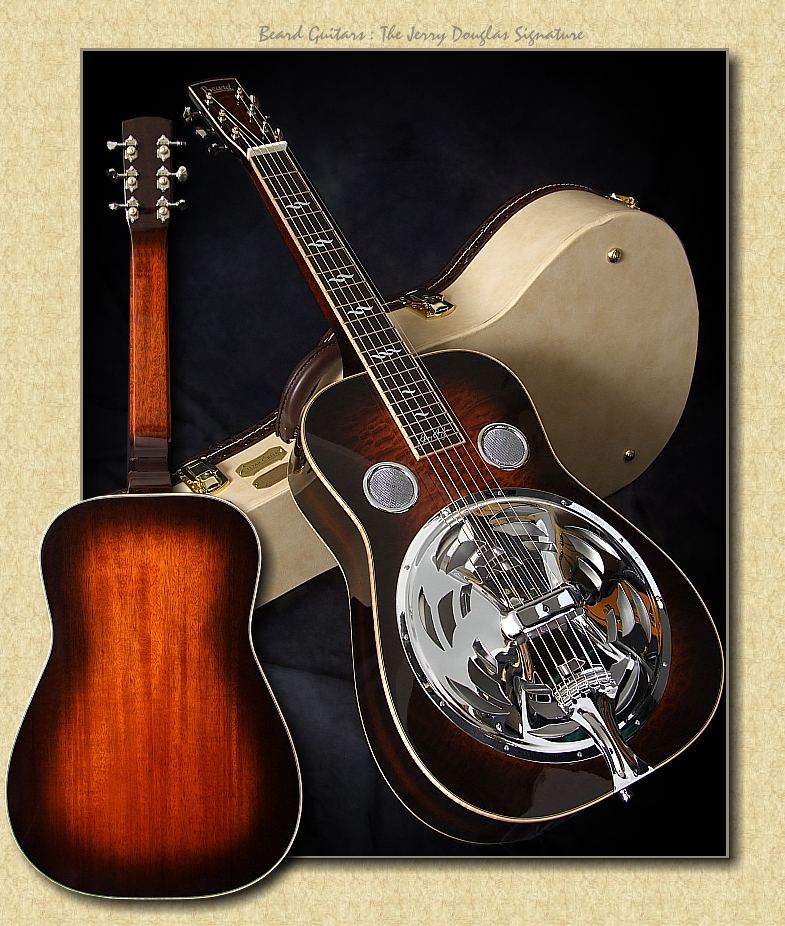 Andrew:
Do you collect vinyl? Tapes? CDs? Or are you all digital now? If so, what are some albums that mean the most to you? Where do you like to shop for music?
Jerry:
Yes, I do collect vinyl and have more than my share of cassette tapes and CDs. The vinyl means the most to me and sounds the best. My wife was a manager of a couple of different record stores back when they sent samples of new records to the managers. So, you can imagine how many records we have together. We did one cull of our collection many years ago, but since then we haven't touched it.
We have an original collection of records that run through The Beatles and several decades of Pop, Bluegrass, and Country Punk bands from all eras. The ones that mean the most to me are the test pressings and the lacquers that I have saved over the years. I'm a lacquer addict.
Andrew:
Having played on over 1,600 albums, across so many genres, you could say that popular music over the last forty or fifty years has your fingerprints all over it. When you think back on your career, what are your thoughts on the impact you've made?
Jerry:
I hope that I have helped the dobro have more of a footprint in music. The way that it's recorded and the techniques that I use and I am passing forward will hopefully serve future players of the instrument. All I have tried to do throughout the years is to emote what feeling went with the singer of the song and accented not distracted in any way.
Andrew:
Over the years, you've been a part of some truly influential and special music and have had the opportunity to work with some of the greatest artists we've ever seen. Looking back, what are some of your favorite musical moments over the course of your career?
Jerry:
I've had some very nice moments with bands that I have invested myself in, like Alison Krauss and Union Station, and Strength in Numbers. And meeting some of these amazing artists like Ray Charles, Dolly Parton, Elvis Costello, Emmylou Harris, Dan Fogelberg, James Taylor, and many others that have come along. I just tried to enter the conversation with them and leave everything better than I found it.
Andrew:
Last question. What are your thoughts on the state of the music industry today?
Jerry:
I have discovered that there is a clock face that music revolves around. 12 O'Clock noon is roots music, (O' Brother Where Art Though) and as the music goes around the dial and becomes more polished and more sanded to perfection, the more we wish to come back to the top of the dial.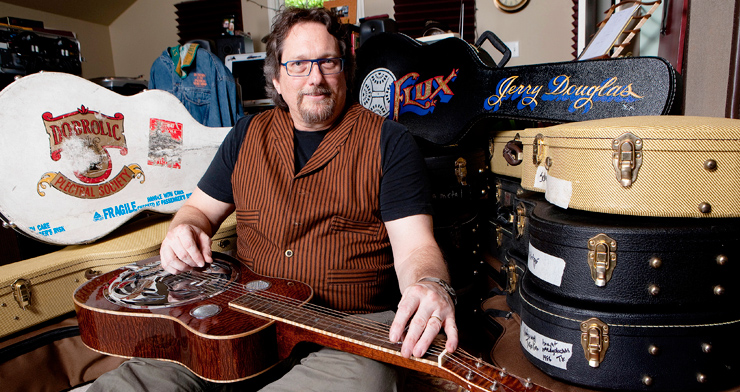 Interested in diving deeper into the work of Jerry Douglas? Check out the link below:
Dig this interview? Check out the full archives of Vinyl Writer Interviews, by Andrew Daly, here: www.vinylwritermusic.com/interview