All images courtesy of Jordy Leenaerts
Timecop1983, real name Jordy Leenaerts, is an Electronic/Synth artist who has been in the game for several years now. In that time, he's released a few studio albums, some of which are absolutely essential to any collection regardless of which format you collect. Albums like Journeys and Night Drive are some of the finest the genre has to offer. Today, I've got none other than Jordy Leenaerts with us. He's a cool dude and I was happy to get to know him better. If you'd like to learn more about Timecop1983, or his latest record, head over to Jordy's Bandcamp here. Once you've done that, give this interview a read. Enjoy.
Andrew:
Jordy, thank you for taking the time to speak with us. This last year has been rough, right? How are you holding up during this seemingly ever-raging dumpster fire?
Jordy:
Thank you for inviting me to do this interview!
Last year was pretty rough indeed. The first few months of 2020, I was focusing on evolving my live shows, and then the pandemic hit. I didn't do any shows last year, it's crazy. I definitely missed going around the world to do shows and meeting the awesome people that listen to my music.
But on the other hand, it allowed me to focus on a new album, which is being mastered as we speak. I had been working on it before the pandemic, but because I couldn't go anywhere it provided me with lots of time to finish it. I worked with Josh Dally a lot for the new album and we did everything we can to make it sound as good as we could. We hope to release it within the coming months.
Andrew:
Tell us about your backstory. What was your musical gateway so to speak?
Jordy:
While growing up, I never learned to play any musical instruments (apart from learning to play the recorder in school), so when I got a floppy disk from a friend with an MS-DOS tracker when I was 12, I didn't know how to make music. But I was so excited that I could be able to make music with a computer that I just kept trying and trying to get to know the program. Eventually, I could make my own music and I basically never stopped doing that. So, if it wasn't for this friend, I probably would have never gotten interested in making music.
Andrew:
What first sparked your interest in making music?
Jordy:
It was just the amazement of being able to create music with the computer. Like I said, I never had any experience with making music and after finding out how I could make music like the people I heard on the radio, it was just amazing to me. Holland was going through a Gabber/Hardcore phase, including myself, and this way I could make what I heard on the radio and on CDs I collected. It was like magic to me and I just wanted to recreate the sounds I heard and eventually create songs of my own.
Andrew:
Piggybacking onto my last question. What was it about Synthwave music that drew you in?
Jordy:
For me, it was the combination of warm, nostalgic songs and visual aesthetics. Especially when I saw the movie Drive in 2013, it just connected with me and I decided to give this kind of music a try.
Andrew:
As an artist, which artists have been your biggest inspiration and why?
Jordy:
I can't say there were specific artists that inspire me, but more the combination of sounds and visuals as seen and heard in Drive, Stranger Things, Summer of '84, Turbo Kid, Blade Runner, etc.
The combination of those aesthetics and soundtracks inspires me greatly. I'm always been a great fan of music that tells a story; that's what I try to achieve myself as well. And that's why I like releasing (and listening to) albums more than just random tracks.
Andrew:
What does your process look like? How do you go about creating your music?
Jordy:
I usually start with some jamming on my hardware synthesizers. And while playing I often come up with elements that could evolve into a song, like a bassline, a melody or a drum pattern. Then I start working from there and keep adding elements to it until I have the main chorus of the song.
Then I start breaking down those elements and try to arrange the idea into a song.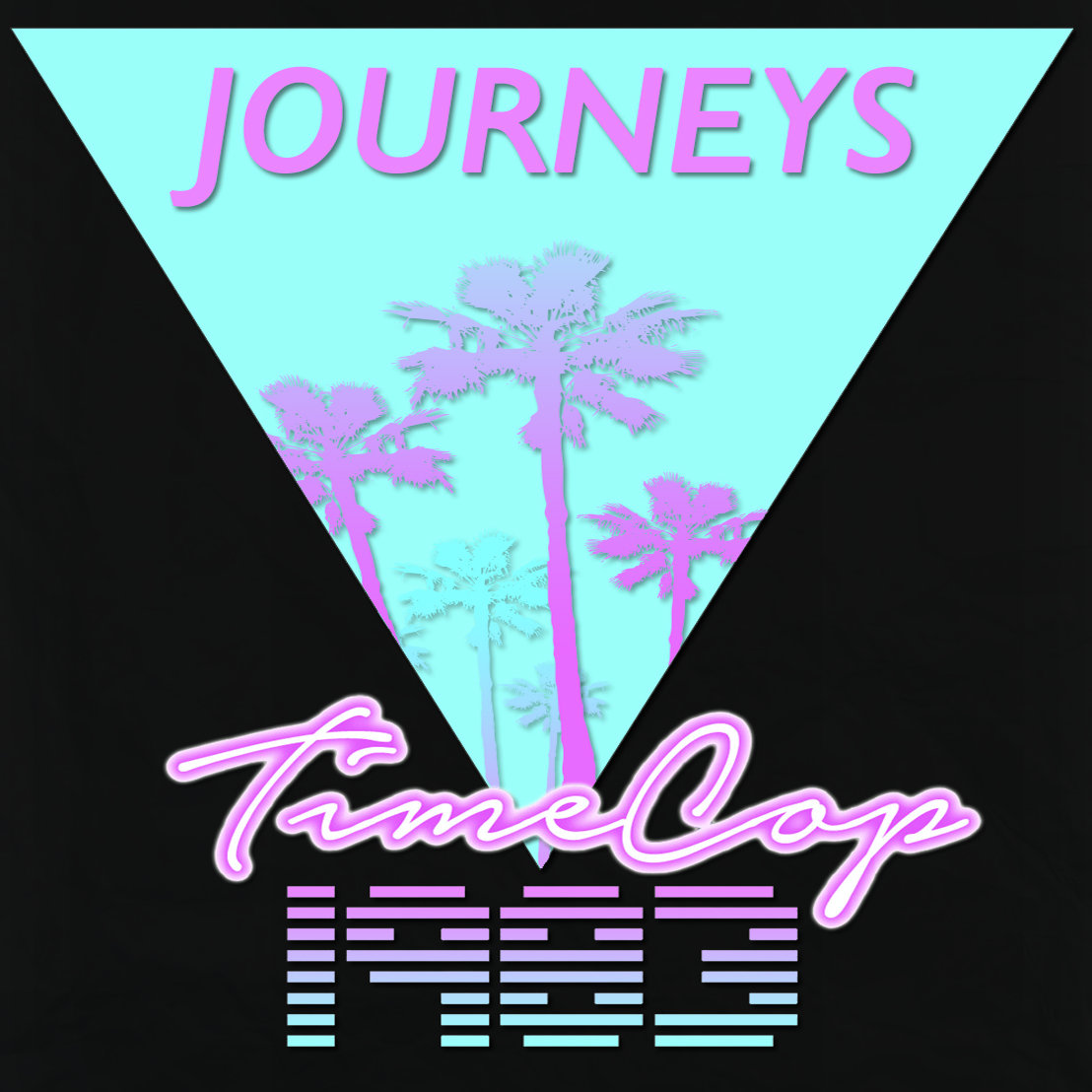 Andrew:
I wanted to talk about Journeys for a moment. Such a great record. What can you tell us about the recording and the inspiration for it?
Jordy:
Thank you very much! It was the first album where I worked with other people. I released my debut album Childhood Memories and I instantly felt I needed to make more music, so I started working on some new ideas. Then I heard Dana Jean Phoenix for the first time and I asked her if she was interested in working with me and luckily she was. So, Journeys was made and from there I had the whole album done in like 2 months or so. It's crazy how productive I was back then, now it's a little different…
Andrew:
Moving on to another favorite of mine, Night Drive. At the time, how did you feel you evolved with this release? Tell us the inspiration for this release. Are you working on anything new?
Jordy:
With Night Drive, I wanted to make an album that was a little "darker," but still recognizable as Timecop1983. But I think my technical skills were more evolved with this release. Previously, I didn't really pay much attention to mixing and mastering and with Night Drive I took this more seriously and did whatever I could to make it sound better than my previous work.
For me, doing as much work as I can myself is really important. I want to learn as much as I can and feel that if you do things yourself you learn more. So that's why I have always done my mixing and mastering myself and I hope you can hear my evolution in my work.
The upcoming album is my first album that is being mastered professionally (by Tonebox).
Andrew:
Let's talk about the state of the music industry a bit. What are a few things you would like to see change for the betterment of both the fans and artists alike? What's the Synth scene look like these days?
Jordy:
I feel the industry has changed quite a bit since I started. Previously, I had no experience, so I don't know how it was, but I feel it's becoming harder and harder to get noticed as a new artist and to build a fanbase. Anyone with a computer can make music and anyone can get it on the aggregators (Spotify, iTunes, etc.) and this is both a blessing and a curse. On the one hand, it's great you can release your music worldwide very easily, but on the other hand, anybody can. So, it's very hard to get noticed when you're starting as a new artist.
Andrew:
Opinion question. In a world dominated by late-stage capitalism and social media, can indie artists really, truly get ahead? How do we keep the playing field level so that everyone has a chance to succeed?
Jordy:
Well, it's really hard I think. A few years ago it was doable, but you had to be really lucky to get noticed. I mean, look at me, I've always been independent (apart from my vinyl releases) and I feel I have been extremely lucky to get noticed and to get picked up by some bigger players in the scene (like NewRetroWave).
Nowadays it's getting harder and harder. This has everything to do with the fact that it's harder to get noticed. Of course, it's partly about the music. But if you've made the best song ever but nobody hears it, is it really the best song ever? Promotion is really really important and I really think it's as important as the music itself.
Andrew:
What other passions do you have? How do those interests inform your music, if at all?
Jordy:
Music-wise I have some other passions. I love creating Lofi Hip-hop lately (coming with a side-project, called "yourdee" soon) and I love creating Blade Runner/soundtrack style music. And over the past few years buying hardware synthesizer (both vintage and modern) has gone a little out of hand.
Apart from music, I love to hang out with friends/family and I ride bicycles (mtb and road) to clear my head.
Andrew:
Are you into records? Tapes? CDs? Digital? Where do you like to shop for music? How big is your collection these days?
Jordy:
To be absolutely honest, I'm not into vinyl or any other physical formats. I know it's weird, because I am a music lover, but I only listen to music digitally. It's mostly because my taste is so broad (I like pretty much anything from Classical to Death Metal and anything in between) and I don't like to listen to the same music over and over. And that leaves me more money to buy synthesizers…
Andrew:
What are a few albums that mean the most to you, and why?
Jordy:
Although I don't like to listen to the same music over and over, I can keep listening to soundtracks. Mostly in the background when I'm working. Some of my favorites are Ex Machina, Arrival, Annihilation, and anything by Johnny Jewel.
I draw a lot of inspiration from soundtracks, especially hearing them while watching the movie. When I make music, I always envision a certain visual mood with the music.
Andrew:
Two-part question. Where do you see your music going in the future and how do you stay inspired creatively?
Jordy:
I honestly don't know where my music is going in the future! It's crazy how far I've come since the beginning and I certainly don't plan on stopping anytime soon.
I've got a few things going on. First, I'm going to release my new album Faded Touch within a few months (also on vinyl of course). Meanwhile, I'm having a new studio built in the garden of our house which is going to be awesome. Then, I'm going to work with Josh Dally in creating a new live experience for Timecop1983 shows and we hope to tour together whenever it's possible again. And I'm also slowly starting work on a new EP.
Whenever I'm low on inspiration for Timecop1983, I start working on other music. I recently started a new Lofi-Hip-Hop side project, called "yourdee" and sometimes just jam for days and see where it takes me. This usually gives me the inspiration to work on new Synthwave.
Andrew:
Last question. You've maintained a strong DIY approach thus far in your career, which is never a bad thing. That being said, what advice would you have for artists just getting started?
Jordy:
Yeah, I am doing a lot myself. I just love to learn about how everything works! I studied Event Management in university, so I already had some knowledge, but it's great to be able to do everything myself. That way I don't have to worry about release dates or what a manager or label wants me to do. I like to have things in my own hands.
That being said, it's really hard to get noticed when you are new in the scene (or any scene). Like I said before, anybody can release music and there's just so much music coming out each day. Even if you have the best song/album ever it's hard to get noticed. So, my advice would be to find a label if you are starting from scratch. Try to find a label that has a following and is stable in the genre you are working in.
And if you submit your music to a label and they don't respond, don't give up! The bigger labels can get hundreds of submissions a week and often they can't respond to everything. This sucks if you're hoping for them to like it, but that's just the way it is. Just submit to a different label and keep going.
Interested in diving deeper into the work of Timecop1983? Check out the link below:
Dig this interview? Check out the full archives of Vinyl Writer Interviews, by Andrew Daly, here: www.vinylwritermusic.com/interview