All images courtesy of Richard Barone
Always a true renaissance man, Richard has long been involved in so much more beyond just his role as the frontman of The Bongos. With ties to journalism and writing, production of off-Broadway shows and large concert events, teaching, and much more, Richard's impact on music and the industry as a whole run eternally deep.
Today, I've got Richard Barone with us for a chat. We talk about his origins, writing in isolation during the pandemic, his thoughts on the scene and industry today, and much more. If you would like to learn more about Richard Baron, head over to his website here and his Bandcamp here. Dig it.
Andrew:
Richard, thank you for taking the time to speak with us. This last year has been rough, right? How are you holding up during this seemingly ever-raging dumpster fire?
Richard:
Yeah, 2020 was a painful education. We learned about how we are all connected, but the losses were devastating. I personally lost several friends and colleagues to COVID, including producer Hal Willner who I had just worked with on the Marc Bolan/T.Rex tribute album. It's been so sad for so many, a rough year for all of us. And like the rest of us, I've been trying to make the best of things, working on music and writing in isolation.
Andrew:
Tell us about your backstory. What was your musical gateway so to speak?
Richard:
I've been fortunate in that I've had many different musical gateways. At age 7, in Tampa, Florida where I grew up, I befriended a local Top-40 Radio DJ who put me on the air for my own regular segment of his Sunday afternoon radio show, "Beach Party." I was "The Littlest DJ." I learned so much and met so many great people. Then, when I was 16, I met the great, eternal troubadour Tiny Tim, who also taught me a lot and let me produce an album for him. That was in the late 1970s. Then I met Davy Jones and Mickey Dolenz of The Monkees and, befriending their backing band at the time, The Laughing Dogs, I somehow found myself moving to New York City.
Andrew:
You were the frontman of The Bongos. Tell us how the band got started. Ultimately, why did the band end?
Richard:
Soon after I landed in New York, living in Brooklyn Heights, I answered a small, intriguing ad in the back of the Village Voice newspaper, some musicians were forming a band, and two of them (bassist Rob Norris and drummer Frank Giannini) later became the other two members of The Bongos. The fourth member of that original group which was called "a," Glenn Morrow, went on to form other bands and co-found Bar/None Records. The Bongos grew out of that band and started out as a trio. We got signed to a very cool label called Fetish Records based in London, and had the opportunity to record our first album mostly in the U.K., and to tour Europe with one of our favorite bands, Bush Tetras. When we came back to the U.S. and toured here with the B-52s, and got signed to RCA Records. It was a dream come true. Many musical gateways. We didn't actually break up. In 1987, I made a live solo album Cool Blue Halo, and the other guys also started during different projects. Since then, we've reunited many times for mini-tours or special concerts. In 2020, before COVID hit, we were booked for a bunch of shows along the East Coast. We only got to play two cities: Asbury Park, and Atlanta, Georgia, before all the venues closed.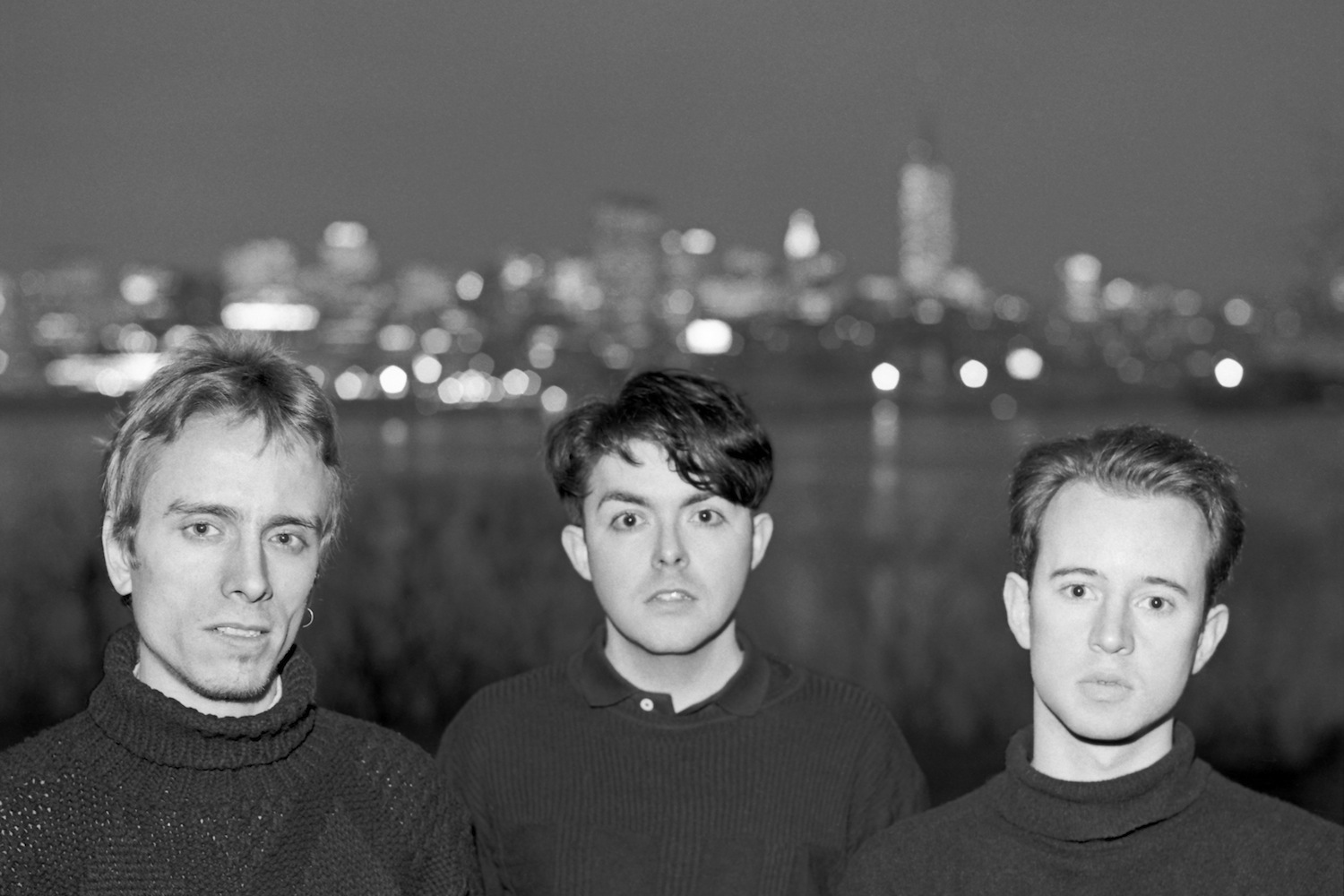 Andrew:
Let's talk about your solo career a bit. As a solo artist, how does your process change compared to when you're working within the confines of a band? Which do you prefer?
Richard:
Ha! Two very different beasts, for sure. The band is all about the band, how the individual personalities mesh to form the unique entity that is greater than the sum of its parts. Each of us is very aware of the other members, and it requires a unique kind of unity of purpose. As a solo artist, it's more like anything goes. I approach each new solo project as something completely different. As a solo artist, I'll try anything. Whereas with the band, I am very conscious of the band dynamic and what makes The Bongos unique and work within those parameters. That includes the songs and lyrics. When I write for the band, the songs are written for us as a group and are designed to more or less represent that dynamic. Very different from the songs on my solo records.
Andrew:
My understanding is you're also a writer yourself. Tell us more. What spurred your interest in writing?
Richard:
Well, I see it as an extension of my songwriting, really. I wrote my first book, a memoir, in 2007 called Frontman: Surviving the Rock Star Myth, published by Hal Leonard Books, because a wonderful literary agent told me I should do it. She was right. I loved the process, and enjoyed an extended book tour that involved musical readings, culminating in a performance at Carnegie Hall. I write regularly for Tape Op Magazine, and I'm just beginning my new book, that will hopefully be published in late 2021 or the first part of '22. The new one is different, more of a musical history, and will be designed to be a textbook for the course I've been teaching at The New School of Jazz & Contemporary Music here in the Village. Oh, and it's meant for the general public, too.
Andrew:
You're on the board of Governors for the Recording Academy (Grammys) and the Board of Advisors for the Anthology Film Archives. How did you end up in those roles?
Richard:
For both of those organizations, primarily it is because I believe in them profoundly, and love what they do. Secondly, it's about serving. I had been a member of the Recording Academy since soon after The Bongos started. When I was asked to run for office, I was honored. I've been elected Governor for the New York Chapter twice. I'm especially involved with the Advocacy committee and have met with members of Congress in support of artist rights, in particular the Music Modernization Act, passed in 2018. As for Anthology Film Archives, it's because my love for avant-garde and independent cinema runs deep. In college, it was filmmaking, not music, that was my major. Jonas Mekas, the great artist, poet, filmmaker, friend of Andy Warhol and the Velvet Underground, was one of my great mentors, and he appointed me to the Advisory Board of Anthology in 2012. I can't tell you how honored I was and still am. Anthology is celebrating its 50th year in 2021.
Andrew:
You've worked on off-Broadway shows and also as a producer for large-scale concert events as well, right? How did you end up working in those capacities? What do you enjoy about it the most?
Richard:
It just happened naturally. Again, it's an extension of what I do. I started producing and directing large projects at The Bottom Line nightclub in NYC, now sadly missed. In particular, a holiday show that ran for seven years called "The Downtown Messiah," our version of Handel's oratorio, done in Folk, Jazz, Rock, and Blues styles. Then I produced a tribute to the great Miss Peggy Lee at Carnegie Hall. Then the Hollywood Bowl. I love producing those big, orchestrated shows. In 2018, I produced Music + Revolution: Greenwich Village in the 1960s for SummerStage in Central Park. It was great to see so many 60s heroes like John Sebastian, Maria Muldaur, Melanie, Jose Feliciano, Jesse Colin Young, and others all together again. And to be a part of it!
Andrew:
As an artist, how do you feel you've evolved since your early days? What's changed. Conversely, what's the throughline within your work?
Richard:
As an artist, everything changes every day. The through line depends on what I'm doing. If I'm writing a Pop song, the through-line is that I am still and always looking for that perfect hook, same as when I wrote my first songs. But, now knowing a few more ways to get there. If it's a guitar session, I just try to play it better, with more articulation and feel than I might have at any other time before. If I'm doing a vocal, I want to feel and express it in a way that other people can feel too.
Andrew:
What is the artistic vision for your music going forward?
Richard:
It is an evolution. Anytime someone makes music their life's work, there is some level of evolution. And the word means something different for each musician. For me, it's about always getting closer to what it is that motivates me to make music.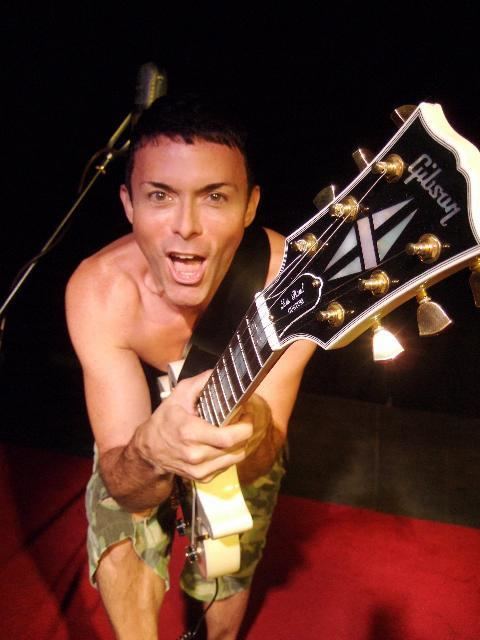 Andrew:
Tell us about your songwriting process. Do your lyrics come from a personal place, or are you merely telling stories so to speak?
Richard:
It depends. Yes, and no. There are so many different types of songs. Some tell true stories, and some of the stories are things that we wish were personal experiences! But I would say most if not all of my songs are rooted in some personal experience or emotion. Some songs that appear abstract, especially ones I wrote in The Bongos, focus more on emotion, and the actual words were often word games and word play that would help me express an emotion that I was feeling at that time, without being overly specific. One of the reasons is, as I was saying earlier, when writing for the band I felt the songs should not be so literal about my own experiences. I would often write from a feeling, and create word games around that feeling. I also often used the Willam S. Burroughs cut-up technique, rearranging the words so that the literal meaning can become almost like a puzzle to solve.
Andrew:
Touring is usually a huge part of a working band's proverbial machine, but as we know, COVID has disallowed it. What do you miss most about touring?
Richard:
I miss everything about touring, but mostly I miss the interaction with an audience.
Andrew:
On the subject of touring, indie venues were in trouble before COVID and they definitely are now. I've seen and heard about places shutting down for good all over. With companies like Ticketmaster strangling the market and bands unable to tour and generate revenue for these places, what do you think the post COVID landscape is going to be like out there?
Richard:
Well, everything is in flux, of course. I don't know how the dust will settle. But, I will say that the music industry has always been in flux. It's always changing and, yes, evolving, depending on what people want or need at any given time. I think people will want to come out see live music in a BIG way when COVID is over!
Andrew:
In the 90s, you were one of the early supporters of digital distribution for music. That said, one disturbing fact I've learned over time is that Spotify doesn't pay artists well, if at all. What are your thoughts on that issue?
Richard:
It's one of the things we have been working on with GRAMMY Advocacy, the activist wing of the Recording Academy. It's only fair that the streaming services should pay the artists fairly for using our music. The Academy, along with BMI, ASCAP, and others helped pass the Music Modernization Act in 2018, but this whole topic is a work in progress. In the 90s, as you mention, I championed the legal selling and distribution of music downloads, as in the original iTunes store. When it shifted to almost 100% streaming, it seems the music industry was not prepared. Technology often gets ahead of itself.
Andrew:
In a world dominated by capitalism and social media, can artists really, truly get ahead? How do we keep the playing field level so that everyone has a chance to succeed?
Richard:
It's never been easy for artists to stand out, and now it is nearly impossible. There are so many people making music. I tell my students to focus on their artistry, not on the corporate sense of competition. Social media should be fun and expressive. Use all the tools at your disposal. But always focus on the work, the art.
Andrew:
Are you into records? Tapes? CDs? Digital? Where do you like to shop for music?
Richard:
Vinyl records rule. Anything else, for me, is only for convenience. I like to shop in record stores for vinyl, new and old.
Andrew:
What are a few albums that mean the most to you and why? T. Rex: The Slider. The Beatles White Album. Iggy Pop: Raw Power. The Velvet Underground and Nico. The Ramones' first album. David Bowie: The Rise and Fall of Ziggy Stardust. Peggy Lee: Black Coffee. Those come to mind right away, always, because they helped give me a musical vocabulary, and have provided undying inspiration.
Andrew:
Who are some of your favorite artists? Ones that mean the most to you.
Richard:
All the ones I mentioned in the previous question. Plus: Pete Seeger, Donovan, Kraftwerk, The Feelies, Lou Reed (solo), James Brown, Phil Ochs, John Lennon (solo), Yoko Ono, Lead Belly, The Isley Brothers, Patti Smith. And many more.
Andrew:
Last question. What advice would you have for young artists just starting out? How do they stay afloat in a world that seems to be so abhorrent to creatives?
Richard:
It's always been difficult for artists. That is nothing new and yes, it's gotten worse. There are more distractions. But it's also easier than ever, with technology, to record and create. And there are a lot more ways to be seen and heard. My advice, as I said I mentioned earlier, is to always focus on the work, no matter what. Make the work really good. Don't try to imitate others. Find ways to use your work to help people, via charities, advocacy, and activism. Use the difficulties to get smarter and better. Share your work with love, and always, always respect and appreciate your audience.
Interested in diving deeper into the work of Richard Barone? Check out the link below:
Learn more via Richards website: http://www.richardbarone.com/
Dig this interview? Check out the full archives of Vinyl Writer Interviews, by Andrew Daly, here: www.vinylwritermusic.com/interview