All images courtesy of Chuck Regan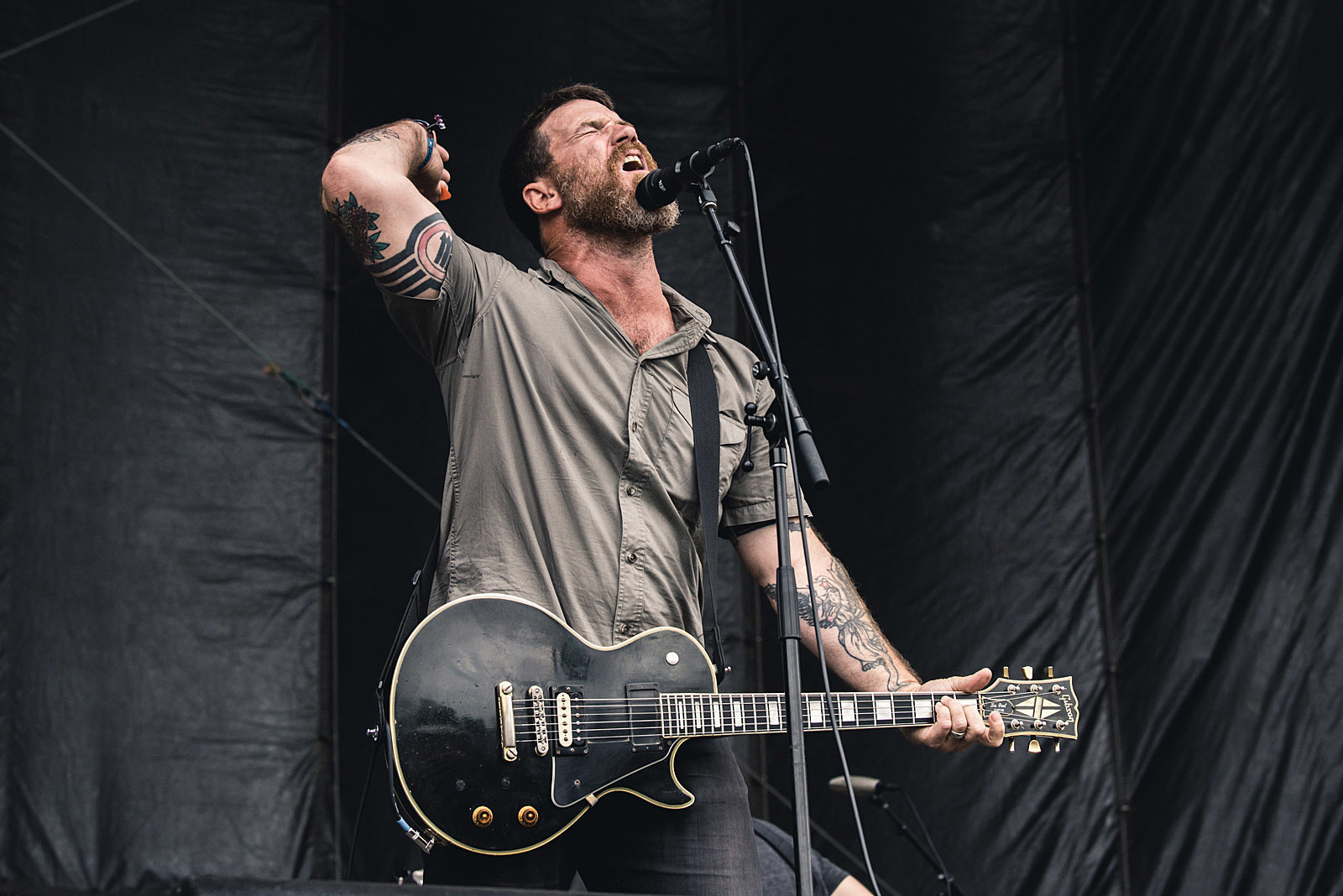 Part of what makes interviewing artists interesting is that it allows me to take the time to reflect on my own musical journey. Chuck Ragan is an artist whose music has rode shotgun with me for a long time now. Albums like Caution (Hot Water Music) and Covering Ground (solo) have seen me through some pretty stormy times in my life.
Some albums and artists are simply part of our life's soundtrack and thus, become part of the fabric of who we are. When it comes to the music of Chuck Ragan, for me, this is definitely the case. Songs such as "Trusty Chords," "Nomad by Fate" and "Wish on the Moon" carry a lot of weight for me, and will forever be tied to my personal history.
Chuck is one of the good guys of Punk music and his efforts certainly deserve our support. You can learn more about Chuck and his music here via his website and through his Bandcamp here. Chuck never lost his blue-collar, DIY work ethic, and makes ends meet by working as a guide and running his own fly fishing company (Chuck Ragan Fly Fishing). If you're in Northern California and enjoy fly fishing- you know who to call. You can check out his site here.
Lastly, Chuck has been a member of Hot Water Music for over 20 years. They're working on a new album. You check out their work and music here. Until next time- Cheers.
Andrew:
Chuck, thank you for taking the time to speak with us. This has certainly been a weird year. What have you been doing to pass the time?
Chuck:
It certainly has but we have definitely been keeping busy. Aside from the strange new normal upon us all, the constant turmoil of rotten politics in the world, and a pandemic, we've had our own rocky year with losing family members and work but we are managing.
Andrew:
Tell us a bit about your backstory? How did you get into music?
Chuck:
My earliest memories of music are listening to my maw maw and paw paw play Cajun music for us as kids. I grew up in churches and my mother is an entertainer and singer so music was installed at an early age. From there, skateboarding and the introduction to Punk Rock.
Andrew:
You were blessed with a pretty interesting set of parents! Your father was a professional golfer, Dave Ragan and your mother, Geraldine, was a Gospel singer. Was your mother's work as a Gospel singer and missionary a big influence on your own music?
Chuck:
For sure. Always singing and performing. We'd travel with her on her road trips when not in school so we were always around it. She tells me that I've been touring since I was 9 days old.
Andrew:
You're one of the founding members of the Punk Rock band, Hot Water Music. How did the band get its start?
Chuck:
We were two separate bands within a group of friends and were tired of where we were living.  We chose to move out of town to Gainesville. When we finally did, a couple of the guys from each band didn't move with us so when we got there it was the 4 of us. It felt right from the first song we wrote and carried on from there.
Andrew:
I've been a fan of Hot Water Music for some time. One thing I've always wondered was how the band got its name. Can you tell us a little bit about the origins of the name?
Chuck:
It's a Charles Bukowski short story book. We needed a name to put on a flyer for our first show and as we were deciding, Wollard was reading HWM and George was sitting across from him and suggested it. We didn't love it but we didn't hate it and it stuck.
Andrew:
Hot Water Music is originally from Gainesville, right? Gainesville seems to have a really rich musical history. Especially for Punk music. What was it like coming up in that area? Any interesting stories to tell?
Chuck:
Too many stories…it was a healthy place for music, for us, a bad place for our health! We ripped it up pretty good while they were in our younger years. There were always bands forming, recording, playing shows, etc..it was a thriving DIY community, and a lot of people supported each other's work. Looking back now, I wasn't there that long. I believe I lived in Gainesville for a little over 7 years and was on the road well over half of that time.
Andrew:
Aside from your work with Hot Water Music, you've also put out four studio albums. How does your work as a solo artist, differ from your work with Hot Water Music? Does your songwriting process change?
Chuck:
Usually the aggressiveness of it. When writing I can usually tell what has the potential to be an HWM song vs. one of my songs.
Andrew:
Piggybacking onto my last question, what's your primary inspiration as a songwriter? I know oftentimes songwriters are merely telling stories, but other times lyrics are intensely personal. Which is it for you?
Chuck:
A little of both, I reckon. Songwriting to me has always been personal and in a way the same as keeping a journal, but often I do incorporate stories that have driven me in a positive or negative direction.
Andrew:
My personal favorite album of yours is Covering Ground. From the moment it came out, it basically soundtracked the following year or two. What can you tell us about that album?
Chuck:
It was a reflection record. Looking back, it was at a time when though I was touring often and had toured constantly before, I was in a place where I began to realize that there was much more to life and living than chasing a carrot.
Andrew:
Your last solo album was Till Midnight, which came out in 2014. I know you've been busy with other passion projects and Hot Water Music, but will we see any new solo material soon?
Chuck:
The last album was The Flame in The Flood, which seems to have gone under the radar but one we were very proud of.  Yes, I'm always writing and was actually heading into the studio right before California got locked down. To continue making ends meet, I had to put the breaks on music and continue guiding and working at home. Now, I'm currently writing with HWM and my solo work is now on the back burner.
Andrew:
On the subject of other projects, in 2005 you came up with the idea for The Revival Tour, which for those that don't know, is a collaborative acoustic event for Punk, Bluegrass, and Alt-Country artists. How did the idea for The Revival Tour come about?
 Chuck:
Simply wanting to showcase good music and fellowship, as well as root and expose some underdogs that we loved and felt should be heard by the world.
Andrew:
With Hot Water Music, your work is mostly oriented toward Punk and Hardcore, but as a solo musician, you've leaned more toward the acoustic side of things and definitely explored Bluegrass as well. What led to that shift? Is there a large gap in influences between your work as a solo artist and with Hot Water Music?
Chuck:
The roots you hear in my music began long before HWM. I began playing music and learning Gospel, Country, Folk, and such before I explored the world of Punk Rock. Even though HWM, 90% of what I'd write usually began on an acoustic.
Andrew:
I've come to learn that another passion of yours is fly fishing and you've actually got your own company, Chuck Ragan Fly Fishing. Tell us more about how you got into fly fishing. You must love nature. Has this informed your music and songwriting at all?
Chuck:
The outdoors has always been and hopefully always will be a massive inspiration for writing. Yes, it is a passion and is also my work. My brother influenced me in fly fishing and from there moved to NorCal where I was just exposed to it more, and fell more in love with this way of life.
Andrew:
Are you into vinyl? Cassettes? CDs? Or are you all digital now? Where do you like to shop for music?
Chuck:
We have a massive vinyl collection. I haven't been to a record store in well over a year sadly, but yes, I love records. We are remodeling a new house right now, and actually trying to figure out where the records and whole system will be set up, which is exciting. If shopping for records, I prefer to buy them either directly from the artist at their show, if possible, or independent record stores.
Andrew:
This may be a hard question, but what are a few albums that mean the most to you and why?
Leatherface- Mush is one of my favorites. Driving aggressive music, mixed with pure heart-felt poetry is the best. Willie Nelson- Teatro always takes me on a beautiful ride and seems to be a record I could put on anytime. Calexico- Blacklight has a special place in my heart. Great memories of exploring Baja with my wife. Surfing, camping, and fishing. I could go on and on.
Andrew:
Last question. You've had a long career, with many more years to go. Looking back, what are some of your fondest memories?
Chuck:
Meeting the guys in the band that would become my brothers through thick and thin. Meeting and becoming a part of wonderful communities across the globe. Meeting the love of my life and soulmate along the way, and having our son. I've made many sacrifices to live a life of music, but consider myself one of the very lucky ones, and am proud of the work we've done to be where we are.
Interested in sampling the music of Chuck Ragan? Check out the link below:
Be sure to check out the full archives of VWMusic Interviews, by Andrew Daly, here: www.vwmusicrocks.com/interview