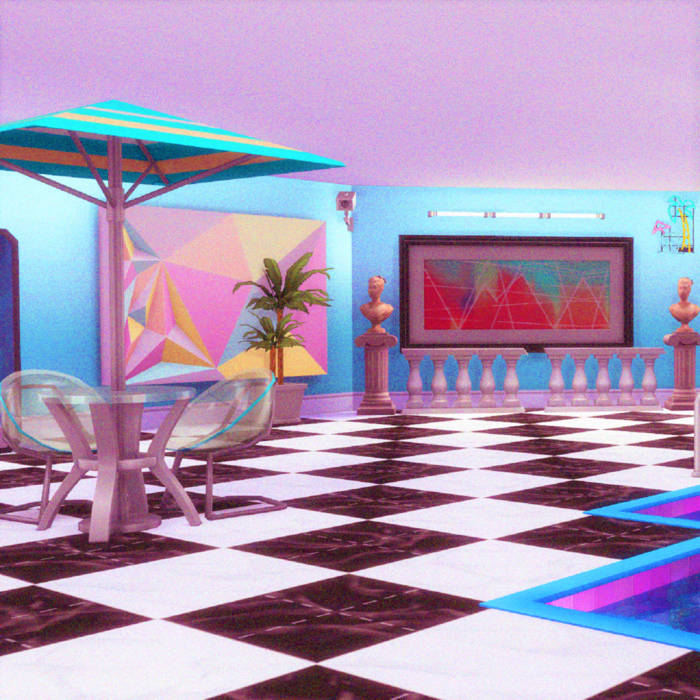 Forward By Joe O'Brien
Some artists are forever associated with being the epitome of a genre in my brain. One such artist is II Nothing II with his totally classic Vaporwave sound and signature production style. However, II Nothing II has never shied from changing his sound and style with albums like Death and Fallen Angel, and Falling Life. Furthermore, Vaporwave has always been an all-immersive scene where visuals were just as important as the music. II Nothing II has some of the most intricately Vaporwave and visually-striking albums covers in the scene. II Nothing II has contributed essential albums to the genre such as Modern Living and Virtual Loneliness. If you are interested in getting started in the Vaporwave scene, II Nothing II's above classics are a great place to start, and you head over to his Bandcamp here. I look forward to whatever II Nothing II has in store for us in the future. Enjoy this interview with one of Vaporwave's best.
Andrew:
Hello. Thank you so much for taking the time to speak with us. Tell us about your backstory. How did you get into music? What was your musical gateway so to speak?
II Nøthing II:
I got into music back in October 2016 in 11th grade when my parents bought me a laptop to do my schoolwork. It was around that time I found about Vaporwave and also found out my friend Fendi Beta was dabbling in it. I thought it was the coolest thing in the world so I went ahead and tried it. Downloaded Audacity on the laptop, slowed down some 70s-90s music and released my first album たわごと on December 2016.

Andrew:
While you are often lumped in with Vaporwave only, in reality your music crosses over many genres. Along with the obvious classic Electronic influences, I hear elements of Chillwave and Ambient throughout your music. Would you agree? What more can you tell us about that?
II Nøthing II:
Around mid to late 2018, I was sorta getting tired of the whole Vaporwave thing and wanted to push myself and try something new. I had this mindset when I released higek. Ever since then, I've been trying to do something new with every release of mine which is very apparent in my 2019 releases. For example, 自殺の旅【Ch. I & II】, yesterday's promise, and DEATH sound so different from each other. Since then, I've found this more experimental chaotic style a lot more interesting and engaging to me. This doesn't mean I haven't stopped making or liking the classical Vaporwave style.

Andrew:
Virtual Loneliness and Modern Living were kind of genre breaking in my opinion. You really took things to the next level with those two releases. What can you tell us about those albums? What was the inspiration?
II Nøthing II:
Hmmm. I'm not really sure what to say about them. I wasn't really thinking anything when making those albums. To me, I just saw them as another Vaporwave album in the ocean of releases that time. At that time, I really looked at Waterfront Dining, 猫 シ Corp. , and Trademarks & Copyrights for inspiration since that was all I really listened to back then. Of course nowadays those two albums have sorta gained a following I never saw coming which is really cool to see.
Andrew:
What are the origins of the II Nøthing II moniker?
II Nøthing II:
The name "nothing"  became a thing when I first stated drawing back in middle school (around 7th grade). It went through so many iterations throughout the years (i.e. Ñøťhïńğ, 00.nothing.00). It was around 2015 where I stuck with ll Nøthing ll. As for why "nothing," well it was just a lot self degradation and having a nihilistic look on life. Though I'm not like that anymore, I keep it still because I think it looks and sounds cool in my opinion.
Andrew:
Who are some of your biggest influences musically? 
II Nøthing II:
As of lately I would have to say death's dynamic shroud, Machine Girl, sewerslvt and chris†††. I just love their music a lot.
Andrew:
There are a lot of misconceptions and confusion regarding how Vaporwave music comes together. Can tell us a little bit about your process? How does your music come together?
II Nøthing II:
To be honest I first make something in photoshop, look at it and think "This would be even cooler if it had music to alongside it." I base my music around the feelings/vibe I get from my random photoshop sessions.
Andrew:
Thinking back, how have you evolved as an artist today, compared to where you were when you were just getting started?
II Nøthing II:
Well obviously my music production has gotten better: I moved on from using Audacity to FL Studio. Other than that, I'm not really sure. I feel like I found my sound but at the same time, I feel like I haven't. I think I'm still growing in that department, can't really give a solid answer.

Andrew:
Two of the biggest issues in the Vaporwave community are FOMO and scalpers. These releases are all so limited, and the prices get insane in the aftermarket. What can be done better to help thwart the scalpers that plague the community? What would you say to the scalpers out there?
II Nøthing II:
I don't really buy vaporwave physicals, it seems like a big headache because of the things you mentioned. I just stick with buying digital releases. For those who scalp, trying to sell something for twice what it's worth: fuck you, get a job and do something productive with your life. 
Andrew:
Shifting gears here, is there anything within the industry that you would like to see change for the better? What improvements would you like to see that you feel would be beneficial to us all within the vinyl community, and music community in general?
II Nøthing II:
I just think it would be cool if a lot more people were open to hearing a lot more experimental stuff.
Andrew:
A lot of people try to define what genre your associated with. You seem to like to disassemble genres in a way. What are your feelings on that? What are your thoughts on the idea of genres in general?
II Nøthing II:
Personally, I don't like sticking to one genre/sound. Trying to stick with one thing will make it stale to me. That's why I sorta took a break from Vaporwave. I like finding new genres I've never heard of, or not a lot of people have heard of, and try to make something for it. I find it fun.
Andrew:
The way I initially discovered your music was through Bandcamp and Reddit. In your opinion, how important has both Bandcamp and Reddit been to the Vaporwave scene, and Indie music in general?
II Nøthing II:
I really like the way Bandcamp features new music with their Bandcamp daily and new & notable sections. This has certainly helped me discover a lot of new music, and helped people find my stuff.

Andrew:
Vaporwave has existed in digital forms for a long time. What do you think of the rising wave of support for vapor-vinyl over the last few years?
II Nøthing II:
One thing is for sure, it has surely gotten a lot more frequent. I see announcements for vapor vinyl releases almost everyday. It's crazy.
Andrew:
Another interesting development in the Vaporwave community has been the sudden resurgence of cassettes. Did you see that coming?
II Nøthing II:
I sorta came into the scene back in 2016, so the whole cassette thing had been going on for a bit. It was surprise, yea, but I liked every bit of it.

Andrew:
Do you collect vinyl? Tapes? CDs? Or are you all digital now? If so, what are some albums that mean the most to you? Where do you like to shop for music?
II Nøthing II:
I used to collect 2 years ago, but I gave away everything except for my original pressing of Death Dynamic Shroud's I'll Try Living Like This. I just really like the album a lot.

Andrew:
It's been a crazy year. Once COVID-19 dies down, what's next for II Nothing II in the future?
II Nøthing II:
Hopefully do a live show with Yovozol.

Andrew:
Last question. You've always embraced the DIY approach to music. What advice do you have for young musicians trying to get their start?
II Nøthing II:
Just keep doing what you like. You don't have to change your style to fit in or satisfy others. Keep doing you and you will find people who love what you do.
Interested in learning more about the music of II Nøthing II? Check out the link below:
Dig this interview? Check out the full archives of Vinyl Writer Interviews, by Andrew Daly, here: www.vinylwritermusic.com/interviews