All images courtesy of Ulysses Owens Jr.
When I was growing up, I was fascinated by all things music. You could say I was obsessed. Listening to my cassettes, CDs and records wasn't enough. I had to plaster my walls with photos. I had to own T-shirts. Soon, that wasn't enough either. At that point, I wanted to play music. It was around this time that my dad purchased me an Epiphone guitar from Sam Ash, Guitar Center, or whatever cookie-cutter chain store you can name. I can't remember. I was excited to begin my journey toward Rock stardom, but there was one issue- I couldn't play.
Yes. It seems my fingers simply didn't move in the way a guitarist's fingers are required. More so, the chords didn't make a lot of sense to me either. Not to be deterred, I moved on to the drums and it was there that I found my musical home. The Christmas of 1999 was a joyous one indeed as my dad had gotten me my very own drum set. I remember it well. It was a wood grain burgundy Pearl Export series from the late 80s. With it came a set of Zildjian cymbals. Probably some type of starter series. I can't recall now. After that, I was off to the races and basically spent all of my free time playing drums. My friend Joe and I even started a "band" called Black Mamba. There's more to that story, but it will have to wait until another day.
So, as you can see, the drums mean a lot to me. That's why I made this week the "Unofficial Drummer Week." You may be wondering why I waited until the end of the week to inform you all of this rather than the start. Like most drummers, I go to the beat of my own…drum. How Punk Rock is that? I digress. Today, I've got the incredibly talented and generally awesome Ulysses Owens Jr. "in the house." If you're a fan of Jazz, old-school or new-school, I think you're going to dig what this guy is putting down. That said, if you'd like to learn more about Ulysses Owens Jr. and his music, you can head over to his website here. Lastly, I would be remiss to not mention the wonderful work Ulysses is doing with Don't Miss A Beat, which is an organization that helps suspended youths not only stay in school but finish school. The organization has also branched out and now also helps youths with performing arts, civic engagement, and job training skills. If you would like to learn more, head over to their website here. This is a really cool one guys. Oh, and happy "Unofficial Drummer Week." Enjoy!
Andrew:
Ulysses, thank you for taking the time to speak with us. It's been a very weird year, hasn't it? What have you been doing to pass the time?
Ulysses:
This year has been weird but in many ways, it has provided such clarity for me. In many ways, it's allowed for me to focus on things that being on the road has prohibited me from like:
I am in Grad School now at SCAD (Savannah College of Art and Design).
Built my production studio in Florida, which I have been wanting to do for a really long time.
Building the program at Don't Miss A Beat, my family's nonprofit organization, and establishing new virtual programming, and the team for our 1st annual Don't Miss A Beat Jazz Festival, in July 2021.
Also, just slow down, rest, and become more certain about what I really want.
Andrew:
Tell us a bit about your musical origins. What's your backstory?
Ulysses:
I first fell in love with music at age 2…in the gospel church. My mother was a choir director and sat me next to the drummer in rehearsals, and that's how I got exposed to the music. My cousin Kevin Sibley exposed me to Jazz via Oscar Peterson. But at Age 16 I first heard Miles Davis, Milestones. After that, I decided that I wanted to move to NYC and pursue Jazz as a profession and completely immersed myself in the music, and began studying drummers like Lewis Nash, Kenny Washington, Greg Hutchinson, and many others. I understood that I wanted to be a Jazz drummer that people loved to work with, which is what made me pursue Juilliard.
Andrew:
You began playing the drums at the age of 2. That's pretty impressive! What drew you to the instrument at such a young age?
Ulysses:
The Black Gospel Church is an amazing setting for the discovery of music, and it's a conservatory in many ways for musicians of color. In the church, you learn how to play for a higher purpose and serve the music. Many talented musicians learn first at church, so it's incredible and it's a common journey for me musicians to have gained their "Stripes" this way.
Andrew:
What lead you down the path of playing Jazz? What was it about that genre that spoke to you?
Ulysses:
Miles Davis' Milestones…as mentioned earlier. Jazz gives a musician the ability to master music. To play jazz on a high level, you have to really seek command of your instrument and study the craft. Jazz also makes a pathway for self-discovery and also you learn how to tell a story through your instrument. I have always been drawn to that quality, and it's such an incredible lineage of musicians to study, and I have always been totally into that idea of studying musicians that came before me. I also love the global connection that Jazz offers.
Andrew:
Some of the greatest drummers of all time were Jazz drummers (Elvin Jones, Buddy Rich, Max Roach). More so, many Rock drummers are actually Jazz drummers in disguise! Who are some of your favorite drummers? Which ones have informed your style the most?
Ulysses:
The list is too long, but I will name a bunch.
Ricky Kirkland, Elvin Jones, Max Roach, Philly Joe Jones, Art Blakey, Art Taylor, Al Jackson Jr., Lewis Nash, Willie Jones Jr., Bruno Carr, Gaylord Birch, Steve Jordan, Billy Drummond, Herlin Riley, Jeff Tain Watts, Sonny Payne, Papa Jo Jones, Vernell Fournier, Greg Hutchinson, Brian Blade, Joey Baron, Paul Motian, John Hollenbeck, Ari Hoenig and many more…
Andrew:
As a drummer, it's easy to mimic what others are doing, but you've definitely developed a singular style. How did you go about setting yourself apart from the pack?
Ulysses:
I stole from the rich first…you gotta copy kats because that's how you get the script as to what you are supposed to play, man. Otherwise, how else do you find out what to play? In terms of my unique style, I think everyone is born with a unique God-given signature voice. We can't avoid it. I think the goal is to recognize it early on, and develop it and not run from it. I also know that many of my peers in Jazz are more on the "modern side of things." So, I am one of the kats that still is fully trying to keep the tradition alive of the kats that came before me. I want their sound to remain alive in my sound.
Andrew:
We know you're a big fan of Jazz, but which style speaks to you the most? I am personally a huge fan of Modal, Hard Bop, Free Jazz, and Fusion. How about you?
Ulysses:
I LOVE IT ALL!!!!! So I can't choose a side here, but of course, the world likes to label people, so people consider me more of a Hard Bop drummer. I love and play it all, but I have built more of a reputation around being a traditional kat.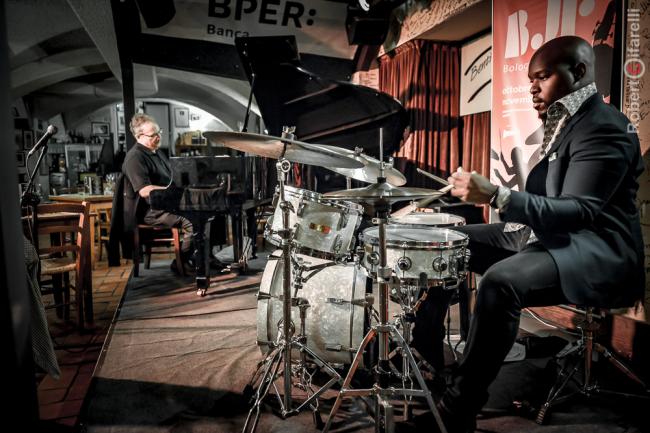 Andrew:
You were the drummer on two Grammy Award-winning albums, Kurt Elling's Dedicated to You: Kurt Sings the Music of Coltrane and Hartman, and Christian McBride's The Good Feeling. What were those experiences like?
Ulysses:
I was also the drummer on McBride's Grammy Nominated Out Here trio album, Gregory Porter's Nat King Cole and Me, and just today John Beasley's Monk'estra plays John Beasley.
All of the experiences were really different, but what a singular approach was that each artist knew what they wanted from me. They wanted me to show up as Ulysses and serve the music. What I found with the Grammy-related projects is that each artist had a serious concept and chose musicians to bring that concept to life. Versus, other albums where musicians sort of just put a record together randomly. Also, all of these projects really focused on high-level/quality production. All of these projects had great teams, and labels that spared no expense in making sure the albums were executed with excellence.
Andrew:
You're also the co-founder as well as the artistic director for the charity, Don't Miss A Beat. Tell us about that and why it's something that is meaningful to you.
Ulysses:
As an African American male, I am first a guy that really wants children to make the world better than what it is now. Dedicating my life to these kids has made me a better person, and artist. I believe that when you sacrifice for others, it makes you better. I have had to learn how to focus and multi-task. I am also committed to a higher purpose that I feel has positively and indirectly impacted my musical approach. Drummers have to be responsible and committed to the band, so I feel that my life really allows me to have the same approach to everything on and off the bandstand.
DMAB's mission is to utilize the arts as a bridge to a better life for children, so I am all in man, and really excited about seeing how these kids develop.
Andrew:
As an artist, where do you draw inspiration from the most?
Ulysses:
I draw inspiration from being AUTHENTIC. Obviously, there is my study of many great musicians, but I find that all of that study and analysis has to blow through some authentic energy, otherwise, you are just someone who plays the drums. I also spend a lot of time thinking about being a musician, not a drummer. Being a drummer is very instrument-focused, and "I" focused. However, being a musician allows you to become committed to the music. Nothing is greater than the music to me.
Andrew:
What does music and more specifically, what do the drums mean to you as a means of self-expression?
Ulysses:
I am a writer, and now I have a lot of leadership positions, so I am constantly speaking and writing my truth and agenda. The drums allow me to be quiet and let the instrument speak for me. So it helped me to find my voice, and self ultimately.
Andrew:
Let's talk gear for a moment. What type of drums, hardware, and equipment are you using these days?
Ulysses:
Tama Star Maple (I LOVE THESE DRUMS).
They are handmade in Japan which is rare…so many drums are being crafted in Taiwan and China, even the top companies. The drums are open, and sing and truly have a great quality sound live and in the studio.
20×16 BD (For Big Band, and other genres).
18x 14 BD (For more straight-ahead stuff).
16×16 Floor Tom.
14 x 14 Floor Tom.
13 x 8 Tom.
12 x 8 Tom.
10 x 7 1/2 Tom.
14 x 5 1/2 Snare Star Maple.
14 x 8 Star Bubinga Snare.
14x 6 Maple Starphonic.
14 x 5 1/2 Starphonic Aluminum.
Tama Modern Classic Hardware.
Zildjian Cymbals.
16 Avedis Hats.
19 Extreme Crash.
18 K Constantinople Crash.
19 K Cluster Crash.
20 and 22 Prototype Ride Cymbals (20 w/Rivets and 20 without Rivets).
Remo Coated Ambassadors on all drums.
14 Kentville Kangaroo Head on 14 Starphonic Maple.
Remo Black Suede Ambassador on one snare.
Remo Powerstroke 3 Coated on 20 Batter.
Remo Fiberskyn on 18.
R Tom Moongels.
LP Assorted Mini Timbale, Cowbells, and other stuff.
Warm Audio 67, 47 JR , WA 84 Condensers for recordings.
Andrew:
Do you collect vinyl? Tapes? CDs? Or are you all digital now? Where do you like to shop for music?
Ulysses:
I collect CDs and LPs. I LOVE LPs, you get to hear the music as it was recorded in my opinion. But mp3s and wavs for quick access.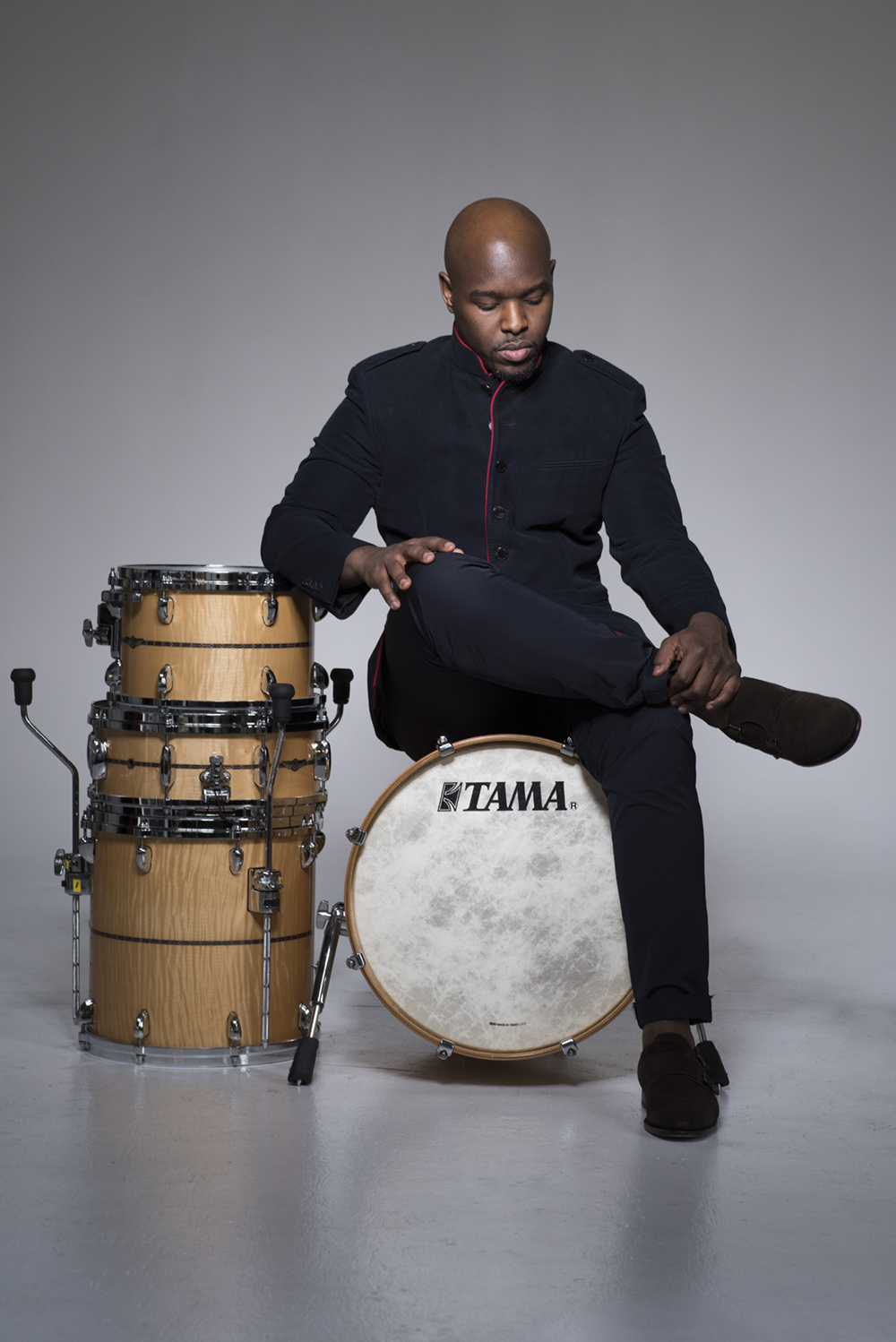 Andrew:
Once COVID-19 settles down (if it ever does) what's next for you?
Ulysses:
Finish my GRAD degree.
Successfully fulfilled Multiple Educational Positions at:
Don't Miss A Beat
The Juilliard School
Savannah Music Festival Jazz Academy
Douglas Anderson School of the Arts
Also, push my new Brush Book from Hal Leonard. (Jazz Brushes for the Modern Drummer: An Essential Guide to the Art of Keeping Time).
Prepare for the release of my music biz/career development book (The Musicians Career Guide: Turning Your Talent into Sustained Success).
Andrew:
2020 has been an odd year, but we've still seen a ton of incredible music released. That being said, what are some of your must-have albums of the year?
Ulysses:
Marquis Hill – The Love Tapes
Common – A Beautiful Revolution
Walter Smith – Still Casual
Tiwa Savage – Celia
John Beasley – Monk'estra Plays Beasley
PJ Morton – The Piano Album
SAMOHT – Clear
Stefon Harris – African Tarantella
Kiaya Cash – Comes to the Light
Tiana Major – At Sixes and Sevens
P Valley – Soundtrack
Gregory Porter – All Rise
Andrew:
Last question. You've had a wonderful career thus far, with many more years to go. Looking back, what are some of your proudest moments?
Ulysses:
I am proud when my kids succeed. Several are auditioning for Berklee and Juilliard and that makes me proud.
I won an advocacy award in Jacksonville for the work I am doing for the kids. That stuff makes me happy, man.
The rest of it is honestly just a blessing and a beautiful surprise. I work my ass off, so I am grateful for any recognition that comes my way.
Dig this interview? Check out the full catalog of Vinyl Writer Interviews, by Andrew Daly, here: www.vinylwritermusic.com/interviews